News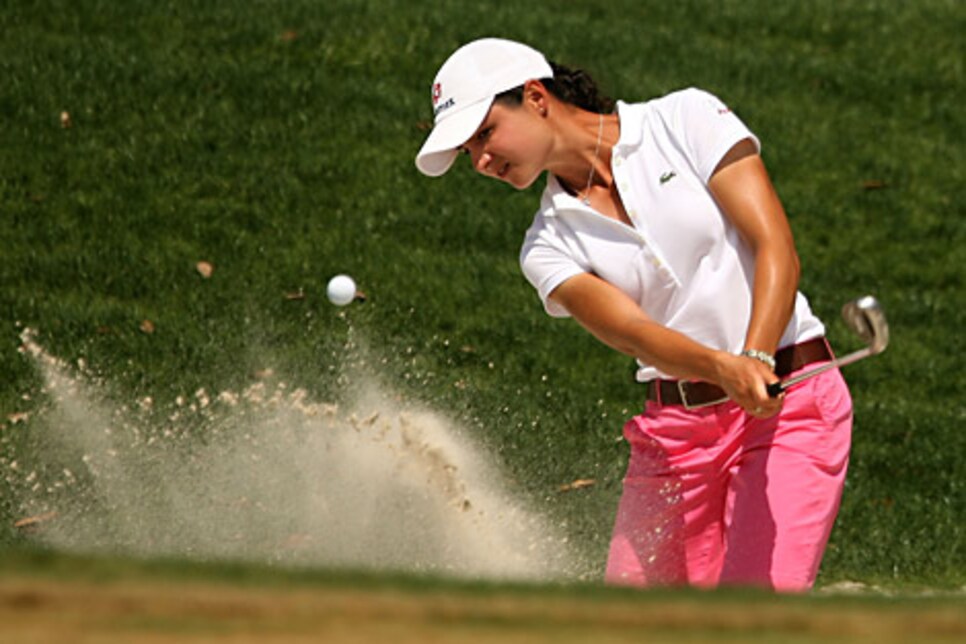 A week after securing a hall of fame berth, Ochoa maintained her torrid play.
Surely the other LPGA players would prefer to dislike Lorena Ochoa for removing first place from the options available to them when she is in the field these days. But actually disliking her? That seems to be another option closed to them.
A woman who needs no introduction, Ochoa nonetheless approached a wide-eyed rookie, Yani Tseng, and introduced herself last week. Veterans like her, too, to wit Helen Alfredsson sneaking up behind her and playfully poking her while she was in the middle of a telephone interview with The New York Times.
There is no more accommodating, agreeable superstar in contemporary golf, one who is ruthless only in her execution on the golf course. She is killing them with kindness. "She's such a nice person," Juli Inkster said. "You can tell she considers golf not who she is."
It seems inconceivable that Ochoa actually may be a better person than she is a golfer, given the way she has been dismantling the competition. Last week, she won the Ginn Open at the Reunion (Fla.) Resort by three strokes, her fourth straight victory (in four consecutive weeks, no less), equaling an LPGA record she shares with Mickey Wright, Kathy Whitworth and Annika Sorenstam, gilded company with which she so obviously belongs. It was, as well, her fifth victory in six starts in 2008 and 22nd of a career that already qualifies her for the LPGA Hall of Fame.
"It's one of the best runs, if not the best, in the history of the LPGA," another Hall of Famer, Beth Daniel, said. "Basically, she's qualified for the Hall of Fame in 3½ years. And she's not just winning, she's winning by a lot. Even Annika [Sorenstam] didn't win by the margins she's winning by."
Ochoa has won by 11, 7, 5, 11 and 3 -- 37 strokes better than the collective runners-up, which denotes less a competition than a coronation. Her latest one did not qualify as a rout only because of the efforts of Tseng, a Taiwanese 19-year-old who refused to wilt in the heat Ochoa has been applying to women's golf.
Having set the course record with a second-round 64, Tseng birdied three of her first five holes Sunday to wrest the lead from Ochoa momentarily. Following an eagle at 10, she was within a shot of the lead before her putter began misfiring on the back nine.
Yet it was Tseng's second runner-up finish in six starts this year and her fourth top-10 in seven LPGA starts as a professional. It was also a portent that this won't be their last tussle. On 18 Sunday, Ochoa told Tseng that she was "going to see her many Sundays." But not the next Sunday. Ochoa, pleading fatigue, won't play in this week's Stanford International Pro-Am and will return for the SemGroup Championship next week in her quest to match the LPGA record for consecutive victories: five, achieved by Sorenstam in 2004-05, and Nancy Lopez in 1978. Part of her charm is that she won't concede herself a victory. Ochoa, all of 26, takes nothing for granted, least of all success in a game that tends to rebuke complacency. From Florida she was heading back to Mexico for three days of family fun, before returning to work on the practice tee.
"I'll always be thankful for what I have right now," she said. "I feel that it's been a blessing. But I know that my time will come. It's just the way life is. I'm just trying to enjoy my moment, and I would like to enjoy it for a long time."
Her joy does not diminish even in the wake of a bad shot, an endangered species from her swing these days. "No, I hit a lot of bad shots," she insisted Saturday, "but you just need to laugh about them and be able to have a smile on your face and just keep moving. I think I hit five drivers to the right today, missed a few fairways, but it's all about the attitude you have. I was able to come back and play well."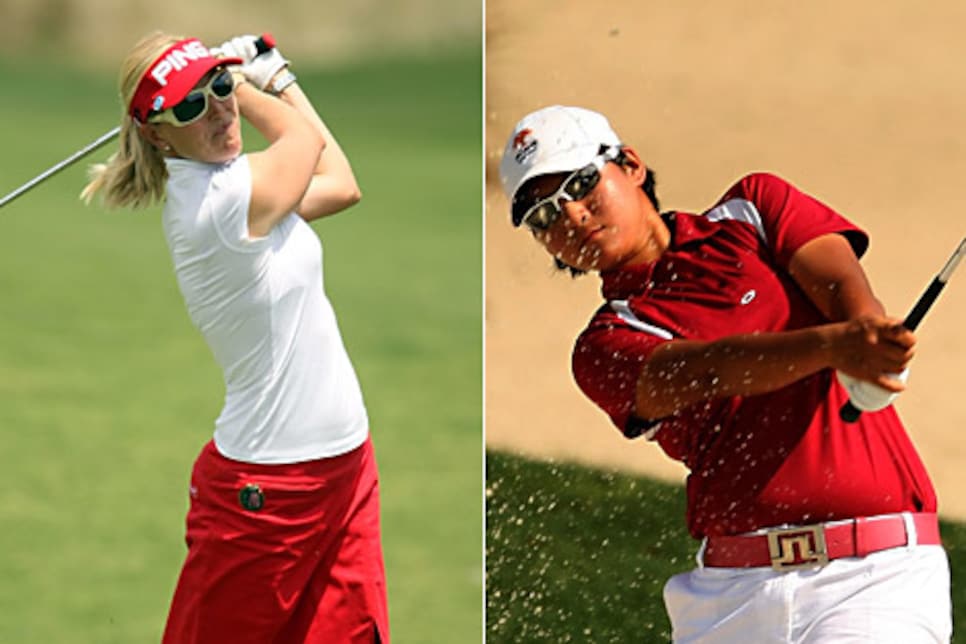 Ochoa took a one-stroke lead into the final round but surrendered it on the first hole and fell into second place on the second hole. Undeterred, she birdied the third hole and reeled off successive birdies at Nos. 8, 9 and 10 that propelled her to a victory that was not as effortless as recent ones. The toll of four consecutive weeks in contention and its inherent demands was showing; Ochoa is a dedicated fitness buff, whose evening jogs went from 35 minutes Wednesday and Thursday, to 28 minutes Friday, to zero minutes Saturday.
"You can just put it down that I made it," she said after crossing the finish line Sunday afternoon. "I survived. I was tired, mentally and physically. I didn't have many legs at the end. I kept thinking, 'I'm tired, but in a few more minutes I'll be done.' "
Ochoa's attitude was the lesson Tseng took away from her 18 holes with Ochoa Sunday. When she wasn't preparing to hit her own shot, her eyes never left Ochoa, searching the minutiae of the pre-shot routine and post-shot reaction for clues to her genius. "She's very patient," Tseng said. "When she misses a putt, she still has a very good attitude and very good body language."
Nine consecutive rounds in the 60s (including scores of 68, 67, 65 and 69 here) tend to keep one's attitude buoyed. Ochoa's dominance has been so thorough that her season earnings of $1,635,550 is more than double the second player on the money list, Sorenstam ($614,281). She leads the tour in driving distance and greens in regulation and delivers the payoff with her marksmanship with the putter, deft inside 20 feet. She bettered the tournament record here by seven strokes.
"She hits it long, and I don't think I've ever seen anybody hole as many 15- to 18-footers as she makes," said Inkster, who played two rounds with Ochoa at the Safeway International outside Phoenix last month. "When Annika was number one, she hit 18 greens, always hit it close, made a few putts. Lorena's got so much imagination. She's very artistic out there. She's a phenomenal shotmaker."
She stalks victory with a chilling efficiency that belies an innate warmth, suggesting a player as likely to befriend you as beat you. "I always want to take everybody down," she said. "I think you can do it with a smile on your face and be nice and talking to them. You don't have to be mean or rude."
Her performance predictably has evoked comparisons with Tiger Woods, by which Ochoa is flattered, but it is a comparison she is unwilling to make herself. Yet the Grand Slam that Woods was pursuing on the men's side is alive for Ochoa on the women's side, one leg (the Kraft Nabisco Championship) already down. "I know I can do it," she said. "I believe in myself."
It remains a long shot without a compelling argument as to why, other than noting that only two of her 22 victories have come in majors. That said, this is clearly Ochoa's era now, the evidence poignantly apparent at the eighth green and ninth tee one moment early Sunday afternoon. Sorenstam, who started on the back nine, stood in the eighth fairway, while ahead of her Ochoa holed an eight-foot birdie putt to regain the lead for good. She then made her way to the ninth tee, escorted by the throngs that once belonged to Annika, before Ochoa learned how to win and methodically began to distance herself from the rest of the LPGA.
The distance, incidentally, is substantial, however you measure it -- in miles or smiles.