News
Heading to the Disabled List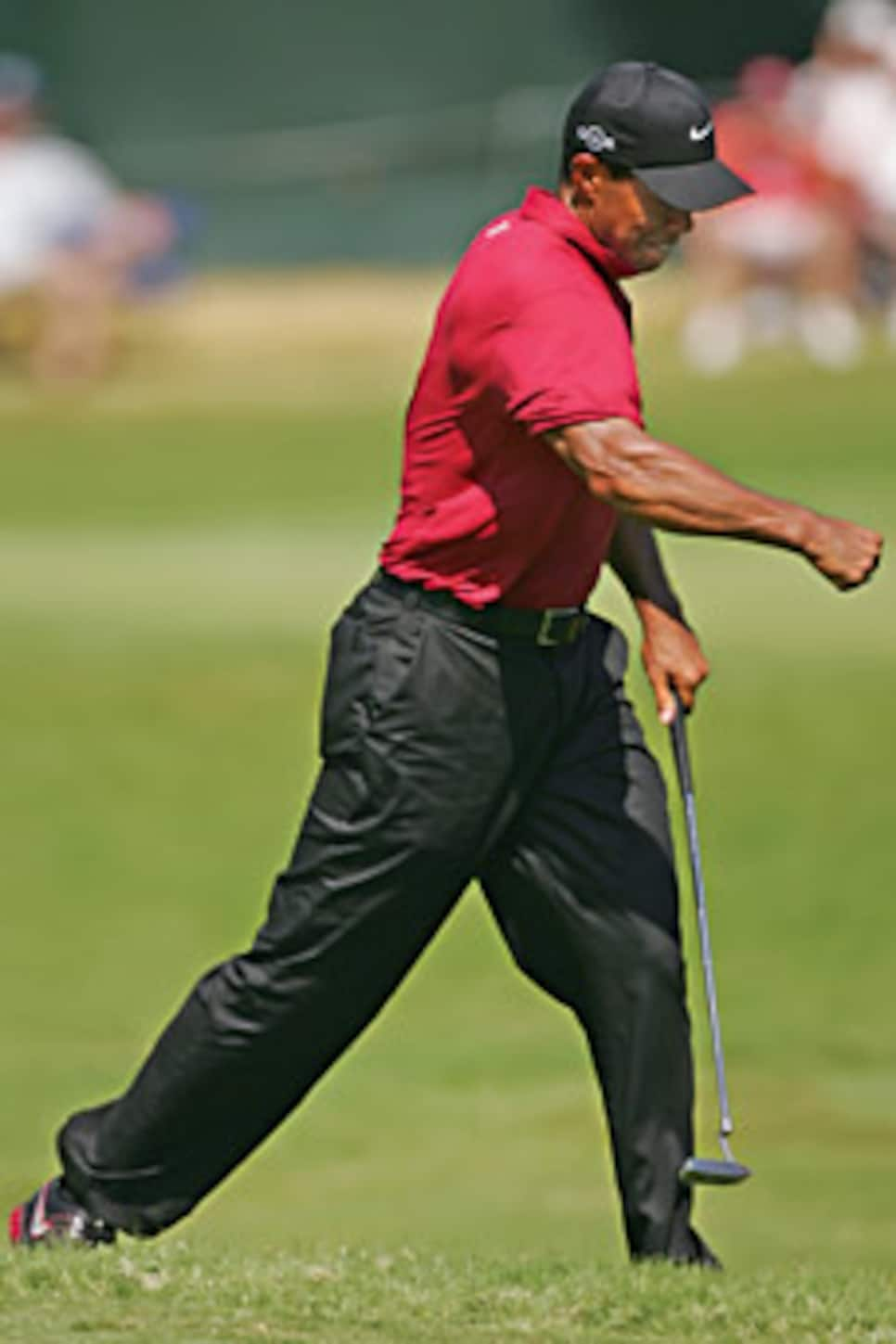 A fist-pump at last year's PGA Championship may have added to Woods' knee woes.
When his left knee buckled at last year's PGA Championship, Tiger Woods wouldn't admit he hurt himself. It was a little embarrassing considering the limp developed after his fist-pump celebration of a birdie on the eighth hole at Southern Hills. It would have been out of character for Woods, an athlete who trains as if he were in Delta Force, a man who has parachuted out of planes and loves running around Isleworth in Orlando with a weight vest in sweat-dripping heat, to admit to a weakness. "As far as hurting myself, no. All good," Woods said that day in Tulsa after winning his 13th major championship.
Woods seemed invincible at the time, at the height of his power both mentally and physically -- but when the story broke the Tuesday after the Masters that Tiger had had his third knee surgery since 1994, it came as a shock in several ways. Although it is true Woods limped at times in tournaments during last year's PGA Tour Playoffs and took a long time getting out of the bunker on the fourth hole during the final round at Augusta National two weeks ago, few suspected anything significant. The circle of people who knew Woods had elected to get his knee "cleaned up" was so small, several of Woods' closest advisors didn't know.
Neither did Woods' Ryder Cup and Presidents Cup partner, Jim Furyk. "As a friend, I didn't realize he was hurting," Furyk said from the Verizon Heritage. "I didn't realize his knee was bothering him. I didn't realize he was having surgery. I read about it in the paper."
Others, including PGA Tour commissioner Tim Finchem, knew Tiger was in pain. Instructor Hank Haney acknowledged that Woods was having a lot of trouble, but added, "He doesn't like to talk about stuff like that. He doesn't want to use excuses, you know?" Charles Howell III, who sees Woods on the range at Isleworth, also was aware Tiger had been favoring his left knee. "I knew he was playing through a bit of pain, but he's tough," said Howell. "He's not going to let it get in the way of him playing and trying to win the Masters."
The hush-hush operation, performed by Dr. Thomas Rosenberg in Park City, Utah, was deemed a success -- but there was some cartilage removed this time, an indication the knee is deteriorating under the torque Woods puts on it. So while his passing of Jack Nicklaus' major championship record was considered a mere formality after his win at Southern Hills just last August, there is now the haunting question in the back of everyone's mind about whether the fragile knee could become Tiger's Achilles' heel.
While Woods will be out four-to-six weeks, skipping a title defense at the Wachovia Championship and a shot at the Players, he should be fine for the U.S. Open at Torrey Pines in June. He is expected to use the Memorial late next month as a warm-up. "It's the long run that everybody is still thinking about," said Stewart Cink at the Verizon Heritage. "It's the majors, the FedEx Cup, the Ryder Cup. He'll come back strong again like the last time."
Woods' left knee and surgery aren't strangers. In 1994, while a student at Stanford, Woods had a benign tumor removed. In late 2002 Rosenberg, an orthopedic surgeon, drained fluid from around the anterior cruciate ligament and removed a benign cyst. Woods returned to action at the 2003 Buick Invitational, won it and then two of the next three events he played. But last week's procedure raised the specter that Woods will have knee issues the rest of his career.
While the problem is not career threatening, experts are saying this will not be Tiger's last knee operation. "This is something that's a chronic issue for him," Neal ElAttrache, a noted orthopedic surgeon at the Kerlan-Jobe Orthopaedic Clinic, told the Los Angeles Times. "I don't know if you've seen the last of surgical issues with Tiger's knee."
But Jim Bradley, clinical professor at the University of Pittsburgh and the lead orthopedist for the Pittsburgh Steelers, believes that while Woods will likely experience problems with his knee as long as he plays, his work ethic and level of conditioning will carry him through. "If there's anyone who's going to do well with this, it's Tiger," Bradley said. "He's at the top of the neuromuscular pyramid."
Bradley noted that Woods did miss a few drives to the right at Augusta National, which is a natural tendency when there's pain radiating from the lateral or outside portion of the knee. "You post up on that leg," Bradley said. "You load up and if you can't brace into it, if it hurts, that makes you come up and out of shots."
Woods was in Las Vegas last week, hosting Tiger Jam, but he hardly was dancing when one of his favorite groups, Van Halen, broke into some of their hits. While early reports had him walking out of surgery without crutches, already practicing his putting, the Woods who went up on stage to introduce Van Halen was walking gingerly and with the aid of crutches. "I can tell you he definitely hobbled," said Greg McLaughlin, president of the Tiger Woods Foundation. "He's taking the injury very seriously."
Hosting the concert and handling Tiger Jam's attendant meet-and-greet kept Woods on his feet more than he would have liked ideally, but there was one positive. Being in Las Vegas allowed him to check in with strength coach Keith Kleven, who is based there. According to sources, Kleven has been working with Woods for some time, rehabbing the knee and trying to get the game's best player to cut back on his running and heavy training -- not to mention high-impact activities such as parachuting and skiing ("the ballistic workouts," Bradley calls them), which Woods enjoys. The golfer has listened. He did not go on his annual Christmas-break trip to the slopes. In this period Woods' productivity has not suffered -- but his pain level has not subsided. Now begins the tediousness of rehab. As Woods said on his website, "The upside is I've been through this process before and I know how to handle it."
Finchem handled the news well, considering the absence of Woods for a month in the heart of the tour season, especially for the tour's showcase event, the Players, is less than ideal. As Cink noted, "If Tiger Woods isn't at the tournament, it changes it, no question."
But the commissioner painted a bigger picture. "Tiger is 32," Finchem said in Washington while attending a function on Capitol Hill to celebrate National Golf Day. "I want him healthy for the next 18 years, at least, and then another five or 10 years after that on the Champions Tour."