News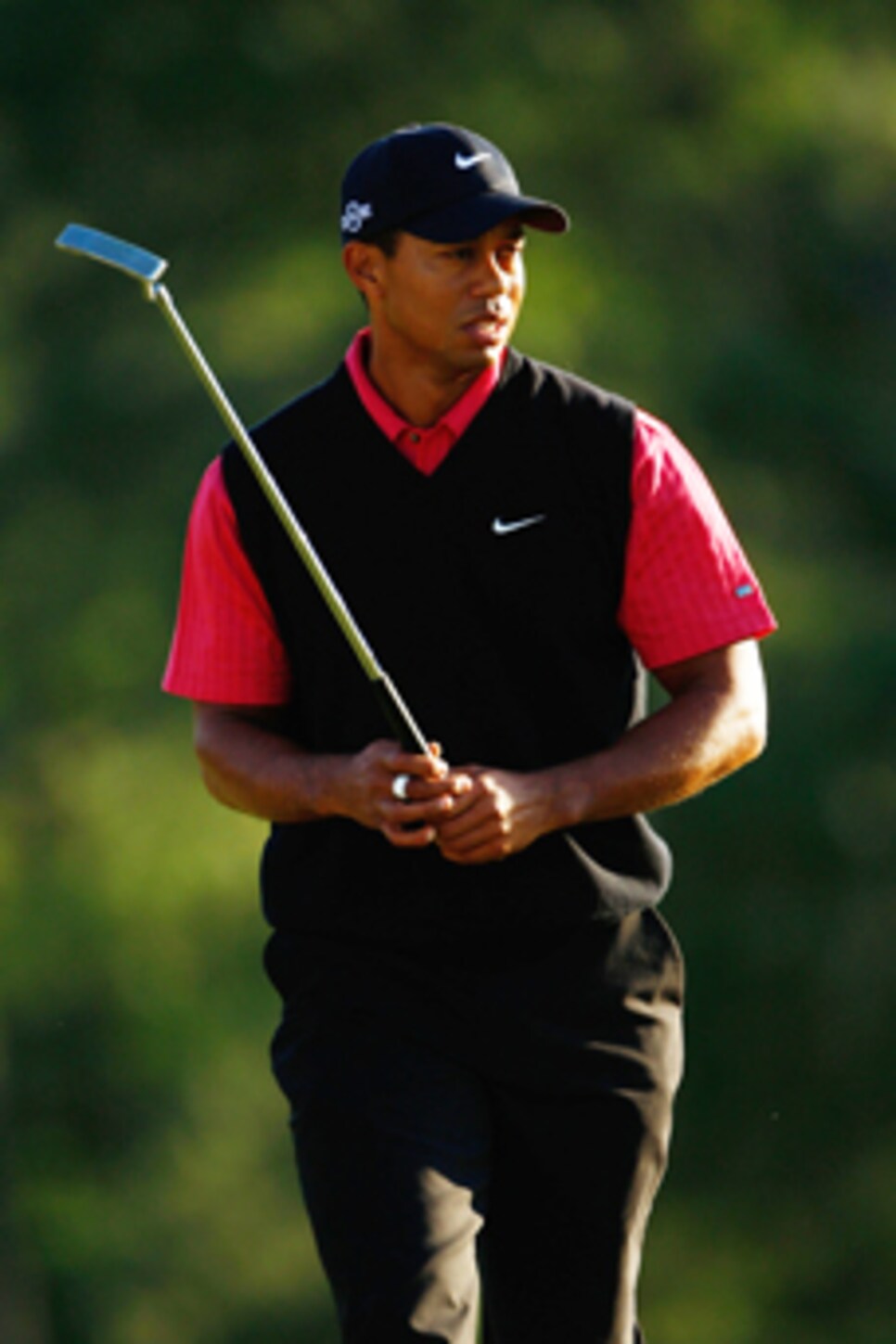 Last time Tiger lost to Immelman he responded with seven straight wins.
Tiger Woods groused all week about needing "to clean things up," but this was not what he envisioned. As he departed the Champions Locker Room Sunday evening, Augusta National's maintenance staff had the vacuums out already, as if to provide a path of unsoiled carpet for members heading to the green-jacket ceremony. Tiger went in another direction, toward the parking lot surrounded by security. He grinned, but that wasn't what he had in mind, either. When he talked about clean, he didn't mean the getaway.
"I didn't come here to finish second," said Woods, who had been a prohibitive favorite to win this Masters, because that is what iconic golfers do when they entertain Grand Slam thoughts. However, with each optimistic utterance, Tiger always treads cautiously. Nobody hands you anything in golf, he reminded, and nobody would appreciate Trevor Immelman's grit more than the world's No. 1, especially after four rounds of wrath on these greens.
It wasn't the pressure that wrecked Woods, it was the putter. He thrives on pressure, welcomes it, needs it. But his putter ruined more potential rallies than a pitcher coming up to bat with the bases loaded. "Dragging the blade," sighed Woods, explaining the fatal flaw, particularly on short putts. His pace was off or his line was askew or both. He took 120 putts. When Woods completed his round Sunday, a playoff was still alive. Immelman had dunked his tee ball on No. 16. But Woods seemed disinclined to ponder the possibility, perhaps because that would mean touching that putter again. How disloyal was it? Caddie Steve Williams developed such a headache, he removed his cap for three holes Saturday.
An official green jacket pointed out Williams' dress code violation, but Woods could not correct his stroke, a bulletin that might encourage the troops below. He could count his clutch conversions on one hand and have fingers to spare. The misadventures, meanwhile, were so numerous as to affect Tiger's body language. He lost by three strokes. Where did he misspend them? Was it Saturday at Nos. 7, 8 and 15 -- all from within 15 feet, the last two within 10 -- that cost him? Was it Sunday's eight-footer for birdie that didn't fall at the third, the three-footer for par that rimmed around and out at No. 4, or the six-footer at No. 13 that wouldn't drop for birdie? It was all of them, and the three-putt at No. 14, followed by a botched six-footer at No. 16, where averting birdie seemed unthinkable.
Galleries were thick, expectant and supportive of Woods on a Sunday when stealthy, swirling winds threatened less-experienced contenders. He didn't have to post a ridiculous score. Another 68 would have done it and would have been brilliant. That's what he shot Saturday, when he could have shot 65. But when Woods failed to birdie No. 2 Sunday, it was both déjà vu and a dark clue. In his previous Masters, Woods devoured par 5s in 93 under. This year he was merely four under. "I just wasn't releasing [the putter]," Woods went on. "I tried anything to get the ball rolling properly. The longer putts, I was great. The length of the stroke helps. But the shorter putts, I just kept dragging it." Rarely does Woods log 72 holes with so few being eventful. He did drop a couple bombs, but he exaggerated only slightly when harping that he "made nothing."
A bystander at the Masters was Leonard Decof, a famous lawyer who has frequently annoyed the PGA Tour, which thus would not consider him an innocent bystander. "Most underpaid athlete in the world," he said of Woods. "What did he make last year, $11 million? Compared with Alex Rodriguez at $26 million? Plus, Tiger has no tenure, no guaranteed contract, and if he misses the cut, nothing. If he gets hurt, out of luck." CBS, the Masters network, is seeking a polite way to remove Katie Couric as anchor of its evening news program. She was supposed to revive it; instead she has aided and abetted its invisibility. Couric's undertaker's fee? She was signed for $75 million over five years. Woods collects nary a cent directly from CBS, yet delivers boffo ratings. If only CBS could designate $75 million for Tiger as a five-year appearance fee, it would be one of the great corporate bargains in sports, or show biz.
A frigid putter alters little. Woods is must-see theater, win or lose. Now that the Masters belongs to someone else, audiences will clamor to examine his response. When Immelman beat him at the 2006 Western Open, they changed the name of the tournament. And Woods didn't only get even, he got crazy. He won his next seven starts, including two majors. Again, this Masters might inspire peers, but he still owns 64 victories at age 32 -- two per year since birth, solidifying his essence as a child prodigy. As for the Grand Slam, Woods duly noted, "There are still three to go." He said that after his round Sunday, when he laughed more than he had all week. He seemed disappointed, not devastated. Evidently, he just needed some quality time away from his putter.