News
Masters Report: Serious Business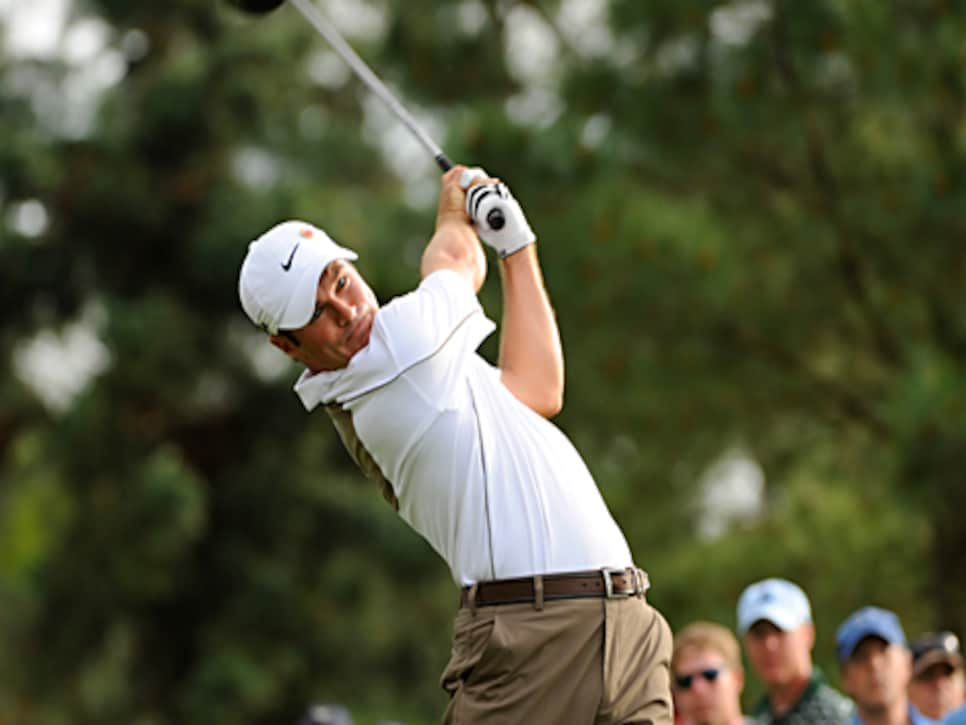 The world's greatest golf tournament IS no longer the world's greatest golf tournament, not in the context of how we once knew it, anyway. Gone are the Sunday afternoon fireworks, the four-hole birdie runs, the leader boards that changed faster than the arrival/departure screens at Grand Central Station. Power is now passé; control rules the day. Love it or lament it, the azalea patch has grown fangs and chest hair, altering the competitive disposition of the Masters to a degree many would find easier to abhor than ignore.
To find an ounce of fault in Trevor Immelman as its latest champion, however, would qualify as grasping at straws to validate the cause. From the spooky fog of Thursday morning through the blustery chill of Sunday night, no player proved more consistent in dealing with Augusta National's treachery. No one made a better case for himself statistically: Immelman ranked fourth in the field in driving distance and hit more fairways than anybody. Just one man hit more greens in regulation. Only three guys needed fewer putts.
And so he is quite worthy, a post-Tiger Woods prodigy whose development, just as several others in their late 20s, often required a pair of rose-colored glasses. If Australia produced Adam Scott, if Spain brought us Sergio Garcia, if the United States had Charles Howell III, South Africa pinned its superstar tag on Immelman, and the four remained majorless much longer than many would have suspected.
"Trevor is a player who has had to realize his own potential," said Irishman Padraig Harrington, the reigning British Open champ. "There's no questioning his [ability], but he has had to overcome the pressure of everything that has been said about him -- being the next Gary Player and all that."
The next Player? Immelman arrived here with two notable career victories in his pocket: the 2004 Deutsche Bank SAP Open, where he defeated Harrington by a stroke in a premium-field European Tour event; and the 2006 Western Open, where he holed a long putt on the final green to beat Woods by two. Immelman's five other professional wins all came in his homeland. After a big '06 in the U.S., he earned less than half as much money last season and fell from eight top-10 finishes to four.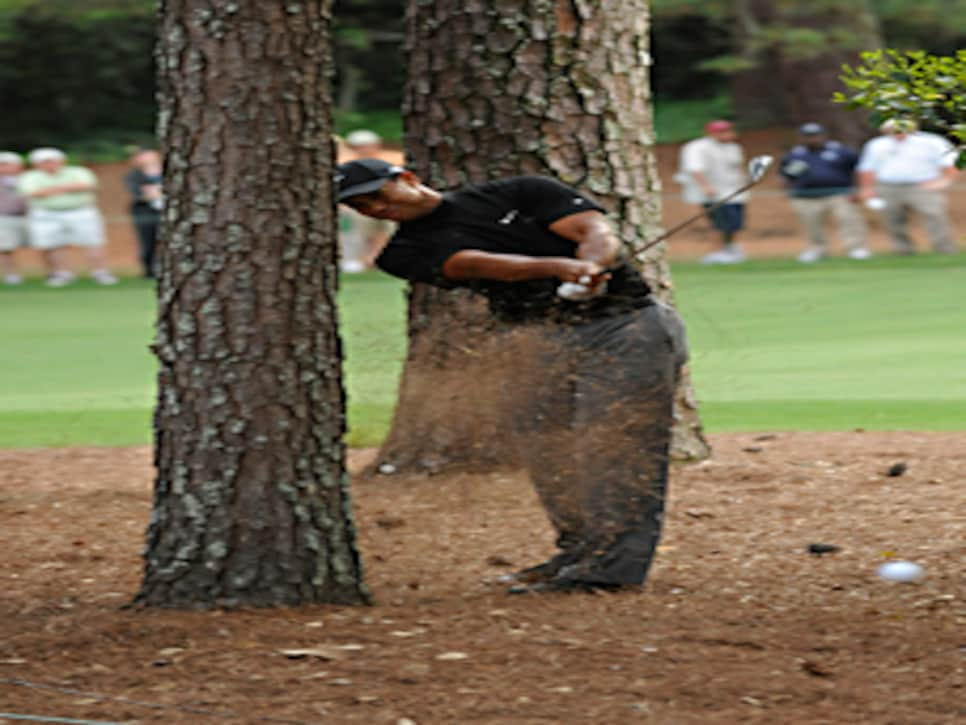 What made this Masters champ such an improbable one was the tumor removed from Immelman's diaphragm less than four months ago. "A very serious operation," said Nike Golf president Bob Wood, whose division has sponsored Immelman since he turned pro in 1999. It took two days for doctors to declare the tumor benign and about six weeks for Immelman to regain his form, but nothing he did between mid-February and early April would have led you to believe he had any chance of winning the year's first major championship.
About four dozen men have won a green jacket. Try finding another carrying evidence of a seven-inch incision across his lower back. "This has been the ultimate roller-coaster ride, and I hate roller coasters," Immelman cracked. "One week, I'm winning a golf tournament [the '07 Nedbank Challenge], and the next, I'm lying in a hospital bed. You just realize that it can all be taken away so fast."
Yes, it can, as those who spent the entire week chasing Better-than-Ever Trevor might attest. Although Immelman opened with a pair of 68s, shared the lead with Justin Rose after 18 holes and had it to himself after each of the final three rounds, a tight cast of contenders emerged early and stayed late. The role of Loch Ness Monster was played by Woods, whose ballyhooed pursuit of the Grand Slam succumbed to a neurotic putter and a start-to-finish inability to capitalize on Augusta National's par 5s.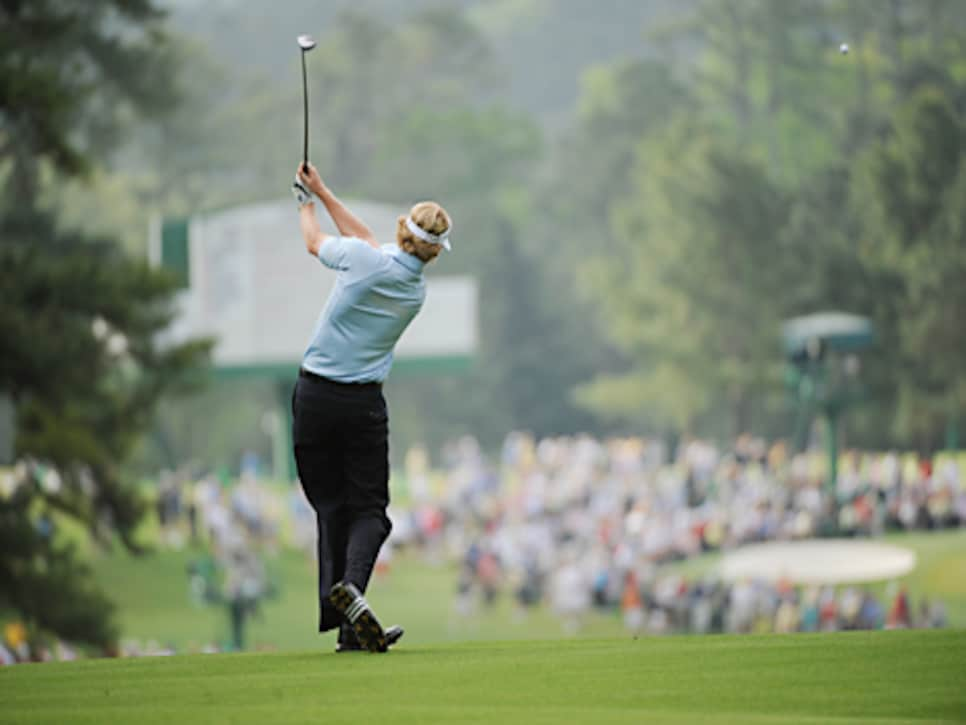 To quickly recap, Tiger holed more big putts at the WGC-Accenture Match Play Championship than most tour pros make in three years. He came east and struggled on the Bermuda greens at Bay Hill but still found it in himself to sink that bomb at the buzzer to beat Bart Bryant. He lost the WGC-CA event at Doral because he was unusually inconsistent from inside eight feet. Last week, perhaps the best reader of greens ever to stalk this earth missed with uncommon frequency to the left and right.
When Phil Mickelson won his first Masters in 2004, Woods' poor putting kept him out of the mix. The problem on that occasion was his pace, which was also the case when he finished second to Zach Johnson last April. It sure sounds ridiculous, but Tiger's putter has made a fifth emerald blazer something of an elusive commodity. The good news is, he won't have to take any more Grand Slam questions for a while.
For the bad news, see the good news. "I learned my lesson there with the [media]," Woods quipped, referring to his proactive position on winning all four majors in the same calendar year. "I'm not going to say anything." He finished alone in second place, three strokes behind Immelman, whose tee shot into the water at the par-3 16th made the final outcome look closer than it was. Still, as opportunities go, this Masters falls between could have and should have on Tiger's short list of didn't-get-it-dones.
Until jarring a no-way monster from about 60 feet on the 11th hole Sunday, Woods' longest successful birdie attempt was a 12-footer at the 10th Saturday. In the final round, he missed from eight feet at the third and three feet at the fourth, but it was the steer-job pull from six feet at the 13th that ultimately slammed his door. Tiger had escaped tree trouble with his second shot and spun a wedge just below the pin with his third, then picked an awful time to miss the hole completely and walk away with a discouraging par.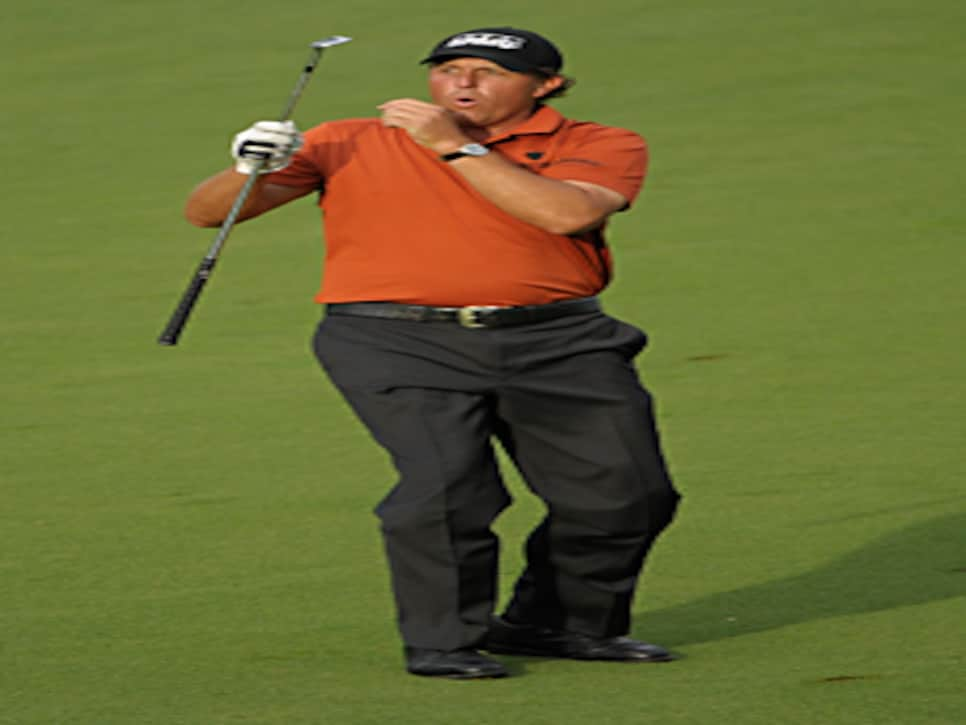 With Paul Casey (79) out of it early and Stewart Cink alternating good runs with bad ones, second-year tour pro Brandt Snedeker and easy-to-miss Steve Flesch would join Woods as Immelman's primary threats, which takes us back to where this whole thing started. The Augusta National once so accommodating to final-nine heroics remains nowhere to be found. If someone assembled a team to scatter across the ballyard and measure gallery roars from beginning to end, the 2008 Masters would have ranked somewhere near the bottom, and not because the patrons have gotten quieter.
Here's all you really need to know: Immelman began Sunday with a two-shot lead over Snedeker and won despite a closing 75 -- the highest final-round score ever by a Masters champ, matched only by Arnold Palmer's finish in 1962. What's crazier is that Immelman took a six-stroke lead to the 15th tee, at which point he was one over par for the day. Yes, a 15-mile-per-hour breeze whipped around the grounds all day, gusting into the high 20s when Mother Nature felt the urge, but this was the Masters, and the Masters defines greatness in very demonstrative terms.
Woods played lousy by his remarkable standards, but his lousy is better than almost everyone else's good. Immelman got it done. Sort of. Kind of. "I've played with very few golfers who can manage their emotions, manage their swing and manage that golf course that well," Snedeker said of his final-pairing counterpart. "He missed some short putts, and I'm sure he'll tell you he didn't putt great today, but if he had, [the final outcome] wouldn't have been close."
That's basically the point. Those who have begun comparing the Masters to the U.S. Open in terms of punitive nature aren't thinking clearly, but since the outrageous homestretch produced by the top of the leader board in 2004, this tournament has become all about playing defensively and minimizing damage. The addition of the second cut (rough), a billion trees and 500-plus yards, all of which occurred during the tenure of former Masters chairman Hootie Johnson, has resulted in a conspicuous subtraction of charm and suspense.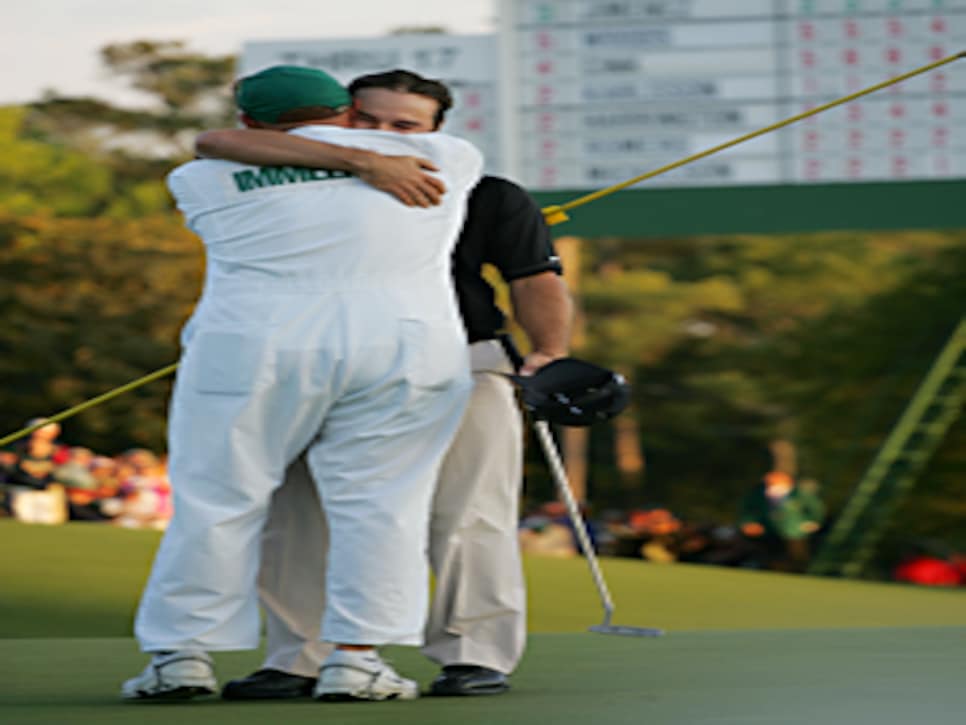 It's easy to blame Hootie and the Blowtorch for the growing pile of late-Sunday snoozers, but the game's sharpest minds failed to foresee the most obvious effect of the changes. A competition once weighted heavily to favor power players and good putters has fallen into the hands of the control freaks. You have to hit fairways to even think about winning. Scoring angles have been reduced to direct lines. Certain sections of the course have gotten alarmingly tight, but it's the congestion framing those alleys that has nullified the shotmaking and recovery skills that helped brand the Masters from its inception.
The Seve Ballesteros of the early 1980s couldn't make a cut at Augusta National nowadays. Immelman hit 48 of 56 fairways and won. Zach Johnson averaged 265 yards per measured drive but hit 45 fairways and won. Heck, those guys made a cottage industry out of laying up on par 5s once routinely attacked by anyone with a little pop in his bat and designs on a seat at the Champions Dinner.
Not to indict the last two green jacketeers -- they only did what they could and had to do -- but things have really changed. Good strategy is now conservative strategy at a place where all hell used to break loose on a regular basis. "It usually doesn't turn out too well if you try to be aggressive," said Geoff Ogilvy, who shot six over on the weekend and finished T-39. Not that he needed to finish the thought, but Ogilvy did: "Aggression doesn't work, but the guys four or five back have to be aggressive because you're not going to win parring every hole."
After years of dealing with disadvantages one could trace to his lack of supreme power, a top-tier control player such as Jim Furyk might figure to factor, but even he speaks in somewhat jaded tones. "It's a pretty good test of golf," Furyk said. "I mean, it used to be a lot of fun to play. It's not fun anymore, but it definitely got a lot more difficult." Addressing the notion that people don't hoot and holler over solid pars, Furyk added, "I don't think we have [heard roars] for the last few years. It's obviously a decision they [tournament officials] made. It's their event, a different golf course, and there's a different way to approach it now."
Woods also spoke of plodding around the ex-racetrack, although Superman plods a little differently than the rest of us. As for Immelman, who is plenty long enough to reach the par 5s in two, he decided during a pre-tournament visit with Justin Rose and Ian Poulter that he wasn't going to take any undue risks. Just look what happened. "I took note of what Zach did last year," he said. "What I decided was that I need to have a 4-iron or less to go for the green on the par 5s. It was tempting this week -- I carry a hybrid club I can hit nice and high -- but I stuck to my game plan."
The Masters doesn't release stats on players going for the par 5s in two, but for the record, Immelman played those four holes in three under for the week. Woods was four under, including an eagle Thursday at the 15th, one of just 19 eagles made by the field all week. In 1997, the year Tiger annihilated the place, there were 15 in the second round alone. In 2004, by the way, there were 30. The patrons were really loud that week.
"Whether I would have won, I don't know," Immelman added in regard to his lay-up strategy, "But it definitely helps to come in before the tournament and [determine] certain lines off the tees, the shape you want to hit and where you need to lay up. It was so beneficial for me to jot it all down in my yardage book and be thoroughly prepared for whatever was thrown at me."
In the final analysis, it wasn't exactly a ton. Immelman is a very likable guy and a deserving champion when all the data is run through the ringer, but a slower player you will not find. His ultra-deliberate pace could not have helped Snedeker, who is usually quick to the ball and over it but fell out of his rhythm playing with the sluggish South African. The duo was put on the clock at least once in the final round -- God forbid the next twosome that takes five hours to play, regardless of what's at stake.
"They were nice to us," Snedeker's caddie, Scott Vail, said of officials accompanying the final group. "They started timing us around the 14th, but that's no excuse. We knew going in what the deal would be."
Snedeker was rather emotional afterward, struggling to cope with a 77 that included an eagle at the par-5 second, which earned him a share of the lead, and the nine bogeys that led him in the opposite direction. "I think I'd put myself in a psychiatric ward," he joked of the competitive mood swings. "I went from extreme highs to extreme lows, and that's what you don't want to do around here."
Sounds like another good reason not to roll the dice at what used to be the game's most fabled risk parlor. Nike boss Wood referred to Immelman as "really self-contained, very intense inward," traits most evident at the beginning and end of Amen Corner. After a solid drive at the 11th, he lost his approach way right -- down where Larry Mize chipped in before Club Killjoy elevated the green to the level of a third-story apartment building. Immelman tried to bump his third but could do no better than the right fringe, leaving himself a mach-speed 18-footer with double bogey written all over it.
He holed that slippery devil to save par, yanked his tee shot at the par-3 12th and made bogey, then laid up as promised at the par-5 13th. From there, Immelman finessed a baby wedge from 83 yards off the slope behind the pin, applying moderate spin that left him with a kick-in birdie and got him back to 10 under. Moments earlier, Snedeker had gone for the 13th in two but instead paid a return visit to Rae's Creek, a miss almost identical to the one he'd whipped out Saturday.
At that point, Trevor had never looked better, although it must be nice to shoot a 75, knock it in the water on the 16th and still win by three. Not that anybody else would know. As that final pairing trudged up the 17th fairway at exactly 7 p.m., a gust of wind roared across the fairway from right to left, blowing off the headwear of a half-dozen or so patrons pressed against the gallery rope. It was a fitting touch. Hats off to Immelman, however the job might have been done.
When the Masters was fun ...
CBS preceded Sunday's final-round broadcast with the latest installment of "Jim Nantz Remembers," a one-hour show that looks back at a memorable Masters by re-airing a truncated version of the original network broadcast. This year, Nantz and his producers chose Gary Player's 1978 triumph as their subject, which turned out to be a fortuitous selection, and not just because Player's fellow South African and protégé, Trevor Immelman, went on to win the 2008 Masters later that evening.
It was a reminder of another era at the Masters, before the extensive renovations to Augusta National robbed the tournament of the low-scoring fireworks -- particularly the tension-choked final rounds fraught with birdies and eagles -- that set it apart from the other major championships. If you are in the camp that hated the new Augusta National course setup before you watched Sunday's 1978 replay, reliving Player's win brought tears to your eyes. If you aren't, watching the show probably made you a convert. That's what happened to me, for three reasons: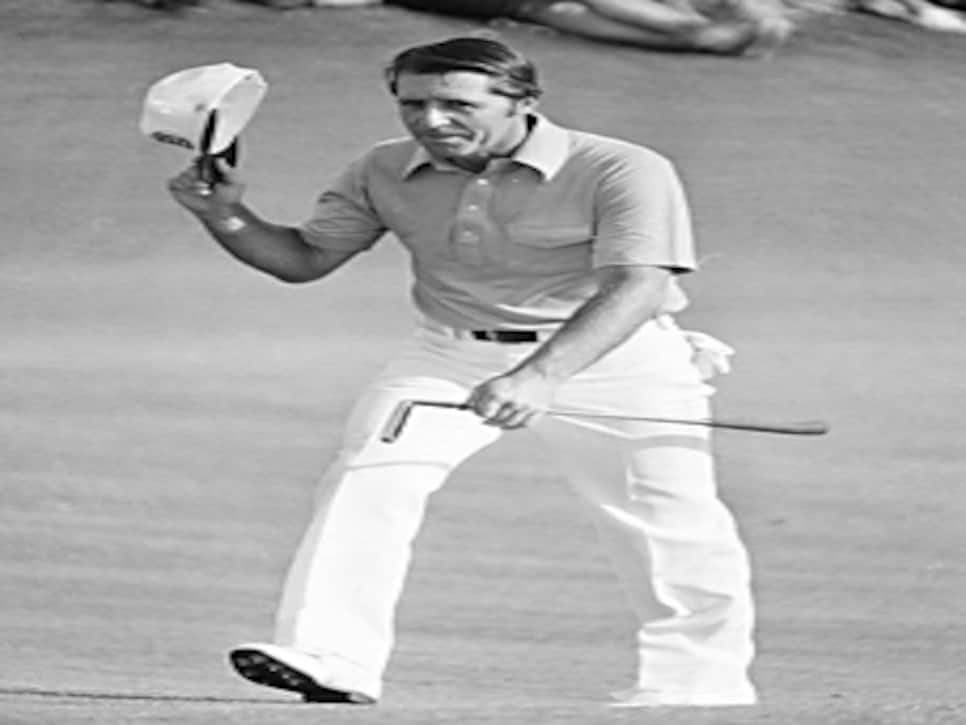 Maybe I'm generalizing, but it told me that no matter how fast or slow the greens, pressure will always be a factor on putting at a major championship. So why do we have to be so silly about green speeds today?
There have been many great final-round dramas in Masters history, but 1978 was one of the best -- and a much more riveting TV show than the one that followed it Sunday afternoon. Even if, like me, you already knew the outcome.