News
Masters Report: Thoughts From Augusta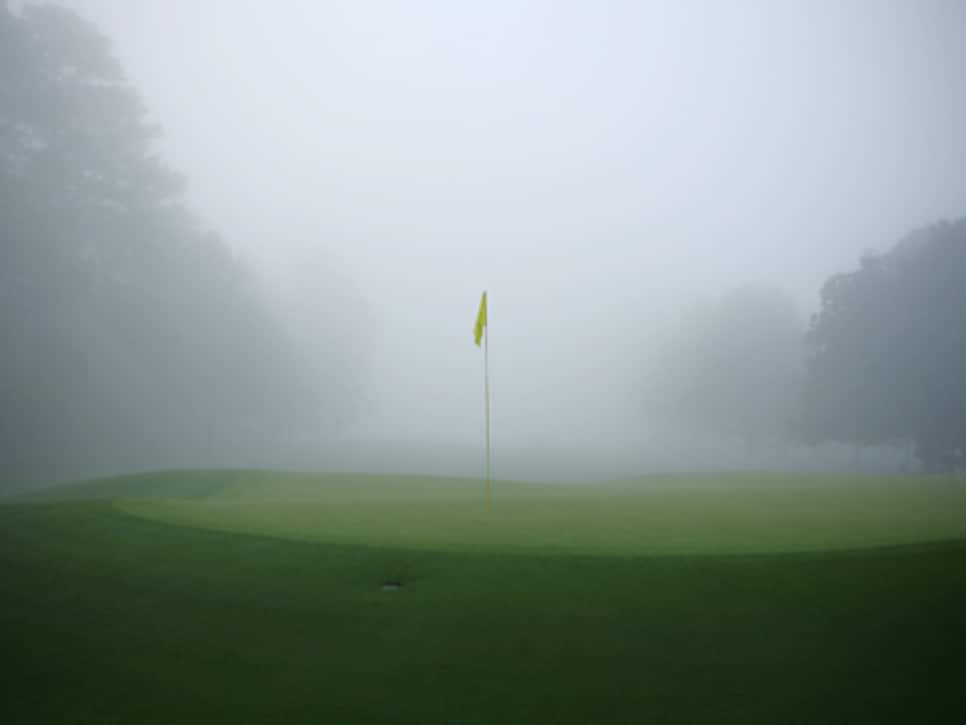 Augusta's greens have left some contestants in a condition resembling Thursday morning's fog.
Doug Ford, who won the 1957 Masters tournament and is 85 years old, has enjoyed a long golf life, from Otey Crisman to Scotty Cameron, if you want to mark time with famous putter designers of yesterday and today. When you've been around the game as long as Ford, you've seen it all on the greens -- monster putts made and itty-bitty ones missed, and as many kinds of strokes as types of grass. "George Low was the greatest putter I ever saw outside of Tiger Woods," Ford said before returning to Augusta National GC last week. "George could putt with his foot better than most guys could with their putter. That's the truth. I saw him beat a guy in Havana for $35,000 putting with his foot."
Low was one of the great characters of 20th-century golf. As Dan Jenkins described him in The Dogged Victims of Inexorable Fate: "He is, all at once, America's guest, underground comedian, consultant, inventor of the overlapping grip for a beer can, and, more importantly, a man who has conquered the two hardest things in life -- how to putt better than anyone ever, and how to live lavishly without an income."
While Low's father, a Scot named George Sr., was a formidable competitor -- a tie for second place in the 1899 U.S. Open is among his accomplishments -- the younger Low preferred money games on a putting clock to the grind of competition, although he was low pro in the 1945 Memphis Open when Byron Nelson's win streak was stopped at 11 by amateur Fred Haas. Regardless, his savant-like skills with a putter -- along with the largesse of his friends -- kept him afloat. Low was the rare golfer of his day who bragged about his ability to putt. Back then, when wristy strokes on hairy greens were the rule, outward pride in one's short game was the exception even though the best players always knew how critical putting was.
"Putting -- a game within a game -- might justly be said to be the most important part of golf," Bobby Jones wrote in Bobby Jones on Golf. "In almost every championship, or even in friendly matches, if the competitors are anything like evenly matched, the man who will win will be the one enjoying a definite superiority on and around the greens ... Among first-class competitors, it is hardly ever possible to gain enough in the long game to offset the least bit of loss in putting."
Although Low never played in the Masters, he was a friend and sometimes putting mentor of four-time champion Arnold Palmer, who gave Low some credit after finishing birdie-birdie to win his second green jacket in 1960. "The only thing I did on those putts," Palmer said at the time, "was keep thinking what my old friend George Low always says: 'Keep your head down and don't move.' " More infamously, Low called Palmer over to congratulate him on the 18th fairway during the final round in 1961 shortly before Palmer made a sloppy double bogey to hand the title to Gary Player, who just happened to be using a George Low signature putter manufactured after Palmer's win.
From the first Augusta National Invitation Tournament in 1934 (although "The Masters" was co-founder Clifford Roberts' first choice, Jones didn't let it become the official name until 1939), it was evident Alister Mackenzie's large, rolling greens were a key element in the overall design. In an article in The American Golfer previewing the 1935 event, Grantland Rice described the difficulty of a player solving the layout's challenges. "... Practice rounds and pressure under fire are two different matters over a course that calls for such delicate short-game stroking as the Augusta National demands," he wrote.
The greens were Bermuda overseeded with ryegrass. Comparing the turf conditions of the 1940s and 1950s to today is like contrasting the golf balls of the different periods (inconsistent quality control then versus perfect-by-the-dozen now, for one big difference). Suffice it to say, Augusta National's greens were quicker than most places the pros played. As Jenkins, who grew up in Texas where greens were coarse common Bermuda, says, "They were faster than anything back home."
And their shapes and slopes were more intriguing than almost any in America, where greens tended to be circular and, if anything, tilted uniformly back to front. Viewed from above today, Augusta National's greens have the outline of peanuts, hearts, kidneys, part of an exclamation point (No. 8), a flying saucer (No. 4) and a square drawn by a drunk (No. 17). All of them are about as flat as the existing tax code, with hard-to-discern movement between the sizable slopes.
"They were nowhere near as intimidating as they are now," said Vinny Giles, a career amateur who competed in nine Masters between 1968 and 1977. "When I first played, they had Poa annua in the greens; if you played late, they got bumpy. A couple of years ago I played here, and on the first green I told someone you could putt it off the green if you weren't careful. I was putting back toward the fairway and putted it right off the green after having warned somebody about it. I think they are the most fun greens I've ever seen because they are so challenging. But you never get cocky on them."
Raymond Floyd, who won the green jacket in 1976, played in his first Masters in 1965, and last week, at age 65, shot 80-74 in his 44th appearance. "Well, relatively they haven't changed," he said of the putting surfaces. "More or less, they were the firmest and fastest greens that we played in the 1960s. They're still almost that way with the evolution with agronomy. It's tough if you get on the wrong side of the hole. I three-putted the second hole Thursday from three feet. You see that on these greens. But that's what makes it what it is."
Brad Faxon, one of the best putters of the last couple of generations, grew up in New England, home of some of the keenest greens in the country. But after he gained an exemption to the Masters for the first time and a member invited him for a practice round, the reality of Augusta's putting surfaces surprised him. "All you hear about is the greens and the speed and the breaks," Faxon said. "Most of the time when something gets hyped up so much, it never lives up to the expectation. This surpassed it. If Augusta National is the barometer for what every other course strives to be, none of them reaches it. I still have never hit putts as softly as I've had to there. You feel like you have to caress a putt more so there than any other place I've ever been."
Yet, says Faxon, who played in 12 Masters between 1992 and 2004, "If you get fearful there, you're cooked. If you go there with an attitude of trying to avoid a three-putt, you have no chance of success. I try to say, 'Let's keep having fun out there.' " When the tournament lore includes five-putts and other assorted disasters, that is easier said than done. "You're going to hit some great putts there that do a power lip," said Faxon, "and all of a sudden you have a five- or six-footer left, and you go 'Holy smoke.' " Or, as Seve Ballesteros once said after four-putting the 16th green: "I miss, I miss, I miss, I make."
Beyond anecdotal proof, there are some statistics to contrast how the greens putted before and after they were converted to bent grass prior to the 1981 Masters. Philadelphia reporter Fred Byrod kept track of the putting statistics, and Golf Digest published them in 1973, detailing the total putts by Masters champions from 1961 through 1972. The totals ranged from a low of 118 putts for Gary Player (1961) and Billy Casper (1970) to a high of 135 for Jack Nicklaus (1972). Winners in this 12-year period averaged 126 putts.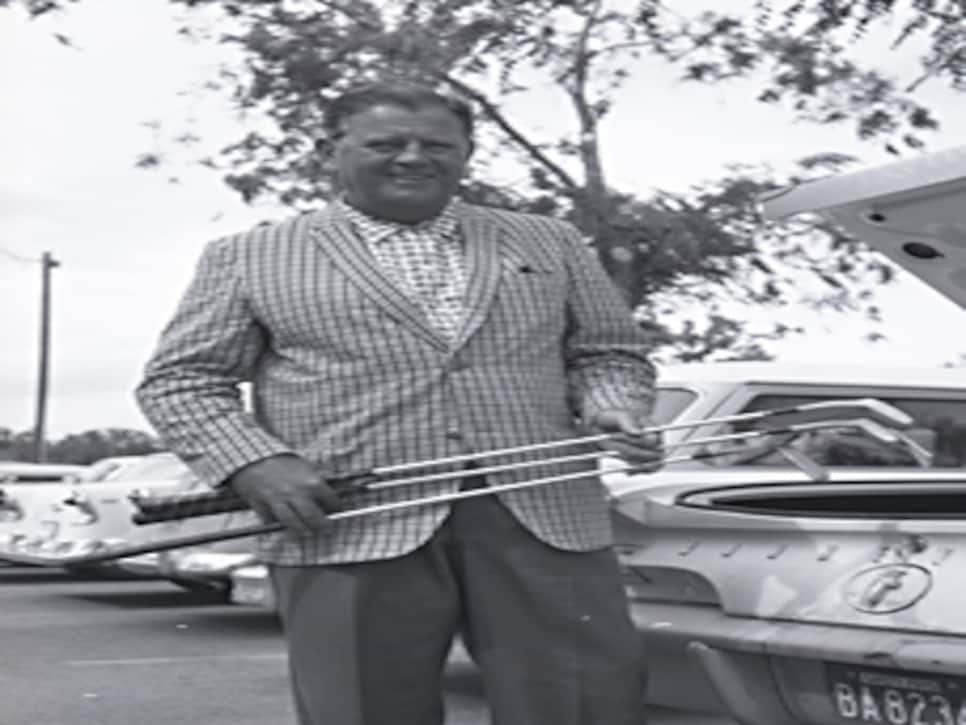 The putting surfaces were particularly bumpy in 1966 (Nicklaus, 133 putts) and 1972, evidenced not only in the Golden Bear's totals but in his three-putts, eight in '66 and seven in '72. "I've never seen greens so slow here," Arnold Palmer said in 1966. "I think they cut them with fairway mowers." Casper, whose distinctive "pop" stroke produced some of the best ever results (51 PGA Tour victories), was the only winner to go 72 holes without three-putting during this period.
The figures from 1961-72 contrast starkly with putting statistics from 1987 through 2008, the bulk of the bent-grass era. In those 22 years there was a variance from 104 putts by Mike Weir (2003) to 124 by Vijay Singh in 2000. The average for winners was 112.54 putts for 72 holes, nearly 14 putts fewer than in the measured Bermuda/rye period -- or 3½ shots per round. Of the 22 winners in the measured bent-grass period, 16 ranked in the top 10 in total putts for the week; only Singh (T-38, 2000) and Woods (T-37, 2001) ranked outside the top 30.
Nicklaus, Tom Watson and Ballesteros are the only golfers to have won a Masters on both Bermuda and bent grass. But, according to Watson, there has always been a constant. "You've got to have touch," he said. "Nicklaus put it right: You've got to have a young man's nerves to play this golf course."
NO one has seemed more at home on Augusta National's greens than two-time champion Ben Crenshaw, who was competing in his 37th Masters last week. With his flowing stroke and exquisite feel, it can seem as if Crenshaw is using a different kind of brush and paints no one else can buy. "I played a lot of practice rounds with Ben in the early '70s and used to love to watch him putt these greens because he had a different approach to it," said Giles. "Let's say I played a putt to break three feet from right to left. He might play it to break 12 feet from right to left. He lined it up differently. He 'felt' it to the hole differently. I always thought I was a good putter when I was younger, but I couldn't feel what he seemed to feel."
The object of Giles' admiration was standing under the large oak tree behind the clubhouse one afternoon last week talking about Augusta's greens, one of his favorite subjects. "They're the darndest set of greens," Crenshaw said. "The slopes and how they work -- they escape your eye because a lot of them are barely convex." At this point Crenshaw made a wavy motion with his right hand. "They go this way and they go that way then they go this way. That's why you miss your pace a lot; that's why speed is so critical."
Crenshaw, whose still-silky putting motion belies his age (56), thinks his Masters putting strategy came out of necessity. "I thought it was the safest way, but it's not the boldest way, by any means," he said. "I tried to picture the highest line. I think that has served me real well on approach putting, but from the standpoint of being bold and having a real good chance at making one, I'm a little timid sometimes. That's the flip side. Line is vital, but pace is even more vital, to picture the ball rolling out at a certain speed. That's what everybody is trying to do. That's what's hard to do."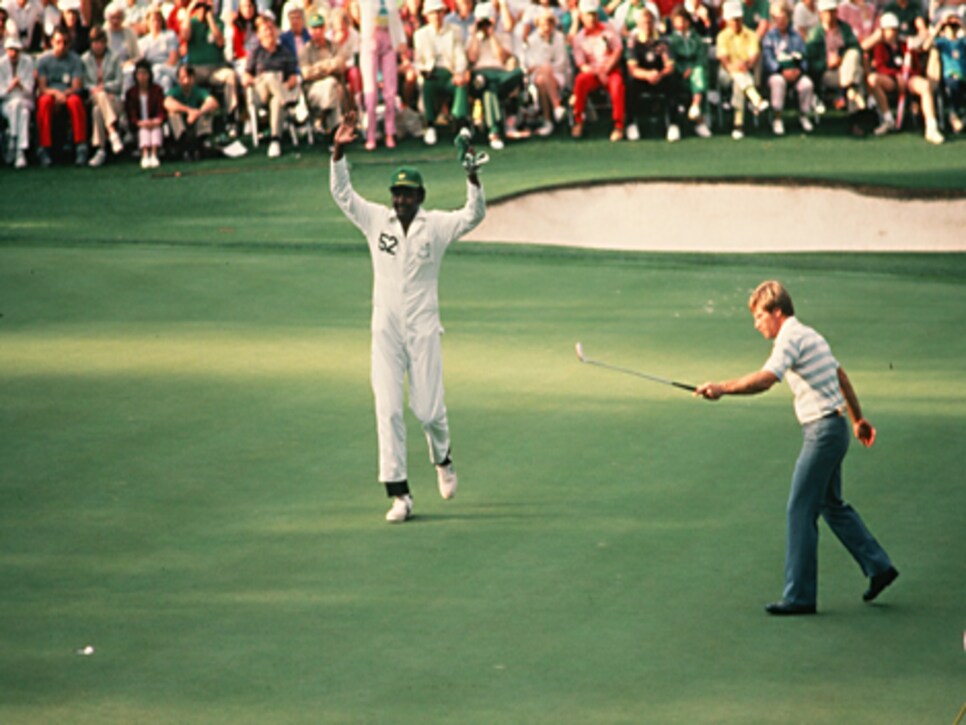 Golfers have gone to great lengths to prepare for Augusta National's greens, to become accustomed to their pace and aware of their nuances. No one has been more meticulous than the late Bert Yancey, whose fascination with the Masters turned into an obsession. Yancey played in eight Masters between 1967 and 1975; on his first trip to Augusta he constructed Play-Doh models of the greens on a plywood board so he could better understand what he faced.
"I felt it was a matter of putting all this information in my head, and by doing it physically with my hands I could memorize the greens, the placements, the slopes," Yancey explained to this magazine in 1977. "It proved enjoyable and relaxing, and I hoped it would give me a little advantage. I knew it was helping me to totally prepare for the tournament. Each year I'd slip the board under the bed in the rental house where I stayed and slide it out the next year. I guess it was novel to some people, and when the word got out, because I didn't mind talking about it, people started making fun of me."
Yancey had two top-three finishes at the Masters, and he hasn't been the only golfer to take unorthodox measures to meet the unique challenge. Ian Woosnam, perhaps because he is only 5-feet-4½, said he practiced putting on a snooker table before winning the 1991 Masters. Before his second Masters in 1997, Paul Stankowski tried putting on the concrete floor of the garage at his Texas home. In his Thursday round at Augusta, on a day when the greens were wickedly firm and fast and some of the hole locations bordered on goofy, Stankowski shot a 68. The same afternoon, putting maestro Loren Roberts shot an 85 with 40 putts.
Before he came to Georgia for the 1995 Masters as the reigning U.S. Amateur champion, Tiger Woods practiced on the basketball court at Maples Pavilion at Stanford. The preparation didn't pay off on the first hole when Woods stroked his 20-foot birdie a little too hard, and it scooted off the green. "Next thing I know," Woods recalled last week, "I'm chipping for my next shot."
But Woods was a quick study, going 72 holes without a three-putt en route to a record 12-stroke victory in 1997. "Even though they have probably gotten faster over the years, I guess through experience they slow down to you," Woods said. "[The course] is playing a lot more penal off the tee, but the greens are still the same. The greens are still just as penal."
There were no reports last week of any golfer having tuned up on a gym floor, but Brandt Snedeker and Zach Johnson practiced at the Frederica Club in St. Simons Island, Ga., two weeks ago on a green that was rolling at least as fast as Augusta's. Johnson has learned a lot about the greens since his first Masters in 2005. "I remember someone telling me after that week was over, you don't try to make putts at Augusta -- you try to see your line and hit it down your line, and if it gets to the hole, great," Johnson said last Saturday after shooting 68. "That's usually the way you go about it. My second putt on 18 today was all of eight feet and [the way I stroked] that ball on most greens it probably would have rolled about two feet."
"It's hard to imagine you hit it that softly, and it goes that far past," CBS' David Feherty observed Sunday as Phil Mickelson's downhill 35-footer rolled 15 feet long on No. 4.
Bermuda or bent, there has always been some complaining about the severity of Augusta National's greens. Not everyone had as good a time putting as Casper in 1970. "They sure are saving on the water bill on the greens because they black-topped them last night," quipped Dave Marr. In the final round that year on the dipsy-doodle sixth green, 17 consecutive players three-putted. The severity of that putting surface at No. 6 was reinforced last week in the second round when Snedeker chipped in from the back-right portion of the green over a steep slope to the back-left hole location, a tactic that fellow-competitor Tom Watson thought showed the 27-year-old's imagination. "He was dead with the putter in his hand," Watson said, "and lo and behold he chipped it in the hole. The best he was going to make [putting it] was 4 or maybe 5, and he chips it in."
In each of the first three rounds last week, 10 cups were located five yards or less from the edge of a green; on Sunday eight were situated that tight. Watson thought the hole location at the par-4 third Friday was too severe, although his criticism was much milder than Nicklaus' was during the 1982 Masters. "The cup at 18 must have been cut at midnight," the Golden Bear said after five three-putts and a second-round 77. "These pin positions are asking you to make an ass of yourself."
For decades players thought Masters officials prepared the greens one way for practice rounds and another way once the tournament began. "You could spend hours on that practice putting green," said Faxon, "but I always thought they had some magic dust they sprinkled Wednesday night on the course. It was a little bit quicker than the practice green. It was a little bit harder. A pin placement might be in a little different spot than you thought it would be."
The tournament's inclination for fast greens probably reached its peak in the late-1980s with the arrival of superintendent Paul Latshaw from Oakmont CC, which is known for having the quickest, meanest putting surfaces in all of golf. Augusta's greens were triple-cut daily during tournament week for the first time in 1987 and were just as firm and lightning-fast in 1988. "If you've got a downhill putt, you're just touching the ball and hoping you can make the 10-footer coming back," Fuzzy Zoeller said. "If that's golf, I'm in the wrong damn league."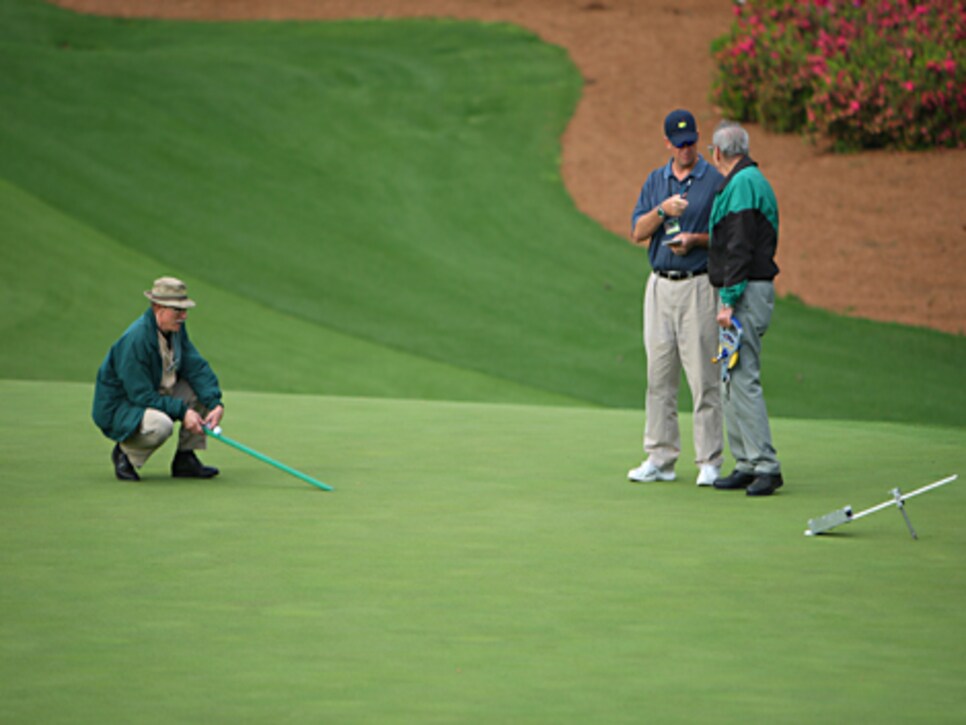 By this point in Augusta National's history, flippy putting methods had gone the way of walk-up ticket sales for the Masters. It was essential to have a putting stroke with a "fascinating absence of hurry," as O.B. Keeler described the technique of French star Arnaud Massy in 1926 during Massy's exhibition tour of the United States. In The Master of Putting, his 1983 instruction book, Low said, "As far as I'm concerned, in putting, speed of stroke definitely kills."
Many decades before mowers and grasses got so good, Ed Stimpson thought excessive speed of greens was detrimental to the game. A couple of months after the 1935 Masters won by Gene Sarazen, the U.S. Open was played at Oakmont. Stimpson was struck by reports of how difficult the club's fast and undulating greens were. An unheralded local pro named Sam Parks, who had played the course dozens of times and knew it better than anyone, won with an 11-over 299, but the devilish putting surfaces gave everyone else fits. "That year I got the impression that the greens at the Open were too fast," Stimpson told The New York Times in 1983. "On one hole that year, Gene Sarazen putted off the green and into a bunker. He had two putts on that green, but they were not in succession."
Stimpson, who won the Massachusetts Amateur title that year but had been intrigued by understanding putting since missing an 18-inch putt to lose the 1926 New England Amateur, got to work figuring out how to measure the speed of a green, designing a 30-inch wood device with an indentation for a golf ball 12 inches from the end closest to the ground. When raised 15 degrees off the ground, the ball rolled away, and Stimpson noted how many inches the ball traveled. He repeated the process in the opposite direction and averaged the two numbers to come up with a green speed in inches or "stimps."
In October 1936 Stimpson took delivery of 25 "Stimp Meters" produced by Charlton-Johnson Manufacturers of Boston. They cost $1 apiece. Stimpson explained his invention in an article in Golfdom the next year, noting the variables his putting research revealed. "In general," Stimpson wrote, "these experiments proved conclusively that great accuracy is necessary in the force of the blow in sinking putts on curved surfaces, and that wide variation is possible in the line on any one putt provided the force of the putt is properly correlated to the line chosen."
It would be decades before Stimpson would see his "golf level" utilized how he had initially hoped. He gauged the greens at The Country Club in Brookline, Mass., during the 1963 U.S. Open and found they measured 32 "stimps" -- or 8.9 feet by what would become the current standard. USGA senior technical director Frank Thomas modified Stimpson's design in the 1970s, creating a 36-inch aluminum "Speedstick" that released the ball 30 inches from the end when it was lifted 20 degrees. Because the ball rolled farther on greens that were faster, measurements were taken in feet instead of inches. The USGA began selling "Stimpmeters" to golf-course superintendents and others in the industry in 1978. One costs $54 plus shipping today.
For many years Stimpson was an interested, long-distance observer of the Masters. "From his original work with the Stimpmeter, he knew how fast a ball rolled and how much friction was needed to slow the ball down," Edward Stimpson III said recently from his home in Massachusetts. "He did a lot of experiments where he timed a ball rolling off his Stimpmeter. He would watch the Masters on TV with a stopwatch, calculating how fast the greens were based on how long it took the ball to roll to its destination. He would watch the Masters and think the greens were too fast. Then he would write [the Masters chairman] and say, 'I calculate the greens were such and such.' He wouldn't hear for a while, then he'd finally get a very clipped letter back: 'Dear Mr. Stimpson, we don't measure our greens.' "
Then, one year, a friend of Stimpson who knew someone on the Masters committee got a look at a report sent out after the tournament. "It had a table," recalled Stimpson III, "that showed every day from Sunday before the tournament through the final round with details from morning and night -- green speed and notes as to what should be done: double-cut this one, water and slow this one. It was clear the Stimpmeter was being used." The week of the 1981 Masters, chairman Hord Hardin said Augusta National's greens were 9.9 on the Stimpmeter and desired to get them to 10, but in subsequent years the club has treated the speed of the greens as it does gallery size and tournament merchandise sales -- as state secrets. "I would say they were [running] about 13 today," Crenshaw's longtime Masters caddie, Carl Jackson, said last Thursday. "They were quick, but we like 'em crazy-quick."
Jackson learned his craft from Willie (Pappy) Stokes, who carried for the Masters champion five times from 1938 to 1956, including Ben Hogan's two victories. Stokes walked Augusta National from the days as a boy bringing water to construction crews in the early 1930s. "When the greens were Bermuda, they were tricky," said Jackson. "Now they're true. Ninety percent of the putts, everybody in the gallery knows which way they're going to break. It's when you get on that fall line, you've got to know what to lean on." Jackson relies on the influence of a "hot spot" he learned from Stokes, and it's more involved, he says, than simply Rae's Creek or the lowest spot on the property. "Pappy taught it to me, and the only other person that knows it now is that man [Crenshaw]."
Rest assured Crenshaw has never gotten a read like John Mahaffey got once from a club caddie on No. 16. "I had a four-footer for birdie," Mahaffey said. "Some of these greens have optical illusions in them. I was a little confused and asked my caddie to have a look. I said 'What do you think?' He said, 'Outside the hole.' I said, 'Which side?' He said, 'Pick one.' "
Phil Mickelson's caddie, Jim Mackay, has been working the Masters for nearly two decades. Because Mickelson knows the course so well, Mackay reads fewer putts at Augusta National than at any other venue. Televised highlights reinforce the way certain putts break. Despite the familiarity, though, Mackay said, "It's one of those places where you know exactly what you've got in front of you, yet you still find yourself scratching your head a lot on the greens."
A few years ago Mackay got to play a round at Augusta National. "As a caddie, you sit there when your guy has a 25-footer and think it isn't that tough," he said. "The one time I got to play it, I was like 'Oh, my goodness.' It just gave me so much more respect for the difficulty the guys have to deal with."
The most amazing putt Mackay has witnessed at the Masters came in the final round in 2003. After spraying his tee shot left into a hazard on the par-5 second hole, Mickelson took a drop, then hit a driver 285 yards onto the front-left edge of the green. The pin was back right. "He made it from 110 feet as the crow flies for the most incredible 4," Mackay said. "But the ball probably traveled 150 feet because he had to putt it up to the back fringe and have it come back to the cup."
Trevor Immelman didn't sink anything quite that dramatic Sunday at Augusta National in winning his first major championship, but he made enough putts for the week, eight fewer (112) than runner-up Woods. Putting gets a lot more respect than it once did, but some things don't change. On the eve of the final round, Player left Immelman a voice mail that included a putting tip. He told him to keep his head still. Somewhere in the great beyond of great putters, George Low might be looking for his cut.