News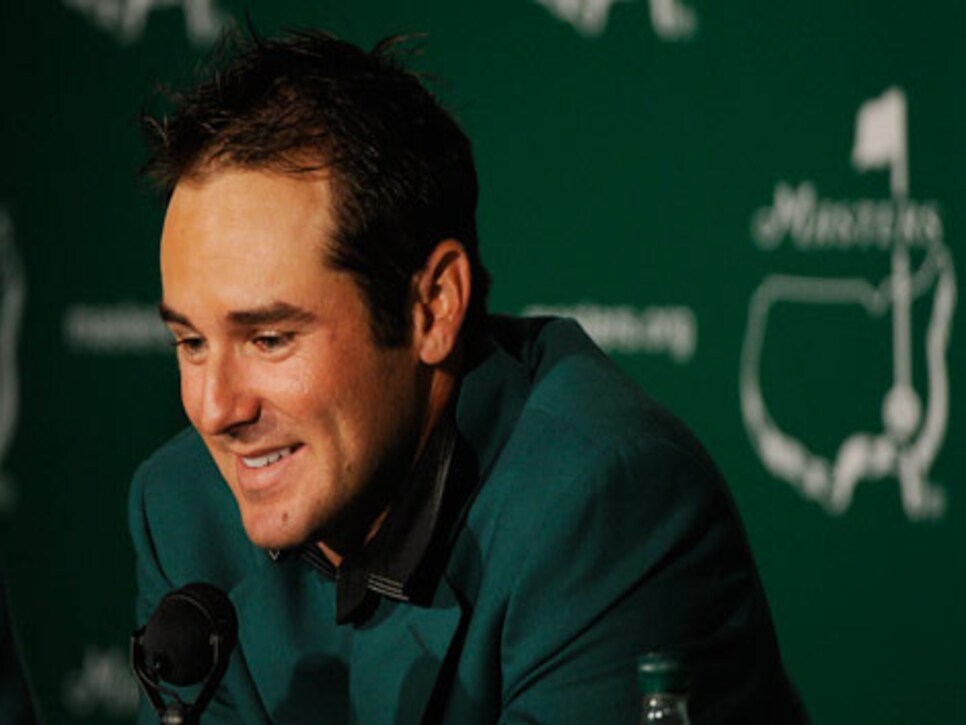 Achieving the green jacket won three times by Player, Immelman had reason to smile.
Trevor Immelman always has looked the perfect golfer. He has the kind of 5-foot-9-ish, mesomorphic body type that used to be common among so many of golf's greatest champions. His crystalline eyes and granite jaw are Hollywood caliber. Most important, his swing is so dynamic and sound that even when the hyperbolic Gary Player says it's the most like Ben Hogan's he has ever seen, it doesn't seem an exaggeration.
According to those who have known him longest, Immelman also possesses a passion comparable to his South African predecessor. When he was a boy of 8, Immelman would employ approximately the same mantra Player used standing before a mirror as an adolescent. According to family friend Dudley Wolhuter, who was the manager of a club team at the Immelmans' home course, "Trevor would tell people, 'I'm going to be the best golfer in the world. Just wait.' "
But even though Immelman is only 28, it's likely even his biggest supporters had stopped waiting. For all his gifts, he seemed to lack the Player-like intangibles necessary to achieve such an ultimate goal. The most obvious was a tendency toward woodenness with the putter, but a certain vulnerability under pressure was also evident. Indeed, Immelman has spoken of the "massive shoes" countrymen like Player, Ernie Els and Retief Goosen have left him to fill, as well as the stress and nervousness he often feels in competition.
Going into the Masters, Immelman's victories since turning professional in 1999 included only three on the European Tour and one -- the 2006 Cialis Western Open -- on the PGA Tour. He won the Nedbank Challenge in South Africa last December, but shortly afterward he required a surgical procedure to remove a benign tumor from his diaphragm. Not himself physically, he started 2008 with four missed cuts in seven stroke-play events on the PGA Tour, with a best finish of T-17, a second-round loss in the WGC-Accenture Match Play Championship. Immelman dealt with his latest frustrations as he always has, with good manners and outward equanimity, causing some to wonder aloud if he is too nice, or even too soft.
Prior to last week, Immelman was probably fifth in the formidable South African pecking order, behind Els, Goosen, Rory Sabbatini and Tim Clark, with young Richard Sterne applying pressure from below. Among golf's elite twentysomethings, Immelman seemed to lag behind other foreign hotshots Adam Scott, Justin Rose, Sergio Garcia and Aaron Baddeley, as well as young Americans Sean O'Hair, J.B. Holmes and Hunter Mahan.
No wonder Immelman reacted to his three-stroke victory by saying, "It's the craziest thing I've ever heard of."
On one level the victory seemed to come out of nowhere, such are Immelman's strengths that suddenly he looks as if he is the guy who just might pass all the names above -- he is now the only player in his 20s with a major -- and can get very close to what the little boy foretold. At the Masters, Immelman was carried by the sheer soundness of his ball-striking. For the week, he was first in driving accuracy and tied for second in greens in regulation. And on a wind-whipped Sunday, perhaps the meanest final day since Augusta National was dramatically redesigned, Immelman kept hitting quality shots at a rate greater than his pursuers. Sunday, his stunning approaches to the par-four fifth and par-5 13th produced short birdies that took back control of the tournament.
"Trevor's swing is efficiency in motion," says Nick Price, who has known Immelman since he was 11. "There are no extraneous moves. It's the kind of swing that can handle any golf course tee to green."
Yet the most impressive thing about Immelman's victory was the doggedness with which he made big putts. Always a poor putter by any statistical measure, Immelman made his best strokes when he needed them most. After a couple of short misses to start his third round, Immelman made a scary, downhill eight-footer for par on the fifth and played four under the rest of the way. Sunday, after Brandt Snedeker made a 35-footer for eagle on the second, Immelman missed badly on a short birdie putt, setting off a foreboding murmur from the gallery. But on the fourth, he made another tough eight-footer for par. After pulling a three-footer for birdie on the seventh and three-putting the par-5 eighth for bogey, Immelman grinded in a crucial 10-foot curler for par on the ninth.
"That one was the kind of putt you have to make to win these things," said sport psychologist Bob Rotella, who has worked with Immelman for four years. "The whole goal this week was for Trevor to make them all in his mind and then hit the putt with no thoughts of results.
Result-oriented thinking will lead to mechanical and technical thoughts, which get a player in his own way. But this week, his mind was really clear with the putter."
Immelman benefited from other good influences on his putting. On the Monday before the tournament, he played a late-afternoon nine with Ben Crenshaw. According to Immelman's agent, Jon Wagner, "Ben told Trevor, 'I'm so sick of these putting gurus telling everyone how to putt. You have your stroke that works for you, and it's good enough.' Hearing that from Ben was like a light bulb went off, and Trevor said, 'You know, I'm going to do what I do and accept the results.' "
Immelman's 37-year-old brother, Mark, the golf coach at Columbus (Ga.) State, where he was an All-American, and who was Trevor's first teacher ("I was like Harvey Penick when he saw Sam Snead," he says. "I saw my brother."), had him putt toward a quarter and a 1942 penny rather than a hole, again to emphasize solidly hit putts rather than results. Wednesday, Mark gave the penny to his father, Johan, with the words, "Hold on to this. Your son's going to win the Masters this week."
As so many players later report after winning a major championship, Immelman possessed an eerie calm and laser focus all week. Usually addicted to ESPN and the Golf Channel, Immelman went cold turkey to avoid hearing about himself or other players. Sunday morning, Mark said Trevor was parked in front of the television watching Mickey Mouse with his infant son.
The confluence of forces gave Immelman the qualities he had been missing. He knows Player, who held Immelman in his arms as a 5-year-old and made him one of his captain's choices in the 2005 Presidents Cup, had always seen something of himself in the younger man. The question has always been, did Immelman see some of the ultra-gritty and ultimate winner who is Player in himself?
The answer came before the final round, when Immelman listened to a voice mail he received from Player, who had to fly to the Middle East before the end of the tournament. "He told me that he believed in me and that I need to believe in myself," said Immelman. "He told me to go out there and be strong through adversity, because he said that adversity would come today, and I just had to deal with it. ... It gave me goose bumps."
Of course, Immelman carried his toughness less demonstrably than Player did and still does. Immelman has often cited Price as someone he identifies with for temperament and style of play and, like Price, he works with David Leadbetter and Rotella.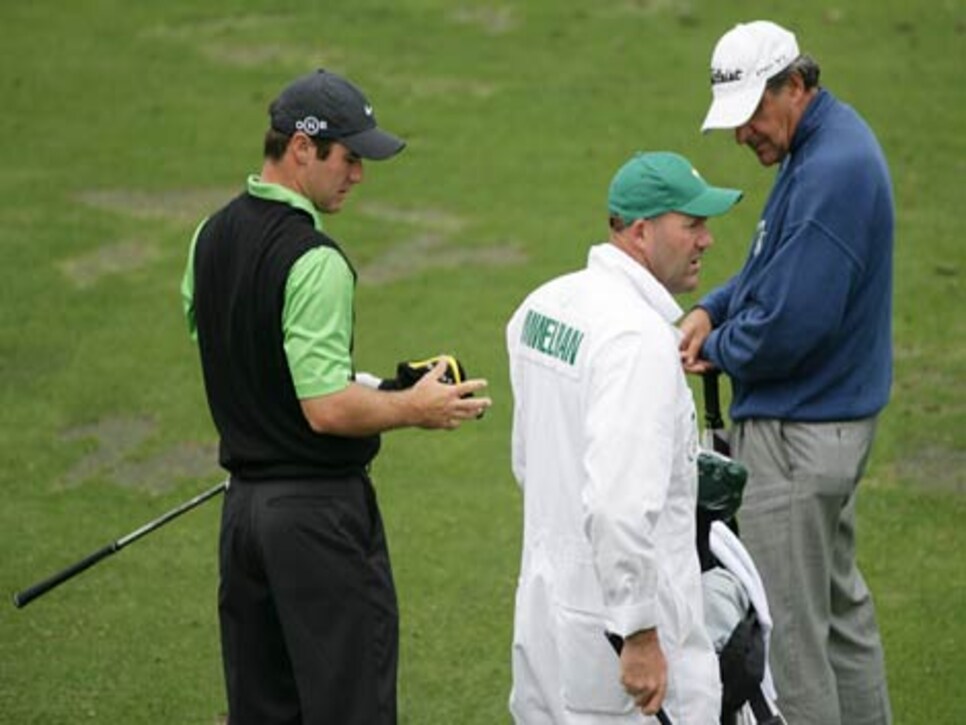 "From the first time I met Trevor, I was impressed with the way he would look you square in the eye and really listen," says Price, who was the game's No. 1 player in 1993 and 1994. "He asks good questions, and then he incorporates the answers into his game so that tee to green, he is tremendously complete. As I did, he has had a bit of a problem getting his career to take off. We both battled the putter as young men. But he just won the tournament that is the hardest to win if you have a chink in your armor on the greens. He can use that to make putting a strength, and if he does that, look out."
Although Immelman picked up a stomach parasite that caused him to lose 25 pounds at last year's Masters, it will be fitting that Augusta provides the springboard to his career. As a young man, he and his brother would sit on the couch in their Cape Town home well past midnight watching the Masters live while taping the tournament for frequent later viewings. The most popular editions were those won by Seve Ballesteros and Crenshaw.
Those were joyful days, and his recent medical travails helped Immelman realize that all the angst he too often expended on his game was energy wasted and perspective misplaced. "I just realized that I'd better start enjoying the talent I've been given," he said. "Because it can be taken away." When Woods was asked about Immelman on Sunday evening, he first called him "extremely talented," and then commented on the setbacks that the champion had suffered in the previous months. "You know," Woods said, "sometimes that's a good thing."
Leadbetter sees the pieces falling into place. "Trevor is finally in the place where I always thought he would be," the instructor said after the victory. "He has a taste of what it takes to win a major, the doubt is gone, and he has enough talent and technique to have maybe found a formula. I think he will go from strength to strength."
The next major test, of course, is the U.S. Open at Torrey Pines, where Immelman won the 1998 U.S. Amateur Public Links. And while Trevor Immelman will never be a perfect golfer, he now somehow more than just looks like one.