News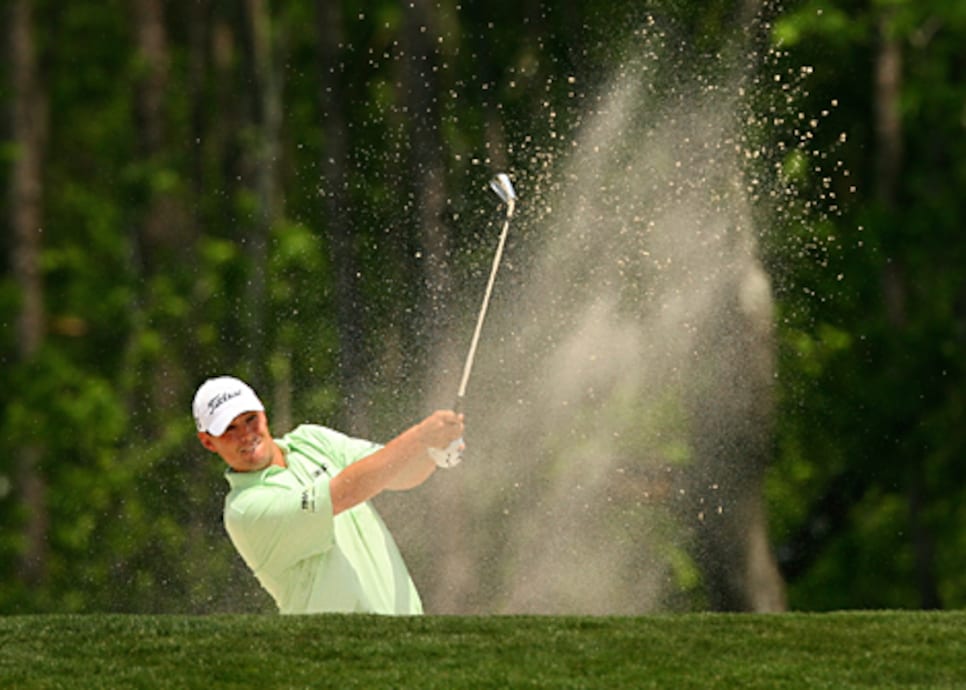 Good-luck color: Lime green worked for Johnson on the Nationwide Tour and in Sunday's clutch 71.
Where did he come from, this man with two last names, neither of which, incidentally, is Hogan or Nicklaus? When the final round of the Shell Houston Open took on the form of a race, its finish line in Augusta, who would have bought even a show ticket on Johnson Wagner? Or Wagner Johnson?
His form chart suggested also-ran was the best bet, even in lieu of his head start, a one-stroke lead through 54 holes. He had missed six straight cuts earlier this year, tied for 78th and 64th in the preceding weeks and hadn't won on this level.
And the pressure, it induced nausea. "I thought I was going to get sick on myself out there a couple of times," he said. A PGA Tour victory, an invitation to the Masters, $1 million, those were the stakes. Those in pursuit, champions and major champions, many playing to secure their own Augusta invitations, considered the odds and no doubt felt better about their own chances against a man with eyes too wide to narrow the focus required on Sunday afternoons in this arena.
"It might be tough for somebody who had never been to Augusta before," said Bob Estes. "It might put more pressure on them, thinking, 'This is my chance.' "
Who could have known, other than Johnson Wagner himself? It occurred to him the previous Sunday, when he shot 69 in the final round of the Zurich Classic of New Orleans and realized that a simple change suggested by his teacher, Bobby Heins, was capable of leading him to places he had only dreamed about, to Augusta National and beyond. Sunday night from New Orleans, he phoned Heins, a former tour player and now the head pro at Old Oaks CC in Purchase, N.Y.
"You know what?" Wagner said to him. "Everything's in place. I've just got to go do it now."
Sooner prevailed over later for Wagner, 28 and in his second year on the PGA Tour. He went out and shot 16-under 272 to win the Shell Houston Open at Redstone GC in Humble, Texas, leading wire-to-wire and staving off late challenges by Geoff Ogilvy and Chad Campbell, among others. He made an 11-foot putt to save par on 17 and made another par from in front of the green on 18 to win by two, his succession of ensuing fist pumps evocative of Tiger Woods were it not for his lime-green shirt.
Lime green was his Friday color on the Nationwide Tour, where he won twice in 2006. "It was my good-luck color, my cut-making color, and it failed me last year," he said, recounting a year in which he missed 13 cuts in a 14-tournament stretch. "So I thought once I got in the hunt, it was going to be lime-green Sundays."
Those to whom he was introduced last week likely are hoping more lime-green Sundays are in his future. His smile is broad and of a scale that comfortably fits his 6-foot-3, 230-pound frame. He is engaging and polite and enjoys the attention a weekend stage provides him to banter with the media. Asked what he received for his GEICO Insurance endorsement, he replied, "Unlimited gecko headcovers for my driver, which I like," he said. "I want the caveman to caddie for me."
As for his first name, he does have one, incidentally. It's Montford. He has an uncle with the same name, who was called Monty, Wagner's father, Tommy, said, "So we just started calling him Johnson."
Johnson was named after his grand-father, Montford T. Johnson, or M.T., as he was known. Wagner's golf lineage can be traced to M.T., who was a former secretary of the USGA and once served as chairman of the USGA's implements and ball committee. M.T. Johnson was also the official who called a two-shot penalty on Denis Watson for waiting too long for a putt to drop on the eighth hole in the first round of the 1985 U.S. Open (Watson finished one stroke behind winner Andy North).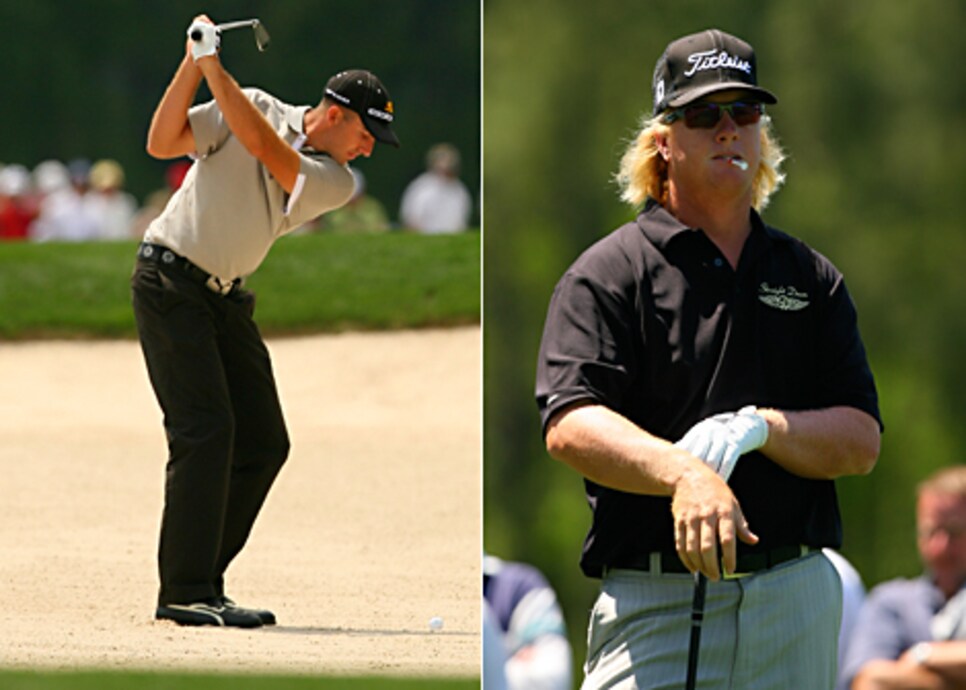 Wagner was born in Amarillo, Texas, where his father worked in the cattle and oil and gas businesses. At 35, Tommy decided he wanted to leave Amarillo and find another career, and so he enrolled at Vanderbilt, where he received a Ph.D in computer science.
Eventually, he taught computer science at the U.S. Military Academy at West Point. Computers did not similarly intrigue his son. They were too technical for a man who would make his way in the world on the strength of his feel. "He's a feel player," Heins said. "We had that discussion a long time ago. If you want technique, I'm not your guy. If you want feel, I grew up taking lessons from Claude Harmon and Bob Toski. That's what I know."
Wagner and Heins began working together when Wagner finished his college career at Virginia Tech and turned pro in 2002, yet theirs was only an occasional relationship. Early this year, Wagner decided he would go it alone, a decision he now admits was wrong. Six consecutive missed cuts changed his mind.
A month ago he summoned Heins to Florida. "I didn't change his golf swing," Heins said. "I wouldn't touch that in a million years. It's very athletic. I always tell him to watch Campbell to get an image of what he looks like swinging. It's more of a take-back on the older swing."
Wagner's issue was that he played the ball too far back in his stance, Heins said. "He would come at it steeper and more inside and would need a lot of rotation of the face through the ball." His regular miss was the ugliest shot in professional golf, the sweeping hook that threatened to keep his game anchored between mediocrity and stardom.
"I'm not curving the ball as much," he said Thursday, after a round of nine-under 63 that enabled him to regain a share of the course record he set last year (with a 64) and had held until Adam Scott broke it with a 63 earlier on the same day. "I hit it a lot straighter now."
The miss to the left remained in his repertoire last week, however. "He's swinging well, but he doesn't own it yet," Heins said. "He's having to work through it." Yet he carefully avoided most of Redstone's various water hazards, hitting only two into the water, both in the second round.
He took the solo lead Friday, then maintained it into Sunday, by one stroke over Campbell. Through four holes, his lead was five and Augusta National began prematurely to appear on the horizon. Campbell slowly began erasing his deficit, and with a birdie at 15, it was one.
When Campbell bogeyed the 16th, Wagner had room to maneuver. After saving par at 17, he looked forward to disposing of the drive at 18, a hole with water all the way down its left side, the hook zone. When Johnson reached the tee box, he saw that the players in front had just departed.
"Thursday, someone asked me about the Masters, and I said, 'I'm trying not to think about it now, but come Sunday, if I've got a two-shot lead on 18, I'll think about it.' I get up there, and they're just walking off the tee. I've got all this time. I don't want to talk to anybody because I don't know if I'll be able to speak."
Negative thoughts began to hijack his focus. "Don't hook it in the water," he thought to himself. "And if you do hook it in the water, make it cross the land first, so you don't have to hit the tee shot again."
When he finally hit, he predictably bailed out right, his ball landing in a fairway bunker. The rest was pedestrian, except for the elation, "the feeling of accomplishment. This is something I've wanted to do my entire life."
His swing held up under two days of intense pressure. "I was freaked out all day today and yesterday," he said. "But I've been doing a lot of deep breathing out on the golf course. It kind of settles me down. I managed to prepare for every shot out there, and there's probably not too many shots that I hit that I would like to play over. Some of them were mis-hits, not where I wanted them, but I didn't hit it in trouble, and it was very good."
It confirmed that his decision to consult Heins was a necessary one, and for the first time Wagner intends to work with him on a regular basis.
"He's a world-class talent," Heins said, "a great athlete. But he had a very one-dimensional swing. You can't access a lot of pins if you can only move the ball one way. It's something we addressed four years ago when he first started on the Nationwide Tour. We did this ball-position thing, but he didn't work on it a lot. I guess he had enough frustration after starting out poorly that he was willing to go back there again."
They worked together for a week last month, and at the end of their last session together, Heins told him, "I would love the opportunity to go out on tour with what you've got now." Said Wagner's caddie, Steve Hale, "Three weeks ago it wasn't very pretty. But I could tell he was going in the right direction."
The direction was east, it turns out. Toward Augusta.