News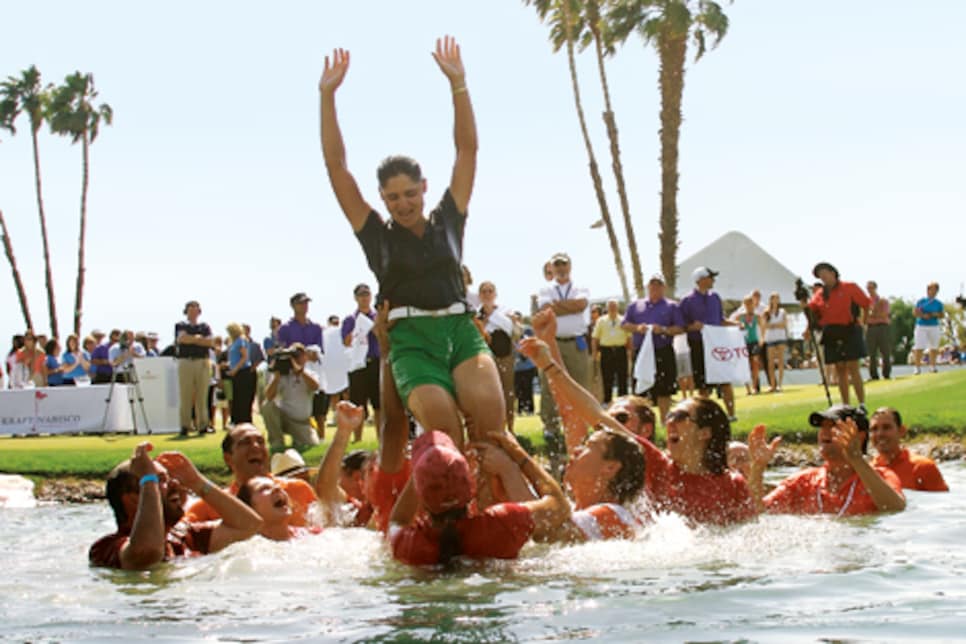 Making a splash: Ochoa, who has won 17 of her last 49 starts, was joined in the pond by family and friends.
Unkind comments about Lorena Ochoa are as rare as rain in the desert. But the world of professional sports is a catty place where people whisper words to undercut even the nicest person. And as Ochoa has piled victory upon victory the last two years, there was one cautionary observation from those grasping for ways to make her appear beatable: Ochoa's quirky swing with its distinctive headbob doesn't hold up under pressure.
As Ochoa cruised to a win in the Kraft Nabisco Championship Sunday -- her second straight major title, the 17th victory in her last 49 LPGA starts and 20th of her career -- it was clear the old critique doesn't fit anymore. For someone who understands what learning is all about, failure can be the foundation for success. Ochoa missed the final five fairways in losing the 2007 U.S. Women's Open to Cristie Kerr, but since that disappointment at Pine Needles, Ochoa has won eight of 15 tournaments. Her three victories in four 2008 starts, by a cumulative 23 strokes, are so impressive they raise a different kind of question: Can Ochoa, who is halfway to the Lorena Slam, pull off the Grand Slam?
Twice in two weeks, Ochoa has gone into the final round protecting a precarious lead and blown away the field. At the Safeway International she was one stroke ahead of Jee Young Lee and Angela Stanford and unleashed a 66 to win by seven. Sunday at Mission Hills, Ochoa was one stroke clear of Hee-Won Han and two better that Seon Hwa Lee, Maria Hjorth and Kerr before she laid down a 67 that resulted in a five-stroke victory. Ochoa, who has had problems closing out tournaments, was the only player without a bogey Sunday and her final-round score was the best of the day at both Safeway and Mission Hills.
It seems as if Ochoa has decided the secret to Sunday success is to crush the opposition. Her five-under closing round to finish at 11-under 277, five strokes better than Suzann Pettersen and Annika Sorenstam, gives Ochoa a 2008 final-round scoring average of 67.25. It also gives her a Tiger Woods-like air of invincibility that seems to have slapped away any doubts about her game.
Ochoa ended things Sunday by making birdies on the first two holes and then stringing together three consecutive birdies beginning at No. 8 to build a five-stroke lead she protected with eight straight pars on an extremely challenging back nine. Han stayed close for six holes, making birdies on Nos. 4 and 6 to get to seven under par, one stroke behind Ochoa, but bogeys on the next three holes eliminated her. Kerr, who closed with an 80, hit two balls in the water on the par-3 fifth to end her chase.
Hjorth finished fourth at 283 after a closing 71, and Lee grabbed fifth place with a 72 that put her at 284. Only Pettersen and Sorenstam, who both finished with 68, stayed close to Ochoa. But the 26-year-old Mexican, serenaded by a mariachi band and hundreds of fans from her homeland after holing her final putt, never made the mistake needed to let others back into the tournament.
"That was a very important part of the round," Ochoa said about her three-birdie burst beginning at No. 8. Then, addressing how her game has grown she said: "It took me five years to get to the top, and I am really comfortable with that position. I like the way I feel now in the last round. I like to believe that nothing and nobody [can stop me]."
That certainly appears to be the case. Ochoa tied Laura Davies for 25th place on the LPGA career victory list with 20 and passed Davies as the active player closest to earning enough points to qualify for the Hall of Fame, picking up two at the Kraft Nabisco to get to 26 -- a single point shy of the standard (see Back 9, page 69). In backing up her win at the Ricoh Women's British Open last August, Ochoa has won consecutive majors and has a chance at the McDonald's LPGA Championship in June to become the first LPGA player to win three in a row since Pat Bradley did it when she triumphed at the 1985 du Maurier Classic and the 1986 Kraft Nabisco and LPGA Championship.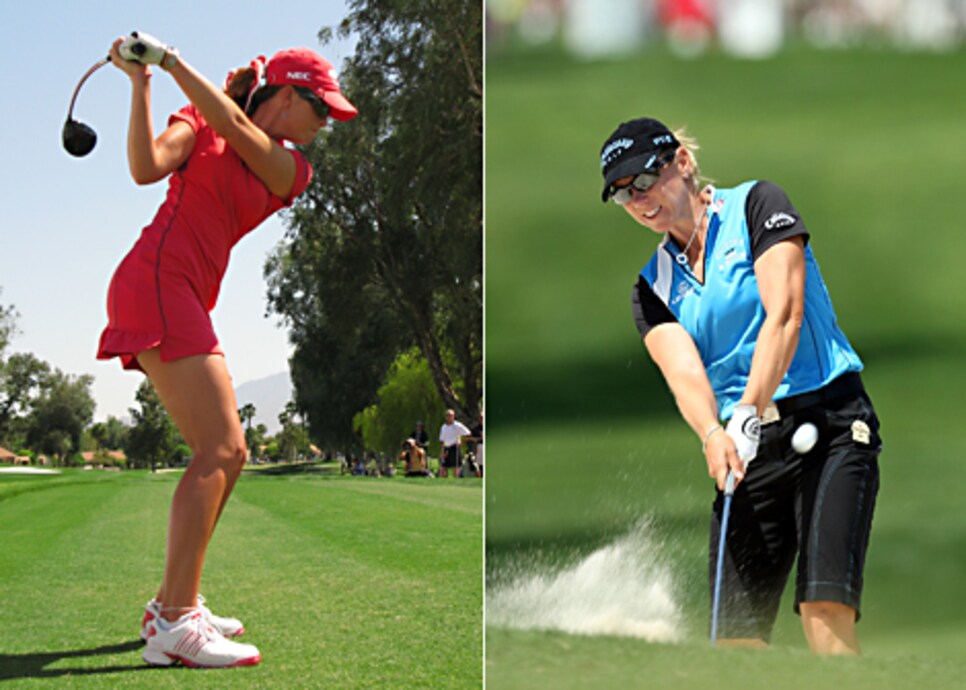 Does Ochoa think she can win all four majors this year? "Yes," she said with an understated nod of her head that belies her steely confidence. What do others think? "Lorena is playing great golf, and you need obviously to peak at a certain time and you need a little luck, but I certainly do think it's possible," said Sorenstam, who won two majors in 2003, finished second in another and missed a playoff in the fourth by one stroke.
Coming into the Kraft Nabisco Championship off the Safeway International near Phoenix is always a bit of a crap shoot. The Prospector Course at Superstition Mountain is one of the most consistently well-conditioned on tour. The Dinah Shore Tournament Course at Mission Hills CC, on the other hand, can spring surprises depending on how cruel the winter has been. Silky smooth greens one year can bump along the next. This time, some added length and a few expanded bunkers were the only things out of the ordinary.
When 108 players teed it up for Thursday's first round, they found a first-rate course with firm greens and manageable rough. Yet even with the wind down, for the most part, the low score of the day was a 67 by 2004 Women's British Open winner Karen Stupples. Ochoa and Ai Miyazato were another stroke back at 68 with Heather Young and Natalie Gulbis in at 69. Sorenstam, Paula Creamer and 2007 Kraft Nabisco winner Morgan Pressel were at 71.
Young's 70 Friday left her tied with Ochoa, who posted a 71, at 139 after 36 holes. Mi Hyun Kim and Hjorth were another stroke back; Sorenstam and Han checked in at 141. A 75 put Stupples at 142 along with Miyazato, who managed a 74 Friday.
The wind was relatively mild Saturday morning when third-round play began compared to what players faced later in the day, creating an opportunity for those back in the pack. Pettersen, who made the cut on the number at five-over-par 149, shot a 65 that included a 6-iron hole-out for eagle from 158 yards on No. 7 to finish 54 holes at two-under 214. Kerr also took advantage of the early conditions with a 66 that moved her to four-under 212, tied with Hjorth and Lee going into the final round, two strokes behind Ochoa with Han sitting between them at 211.
Ochoa let a lot of players back into the tournament with three-putt bogeys on Nos. 15 and 18 Saturday as she finished off a 71. Young also faltered on the back nine, finishing bogey-bogey for a 74 that dropped her to 213, tied for sixth with Inbee Park and Liselotte Neumann.
Perhaps the most remarkable round of the day was from Sorenstam, who was sick with a mysterious stomach ailment Friday night and was still weak Saturday morning from the lack of nutrition and dehydration. After turning the front nine in 40, she had to lay under a tree on No. 11, then be helped to her feet by caddie Terry McNamara before hitting her second shot on the par 5. It appeared as if she would not complete the round. Instead, she closed with a 33 on the back nine to finish at two-under 214, four strokes behind Ochoa and still in the hunt.
But Ochoa has become extremely good at what dominant champions do: remove all hope before an over-matched challenger can gain any confidence. Never once Sunday did Ochoa open the door of opportunity even a crack for her pursuers.
"I took me awhile to finally jump into the lake, but it was worth [the wait]," Ochoa said after she was joined by more than a dozen family and friends in what was easily the most memorable pond splash since the tradition began in 1988. "Hopefully, I will defend [the title] more than once." That likely will be true not just at the Kraft Nabisco Championship, but at other tournaments, and other major championships.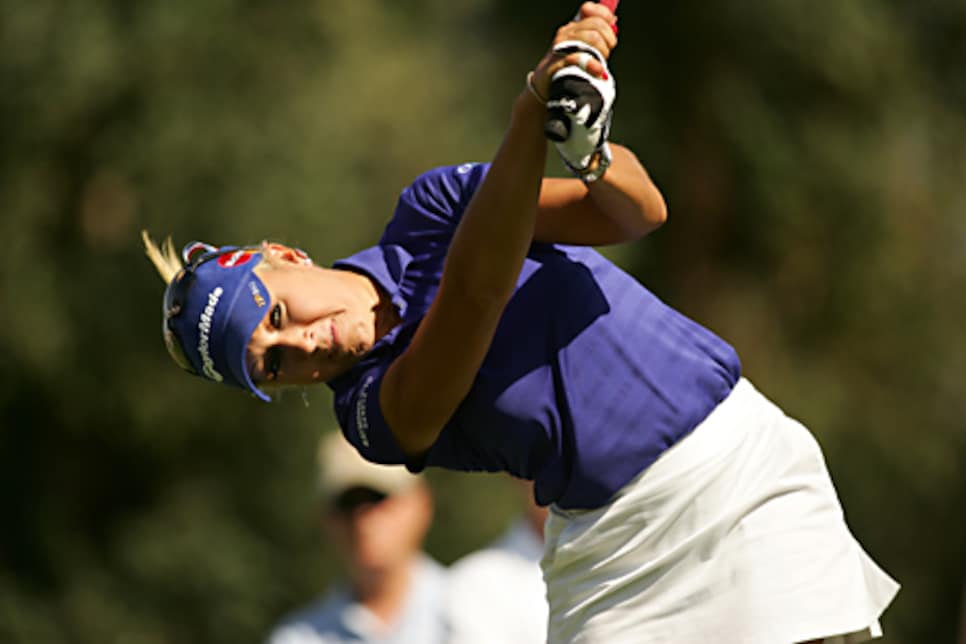 Ochoa is looking unbeatable right now. And in this case, perception is certainly reality. The Lorena Slam is within reach and the Grand Slam is within reason. The only question marks left regarding Ochoa concern not her ability or her mental toughness but merely whether fortune will smile enough upon her to help pull off what has never been done by any golfer, man or woman -- winning four professional majors in the same season.
With her victory Sunday in the Kraft Nabisco, Lorena Ochoa has won back-to-back majors and that -- coupled with three LPGA titles this year by an average margin of more than seven strokes -- has people talking Grand Slam.
"I think it's possible. Why not?" her coach, Rafael Alarcón, said after Ochoa's five-shot win over Annika Sorenstam and Suzann Pettersen. "You have to win the first to win them all. Right now she is playing with a lot of confidence, a lot of trust and a lot of patience."
Ochoa will go for her third consecutive LPGA victory this week at the Corona Championship in Mexico, then play the Ginn Open in Orlando the following week. Then after five straight weeks of competition and six consecutive LPGA events, she will skip the Stanford International Pro-Am.
Ochoa's Grand Slam quest won't face its next test for nearly two months, at the McDonald's LPGA Championship June 5-8. The Mexican star has had a good record at the McDonald's since it moved to its present site, Bulle Rock GC in Havre de Grace, Md., in 2005, finishing T-5, T-9 and T-6. She has no track record at Interlachen CC in Edina, Minn., where the U.S. Women's Open will be played June 26-29. The LPGA's final major of the year, the Ricoh Women's British Open, will be held at England's Sunningdale GC July 31-Aug. 3. The last time the WBO went to the suburban London venue, in 2004, Ochoa finished fourth.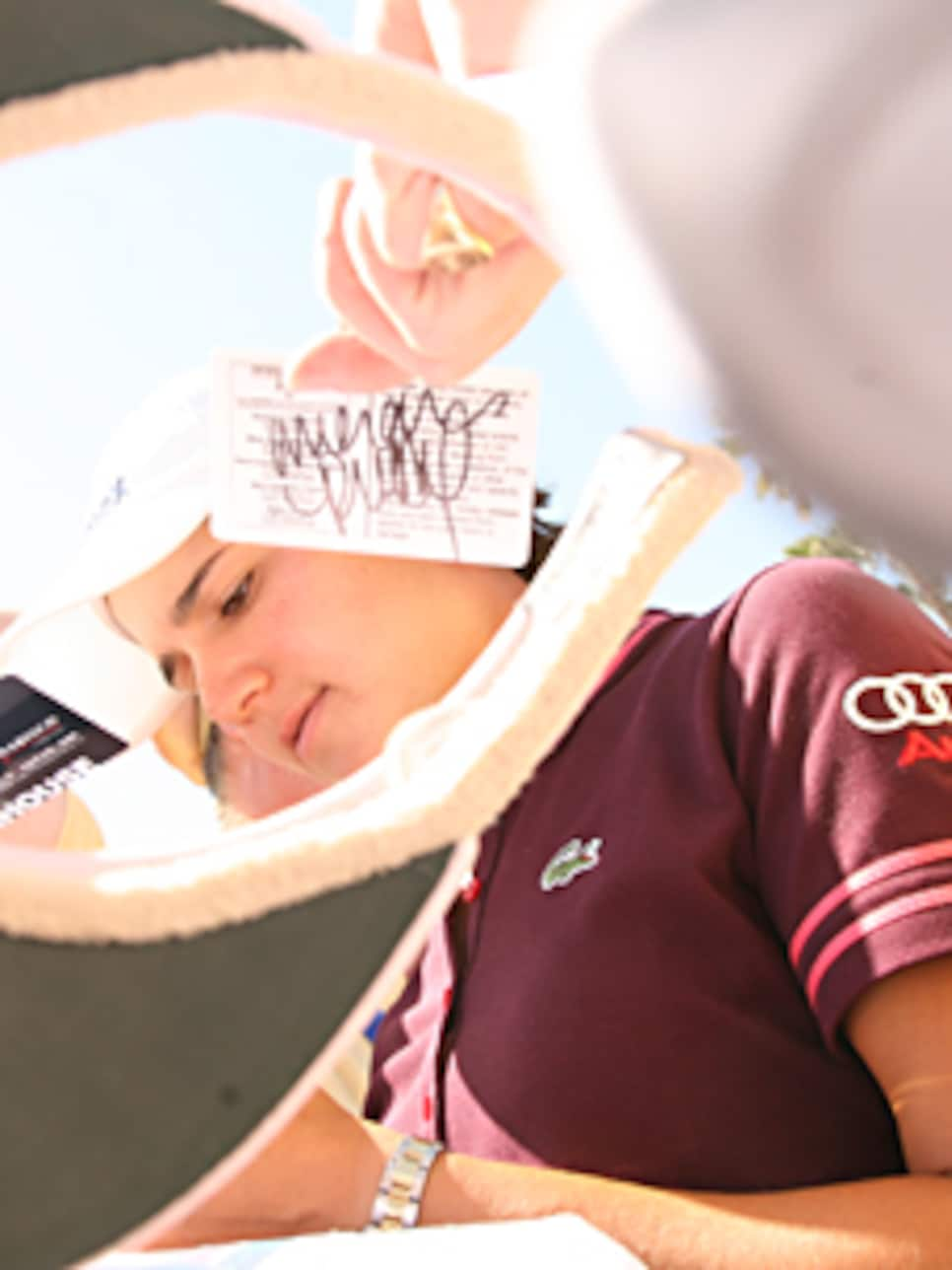 Always a long hitter -- she was third on tour in driving distance last year at 270.6 yards -- Ochoa is hitting it farther this year, averaging 276.2 yards last week at Mission Hills CC. "Exercise and improved technique have given her added length," Alarcón said. "She's on a good plane coming through the impact zone. She's a lot better.
"She has the strength to come out of the rough now," Alarcón continued. "Her ball-striking is just so good. If she had putted better the first three days, it would have been even more of a runaway." Ochoa, who hit 79.2 percent of the greens at Mission Hills, had 122 putts, nine more than Sorenstam and six more than Pettersen, her two closest challengers. "I think there are things you can improve on every week," Ochoa said when asked if her remarkable level of play can get better. "I can make more putts."
And if that turns out to be the case, stringing together four consecutive major titles -- or five if she should sweep the Grand Slam this year -- is within the realm of possibility.