News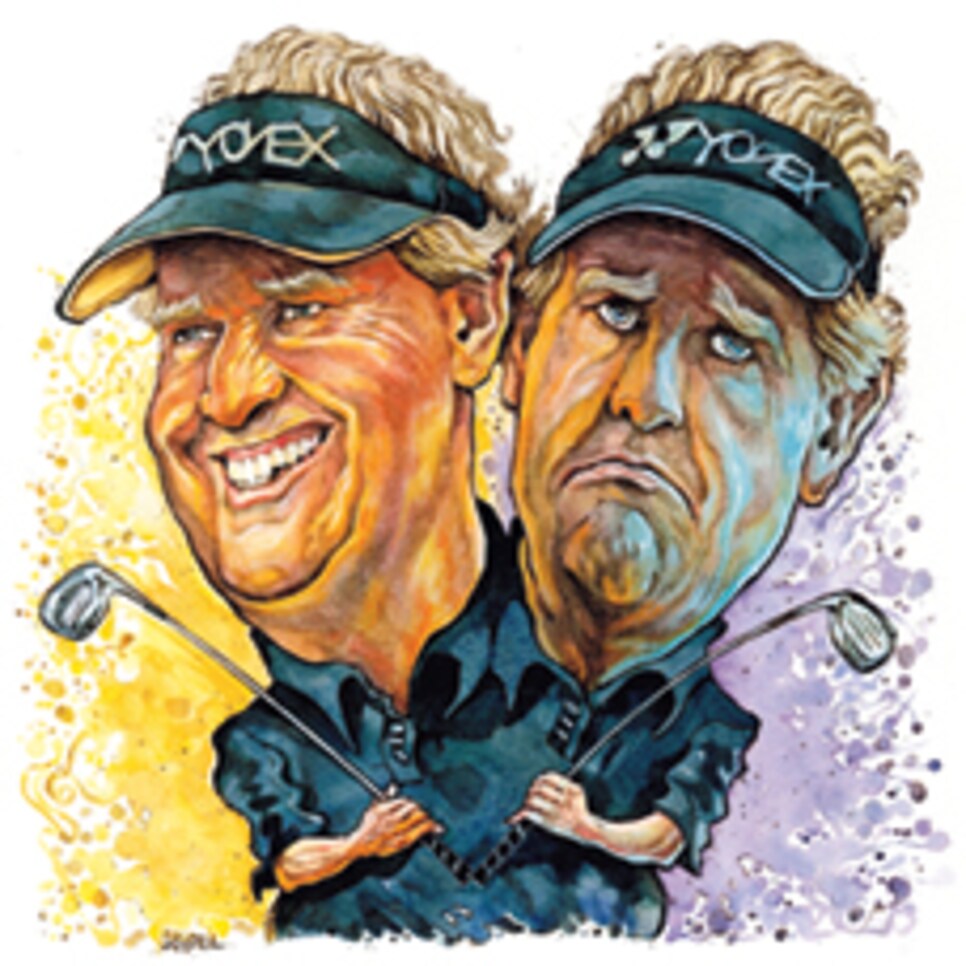 Monty's road to the captaincy will be very bumpy if he gets there.
The process involved in identifying the European Ryder Cup captain has long been shrouded in mystery. While some of the required qualifications are clear -- past performance in the biennial battle, popularity with professional peers and a proven ability to quickly consume copious amounts of expensive alcohol immediately after yet another win over the Americans, to name a few -- just how the new skipper's name is chosen is never made entirely clear to the outside world.
Officially at least, Nick Faldo, Ian Woosnam, Sam Torrance, Mark James and Seve Ballesteros all have been selected by something called the European Tour tournament committee, a body of 15 men with nine members who have played in the matches and four who have been vice-captain or captain's assistant.
Collectively, this is a committee that should know what it is talking about. Which is just as well, given how much is at stake. It often goes unmentioned, but skippering Europe's finest in golf's most high-profile event outside of the majors can be a lucrative business. It is safe to assume every captain since the mid-1980s -- when the Europeans became at least a match for the Americans -- has increased his income substantially as a result of his appointment.
So it is that who will follow Nick Faldo as European captain in 2010 and beyond is already an issue. The best man for the job in both '10 and '12 -- should he want it -- is surely two-time Masters champion José Maria Olazábal, whose integrity and sportsmanship command respect on both sides of the Atlantic.
Others are eagerly lining up, though. Woosnam, the '06 captain, would be a logical if retrograde fit for 2010 matches that will be held in Wales for the first time. Sandy Lyle also has made his interest known. The only member of Europe's "Big Five" from the 1980s who hasn't already held the post, the former British Open, Masters and Players champion, one of the game's nicest people, has much popular support with the public. But a lack of both political acumen and significant backing from the media will likely see Lyle passed over.
In contrast, Colin Montgomerie is well armed in all of the above. He is the "right" age (47 by the '10 matches at Celtic Manor) and backed by the combined might of IMG's publicity machine and various chums in the European Tour's hierarchy. The Scot is the ultimate establishment figure and surely will get the job at some point, probably at Gleneagles in 2014.
There is one potential fly in the Monty ointment, aside from at times being tone-deaf when sharing opinions publicly (e.g., last week's comments on how certain Asian players received Masters invitations and he did not). Ever since that dodgy replacement of his ball at the 2005 Indonesian Open, the eight-time Order of Merit winner has found respect from his peers hard to come by. Even worse, one or two of Monty's biggest critics are to be found alongside him on the tournament committee. Time, it would seem, is his biggest ally. Four years from now, when the 2014 captaincy will be debated, his seemingly blatant indiscretion will be almost a decade old. Besides, were he to be passed over, someone at the European Tour would be put in the embarrassing position of having to explain why this eight-time Ryder Cup stalwart was not going to be captain. That's way too tricky to get into.