News
Five Years After Mattiace's Long Journey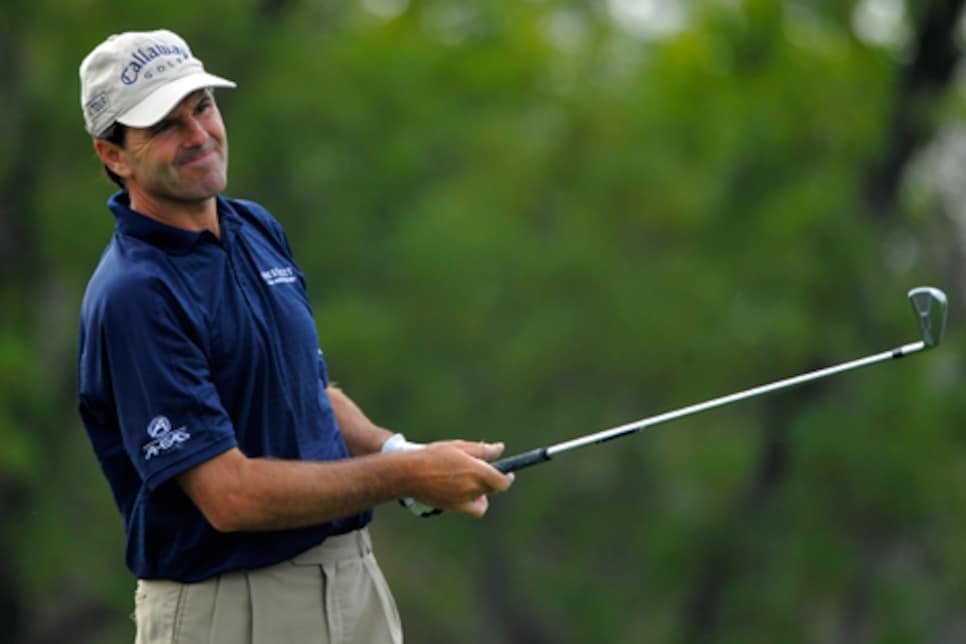 Looking like the winner until bridie on 15 and the double bogey in the playoff, Mattiace has traveled a long road since 2003.
You remember Len Mattiace. You remember him at the 2003 Masters, the leader in the Butler Cabin as well as in the clubhouse after a 65 in the final round. CBS had him standing by as the likely winner. But when Mike Weir birdied the 15th hole, a sudden-death playoff loomed. Mattiace left the Butler Cabin to hit balls and stay loose. When his hooked 6-iron to behind a pine tree led to a double-bogey 6 on the first playoff hole, Weir won. Minutes later, with the cameras rolling, you remember Len Mattiace weeping, but not because he lost.
"Just the whole day," he explained then. "The intensity was so high and with the emotions of playing today and executing and shooting such a great score, it all just came out. But it didn't have anything to do with the playoff. I know one is going to win and one is going to lose. So I'm OK with that. I'm trying to win. If I don't win, I lose. And that's OK."
You also remember Len Mattiace winning the Nissan Open and the FedEx St. Jude Classic in 2002 while earning $2,194,064 on the PGA Tour. With his second-place finish at the Masters, he was 17th on the '03 money list and 26th on the World Ranking. That was more than OK. Yes, you remember Len Mattiace, but you haven't seen him lately because that December, while skiing in Vail, Colo., with his wife, Kristen, and their two young daughters, he suffered severe ligament damage in both knees in what he describes as a "freak fall." Ever since, he has played worse instead of better. In 10 PGA Tour events last year, he never made a cut; in 16 Nationwide Tour events, he made two. This year has been similar. In four tour events he has made one cut (a T-56 worth $7,875 at the Mayakoba Classic near Cancun, Mexico), one more than he has made in two Nationwide tries. He has dropped to 1,329th on the World Ranking. But at 40 he is not about to surrender.
"It's a process, a long, slow process," he says. "Physically, I'm almost at the point, swingwise, that I was in '02 and '03, and mentally, in some ways I feel stronger than before. I've learned more, gone through more, endured more. But I haven't produced more."
At the Arnold Palmer Invitational at Bay Hill last month (where he received a sponsor's exemption from the King himself), Mattiace missed the cut by one stroke. He returned home to Jacksonville where a 69 in the second round of the 2004 Players Championship, only four months after his surgery, may have fooled him into thinking that he was as good as new. He kept playing. His best tournament that year was a T-20 at the John Deere Classic when he shot 68-68-69-69, but except for Milwaukee (twice) he was never in the 60s more than once in any of his other 24 events. He made 12 cuts but missed 13. With only $213,707, he finished 188th on the money list. The swing that created that final-round 65 at the Masters had disappeared along with some of the strength in the quadricep muscles above his damaged knees.
"Looking back, I probably did come back too soon," Mattiace says. "My quads at that time were still weak. I developed bad habits. The quads affect your spine angle, your balance, your swing plane. My shots were way off. It was like there was another guy in my body. It was me, but it wasn't me."
Knee damage is rare for golfers. Ernie Els is among the few to require knee surgery; he twisted his left knee while tubing during a sailing holiday in the Mediterranean the week after the 2005 British Open. Although he didn't win on tour again until this year's Honda Classic, he contended in several tournaments, including a third in both the 2006 British Open and last year's PGA Championship, but he had only one knee to rehab. Mattiace had both.
"Almost every tour player can't afford to drop off by 10 percent, and he lost more than 10 percent," Mattiace's swing coach, Jim McLean, says. "But he's not haunted by what happened. He's not that type of guy. He's the biggest non-complainer I've ever known. No excuses. He just keeps working to get back to what he was."
To get back to what he was when he walked off the 18th green at Augusta National five years ago after his final-round 65 and went to the Butler Cabin to see if his one-stroke lead on Mike Weir would hold up. It didn't. But that was OK. He was expecting a playoff. And when he lost the playoff, that was OK too. But eight months later, he went skiing. And that wasn't OK. Five years later, Len Mattiace is still hoping to be OK again, to get back to what he was. To get back to the Butler Cabin.