News
Byron Nelson's '37 Masters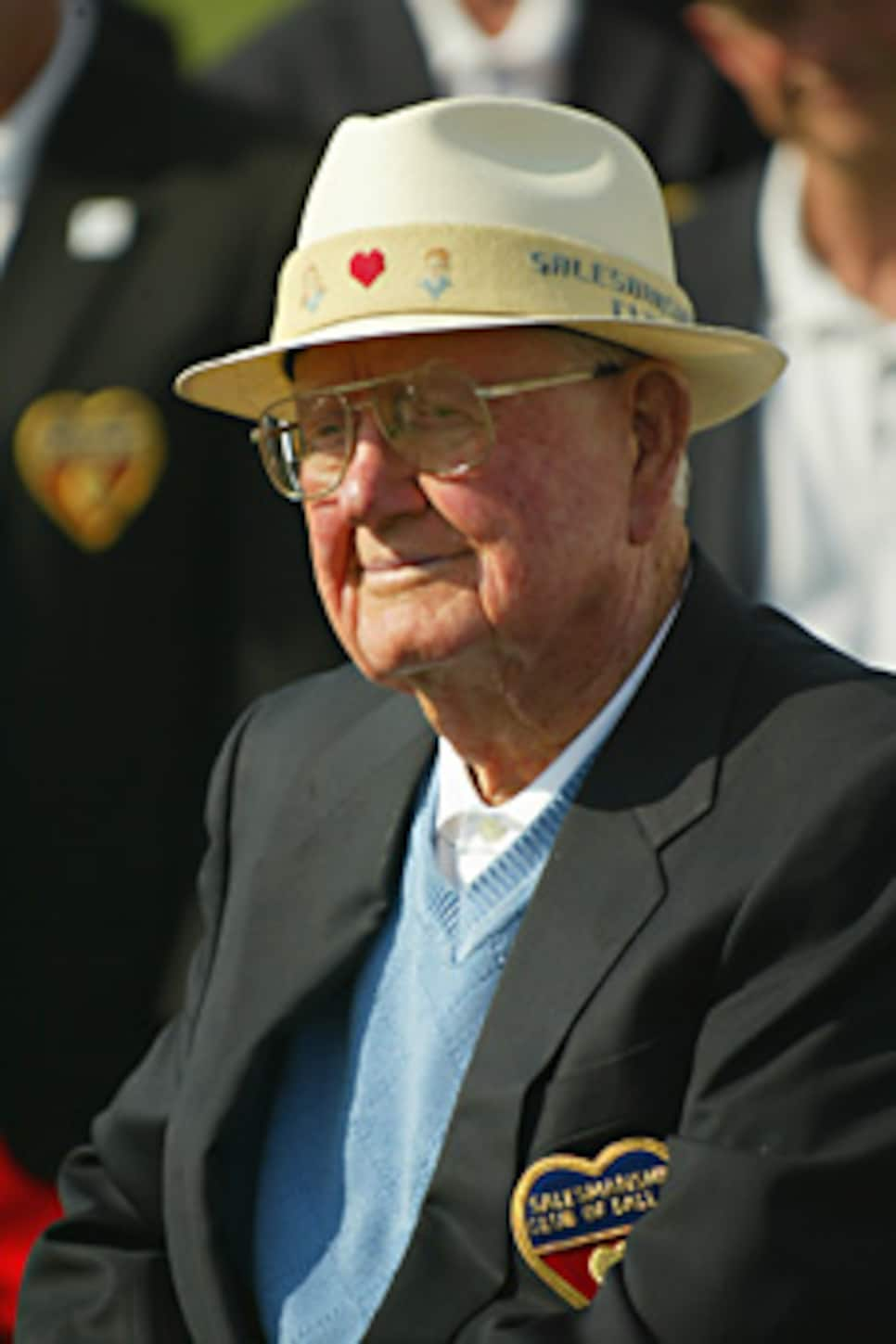 Nelson took home a $1500 check and the nickname "Lord Byron" from the '37 Masters.
On May 11, 2006, before the tournament BEAR-ing his name was to begin outside Dallas, Byron Nelson agreed to talk "for a few minutes" about a touchstone moment in his marvelous career. He looked frail and was attached to a portable breathing device. I don't recall whether he had been briefed on subject matter, but that is immaterial, because his mind was famously sharp and his ability to provide details astounding. When the topic of the 1937 Masters was broached, his eyes widened and his hands moved, as if to punctuate sentences.
"My first major victory, and the most important tournament I ever won," said Nelson, who won four other majors before retiring at age 34. "I played Augusta National in 1935 and 1936, and I played OK. But I was playing better in 1937, and obviously to win there was a tremendous boost to my confidence and my career. And I can tell you, the first round of the Masters that year, to this day, is the best round of golf I ever played. I hit every green in regulation -- every par 3 in one, every par 4 in two, every par 5 in two. That's 32. I didn't putt that well. I had 34 putts. I was playing with Paul Runyan. After the round, he said to me, 'You did something today I thought I'd never see. You never missed a shot.' "
Nelson was not one to boast, but his 66 stood as the best opening round by a Masters champ until Ray Floyd shot 65 in 1976. As if it had happened a week ago, Nelson also went on to recount his second-round 72 and third-round 75 that dropped him four shots behind Ralph Guldahl after 54 holes.
"Then, I shot 38 on the front nine Sunday," Nelson went on. "I was struggling, but so was Ralph, and I was three back until someone told me he had birdied No. 10. I knew I had to get going, and when I also made birdie there, with a putt of about 15 feet, the man I was paired with, Wiffy Cox, said something encouraging to me. He called me, 'Kid.' After I made par on No. 11, I got to the 12th tee and saw Ralph dropping a ball short of Rae's Creek. He'd gone in the water on that difficult par 3. You know those newspaper cartoons? Where you see a light bulb over a character's head for an idea that just came to mind? Well, that was me. I knew I could make some ground up right there. And I did. Ralph made 5, and I birdied with a 6-iron and a six-foot putt. These fellas don't hit 6-iron to No. 12 anymore, do they?"
Guldahl again made waves at No. 13, the seductive par 5, where he took a bogey 6. Nelson's drive there was good, and he was feeling better about the situation when he debated whether to try for the green or lay up. A deeply religious man, Nelson went upstairs for inspiration. "Standing there in the 13th fairway," he recalled, "I thought to myself, 'The Lord hates a coward.' Rather than play safe, I used a 3-wood and hit it left, away from the creek, and the ball landed short of the green, 20 or so feet. Was I rewarded for my 'courage?' I don't know about that. But I was blessed to chip in for eagle, and just like that, I was three up on Ralph. I made par on No. 14, three-putted for par on the 15th, where he birdied. We both made pars the rest of the way, and I won by two strokes with 32 for the back nine. I shot 70, Ralph 76. For the first time in my career, I felt my game could handle pressure situations."
There was no green jacket for Masters champions back then. Nelson instead received a gold medal from Bobby Jones. Nelson's every step during that final round was followed by -- imagine this! -- noted sportswriter O.B. Keeler. They met afterward in the locker room. "O.B. told me I reminded him of a poem by Lord Byron about Napoleon's defeat at the Battle of Waterloo," Nelson said. "I didn't know much about Lord Byron, except that he drank a lot and died young. I have never taken alcohol in my life, but my father was named John Byron because his mother liked Lord Byron's works and I was John Byron Jr.
Anyway, the next day, the headline over Keeler's story was, 'Lord Byron Wins Masters.' That's how I got the nickname, Lord Byron. I earned $1,500 for winning that Masters. Just two weeks before, I took a head pro's job at Reading CC in Pennsylvania for a guaranteed salary of $3,750. Together, that meant I wouldn't have to borrow any more from [wife] Louise's parents. That also helped my frame of mind going into the 1937 Masters, knowing I had a good position in Reading. But that doesn't change how I felt about that victory. The Masters was a wonderful tournament. We never thought it would become what it is. Tickets were something like $3 then, and there weren't many people in the galleries, not like now. But 1937, it meant everything to me. Everything."
Whether those "few minutes" with Lord Byron was his last interview is unimportant. His people say it was certainly one of the last. He asked if I had enough material and then thanked me. On Sept. 26, 2006, Byron Nelson died at 94. In the pantheon of gentlemen golfers, he retired the gold medal.