News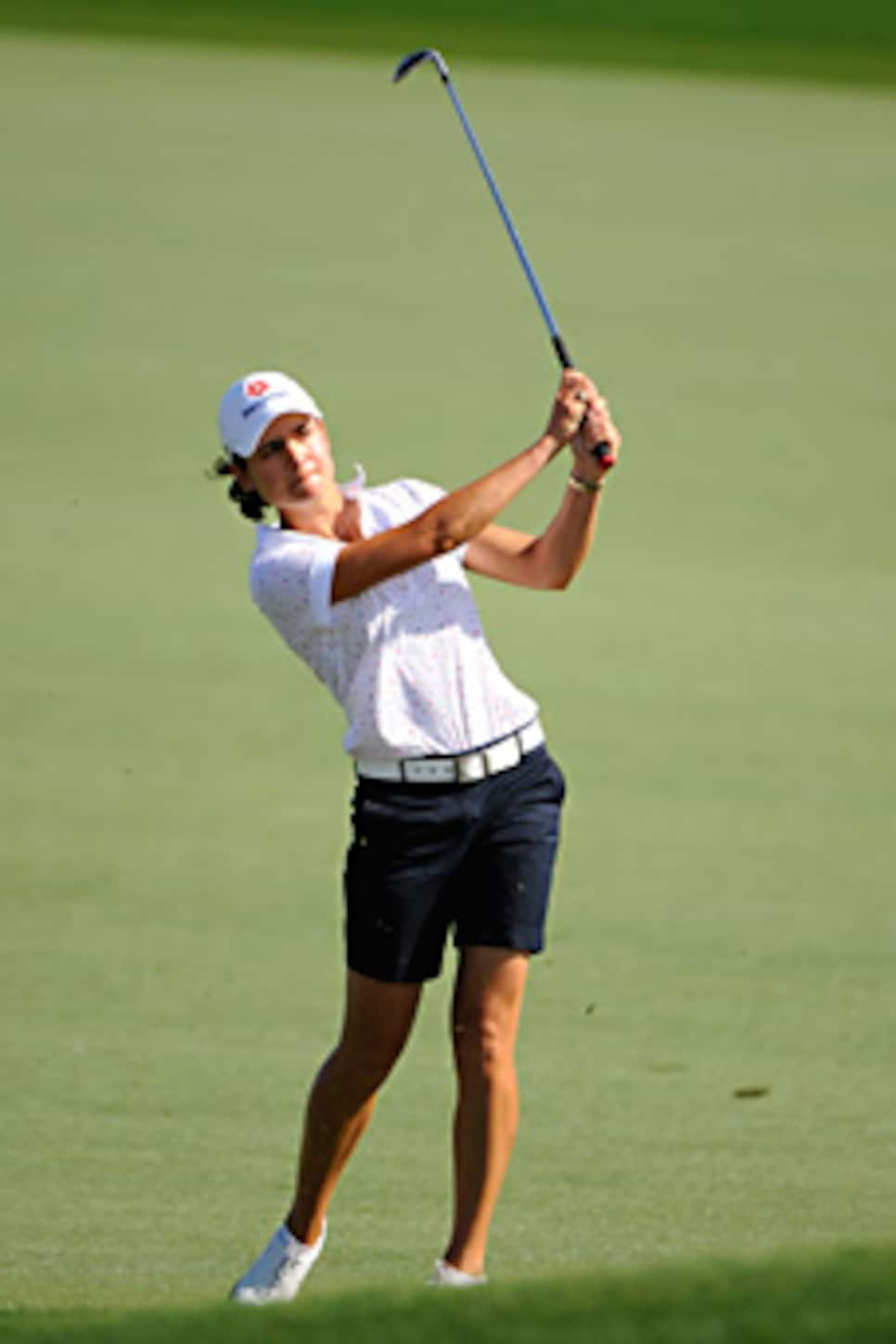 Comfort zone: Ochoa, three points shy of the LPGA Hall of Fame, has a calm that has led to increased confidence.
Here are a couple of things you need to know about the 2008 version of Lorena Ochoa: Already a long hitter, she is noticeably -- almost scarily -- longer. Although a few putts got away from her at Superstition Mountain, especially on the weekend, she won the Safeway International by seven strokes with a calm and confidence she has not always displayed under pressure. To say that someone who already has 19 victories at age 26 appears to have improved a game that last year won eight times seems silly, but that is clearly the case. If this was the swan song of this event played in the Phoenix area since 1980 -- Safeway is gone as title sponsor, leaving the tournament's future twisting in the desert wind -- it went out with the LPGA's best player providing a tour de force.
Protecting a one-stroke lead over Jee Young Lee and Angela Stanford going into the final round, Ochoa slipped into a tie with Stanford after a bogey on the third hole but never surrendered the lead. Then, when she rolled in a 15-foot birdie putt on No. 8, it triggered what has become Ochoa's calling card -- a birdie barrage, this time six over the final 11 holes for a closing 66 and a 22-under-par 266 that shattered the tournament record on this course by four strokes. Lee made a seven-foot birdie putt on the final hole to finish second at 273 with Minea Blomqvist, who closed with a 67, another stroke behind. Stanford struggled to a 74 to finish T-4.
Ochoa's birdie-birdie finish on the front nine gave her a three-stroke cushion. It was a driver to 25 feet on the 310-yard 14th, however, that stood as the exclamation point between two other birdies on 13 and 15, and ended all doubts about the outcome, pushing her margin to six strokes and serving as a summary of how completely Ochoa overwhelmed the Prospector Course.
"It's amazing how easily the birdies come when you stop trying to make them happen and just let them happen," her caddie, Dave Brooker, said as they walked off the 15th green, where she had hit a sand-wedge approach to two feet, and headed to the 16th, a hole that broke her heart -- and in retrospect helped make her the player she is today -- with a double bogey in 2005 as she squandered a four-stroke lead with three holes to play.
"I learned a few times the hard way," Ochoa said. "Not only [here in 2005] but the U.S. Open [that same year] and the Kraft Nabisco [in 2006] and a few other tournaments. That makes me who I am today. I [wouldn't] change that for anything. It doesn't mean I'm not going to struggle again, or have very bad times, or cry again. But I'm just enjoying my moment."
And what a moment it is. Ochoa has won two of her three starts this year (an 11-stroke romp at the HSBC Women's Champions in Singapore to go with last week's runaway), and 16 of her last 48 beginning with the Takefuji Classic in April 2006. Ochoa has tripled the win total of Annika Sorenstam at the same age and could well surpass the quick career starts of Se Ri Pak, who had 21 wins when she was 26, and Karrie Webb, who had 23.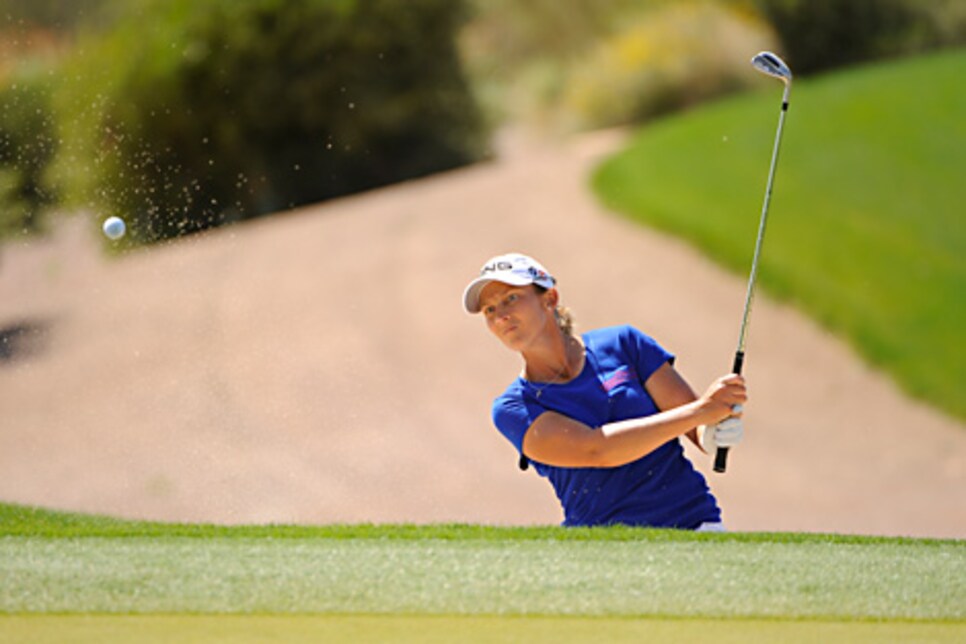 The victory moved Ochoa within three points of qualifying for the LPGA Hall of Fame. "I like to win," Ochoa said after hoisting her latest trophy. "I'll hopefully continue that." There is no reason to think otherwise. At this point there is a very Tiger Woods-like aura of inevitability about Ochoa.
Thursday, the first day of the Sweet Sixteen round of the NCAA men's basketball tournament, the Prospector Course looked like a No. 16 seed against a No. 1 seed. With perfect fairways, the best greens on tour seductively softened, generous pin positions and almost no wind, the course was ripe for the picking. Stanford broke the course record with a 62 to grab a three-stroke first-round lead over Ochoa. Sherri Steinhauer was another shot back at 66. In all, 53 players broke par, including Paula Creamer and Sorenstam at 69.
When Stanford played the first three holes of her second round three under par, it meant she had birdied 13 of 21 holes. Playing four groups in front of Ochoa, Stanford opened up a six-stroke lead just 22 holes into the tournament, which is sort of like a basketball team running to a 20-point lead midway through the first half. It's a nice cushion, but there is still a lot of ball to play. Two hours later Stanford, playing the back nine first, was in a tie for the lead with Ochoa, having made bogeys on Nos. 16, 18 and 2.
But the former TCU star who plays out of Shady Oaks, Ben Hogan's old course in Fort Worth, battled back with three birdies coming in for a 69 to finish 36 holes at 13-under 131, one stroke better than Ochoa, who shot 67 Friday, and three better than Lee. Sorenstam made a move with a 67 and was five back and tied for fourth with Michele Redman at 136. Cristie Kerr made the biggest run Friday, shooting 64, 10 strokes better than her opening round, to go into the weekend at 138. Steinhauer, on the other hand, slipped to 77 and was at 143, one stroke under the cut number, a mark missed by Webb, Pak and an ailing Morgan Pressel.
The final twosome Saturday was an intriguing pairing. Stanford and Ochoa are friends who bowl and play basketball together. How would that friendship affect things? "You can be friendly and at the same time make birdies," Ochoa said with a smile that told you she would show her friend no mercy.
That's exactly what she did, opening the third round with birdies on four of the first five holes. But birdie misses from five and seven feet, respectively, on the next two holes slowed her momentum, and she played even par the rest of the way to finish with 68 and move into the final round at 16-under-par 200, one stroke better than Stanford and Lee, who picked up ground with a 67.
Also moving up the leader board Saturday were Lindsey Wright (66) and 19-year-old Inbee Park (65), who were tied for fourth at 204. Sorenstam's putter never got hot, and she slipped back with a 71 that left her seven strokes off the lead going into the final round. Ochoa struggled with the putter early in Sunday's round, missing a five-foot birdie try on the first hole and a par putt of a similar length on No. 3. An eight-foot birdie miss on No. 5 and another miss of that length on the seventh hole gave Ochoa's challengers momentary hope.
"The front nine I was a little bit up and down," Ochoa said. "I think being in the last group with the pressure and the wind was a little tough. I was hitting the ball really good, and I missed a few putts." But when she makes them, she makes them in bunches.
"I made great birdies on [Nos.] 8 and 9," Ochoa said about consecutive 15-foot putts that dropped, "and from there everything went a little bit easier." And no one was capable of withstanding the pressure she applied. Lee, who entertained the Sunday crowd of more than 30,000 by trading 290-yard drives with Ochoa, made bogeys on Nos. 11 and 12. Stanford fell by the wayside with an 8 on the par-5 13th, and those who were charging up the leader board -- Blomqvist and Eun-Hee Ji, with a 65 to finish T-4 at 275 with Stanford -- didn't have enough holes left to make a difference.
The Ochoa who dismantled Superstition Mountain was a very different player than the one who squandered a big lead there three years ago. She found something last August at St. Andrews when she won her first major at the Ricoh Women's British Open -- a calm that has led to confidence. She also has found something else -- a special fan who followed her every step of the way Sunday.
"We are spending a lot of time together," she said with a shy smile about AeroMexico CEO Andres Conesa, whom she greeted with a post-round peck on the cheek. Things are good for Ochoa right now as she heads for the first major of the year, at this week's Kraft Nabisco Championship. Recalling her tearful finish here in 2005, she was asked if she will ever cry again.
"Yes," she said. "Maybe even tonight. I'm very sentimental." This time they will be tears of joy, and there is every reason to think there are more of those to come for Ochoa.