News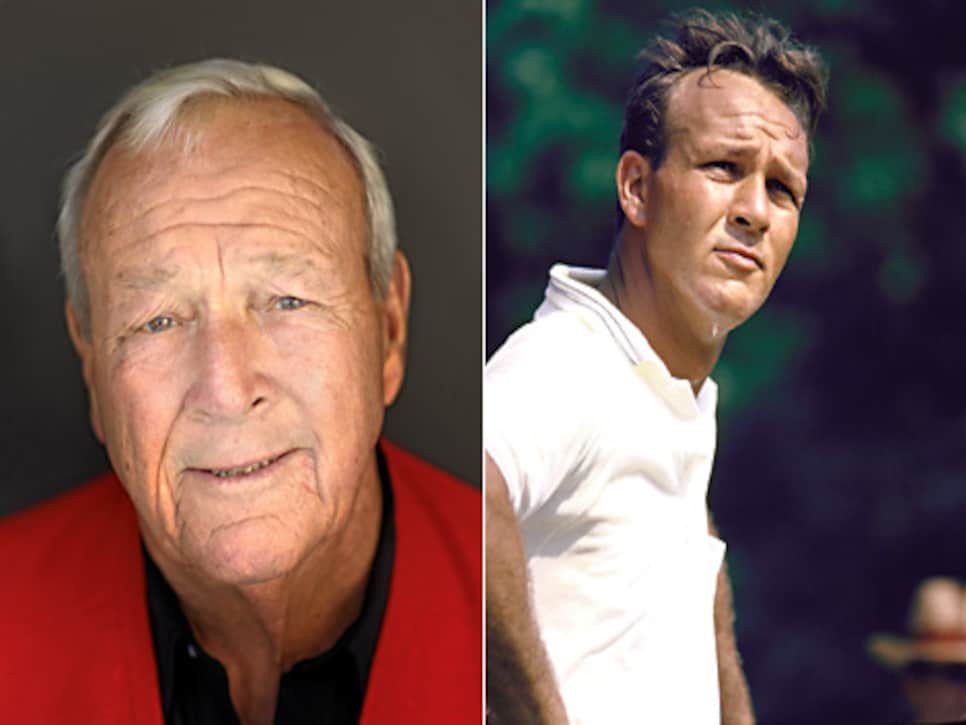 Golf was ready for arnold palmer in 1958, and he was ready for it. Like the larger world, which got fast food and faster travel in the 1950s, the pro game was in transition. A generation of players who had carried it since before the start of World War II, including titans such as Ben Hogan and Sam Snead, were getting older. Other golfers were trying to nudge their way toward center stage, but most of them were businesslike performers in a business that didn't pay very well.
"The best I ever finished on the money list was fourth in 1956 when I won a little less than $25,000," says 85-year-old Fred Hawkins. "We were all just trying to scratch out a living; we all could have made more money doing something else. The purses weren't worth anything, and they only paid about 20 places. Many weeks I made more gambling in the practice rounds than I did in the tournament. We all had to be kind of crazy to play, but we all loved the game."
By and large, though, Hawkins and his peers kept their feelings close to their cardigans. "Most of the good players back then were more stoic," says Don January, who joined the tour in 1956. "They tried to hide their emotions. Arnold threw his out there for everybody to see. He'd hitch up his pants with his elbows. He'd hit and have that finish with everything twirling, and his nose would be snorting like a bull in heat."
Palmer's gusto was combined with a simple grace that connected him with fans eager to latch onto a hero -- it was the social equivalent of his golf mantra to hit the ball hard, find it and hit it again. "He likes people and conveyed that to them, and they naturally liked him," says longtime friend Dow Finsterwald. "It's easy to like somebody when they like you. It was just his way, his natural way. What you saw was what you got, and it was pretty damn good."
Had the substance of Palmer's game not matched his appealing style, he would have remained a curiosity, instead of becoming a champion. "Hard as nails," January says of Palmer's competitive grit. "He was always a player with a great set of nerves. He'd get in that funny, knock-kneed stance putting on a green that was half grass and half dirt and run a 30-footer six feet by and just climb on the other side and pour it back in there. Boy, that takes some talent."
Finsterwald has known Palmer, and about his talent, since 1948, when his college team went to North Carolina and had a match against Palmer's Wake Forest team. "He shot 29 the first nine against me," Finsterwald says. "Yeah, I knew early on. Others on tour had their reservations, a wait-and-see attitude. The old guard was still around. They said, 'Let's see.' And they saw."
After winning the U.S. Amateur in 1954, Palmer joined the tour the following year. He won the Canadian Open in 1955, followed by six victories during the next two seasons -- including titles such as Insurance City, Azalea and Rubber City that sound quaint in today's corporation-heavy culture.
But the tournament with the simplest name of all, the Masters, had Palmer's keen attention. He tied for 10th in his initial visit, was 21st in 1956 and T-7 in 1957. He was enthralled by Augusta National from the first time he saw it. "Everything was just nice," he says. "I had heard so many things about Cliff Roberts and how tough he was. The way the course was manicured, the setting overall. I played all winter in some pretty rough conditions and spent the whole time looking forward to getting to Augusta. Everything about Augusta turned me on."
"I'm not much for spending a lot of time in the office," Palmer says, pausing between wedge shots about 3 p.m. on a recent Wednesday at the Bay Hill practice range, the Orlando club he bought in 1976. "It makes me stiff and sore and usually irritable. Eleven o'clock is check-out time."
"That's nice work if you can get it," someone says.
"Hey, I've been working 78 years to get it," Palmer says. "I figure I ought to be able to check out at 11."
Palmer is a little grouchy at having stayed in his small upstairs office in the Bay Hill clubhouse longer than is his custom. Just before leaving for the day, a man had come in and offered to donate $5,000 a hole to one of the hospitals Palmer is involved with if Palmer would play nine with him. "Usually my price is a little higher than that," Palmer says, admitting that such off-the-street propositions happen more frequently than you might think. "But that's a pretty good offer, isn't it? We usually don't turn those babies down."
Palmer is hitting balls from a small roped-off area on the extreme right end of the tee. His cart contains two Callaway staff bags loaded with dozens of clubs. He also has brought from the workshop at his nearby home another set of X-20 Tour irons, which he has just wrapped with leather grips. Before each shot with one of the new irons he sprays the grip with a can of multipurpose adhesive.
Nobody's hands have ever looked more at home on the handle of a golf club than Palmer's meaty, oversize mitts that got golf-strong through thousands of boyhood swings at Latrobe (Pa.) CC. "They're the hands of a blacksmith or a timber cutter," his father, Deacon, observed in 1960. "You can only get hands like that by swinging an ax or a golf club." "Hell, if he wanted to bend a shaft, he didn't need a vise," Finsterwald says.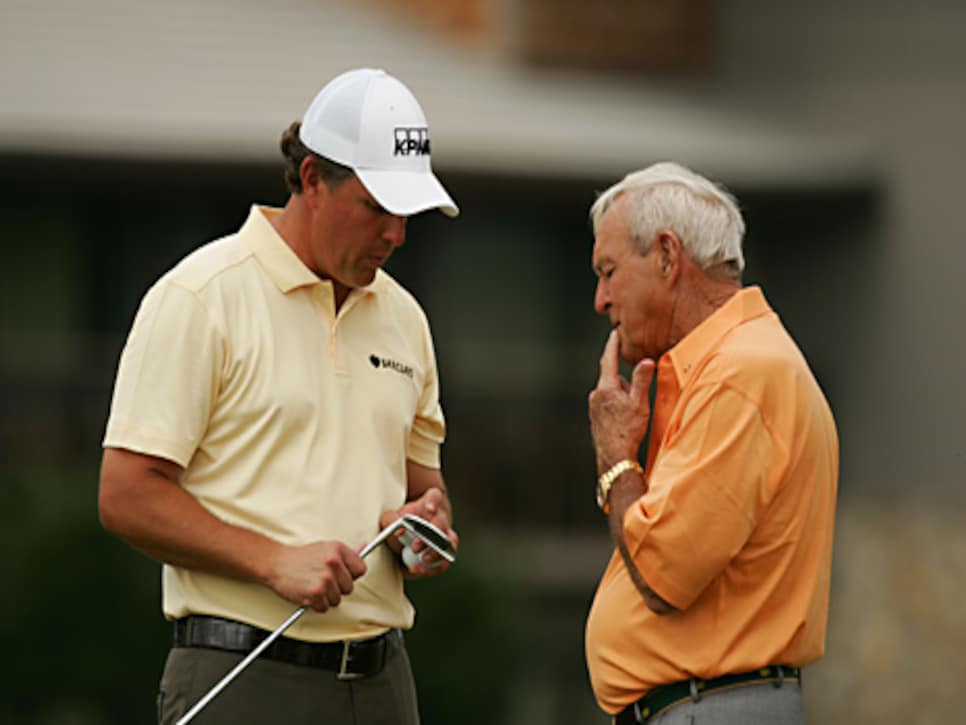 Early in his career Palmer adjusted his left-hand grip on the club to a slightly weaker position on the advice of Lew and Herman Worsham. He also took care that his tempo didn't get too quick, maintaining the swing and attitude that his father forged. "My father was my sport psychologist," Palmer says. "The one thing he said to me when I left to go play the tour was, 'You go out there and listen to those guys and you can still drive that tractor back here when you're finished.' That was what he said, and he meant it. 'Stick with what you had and work with it.' "
On this cloudy, muggy afternoon Palmer is still working at it, but the labor doesn't generate the results it used to. "Not enough clubhead speed," he says after a not-so-crisp 8-iron. "I started noticing it big-time when I was 70, and when I turned 75, [the problem] really started showing up. It's so difficult to concentrate now. I used to be able to just stand here and lock on and not have a problem. Now, that concentration is difficult."
Palmer had an 81 the previous day in "The Shootout," the daily game for Bay Hill regulars in which foursomes and fivesomes square off. "I think recently he has been playing the yellow markers, which is a concession I didn't think I'd ever see," says Finsterwald, "but hey, he's facing up to it."
Says Jay Haas, who teamed with Palmer in February's Wendy's Champions Skins Game: "He's still Arnold, he just doesn't want to accept that he's not 38 years old. He's 78. He just does not want to accept that. As far as loving the game and the competition, I would be hard-pressed to say who was more in love with the game than Arnold or Gary Player. Arnold has played as much golf in his lifetime as anybody in the history of the world. If everybody had that kind of passion, there wouldn't be any tee times left."
Once Palmer loosens up, more of his shots have zip. There is not much of his backswing left, but into his follow-through he is as familiarly unique as ever. He seems insulted when someone observes that a nice-looking 3-hybrid has gone 165 to 170 yards. "I hope it's farther than that," he says. "I would like to think it's about 190."
A few shots later, a club employee straightening up the range approaches. "It's still a pleasure to watch you hit, Mr. Palmer," he says.
The fact is, it still can be a pleasure for the man swinging the club. "Oh yeah, I still enjoy a good shot," Palmer says, "even though it's not anywhere near what it used to be. You can always tell when it's a good shot. If it weren't for that, I wouldn't be here hitting balls. You can feel it. It may not go as far, but when you hit it like that, you know."
Early in the 1958 season, Palmer loitered near the top of the leader board several times, finishing second in Tijuana, seventh in Panama, second in Baton Rouge and third in New Orleans. In late March, Palmer broke through at St. Petersburg, closing with a 65 to edge Hawkins and Finsterwald by a stroke. The week before the Masters, at the Azalea Open Invitational in Wilmington, N.C., he completed 72 holes tied with Howie Johnson. "I wanted to have a sudden-death playoff," Palmer says, recalling his eagerness to make the drive south to Augusta, Ga., "but nobody was listening."
On a Cape Fear CC course in spotty early-spring condition, particularly the bumpy greens, neither golfer played well in the playoff. "Palmer was good to me today," Johnson said after winning with a 77 to Palmer's 78. "When you beat a guy like Palmer with a 77, you've got to have some luck."
Palmer's frustrating day included calling a penalty stroke on himself on the 14th green when his ball moved. "I put [the loss] out of my mind," says Palmer. "That wasn't something that bothered me, because I was anxious to get to Augusta, and it was cold -- damn it was cold at Wilmington."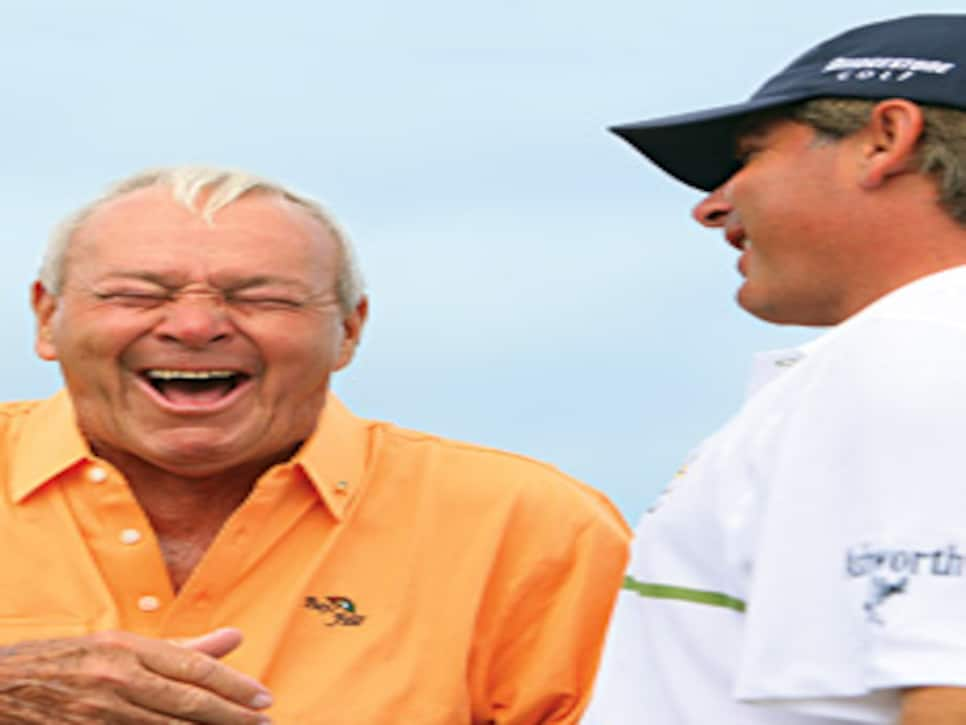 As Palmer remembered it in his 1999 memoir A Golfer's Life, Finsterwald already had set up a practice-round game against Hogan and Jackie Burke Jr. by the time Palmer got to Georgia late Monday night. Finsterwald played well and the younger duo took $70 from the Texans, but after the match, in the locker room, Hogan wondered aloud -- loud enough for Palmer to hear -- how Palmer even got in the Masters.
"I was a little disappointed Hogan talked that way," says Palmer, who was never close to Hogan and was irritated Hogan wouldn't call him by his name. "He said, 'How the hell did Palmer get in the Masters?' That was tough, sort of a blow to my ego. Up until then, even though Hogan and I weren't buddy-buddy, we were not enemies, either. You can guess for yourself how that motivated me."
Finsterwald wasn't within earshot when Hogan took his verbal jab at Palmer. "I can't believe [Ben] was serious," Finsterwald says. "I'm inclined to think Hogan was pulling his chain. Maybe the way Arnold played that particular day raised some questions, but Hogan couldn't seriously wonder. Arnold wasn't at his best that Tuesday, but things sure got better."
Even before Hogan poked him, Palmer was fueled by other critiques of his game. "I was determined to play good at Augusta because I knew my game was pretty good and people were talking that I didn't have the game that was required to win there," Palmer says. "I hit the ball low with everything -- with the driver, with the irons. It was a foregone conclusion that anybody who did that could not win the Masters. That was probably a bigger factor in my desire to win than even what Hogan said."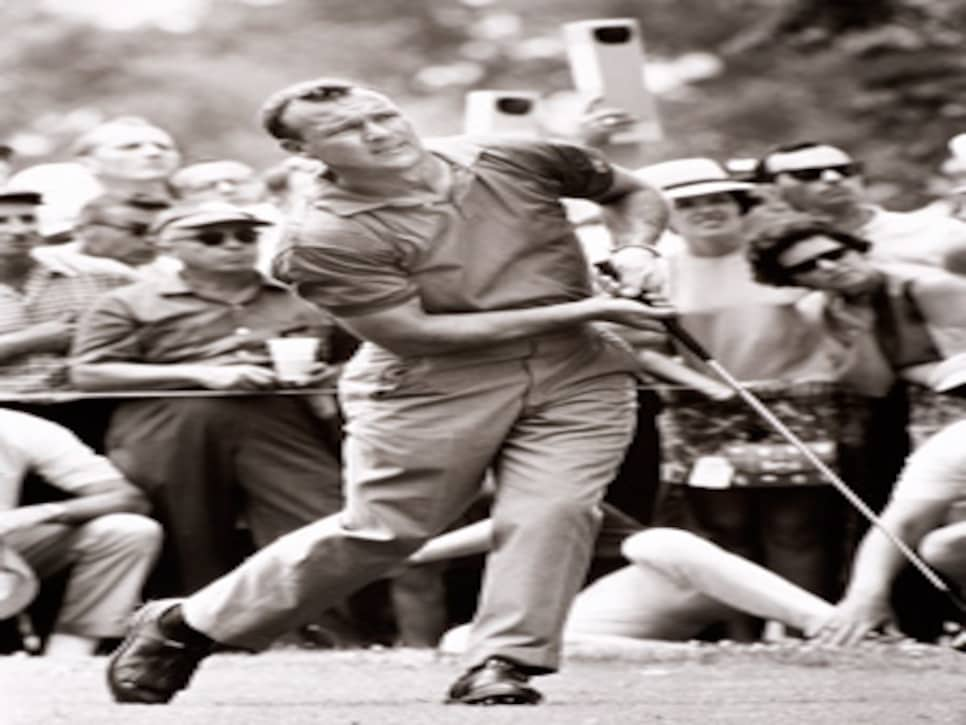 What Palmer didn't have in trajectory he made up for with power. "Anyone who had some length off the tee had an advantage at Augusta," says Doug Ford, whose more conservative style had earned him a green jacket in 1957. "For Palmer -- and it was the same for Jack Nicklaus -- par was 68."
Practice-round form didn't always mean much at Augusta during that period. "For the practice rounds they'd leave the greens a little longer," Hawkins says. "We would all basically shoot under par in practice. The night before the tournament, they'd lower the mowers and triple-cut the greens. Next day, you'd think you were in a different world. That's the way they wanted it."
As Palmer was about to hole a short putt to close out his victory at St. Petersburg in 1958, the silence was broken by the loud cry of a baby. "I mean scream," he said later. "I thought to myself, 'I bet that's Peggy.' "
In fact it was his 2-year-old daughter, Peggy, who already was starting to show she was as strong-willed as her famous father. "He never agreed on anything with me," she says, "and I never agreed with him."
As the tides smooth stones, years can smooth relationships. On a sun-splashed afternoon at Bay Hill 50 years later, Peg Palmer Wears is in her dad's gallery again. Palmer stopped competing in his PGA Tour event four years ago, but he is in the Arnold Palmer Invitational pro-am in a pairing with former Pennsylvania governor and homeland security chief Tom Ridge and two other amateurs, Cabot Williams and Craig Smith. Wears' daughter, Anna, 11, and son, Will, 13, who call their grandfather "Bumpy," are with her. "At 78, it's thrilling to see him out here," Peg says. "This is as good as it gets. It's all good."
Growing up as one of Arnold and Winnie Palmer's two daughters -- Peg's sister Amy is two years younger -- was a complicated existence. Their father relished the activity and attention that came with his sports-hero status; their mother coveted privacy and a normal routine that money couldn't buy. The intersection of fame and family, of contrasting priorities, was not always smooth.
"I felt bad for my mother but always understood [him]," Peg says. "It made total sense to me that he didn't want to be sitting around Thanksgiving dinner hearing about everybody's backaches. He always wanted to be doing something. The guilt involved in being a family man, and balancing your life -- yeah, that's all true, but you have to want to do it. If you don't want to do it, it just [isn't] that meaningful. He didn't want to be there; he wanted to be out on the golf course and we were welcome anytime. It was hard for my mother, but there was a thrilling side that she loved in spite of her issues. Everything's a trade-off."
Although from the tips, the pro tees that Palmer used to command, Bay Hill is way too much golf course for him -- a driver followed by a 3-wood at the 441-yard first hole left him 50 yards short of the green -- the couple hundred loyalists in tow applaud his good shots and ignore the bad ones. "I like to walk along and hear what people are saying about him," says Peg. "It used to not always be fun. We used to be in a crowd six or eight deep and there would be two guys behind us willing him to miss a putt because they were just crossing over to catch Nicklaus. It's really hard to hear people talk mean about your dad."
There are no harsh comments this afternoon, just the occasional observation that Palmer, who exuded youth for so long, looks his age. Abandoning style for function, he covers his head with a floppy hat. He bends over slowly when teeing up a ball or picking it out of the cup. He requires hearing aids in both ears, and even with them misses snatches of conversations and asks people to repeat themselves.
"Have you had a hard time aging?" Peg says when asked how her father is handling it. "I've had a hard time aging. I think he's had a real hard time aging. It's a bummer. When you've made culture happen, it's really hard when you can't do it as well anymore. But he does still have a good time, and he just wants to be out here and wants people to care about him. It's a beautiful thing, and they still do care, which is an even more beautiful thing. It never ends that he's thrilled by it."
On the back nine, Palmer -- who spoke vigorously against the use of carts on the senior tour -- gratefully catches a ride between holes. After No. 15, Amy, who manages Bay Hill with her husband, Roy Saunders, joins her sister in the gallery after hosting a lunch for PGA Tour wives. Palmer tells his daughters, "I think I can make it the last three holes -- I'm not sure."
In 1997, the week before Tiger Woods won his first Masters, Palmer, Woods and Palmer's longtime agent, International Management Group vice chairman Alastair Johnston, were playing a round at Bay Hill. The past and future lords of the game had a $100 bet over these same three holes. "Arnold lost 16, then won 17," Johnston remembers. "And on 18 Arnold was determined to be farther off the tee and hit the s--- out of a drive. Arnold took a 3-wood out for his second at the 18th. He had no chance of putting a 3-wood on that green and keeping it there, but he was determined to go for the green. Tiger was sitting in the cart with me and said, 'Look at the old man grind.' "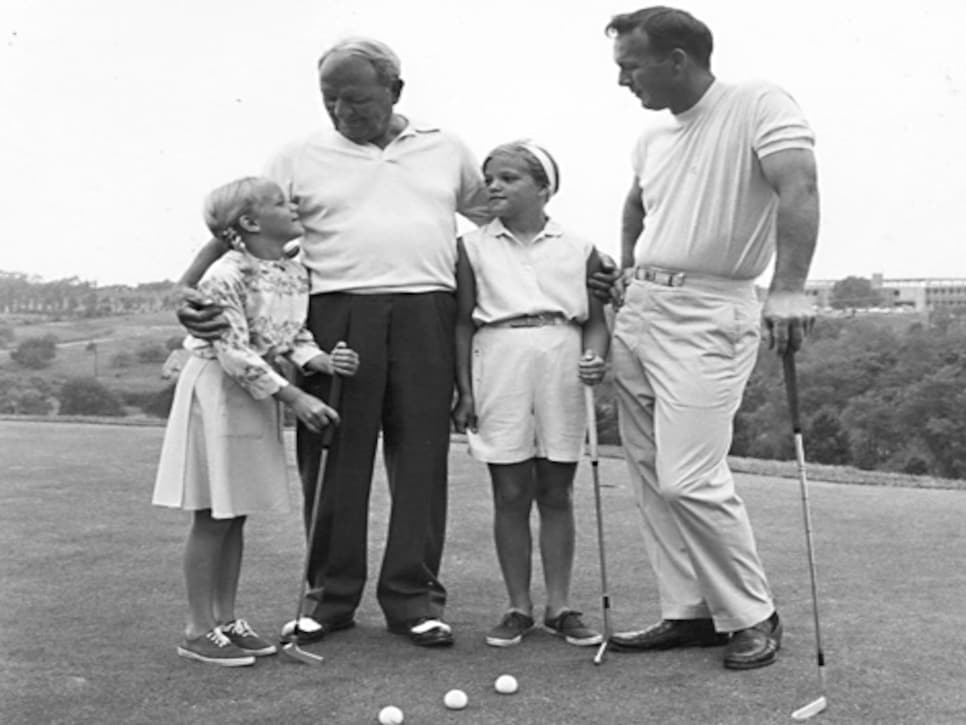 More than a decade later, from the Tiger tees, the green is within reach in regulation only in Palmer's memory. Still, the last drive of the day is the one you remember tomorrow. He cracks a tee shot, high and solid, his best of the round. At his other home, Latrobe CC, with any luck, this one would have carried the creek that crosses the fairway on No. 12. When he was in his late 60s, Palmer vowed to quit the game once he couldn't fly that stream.
"It's about 240, depending on which side you go on," he says. "Last summer, I hit it over the creek once or twice and that made [my year]. If I don't hit it over some time during the year, I will quit."
Once the 1958 Masters began, there was no evidence Palmer had a hangover from his defeat in Wilmington or the dig from Hogan. While Ken Venturi, the hottest player on tour with three victories when he arrived in Augusta, led after a first-round 68 and a 36-hole score of 140, Palmer was firmly in contention with a 70-73 start. By shooting a third-round 68, Palmer took a share of the lead with Sam Snead.
In a room on the fifth floor of the Paley Center for Media in New York City, a 90-minute CBS broadcast that originally aired Sunday, April 6, 1958, to a world of Zeniths and rabbit ears plays on a video monitor. Unlike then, when it would have been science-fiction fantasy, you can pause the show, rewind it, fast-forward through some of the tediously awkward moments -- the confusion of accounting how golfers stood by noting their total strokes rather than relation to par, for instance -- that were part of early sports telecasts.
Jim McKay, the TV host, looks ridiculously young. The "analyst," 1948 Masters winner Claude Harmon, wears his champion's green jacket -- even when doing live commercials for American Express outside the clubhouse. "You sign here when you buy them and here when you spend them," he says during a pitch with Peter Thomson for the company's travelers checks. Describing the golf without a script, Harmon has a relaxed, straightforward delivery but still has some game of his own, too. "I guess the portly veteran can still make one every once in a while," Harmon says after McKay compliments him on his T-9 finish earlier that afternoon.
As Palmer and Venturi played the 18th hole, Harmon was as candid as a current-day Johnny Miller with his assessment. "In the head-to-head battle it was Arnold Palmer who whipped Mr. Venturi into the ground," Harmon said. "They were going at it hammer and tong. ... It seemed that the eagle Arnold Palmer made at the 13th hole was just too much for [Venturi]."
Bobby Jones would call Palmer's 230-yard fairway-wood shot at No. 13 the best he had witnessed since Gene Sarazen's double eagle on No. 15 in 1935. Writer Herbert Warren Wind later described the shot this way: "He met the ball squarely, and it rose in a low parabola. There was some draw on the shot, and it curved from right to left as it crossed the creek and landed comfortably on the green."
Television viewers -- CBS had cameras only from the 15th green forward -- didn't get to see Palmer hit that 3-wood to No. 13 or sink his pivotal 18-footer, jump into the air and raise his arms as if he had scored a touchdown. They didn't get to see the tangled situation at the par-3 12th, when Palmer, leading Venturi by one stroke, hit a 6-iron over the green where it plugged in soft turf.
Palmer asked official Arthur Lacey for relief from the embedded lie, citing wet-weather rules that were in effect for the tournament. Lacey denied Palmer a free drop, telling him to play the ball from the depression. Palmer disagreed with Lacey's call. He chopped his way to a 5 from the original lie, then took relief and made a 3 with his second ball.
At first a double bogey was posted for Palmer on the leader boards, dramatically changing the complexion of the tournament. Not until 15, when Palmer met with tournament committee members, was the situation resolved in Palmer's favor and he was given a 3 on No. 12. Other players and fans were confused.
Venturi played his way out of the picture by three-putting the 14th, 15th and 16th holes. Palmer looked solid as he played the 18th with the lead, but his approach with a short iron was long and right. The ball bounced through the gallery and finished on the rear of the green 60 feet from the hole, a position from which Harmon said it "will be nearly impossible to get down in two from there. I would say Arnold Palmer has his work cut out for him."
Palmer hit a poor putt that was off-line from the start, leaving himself a seven-footer for par. "That putt is going to break at least two or three inches to the left," Harmon predicted. It did, and Palmer's par effort didn't come close to dropping. By making a bogey, he gave hope for Ford and Hawkins playing together about 45 minutes behind.
Ford, who putted with a pop stroke as did most of the pros of the day, including Palmer, endured his own problems on the greens down the stretch. He three-putted the 13th for par after hitting a better wood to the green than Palmer, then missed a three-foot birdie on No. 17. Still, Ford and Hawkins came to the 18th within a stroke of Palmer. They circled their birdie attempts like hungry lions but missed, Hawkins from 16 feet, Ford from slightly closer.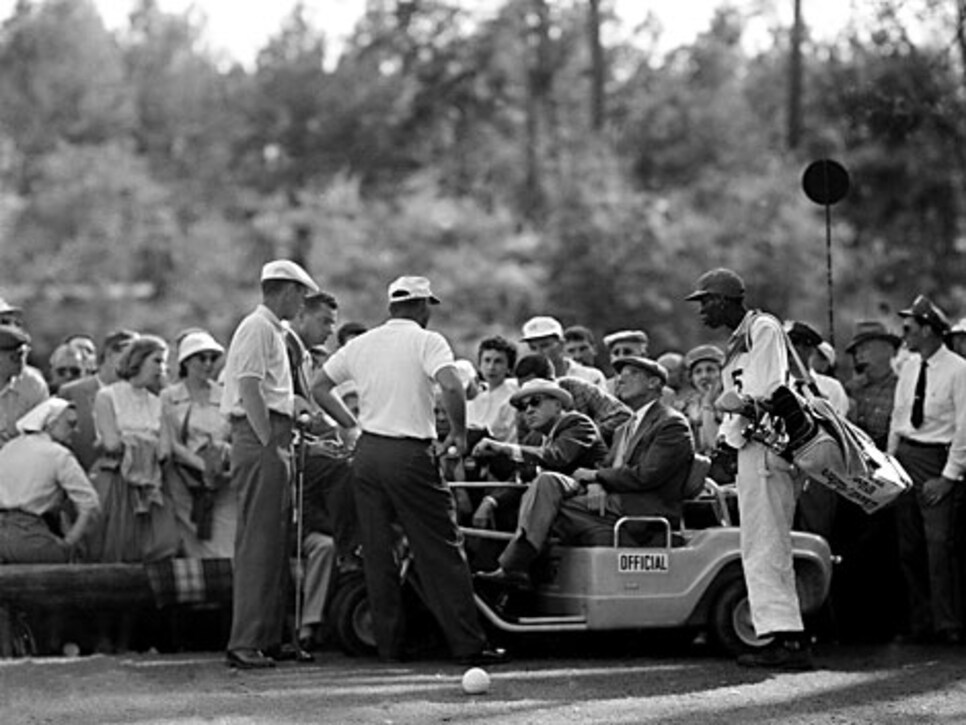 If Venturi was angry about what had transpired at the 12th hole, he masked it completely after Palmer tapped in for bogey on 18. Venturi shook Palmer's hand and kept holding it as they walked several steps. When the handshake was over, Venturi put his right arm on Palmer's shoulder as they continued off the green. "I knew Palmer was entitled to lift his ball," Venturi told reporters that afternoon.
Yet over the years, the situation lingered within Venturi like a bad case of indigestion. In his 2004 memoir Getting Up & Down: My 60 Years in Golf, he noted that, while Palmer was entitled to relief, he violated the rules by not declaring he was going to play a second ball before he hit the first one. Venturi wrote, "I firmly believe that he did wrong, and he knows that I know he did wrong."
Palmer has maintained he declared his intentions in advance as required. Even if he had not, Rule 11-5, as written at the time, stated that if a competitor failed to announce his intentions, the second-ball score would count. "Guys told me I should protest," Ford says, "but how do you protest something like that? It was water under the bridge for me. I got second money, and I was a 'cash and carry' kind of player then. All I wanted was the cash -- you can have the trophies. I see Fred four or five times a year, and we never talk about it."
At 28, Palmer was the youngest winner of the Masters since Byron Nelson in 1937. "He's a very young boy and very deserving of being a Masters champion and wearing one of the green coats," Harmon said in his closing remarks on the broadcast. "I think he will go on to great heights."
With $42,608 Palmer topped the 1958 money list. In that November's Golf Digest, in an article for which he was paid $55, he told the magazine's readers how to putt.
Bay Hill is Palmer's kind of place. No guard gate, no hats in the clubhouse, a jumbo chili dog for four bucks at the halfway house. When he is in Florida part of the year, Palmer lives in a townhouse, comfortable but not grand. More tour pros lived at Bay Hill years ago before they started moving away to bigger houses in gated communities. The clubhouse dining room menu reflects Palmer's meat-and-potato tastes. The "Palmer Salad" is a wedge of iceberg lettuce and bleu cheese dressing, the type of starter someone who could afford a steak liked to order in 1958.
Deacon Palmer, who loved to escape the Pennsylvania winters that he endured for a lifetime, died at Bay Hill in 1976 of a heart attack at age 71 after a full day of golf. On a morning of questions recently at his office there, some about golf, some about life, Deacon's son is asked if he considers his own mortality.
"Why don't you tell him 'Hell, no,' to that," his business associate and friend Jim Hinckley interjects from an adjacent room.
But Palmer does not demur. "I certainly think about it, because I talk to Jim," Palmer says, "but I don't dwell on it. I just want to go like my father did. Quick."
Palmer's life, which used to keep the schedule of a traveling circus, is not conducted at the pace it once was but is still full. A man who helps keep it that way is Johnston, who has managed Palmer's business affairs since 1976. "I often tell Arnold my grandfather retired at 85 and somebody gave him a television set as a going-away present," says Johnston. "He then spent the next year of his life watching television and died. That was because essentially he always had been an active guy.
"I'm the guy who takes the heat about ensuring Arnold remains active," Johnston continues, "because from a business standpoint, he's got to do some appearances to keep the business element going. And also from the standpoint of keeping his mind aware of what's going on. At the end of the day, it's somewhat pioneering to represent a professional athlete who is closing in on 80 years old and still perceived to be, and would like to be, active in his profession. He's challenged, of course, at the best of times because his hearing isn't particularly good. That's become increasingly frustrating."
Palmer is still involved in his golf course design business and has endorsement deals with Callaway Golf, Administaff, Rolex and Wyndham Hotels. "Oh, yeah, and Ketel One," says Johnston, with a grin, of the premium vodka. "But that's a very natural connection."
According to the 2007 Golf Digest 50, a ranking of the top money-makers in the sport, Palmer was No. 5 with $29,550,000. In Japan trendy young women wear designer clothing licensed to carry Palmer's name, a name of status. "If you go to downtown Tokyo," says Johnston, "there are 16 Arnold Palmer stores, all of which target 15- to 28-year-old women. I go and meet the designers. They've got purple hair and nose rings. He told me a couple of years ago that he hadn't been to Japan with me in a while and asked if I wanted him to come. I said, 'I don't think so.' I think Arnold appreciates that the royalties are very healthy."
Spend even just a little time around Palmer, whose yellow Labrador, Mulligan, is frequently at his feet, and it is clear he likes company. "I don't think he gets lonely," Johnston says. "He uses crowds, uses visitors -- they are absolutely still a source of energy for him. Kit [Palmer's second wife] is a great companion. He's surrounded by a lot of people on his staff. I don't think Arnold really enjoys his own company. He's never really enjoyed being on his own, and he makes sure he never is."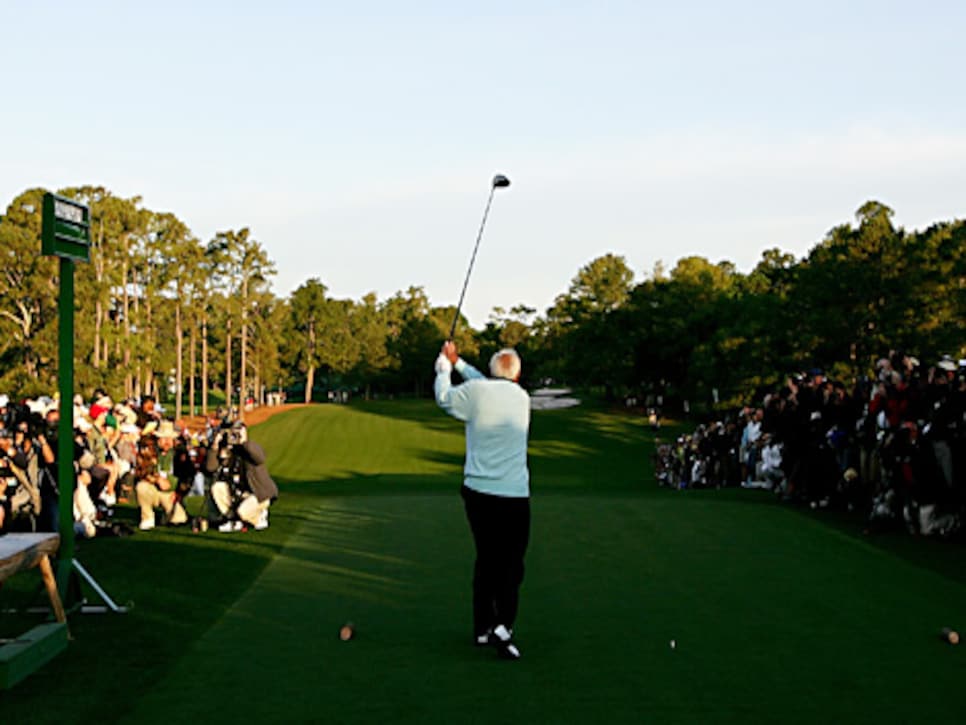 That is not universally true, however. Three years after his 50th and final competitive appearance at Augusta, Palmer kicked off the 2007 tournament as honorary starter. There has been talk that Jack Nicklaus should join him in the role, in a reprisal of the way Byron Nelson, Gene Sarazen and Sam Snead started off the event together for years. Asked if he thinks that would be a good idea, Palmer says, "No, I think one starter is enough. When Jack's ready, I'll step aside."
A question to Palmer: "If there was a 10-foot putt that had to be made, would you rather putt it, have Jack Nicklaus putt it or have Tiger Woods putt it?"
The answer comes quickly, and with a smile. "Any one of the three," Palmer says. "Tiger is one of the best putters I've ever seen and so is Jack. And I could hold my own."
Woods passed Palmer on the PGA Tour career victory list a few weeks ago and would surpass Palmer's four Masters titles with a triumph at Augusta next week. Woods' rousing, last-hole win at Palmer's tournament last month recalled Palmer at his dramatic best.
"I think he would see a lot of himself in Tiger," says Johnston, "but I also think Tiger has things Arnold never had and Arnold knows that. Tiger has had the ability to focus and really remove himself from distractions that Arnold couldn't. Arnold enjoyed being Arnold Palmer, and back then there was not as much money, not as much spotlight, not as much pressure as Tiger has."
Out on the Bay Hill range, Palmer has worked his way through his bag to the driver, always the best club in his bag. "If I could have hit the irons equal to the driver," he says a bit wistfully, looking down range, "I would have won a lot more than I did."
Hinckley has pulled up in a cart to watch Palmer hit a few drivers. One of them is particularly pure, flying farther and higher than the rest.
"Are you going to write it up that he was just pounding it down the fairway?" Hinckley asks.
Actually, yes, for a 78-year-old man he was pounding it. In fact, in the summer, at the course where he learned to play on a certain hole with a creek, like a certain strong-armed, narrow-hipped young golfer 50 years ago, it would have potential.