News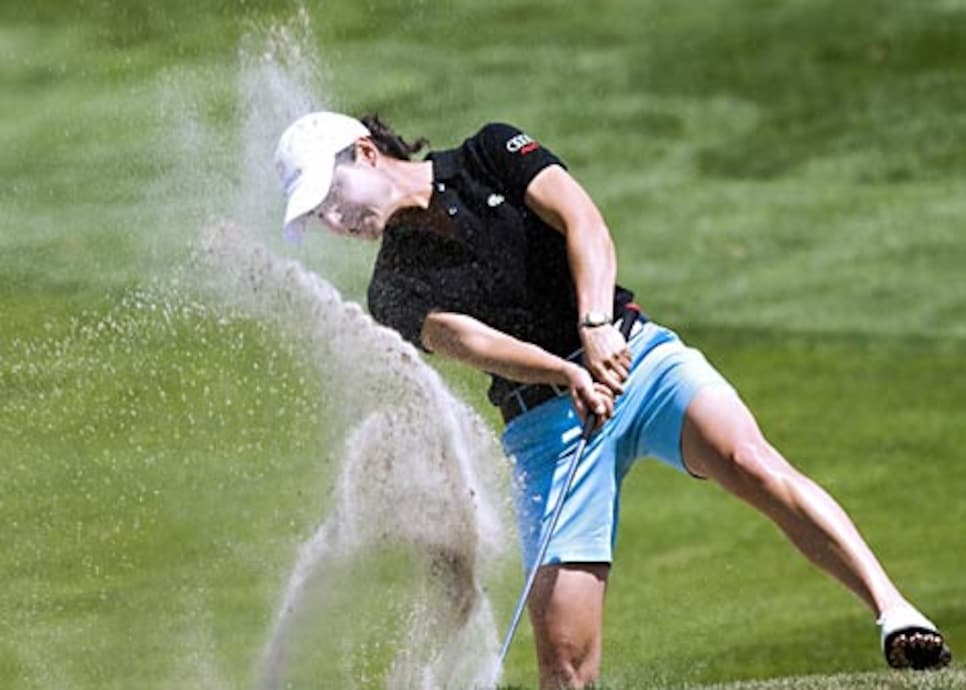 Although Ochoa is only 26, she feels an urgency to build on the major victory she had in 2007.
Lorena Ochoa has emerged clearly as the best player in women's golf over the last two years, with 15 victories since April 2006, and she also has learned a lesson understood by all who want to be considered among the best of all time: Major championships are what matter most. Ochoa shed the "can't-win-the-big-one" label last year at the Ricoh Women's British Open, but her victory also marked the 10th consecutive LPGA major won by a different player, the longest such streak in nearly 20 years. The Kraft Nabisco Championship next week offers an opportunity not only for Ochoa to string together back-to-back majors, but also provides an opportunity for a fistful of contenders to stake a claim as the kind of competitor who plays best when it matters most.
Perhaps the best indication of the depth of talent in the women's game is that since Karrie Webb won the 2002 Women's British Open, the last 20 majors have been captured by 15 different players and only Annika Sorenstam has multiple triumphs (six). That is a far cry from the 1998 through 2003 stretch when Webb (six), Sorenstam, Se Ri Pak and Juli Inkster (four apiece) won 18 of the 24 majors contested. Last year four first-timers took home the most coveted trophies, with Cristie Kerr (U.S. Women's Open), Suzann Pettersen (McDonald's LPGA Championship) and defending Kraft Nabisco champion Morgan Pressel joining Ochoa in the winner's circle. While Ochoa is the runaway No. 1 in the Rolex Rankings, the majors remain a mad scramble.
The mercurial Mexican has won 18 LPGA events, but she has only one major trophy on the mantel of her home in Guadalajara. In many ways Ochoa's situation is similar to Sorenstam's going into the 2001 season. Through her first seven full seasons on tour, the Swede had won 23 LPGA events, but had captured no majors since winning the U.S Women's Open in 1995 and '96, going 0-for-17 and leading some players to whisper that she was fattening her résumé on regular tournaments. Sorenstam dispensed with that criticism by winning eight of the next 24 majors as she picked up 46 more LPGA wins from 2001 through '06.
"I have 70 wins," the 37-year-old said after capturing this year's opening event at the SBS Open in Hawaii. "I have accomplished a lot in my career. What I want is to win more majors." With several business ventures underway, an April 2009 wedding date with Mike McGee penciled in and a family in the plans, Sorenstam has limited opportunities left to add to her collection of major trophies.
Last year's injury-plagued season was her first without a major since 2000. With 10 on her résumé, Sorenstam is tied for fourth all-time with Babe Zaharias, one behind Louise Suggs, three short of Mickey Wright and trailing Patty Berg's record of 15 by five. Also looking to add to their impressive major championship records at next week's Kraft Nabisco at Mission Hills GC in Rancho Mirage, Calif., are Webb and Juli Inkster, who have seven each.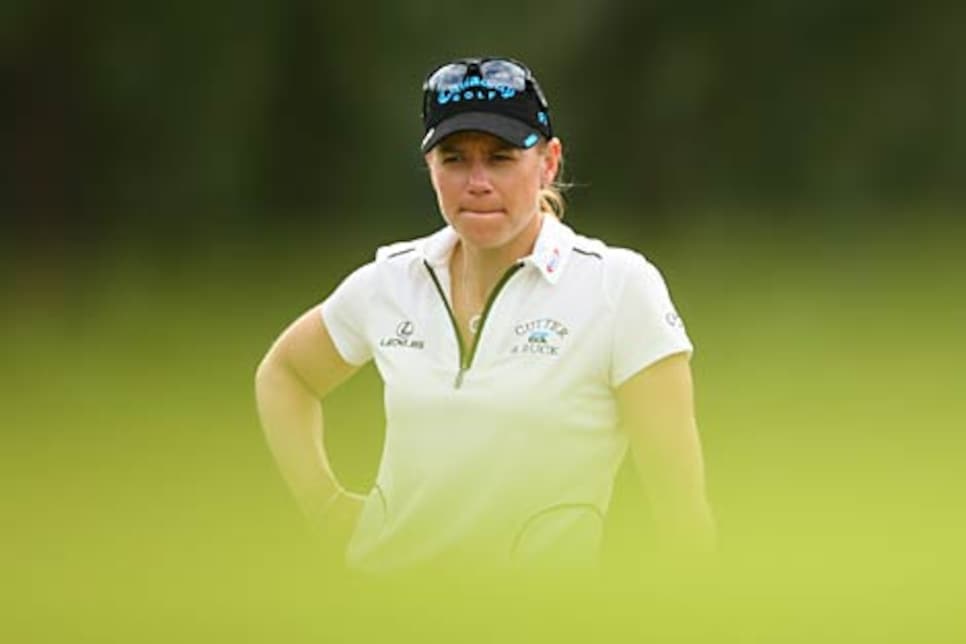 While Ochoa is a virtual lock to qualify for the LPGA Hall of Fame -- perhaps as early as this season as she needs only four more points -- the respect of her peers and the regard of the historians will come by way of the majors. It is a challenge she understands extremely well, finally losing the label as the best in the women's game without a major last August on the Old Course at St. Andrews.
"I had a feeling something special would happen that week," Ochoa said last week by telephone from Guadalajara, where she was attending her sister Daniela's wedding. "We only have [majors] four times a year. To be a champion you have to win a major, so you put a lot of pressure on yourself. But the more you are in the last group, the more you get comfortable with the pressure. For sure it is all about experience."
At 18, Pressel became the youngest major champion when she won last year's Kraft Nabisco, but she did so without experiencing final-group pressure, finishing more than an hour before the leaders. She then waited as Suzann Pettersen, Brittany Lincicome and Catriona Matthew all let chances to win slip. "I was more nervous than I have ever been standing on the range waiting for Suzann to finish," Pressel said last week. "It was a surreal experience." It was also an indication of how some majors are won: by getting into the clubhouse first and seeing how the others handle the challenge of chasing a posted number.
Ochoa is the favorite going into the Kraft Nabisco, but the fact that the first three events of this season were won by Sorenstam, Paula Creamer and Ochoa indicates the kind of scramble at the top the LPGA could see this season. "I feel really good and really confident with everything," Creamer said after winning the Fields Open, the second event of the year. "It's nice to be able to go home and work on some things. But I'm ready for the season to start, the big chunks of it, the majors and all. This was a good tuneup."
That's exactly the way a major champion thinks: Everything else is prep work. With five victories in the bank, Creamer, at 21, probably assumes the label as the best on tour without a major triumph. Rachel Hetherington and Mi Hyun Kim, with eight wins each, are the active players with the most LPGA victories and no majors, but Creamer, No. 5 in the Rolex Rankings, is the highest-ranked among that group.
Webb and Pak (five career majors) also have to be considered among the favorites going into Mission Hills. Pettersen, who let a four-stroke lead slip away at last year's Kraft Nabisco when she played Nos. 15 through 17 four over par, is looking to build on her breakout 2007 season in which her McDonald's title was one of five LPGA victories, and Kerr has clearly removed all doubt about her ability to compete with anyone on any given week.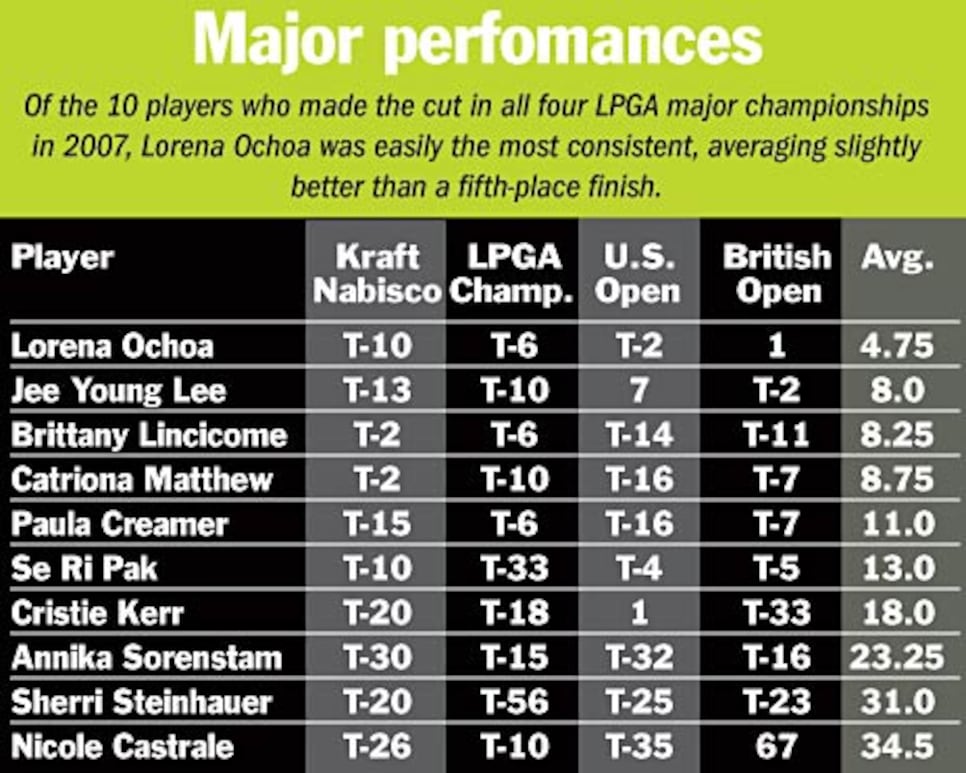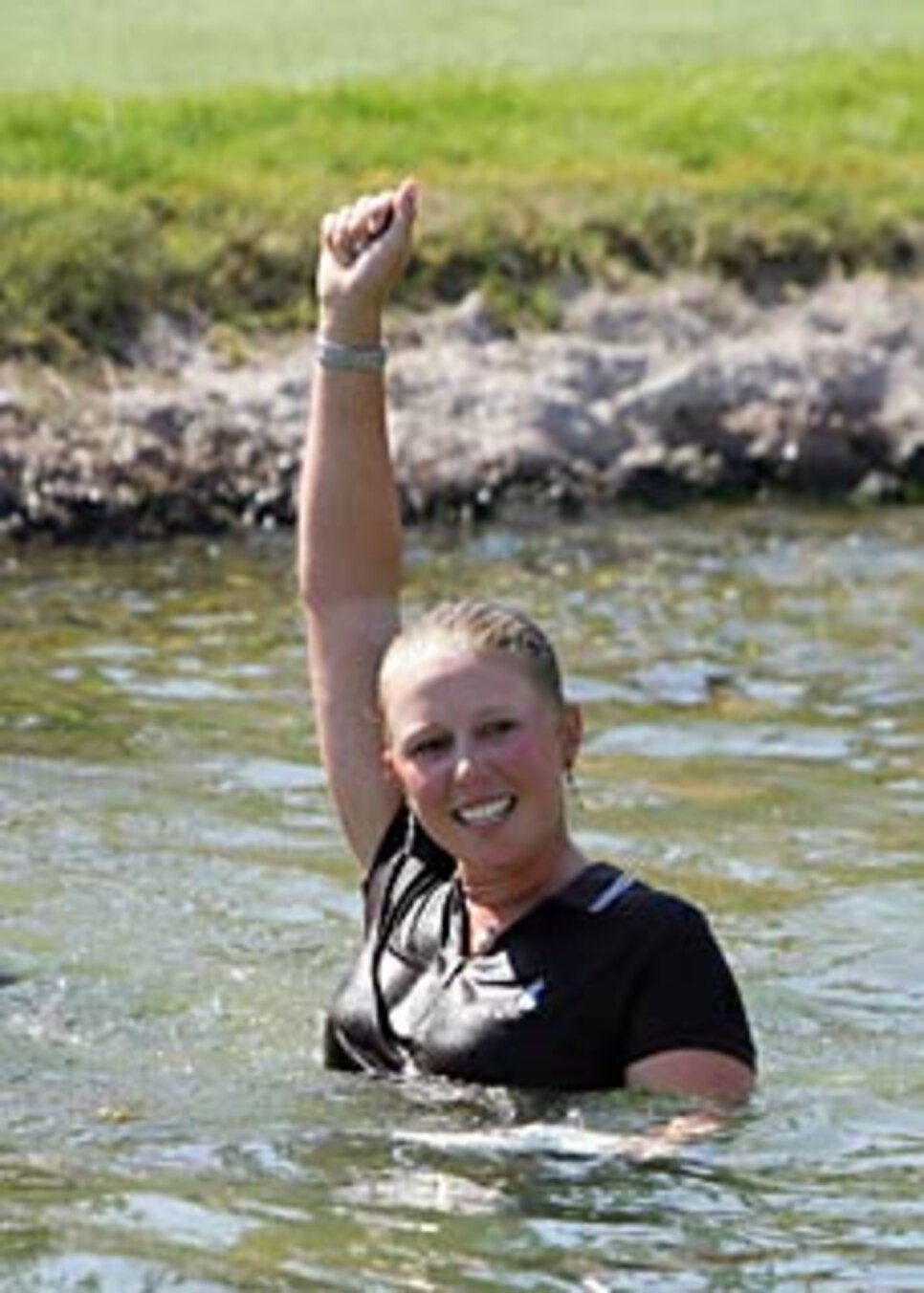 If the trend of last season extends into this year -- four first-time major winners -- the likely candidates include Creamer, Lincicome, Matthew and Jee Young Lee, all of whom finished in the top 16 in all four majors last year. Laura Diaz, who has played with a new-found calm since the birth of her first child, Cooper, in 2006, is off to a strong start with two top-five finishes. Yani Tseng, a 19-year-old, has been impressive among the rookies, finishing T-8 at the SBS Open and second at the MasterCard Classic in Mexico to another rookie, Louise Friberg, a Swede by way of the University of Washington.
For Ochoa, who has said she would like to end her competitive career early (perhaps before her mid-30s) to devote more time to her charitable foundation and to raising a family, there is an unusual urgency to winning majors although still only 26. Toward that end she devoted the bulk of her off-season practice to those weaknesses in her game most exposed under final-round, major-championship presssure: driving the ball into the fairway and making those five-foot par-saving putts.
"I learned a lot, and I took my game to a new level, so I'm going to keep trying to repeat myself," said Ochoa, recalling what she learned at St. Andrews. "The key is to give yourself as many opportunities as possible." And that is exactly what she has done, finishing in the top 10 in nine of her last 11 major starts.
"There are a lot of birdies out there, and hopefully I'll have great rounds this year," said Ochoa, who won her 2008 debut earlier this month at the HSBC Champions in Singapore. "When I'm in Nabisco teeing off for that first major, I'm going to be ready to win the tournament, so that's what I do." And that's exactly how major champions think.