News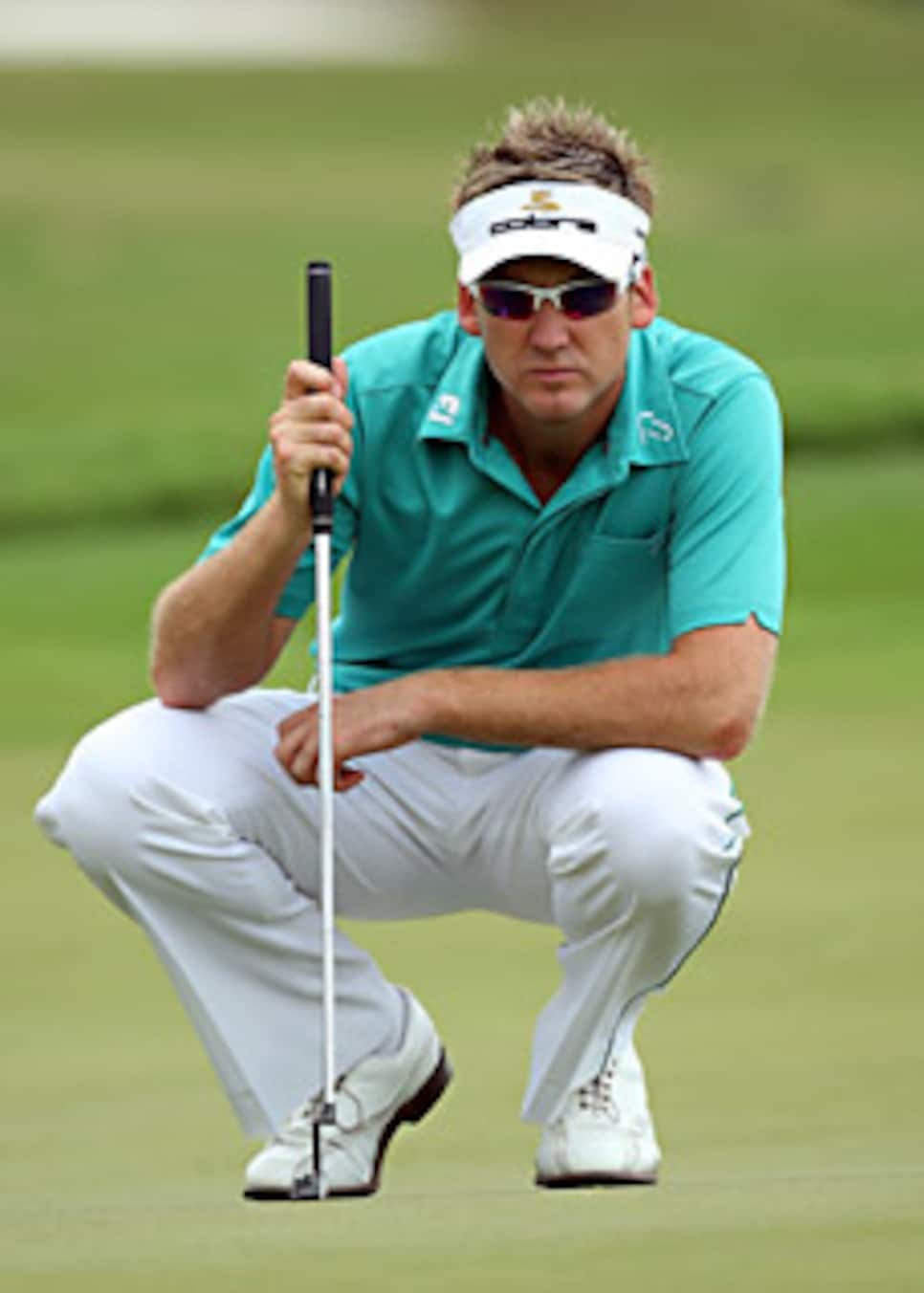 Ian Poulter broke his putter tapping it on a golf cart.
It was just a little love tap to the concrete path Ian Poulter gave his Odyssey Black Series putter as he made his way from the 14th green to the 15th tee on Doral Resort & Spa's Blue Course Saturday. But the rap resulted in a four-hole divorce between player and club.
After missing an eight-foot par putt on the 14th, Poulter hit the face of his putter against a cart path, loosening a weight bar on the back of the club, making Poulter's putter in violation of Rule 4:3/9 which states: "If, during a stipulated round, a player's club is damaged other than in the normal course of play rendering it non-conforming or changing its playing characteristics, the club must not subsequently be used or replaced during the round."
While playing the 15th hole, Poulter, unsure of whether his putter was legal, asked tour official Robby Ware whether he could continue to use the club. Ware said no -- an answer Poulter did not agree with. The flashy Brit then asked Andy McFee, a European Tour rules official, for a second opinion. But McFee backed Ware's original ruling, leaving Poulter to putt with his wedge over the last four holes and wondering why his flat stick had to come out of play.
"It wasn't as if I had smashed the putter on the ground," said Poulter. "In my view the face angle hadn't changed, the shaft [wasn't] bent, and it still [was] in its current form." Although frustrated with the decision, Poulter managed just fine using his Cobra wedge, playing the final four holes in even par, holing a five-footer for bogey on 15, a three-footer for birdie on 16 and a 22-footer at the last to save par -- the longest putt he made all week.
Still, Poulter's travails underscore the fine line as to when a club that has been altered may be replaced, fixed or has to come out of play.
For example, if the same damage had occurred during the playing of a stroke, Poulter could have continued to use the club, tried to fix it or get a replacement. Such a scenario occurred during last year's Masters when Tiger Woods broke his 4-iron on the 11th hole in the final round. Woods opted not to replace the club, but he could have. Years ago Jack Nicklaus broke his 3-wood while teeing off in The Memorial and sent someone to retrieve his backup. Ditto Chris DiMarco in the final round of the 2005 Masters when, after hitting his tee ball on the eighth hole, he noticed the epoxy that held the head and shaft together had come loose, causing the head to twist. A replacement was brought to him by the time he teed off on the ninth hole.
Poulter, meanwhile, was prepared for the final round. "I have a spare in my room," he said.
No, that's not a kid's putter Robert Garrigus is using, but at just 28 inches in length, his TaylorMade Rossa Monza Spider sure looks like one. Garrigus uses the Lilliputian-sized putter to ensure his arms extend down, making it easier to execute his straight-back-and-straight-through stroke.
At the PODS Championship, Steve Stricker had the low round Sunday after changing mid-tournament to Titleist's AP2 irons. Stricker kept the clubs in the bag at the WGC-CA Championship where again in the final round he posted the low score, this time a 63. Ball: Titleist Pro V1. Driver: Titleist 905T, 8.5 degrees. 3-wood: Titleist 906 F2, 13 degrees. Hybrid club: Titleist 585H, 17 degrees Irons (3-9): Titleist AP2; (PW): Titleist Vokey. Wedges: Titleist Vokey (54, 60 degrees). Putter: Odyssey White Hot 2.
They're no longer squares: At the WGC-CA Championship, both K.J. Choi and Trevor Immelman used Nike's conventionally shaped Sumo 5000 driver. The changes were notable because both had been using the company's square-shaped Sumo2 driver. Stephen Ames and Stewart Cink, however, both kept the Sumo2 in the bag at Doral. ...Retief Goosen's first top-10 finish on the PGA Tour since last year's Masters came after a return to the Yes! Golf Tracy putter he used to win both his U.S. Opens. Goosen ranked T-12 in putts per round at Doral, taking less than 30 putts each of the four rounds. ... Greg Kraft won the Puerto Rico Open in his first event with Titleist's ZM muscleback blade irons.