News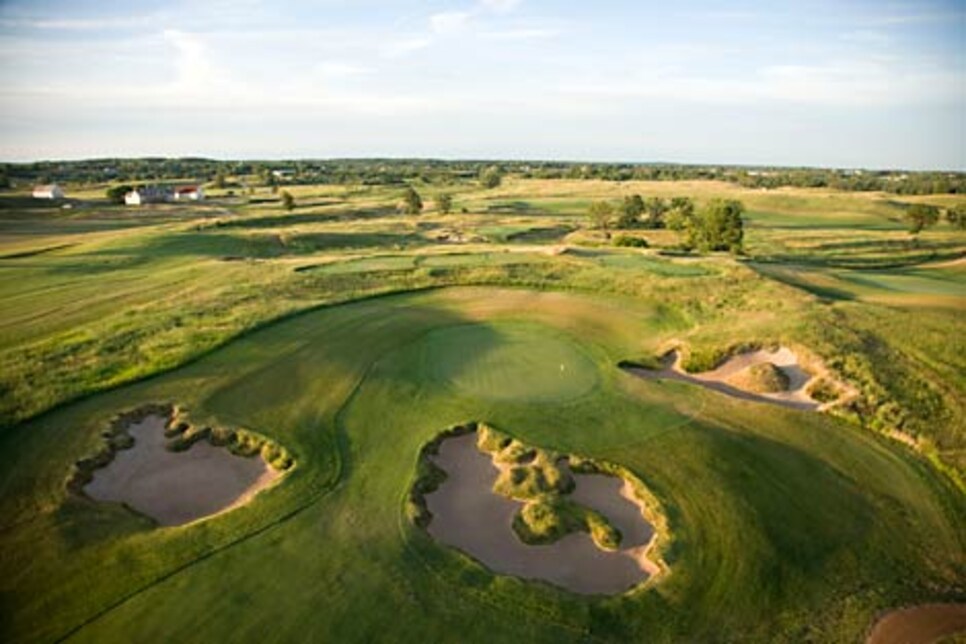 Erosion bunkers guard a natural punchbowl green at Erin Hills' 414-yard par-4 11th.
Bob Lang has a favorite saying, one that could have been printed in fancy script on one of the greeting cards or calendars he once sold: "Golf is a journey." He concludes e-mails with the phrase and slips it into conversation, and it might sound corny if Lang wasn't so sincere about his abiding respect for a game he rarely plays.
But no one, especially Lang, could have foreseen the journey he would take when he set out to build a little nine-hole course for friends and family to enjoy on lazy summer evenings in Wisconsin.
The course he wound up with is not exactly a pitch-and-putt.
Erin Hills GC, a public layout carved into glacial dunes in the scenic Kettle Moraine about 35 miles northwest of Milwaukee, is so highly regarded by the USGA it was awarded two national championships before it was two years old and is considered a front-runner for a future U.S. Open.
When the USGA announced recently that Chambers Bay, a municipal course in suburban Tacoma, Wash., had been selected to host to the 2010 U.S. Amateur and 2015 Open, almost lost in the announcement was that Erin Hills also had been awarded the 2011 Amateur.
It was big news in Wisconsin, for several reasons: 1. The state has never hosted a U.S. Amateur; 2. The announcement further enhanced the Badger State's growing reputation as a major player in the world of championship golf; 3. The U.S. Amateur seemingly paves the way for a future U.S. Open at Erin Hills. "It's a place we're looking very seriously at [for] a U.S. Open," says Mike Davis, the USGA's senior director of rules and competitions. "If there wasn't some genuine interest and we weren't seriously looking at it [as an U.S. Open venue], I'm not really sure a U.S. Amateur would be played there. … We're incredibly intrigued."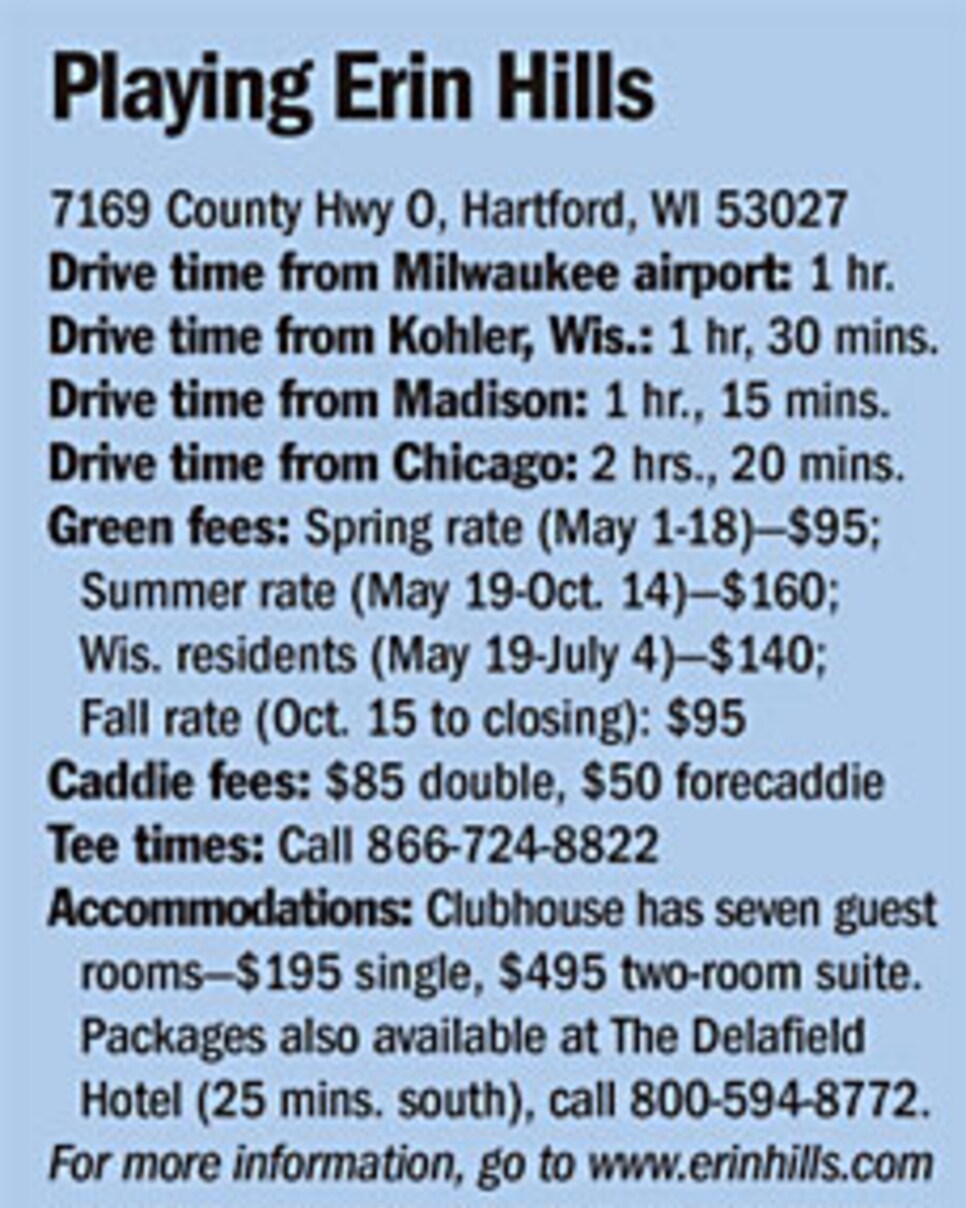 Lang, a humble, self-made millionaire who sold his greeting card/calendar business in 2003 but still owns a construction company and a boutique hotel in nearby Delafield, can only shake his head in wonderment over his incredible good fortune. "It's surreal," he says. "I'm not a guy who was well-connected in the world of golf. I do not even consider myself a golfer. My enjoyment comes from respecting the game for its traditions. My enjoyment comes from being able to walk down the fairway and watch the sun set and the shadows spread over the course. It's an escape, a place to get away from all the challenges of life."
When Lang first saw the heaving land that would become Erin Hills in 1999, he had no idea he was looking at a site that has been called one of the great natural settings for golf in the U.S. Bulldozed by glaciers during the Ice Age and largely untouched by man since, the 600-plus-acre tract he bought -- so rugged most of it was unsuitable for farming -- was an architect's dream.
"It's one of the great natural sites anybody has ever had to work with," says course architect Dana Fry, who designed Erin Hills along with design partner Mike Hurdzan and Golf Digest/Golf World architecture editor Ron Whitten.
"I've been doing this since 1983," Fry says. "I've been everywhere. There are not many sites this natural for golf."
Says Davis, "I can't remember when I've seen land like this in the Midwest. It just doesn't exist."
When Lang brought golfing friends out to see the property just west of the Basilica of Holy Hill, a century-old hilltop shrine and Wisconsin landmark, they were astonished by the kettles and eskers left behind by the retreating glaciers. Lang learned that a local group had tried to purchase the land a few years earlier. The deal fell through but not before architect Tom Doak did a preliminary course routing.
Lang hired Hurdzan-Fry to do a new routing, and they brought in Whitten, who made more than 100 site visits from his home in Topeka, Kan. The architects and Lang agreed on two key points: Erin Hills would be an inland links with fescue fairways that would play firm and fast, and the routing would require earth to be moved only where absolutely necessary. Dirt was moved on just four holes during construction and a significant amount of dirt on just one (the par-5 first). The natural corridors between the dunes and ridges became fairways, which were slit-seeded so that even the tiniest ripples remained intact. The green complexes were simply cored out on existing knolls and plateaus. Tees were built close to greens to encourage walking.
The result was a course that looked and felt 100 years old the day it opened in August 2006. "It's unbelievable," says PGA Tour veteran (and Wisconsin native) Steve Stricker, who was among the first to play Erin Hills. "It's such a natural-looking place. It's amazing how the land is cut naturally like this and how it looks like a golf course should be here."
Lang had language written into the deed stipulating that the land surrounding the course can never be developed, not even by his heirs. There will be no condos or multimillion-dollar mansions at Erin Hills. In fact, Lang bought three homes visible from the course and had them moved. A simple wooden sign marks the understated entrance, and no power lines or roads can be seen from any part of the course.
During the 2004 PGA Championship at Whistling Straits, Davis and several other USGA officials made the first of many trips to see the raw land. They were so impressed with the site that the following April, with most of the work on the course yet to be completed, they awarded Erin Hills the 2008 U.S. Women's Amateur Public Links.
"Some might ask, 'Why do that?' " says USGA executive director David Fay. "It's a belief on our part that this is going to be a very high-quality golf course [and] one of the most talked-about golf courses in this country." He added that the WAPL was a "very good test lab" for the U.S. Open, since both championships are played in June.
The USGA has made no secret it is trying to identify a Midwest course for the U.S. Open, and Erin Hills meets all the criteria. There is plenty of land for infrastructure; it's a public course (green fees are $160); the sandy sub-soil encourages a firm, fast turf; and it can be stretched to a titanium-testing 8,266 yards. (Indeed, multiple sources tell Golf World there have been preliminary discussions about Erin Hills hosting the event in 2017.)
The greens range in size from 3,000 to 12,000 square feet and the slick A-4 bent-grass surfaces are flanked by fearsome, shaggy-edged bunkers that are to be avoided at all cost. It is almost impossible to find a perfectly flat lie in the roller-coaster fairways. There are no water hazards, but Lang is fond of saying the holes are framed by a "sea of fescue" that grows thigh-high by the Fourth of July.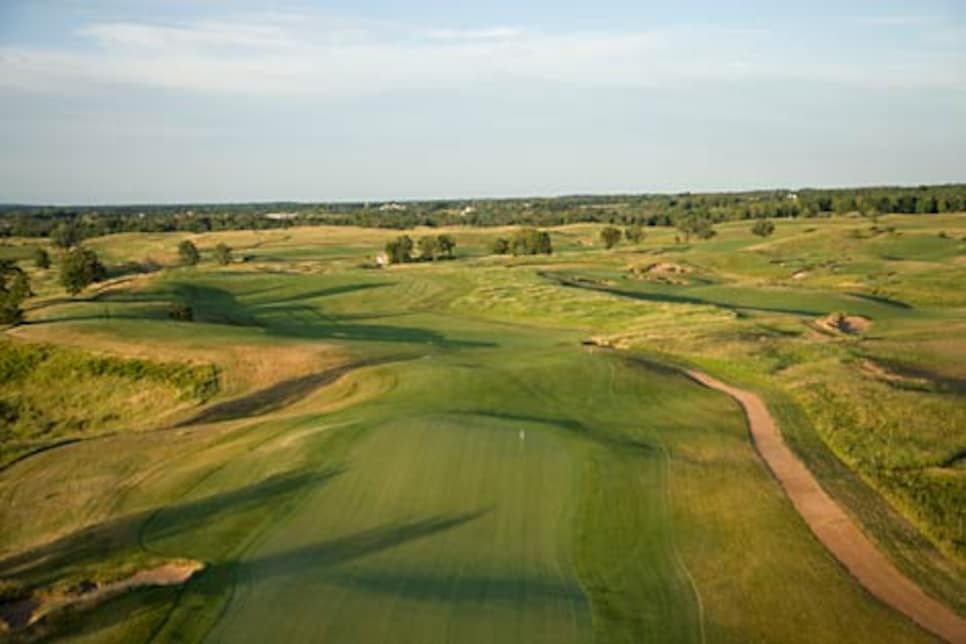 How tough is it? Stricker, ranked fourth in the world, played the course at 7,824 yards and shot 75. On six of the 10 par 4s, Stricker had 190 or more yards into the green. He had to hit a 3-wood from 221 on the 496-yard ninth, which played into the wind. All four par 5s played longer than 600 yards, and he was unable to get home in two on any of them. "A driver and a 7-iron," Lang says, "is not a par 5."
Last year, Lang hosted the inaugural Back Black Challenge, in which some of Wisconsin's top club pros and amateurs played all 19 holes at Erin Hills from the tips (yes, there is an additional "bye" hole, a par 3 originally built to settle bets on the way back to the clubhouse). David Roesch, a Nationwide Tour player, won the tournament with a 5-over-par 80. "This will be all the test anybody would ever want," says Davis, "even at the very, very highest level."
For Bob Lang and Erin Hills, the journey is just beginning.