News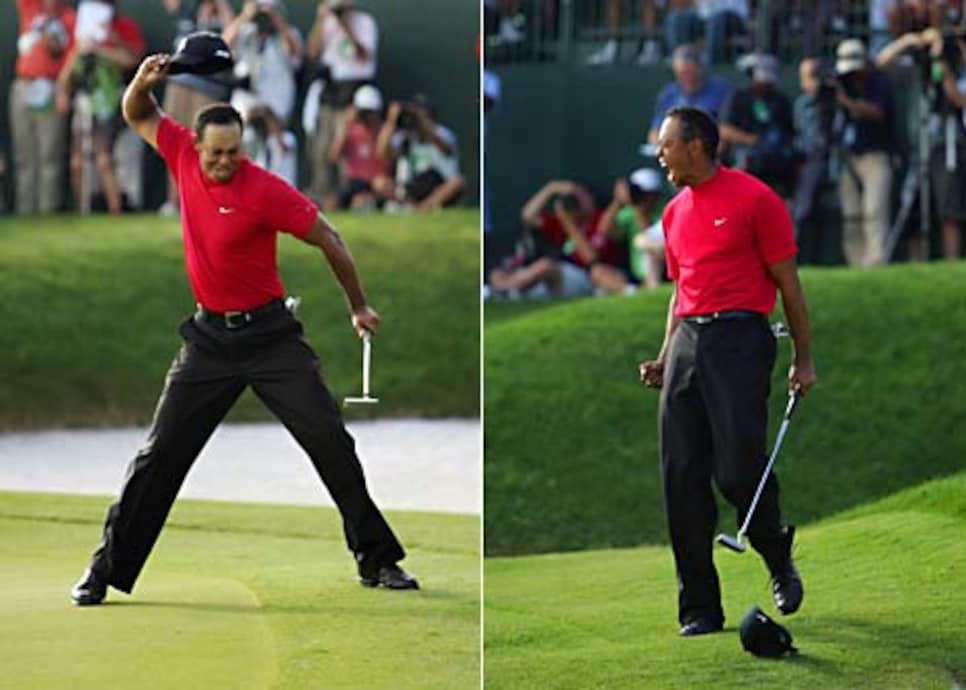 Knockout blow: Woods exploded in joy after sinking a 24-footer on No. 18 for his fifth straight tour win.
Not even the nematodes can stop Tiger Woods, they being microscopic parasites that staged a hostile takeover of the greens at the Bay Hill Club & Lodge in a spring feeding frenzy. The world's No. 1 golfer, prepping for the Arnold Palmer Invitational, declared early and often that he did not care for the putting surfaces because no two were alike. The greens ran slow and bumpy and the best of the bunch was the one in the practice area.
But geniuses have a way of being obstinate, and so it was that Woods drained a slippery 24-footer for birdie on the 72nd hole Sunday to earn his fifth consecutive PGA Tour victory and seventh in as many starts worldwide. When the ball disappeared to cue a roar from spectators lining 400 yards of fairway, Woods gleefully fired his cap to ground, as if to kill any remaining nematodes sneaking a glance at history. There would be no playoff against Bart Bryant, and already rendered bare-headed, Tiger was properly dressed for post-round handshakes.
"Unbelievable, scary," sighed Woods' playing partner, Sean O'Hair. "I don't know how he does it, going into that other zone of his where he just gets it done. I look forward to the day when he's 80. Unfortunately, I'll be 73."
Woods' clinching putt, according to caddie Steve Williams, was strikingly similar to the one that beat Phil Mickelson in 2001, same hole, same tournament. But this coup de grâce goes deeper, about 180 yards out, where Tiger selected 5-iron to buck a wind that had changed within minutes and was now blowing in from the right. "Best swing of the week there," said Woods, who "struggled" for the first two rounds, then shot 66 Saturday to erase a seven-shot deficit and join a five-way scrum for the 54-hole lead that he solved with another 66 Sunday as he tied Ben Hogan for third on the all-time honor roll at 64 triumphs. Woods, who signed for 10-under 270, humbly offered that he never thought he would be an entry with a legend he so admired as "Mr. Hogan," but it has happened before your eyes, folks.
"I just hope people, whether they like Tiger Woods or not, whether they like sports or not, realize what we're seeing," said Williams. "This is the greatest golfer ever they're looking at."
Williams doesn't string together many adjectives in these situations, because he is surprised by nothing Woods does. That would include an early Sunday morning session at Isleworth during which Tiger "found something." But the discipline, the devotion, the zones O'Hair referenced, they all contribute to a certain air of inevitability, or at the very least, deference. And the more Woods hoards trophies and titles, the more difficult it is to imagine him failing. Mind you, none of Saturday night's co-leaders -- Vijay Singh, Bubba Watson, Bryant or O'Hair -- genuflected in public, although Bubba did refer to Tiger as "Mr. Woods." But to put it in cold statistics, golf is a sport of communal mistakes survived by only one individual, and Tiger is 43-3 when sharing or owning a third-round advantage.
O'Hair, who will be in a lot of last groups before he is 73, joked about needing a diaper when he first played a practice round at the Masters with Tiger. Sunday, Woods wished O'Hair well on the driving range, then shook him with a birdie at No. 2, where O'Hair three-putted for bogey. Woods birdied Nos. 6 and 9 to shoot 32 on the front side, but the worms turned on him at No. 10, where he authored an ungainly three-putt from inside seven feet to fall back into a tie with Bryant at eight under. Woods birdied the 13th, but Bryant caught him with a birdie at No. 15. The two men, a twosome apart, separated from the pack but not each other as they embarked on Bay Hill's strenuous homestretch. When Woods converted his last stroke, Bryant was in the scoring trailer, contemplating overtime until he heard something vaguely resembling bedlam. "What are you going to do?" mused the mustachioed veteran who capped three 68s with Sunday's 67 for a nine-under 271, two up on O'Hair, Singh and Cliff Kresge.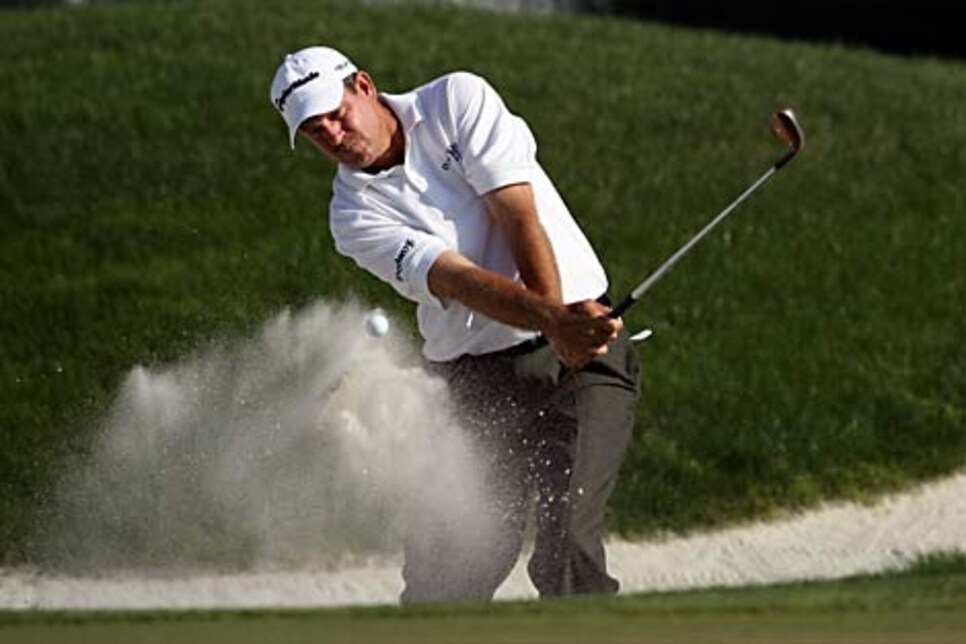 "It was just a great day," concluded Woods, who noted that he was so awash in the winning moment, he was puzzled when Williams returned his hat to him. "Evidently, it came off. I need to see the highlights. The putt on 18, I was just trying to make sure I got the speed right. That green has a little more grass on it, and the grain has a little more effect. I hit the putt down there, and it took forever to start breaking and for the grain to start taking it. But once it started taking, it went straight right and into the hole." When asked whether he finally "owns" his swing as Hogan once said, Tiger said he is getting there. Tiger also said he has to keep working at his craft to be sharp at next month's Masters. An hour after his Cablanasian hat dance, Tiger was talking about his next assignment in Miami. Relentless. The man is relentless.
From Thursday's opening lap, leadership was a tenuous proposition. Fred Couples, walking and swinging effortlessly at age 48, shot 65 in the first round, as did J.J. Henry. Couples is pumped about being appointed U.S. Presidents Cup captain for 2009; Henry is still bouncing off walls after his New York Giants' Super Bowl victory. Those ancillary vibes must have relocated Friday to Singh, who followed a 66 with 65 for a two-shot advantage over Carl Pettersson. Couples had 73, a score he would have settled for Saturday, when he finished double bogey-bogey-bogey-triple bogey for 78. Needless to say, he was not among the nine players who either held or shared the third-round catbird seat during a wild, blustery afternoon.
Singh hoped this tournament would be worth the weight. He became ill after the Johnnie Walker in India and lost 18 pounds during four days of plumbing problems and "forced rest" -- the only kind of rest Singh knows. Saturday he was calmly nurturing his two-shot cushion until he suffered an hour's free fall, dropping five strokes on Nos. 5 through 8. The most lamentable swing -- too aggressive, he suggested -- produced a water ball off the No. 6 tee, a par 5 he wanted to birdie but doubled instead. If Singh didn't laugh it off, he was indeed laughing at the start of the back nine, where he birdied Nos. 10 and 11 on his way to 33 and 73. His approach shot on No. 16, with a 4-iron, went swimming, but Singh saved par with his third chip-in of the tournament.
All sorts of crazy stuff was taking place ahead of Saturday's final twosome. Smiling Nick Watney recorded his second eagle of the day at No. 12 to reach nine under, two better than the field. Then he bogeyed No. 13 and quadrupled 16. Bryant also dunked a ball there to fall to six under. That converted par 5 is the toughest of the tough at Bay Hill, although Woods mastered it with a terrific 6-iron to three feet for his last of six birdies. Thus, he became part of a crowd of five at 204 that included O'Hair, who dazzled with 63, then departed with family for relaxation. O'Hair had no idea what turbulence would ensue, but he must have figured the best score in Bay Hill's brief existence as a par-70 test would stand for something.
"I was fortunate there," said Woods, "to post a good round and not have any of the leaders run off. It didn't happen, and I got myself back into the tournament."
Palmer, who called Tiger's winning putt from beside the 18th green, was buoyant about the finish and everpresent throughout the week, chatting it up with this generation's flatbellies. The King will celebrate the 50th anniversary of his first Masters victory next month not only by making a ceremonial tee shot on No. 1 Thursday but quite probably by participating in Wednesday's Par-3 Contest. "I'm registered," said Palmer, who teed it up in last Wednesday's pro-am. But he was quite self-deprecating when assessing the state of his game. For instance, No. 16 is a par 5 for members at Bay Hill, but for the pros, it was a par 4. Said Palmer, "I play it as a par 6."
Palmer revealed that he exchanged text messages with Woods upon the latter's recent 63rd career victory, one more than Palmer's total. He is effusive in his praise of Woods' feats. "You've all heard what I've had to say about Tiger in the past," Palmer said. "I can't see him doing anything but continuing to pass other people's records in the future. I don't see any change in what he's doing or how he's doing it. I think he is just in a position to continue to do the things that he's done very well up to this point." It was Palmer, in conversation with golf writer/friend Bob Drum, who conceived of the modern Grand Slam.
When Bobby Jones won all four of golf's major titles, they were the U.S. and British Opens and the U.S. and British Amateur Championships. Palmer trotted out the idea of a professional Grand Slam -- the Masters, U.S. and British Opens, and PGA Championship -- and Drum ran with it.
"That was in 1960," said Palmer, who did not discount the possibility of Woods running the table soon, maybe even in 2008. "A lot depends on how determined he is to win the four events in one year," Palmer continued. "And, of course, I think that it's pretty damn exciting. But let me say one thing more. As you win more, the pressure gets greater. As good as he is and as mentally sharp as he is, that isn't going to disappear. It's not going to go away."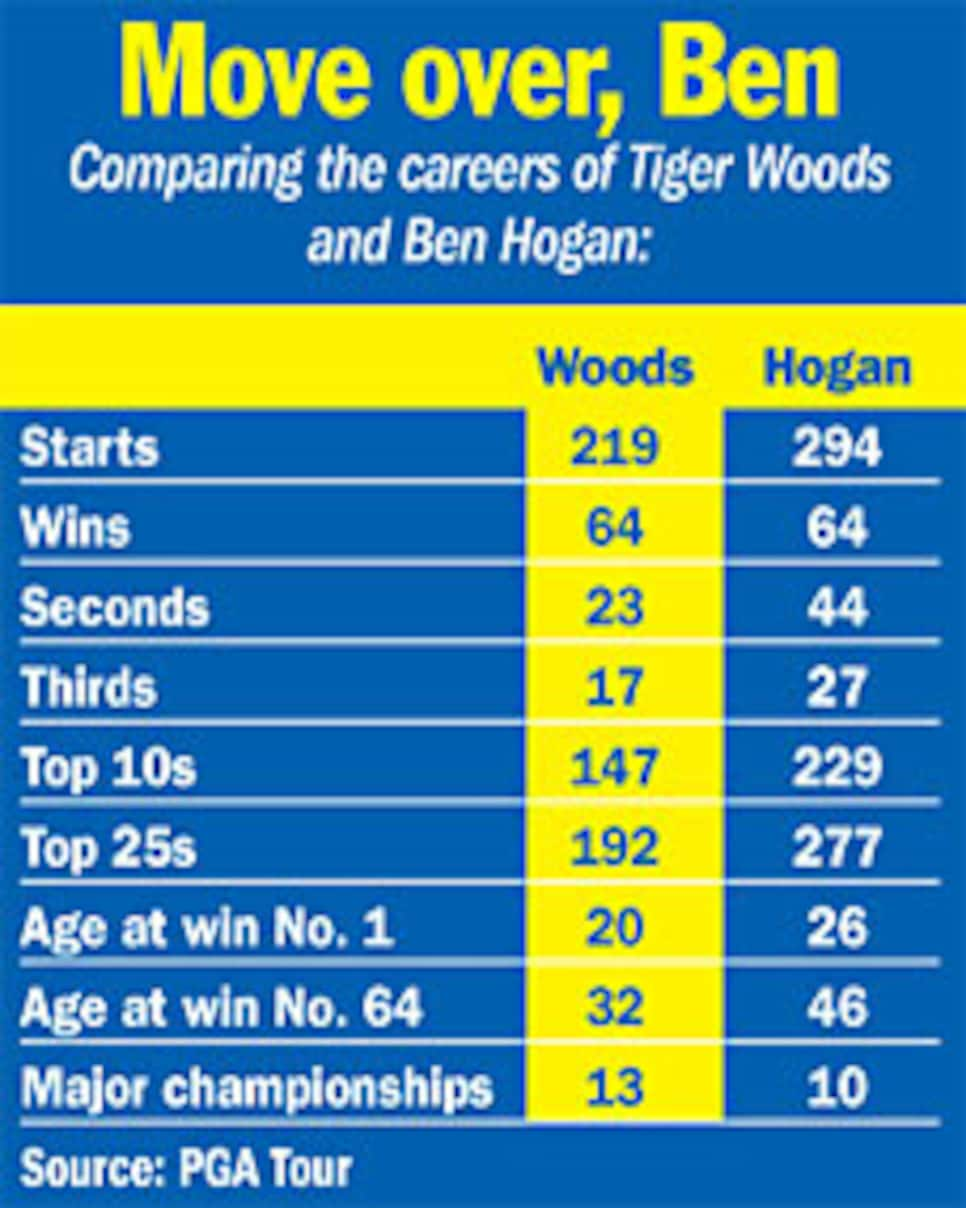 Next month, Gary Player plans to play his 51st Masters, eclipsing Palmer's mark of 50. Again, The King seems unbothered. "Playing in 50 Masters or 51 Masters is a big deal," he concluded, "because that makes you pretty damn old." The King also indicated he would serve as one-time-only front man for the Bob Hope Classic next year, the tournament's 50th anniversary. Palmer won the first one and George Lopez is out as guest conductor (see Bunker, page 9), so it makes sense.
Palmer on Monday was disappointed to learn of Ernie Els' withdrawal, but the two spoke Wednesday. Before then, Els issued a statement: "As far as I'm concerned, Arnold Palmer is The King, and I will always be appreciative of the start that he gave me in America when I first played here in 1993. I will personally speak to Arnie to explain why I have taken the difficult decision to pull out after supporting his tournament for the last 15 years. The bottom line is that I have to ensure that my body and game are in perfect shape in the run up to the Masters. There are things I need to take care of this week, which means that Bay Hill does not fit into my schedule as I would have liked it to."
The Big Easy missed quite a show, but he has seen that Tiger Woods movie before. They all have, and they all know the ending.