News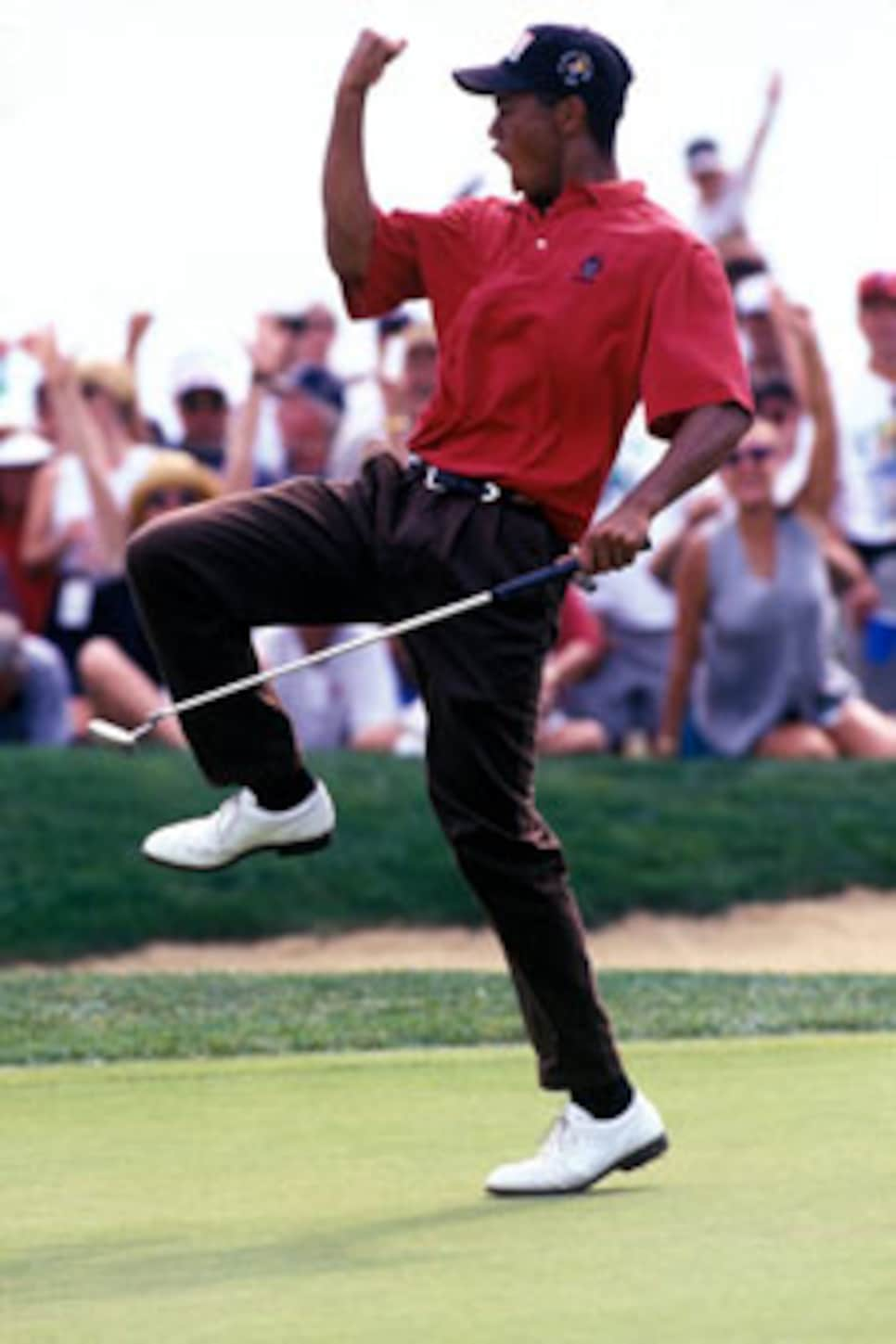 These aren't typical memories, ones that tend to devalue over time even for those who hold them dear. These memories are a currency of sorts, banked by those to whom they belong and generating interest that compounds every time Tiger Woods rings up another victim.
It is a few days after Woods won the WGC-Accenture Match Play Championship outside Tucson by deflating Stewart Cink as expeditiously as a saguaro would a balloon. Ian Baker-Finch and friends are walking through the shop at Jupiter Hills Club in Tequesta, Fla., when Baker-Finch identifies one of the assistant pros there as "the guy who played Tiger in the Amateur."
"Every time Tiger wins," the assistant pro, Steve Scott, says, "I feel that much better about what I did."
Scott was on the losing end of one of history's most memorable U.S. Amateur finals, taking Woods to the 38th hole at Pumpkin Ridge GC in North Plains, Ore., in 1996 in Woods' farewell to amateur golf. Scott was the exclamation point to a historic amateur run by Woods, who won USGA championships in six consecutive years (three Junior Amateurs followed by three Amateurs), a streak second only to Bobby Jones' eight.
"It's going to be my legacy," Scott says, without remorse. "It's gotten me through doors that I never would have gotten through if it weren't for that match."
Among the phenomena of the Woods era is that it has become acceptable to wear losing as a badge of honor. "It's almost surreal in a sense that I had the opportunity to play against him and compete at that level," says Brad Zwetschke, a Junior Amateur victim, in 1991.
Some may not be so anxious to display their scars, including Cink, who lost, 8 and 7, to Woods. As for the victims with whom Woods constructed the amateur wing of his personal hall of fame, let history show that they took Secretariat to the wire. Sometimes we do remember who finished second.
Each of those finals went to the last hole or beyond, requiring Woods to tap into his reservoir of will to begin erecting his aura of invincibility and the foundation for his burgeoning legend. Zwetschke lost on the 19th hole; Mark Wilson lost the '92 Junior, 1 up; Ryan Armour lost the '93 Junior on the 19th hole; Trip Kuehne lost the '94 Amateur, 2 up; Buddy Marucci lost the '95 Amateur, 2 up; and Scott stood by haplessly as Woods erased a five-hole deficit and won on the second extra hole in '96.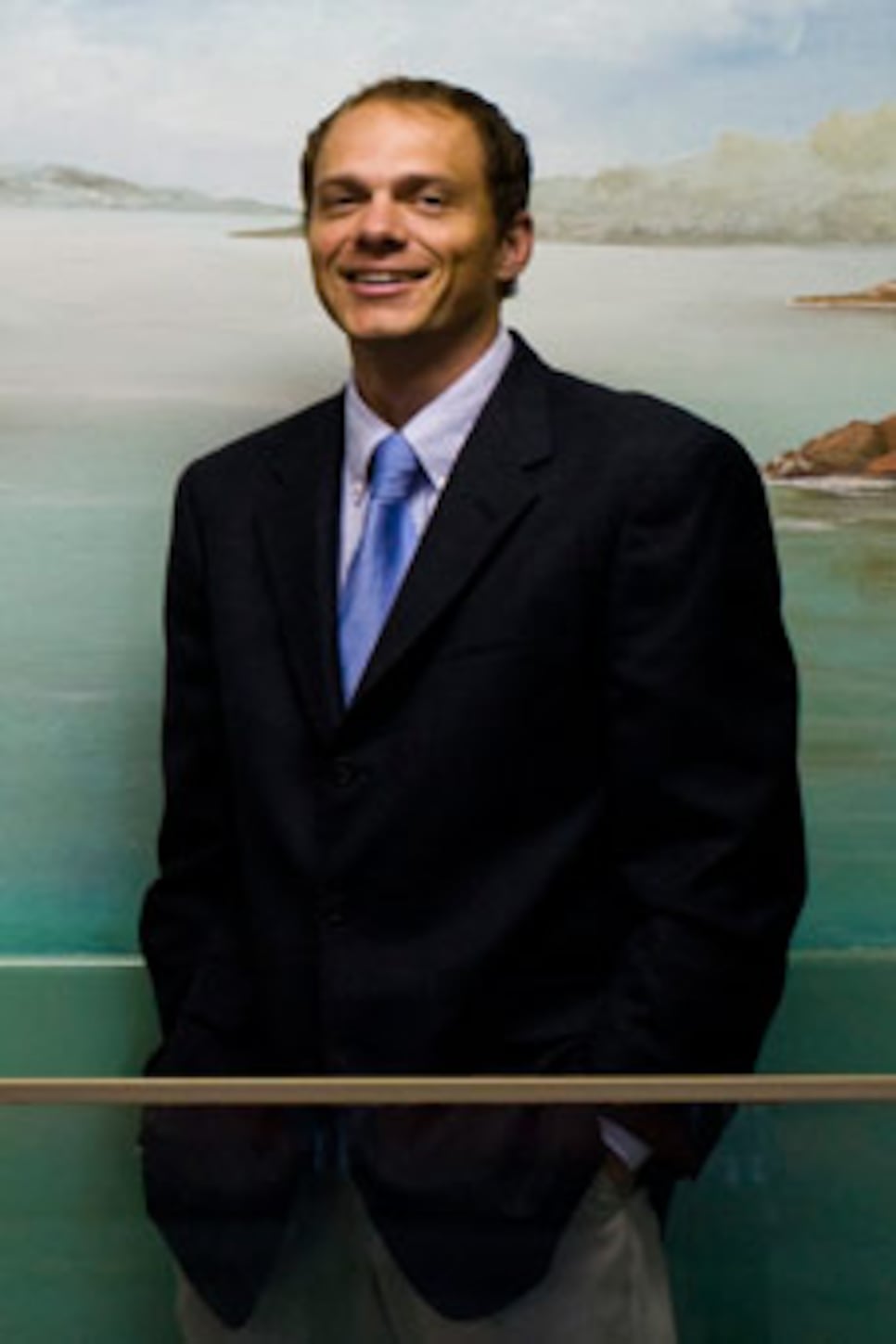 For Zwetschke and Scott, their losses define their careers in golf. Of the six, they are the only two who no longer play competitively. Wilson and Armour, meanwhile, are now on the PGA Tour, while Marucci and Kuehne are career amateurs whose scrapbooks are thick and do not end with Tiger.
Zwetschke did chase a career in professional golf for five years. It eventually led him to Australia and into a small church, where on the eve of the final stage of Australasian Tour qualifying he felt a spiritual tug that would re-direct his life. He recalls the sermon, taken from one of John's gospels, "where Jesus is telling Peter to take care of his sheep and feed his lambs," Zwetschke says. "I heard God speaking to my heart through his word, the Bible, that he wants me to lay down the clubs to begin to take care of his sheep."
Zwetschke deferred to the Chosen One, and it wasn't Woods. He quit golf and enrolled in the New Orleans Baptist Theological Seminary. Today, Zwetschke, 33, is an ordained pastor, who in June will report to Fort Jackson, S.C., to begin training to become an Army chaplain. "Our soldiers are in great distress right now," Zwetschke says. "They've served several tours. They're young. They're away from home frequently. It's a great privilege to serve our country and spiritually to serve our soldiers."
Even Woods, proud son of a Green Beret, friend of the military, would likely allow that Zwetschke's is a transcendent and noble pursuit that in the context of the world at large eclipses golf. So long as a war is going on, Augusta National isn't really center stage.
Entering the military in a time of war fits the profile of a man for whom nothing apparently is destined to come easy. Zwetschke could have drawn a frightened 15-year-old in the final of the Junior Amateur. Instead, he got Tiger, audacious and talented beyond what junior golf ever had seen.
Zwetschke set out to put history on hold with birdies on three of the first five holes. It wasn't enough, of course. It never is. Woods' own birdie barrage enabled him to take the lead on the back nine, and at 17, Zwetschke was removing his glove, certain that Woods would hole a short birdie putt to close him out. Woods missed, then hit his tee shot out-of-bounds at 18, enabling Zwetschke to square the match.
Inclement weather interrupted play, delaying the inevitable. When the rain subsided, the reign officially began. Woods won on the first extra hole, setting the dynasty in motion.
"He was a great competitor, very focused and driven, even being that young," Zwetschke says. "He was long. He was a clutch putter. His short game was fantastic. Even at that young age, his discipline, his practice routine, his swing, they were all there."
It would not be the last time Zwetschke was caught in the path of an unstoppable force. He and wife Christina were living in New Orleans when Hurricane Katrina took dead aim on the city. The Zwetschkes evacuated and took only a safe that contained family videos and wedding photos, as well as a single memento from golf, the silver medal Brad was awarded for his runner-up finish in the Junior. The ensuing floods demolished their first-floor apartment and everything in it, including written evidence of his afternoon with Tiger. He later obtained copies of golf magazines, including this one, that chronicled the match, hard-copy proof for his children and grandchildren.
Golf is mostly in his past now. A reinstated amateur, he plays only occasionally, "when people need to pad their scramble team," he says. He follows the game only to keep track of Woods. "I'm a huge Tiger fan," he says. He and Christina, who reside in Sarasota, Fla., have four children, each of them illuminating the path he has taken. Their names: Grace, Mercy, Christian and Faith.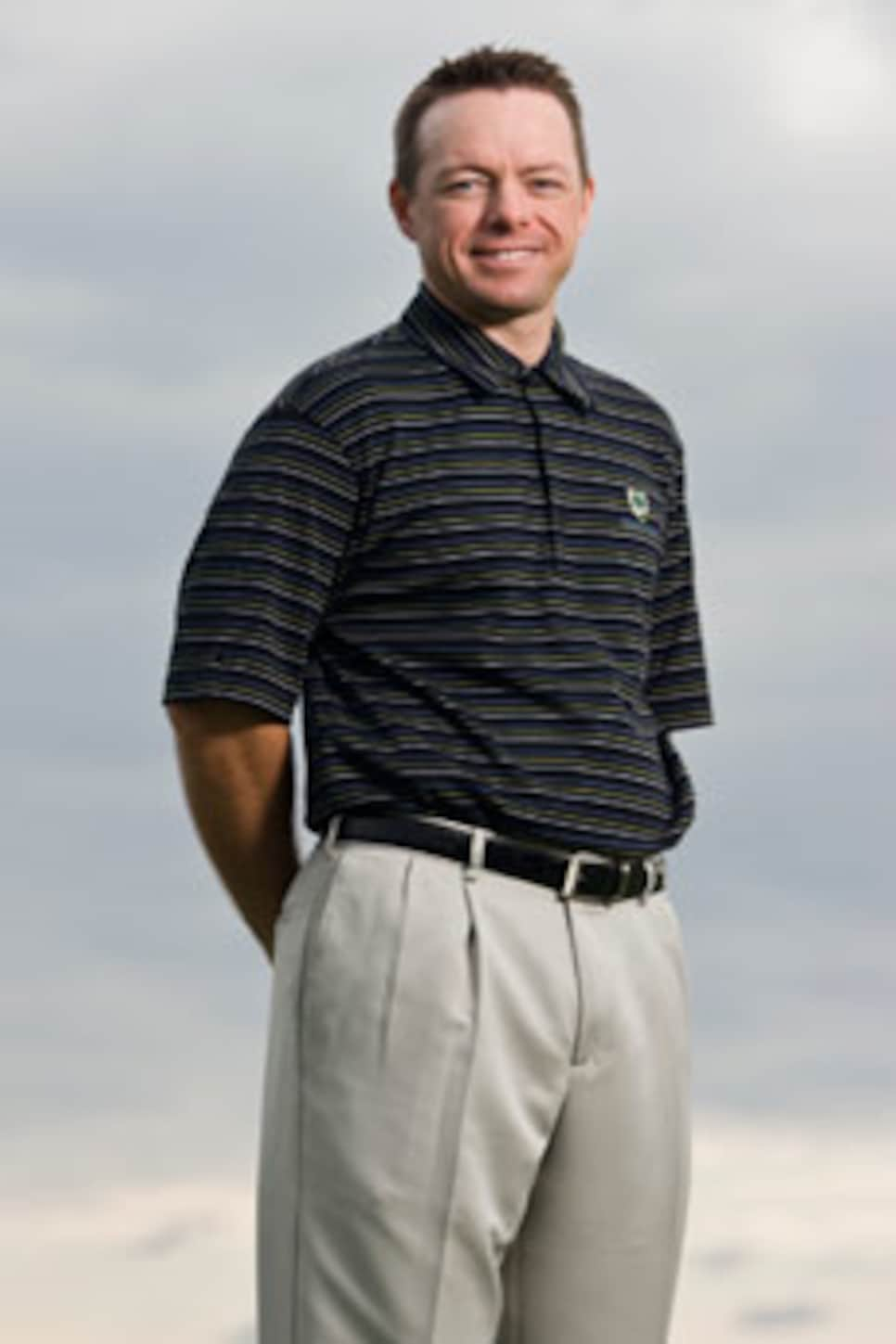 "I do miss the competition," he says. "I still have that desire. That was my dream as a young child. I started on a path similar to Tiger's. I started at 4, made my first birdie at 5. Golf is all I ever knew. I believe God has helped me transition to the ministry, to see a greater calling, taking that ambition away and filling it with his desires."
Zwetschke retains one specific ambition, one small favor he would like to see granted: "Tell Tiger I want to play in his military tournament," Zwetschke says, referring to the Earl Woods Memorial Pro-Am that precedes the AT&T National.
On matters of golf, small favors are the most one can expect from Woods. Scott was an exception. He was spotted a five-hole lead on Woods midway through their 36-hole final, a gap that would have provided an unobstructed view of the end zone had it not been for Woods in Lawrence Taylor mode, closing from the blind side.
The memories include the sound the ball made coming off Tiger's clubface, "as solid and crisp as any sound you'll ever hear in golf," Scott says. He recalls vividly the 35th hole, No. 17 on the Witch Hollow Course at Pumpkin Ridge, when Tiger was lining up a 30-foot birdie putt to erase the final vestige of a five-hole deficit. "I was standing off to the side of the green," he says. "I had an out-of-body experience that whole day. My mind was in another place. Before he hit that putt, I saw the putt going in." Moments later, the rest of the golf world did, too.
Who could forget any of it? The history and drama that infused the match have ensured a perpetual airing on Golf Channel. "Oh, yeah, I watch it," Scott says. "I think it's kind of cool to watch the beginning. You see all these Golf Channel classics. You're expecting the 1961 Open Championship from Birkdale, and you get the U.S. Amateur. It's kind of elite company. It's pretty special."
Scott is now 30. His caddie that day was his girlfriend, Kristi Hommel, who now is his wife and pregnant with their first child, due in June. Scott would go on to pursue professional tournament golf and won twice on the Canadian Tour. In 2003 he had conditional status on the Nationwide Tour, the closest he got to the PGA Tour.
He reached a crossroads in the summer of 2005 and turned toward teaching. His résumé includes stints at high-profile clubs: PGA National in Palm Beach Gardens, Fla., Canoe Brook CC in Summit, N.J., and this winter at Jupiter Hills Club. He recently accepted a job as an assistant pro at Hidden Creek GC, a private club on the New Jersey shore. These are the doors that have opened.
"Some people think it was not a highlight of my career because I lost the match," Scott says. "I won that day. I feel like I won a lot of people's admiration. People come up to me and say, 'That was the greatest match I've ever seen.' "
Zwetschke hears from the same kind of people. They invariably identify him as "the guy who lost to Tiger."
"Hey," Zwetschke replies, "everybody loses to Tiger."
So they do, though each of the six who did so in the final of the Junior Amateur and Amateur dutifully fulfilled his obligation to history. Indeed, if history was to be written at their expense, better to let Tiger write it than to write it for him.
"Not that many people are able to hang with him and almost beat him," Scott says.
Almost. Sometimes, it turns out, close does count.
Four more who gave Tiger Woods a battle in a USGA match-play final
Then: In the 1992 U.S. Junior Amateur, Wilson had a 2-up lead with five holes to play on Woods, who squared the match on the 16th hole, then won with a tap-in bogey at 18.
Now: Wilson is in his sixth year on the PGA Tour. Last year he won the Honda Classic, his first PGA Tour victory.
Then: In the 1993 U.S. Junior Amateur, Armour's 2-up lead with two holes to play was erased by consecutive birdies by Woods, who won on the 19th hole with a par.
Now: Armour, who played three years on the Nationwide Tour, is in his second season on the PGA Tour. Best PGA Tour finish is fourth, at the 2007 Mayakoba Golf Classic.
Then: In the 1994 U.S. Amateur final Kuehne had a 6-up lead on Woods through 13 holes, 4-up through 18 holes. Woods eventually caught him and took the lead with birdies at 16 and 17 and won, 2 up.
Now: Still plays competitive amateur golf. Is president and senior managing partner of Double Eagle Capital Management in Irving, Texas.
Then: In the 1995 U.S. Amateur final at Newport (R.I.) CC, Marucci was 1 up through 18 holes, and 1 down through 35. Woods' approach at 18 stopped 18 inches from the hole for a concession birdie and a 2-up victory.
Now: Is a career amateur, who in 2007 was the captain of the U.S. Walker Cup team. Is the co-owner of Pennmark Auto Group, a luxury-car dealership in the Philadelphia area.