News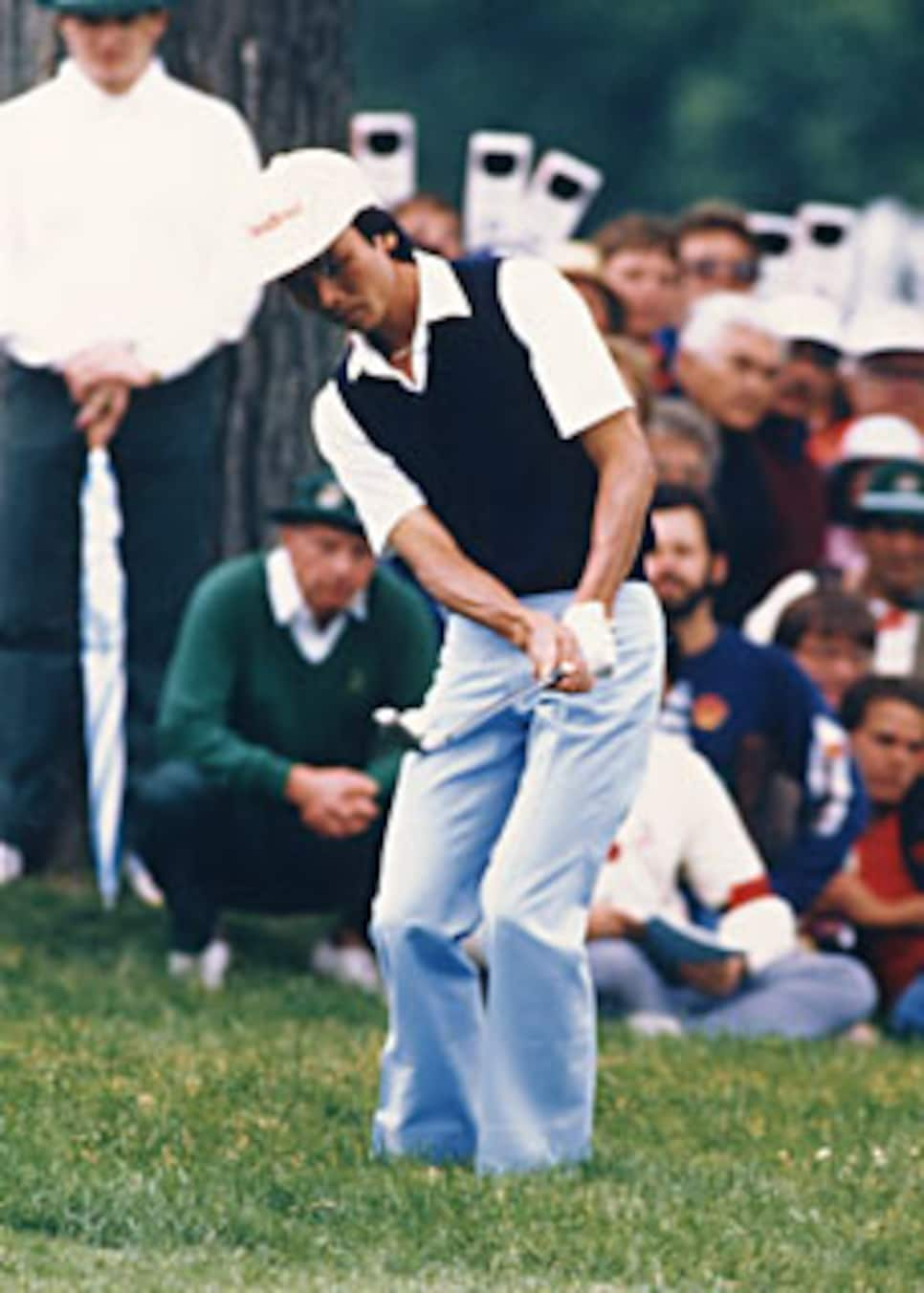 Chen said his real Oakland Hills error occurred the shot before his double-hit.
No one has experienced A U.S. Open quite like the one T.C. Chen of Taiwan had in 1985 at Oakland Hills CC outside Detroit. In a championship known for rewarding steady, even plodding, execution, Chen delivered a double eagle in the first round and a double-hit en route to a quadruple bogey in the final round. After finishing T-2, one stroke behind Andy North, what Chen calls "the very bad luck" was much more widely recalled than "the very good luck" -- the only known albatross in Open history.
Nearly a quarter-century since experiencing one of the wildest U.S. Opens on record, Chen, whose full name is Tze-Chung, is alive and well, set to turn 50 on June 24 and preparing to compete on the Champions Tour in the United States, where his wife, Sherry, and the couple's three children (Jennifer, 21; Jason, 19; and Jeffrey, 14) have lived since 2001. "I am ready for the second spring of my golfing career," Chen says, "but I know it won't be easy."
For much of that fateful week at Oakland Hills, Chen, a stoic sort whose cap crown advertised "ThreeBond," an adhesive and sealant, made the game look remarkably easy. A very late starter Thursday afternoon, Chen roused what few fans were assembled at the green of the par-5 second hole by holing a 3-wood from 256 yards. The dramatic blow gave him the lead, which he maintained after a first-round 65 (that tied the course record) and consecutive scores of 69, the latter shot on a day of incessant, drenching rain.
Indeed, Chen, just shy of his 27th birthday, was in command until the fifth hole Sunday when his four-shot advantage dissolved. Chen followed a perfect drive on the 457-yard par 4 with a 4-iron that finished short and right of the green. He attempted a risky pitch from thick grass to the front hole location, a decision he still laments. "The real mistake was the third shot," he says. "I knew there was only about a 5 percent chance of getting up and down from that bad lie, but I still tried to hit a perfect shot. Today, facing the same shot, I would just take a bogey and move on."
Chen's poor judgment set up his fourth shot from heavy rough short of the green. After his wedge was caught in the grass after impact, it struck the ball again at thigh height. The ball finished in the fringe, and after a one-stroke penalty for the double-hit, Chen chipped long. He missed the eight-footer for a 7 and walked off the green with a quadruple bogey. His mind was aching as much as his scorecard. "I could not calm down," he says. "I kept asking myself, 'Why?' "
The most amazing thing about Chen's day may not be that he bogeyed the next three holes to trail North by three but that he still had a chance to salvage victory late in the round. While North saved par on No. 17 with a fantastic sand shot, Chen three-putted for a bogey, ending one of the most unlikely runs in Open history (he did give North a fright by scaring the hole on a greenside bunker shot on 18).
"I wasn't really disappointed," contends Chen, who in 1982 earned his PGA Tour card on his first attempt, becoming the first Chinese golfer to secure playing privileges in America. "I did not enter the PGA Tour with high expectations. I just wanted to see how I measured up -- see how big is the world, how deep is the water." He led the 1983 Kemper Open with three holes to go and ended up in a five-man playoff eventually won by Fred Couples. That same year, he got quite an education in the PGA Championship at Riviera CC thanks to a pairing with Jack Nicklaus.
"I had never experienced anything like that before," Chen says. "The crowd, the emotion, the whole experience, the feeling I got is hard to describe. I did not lose my nerve -- I could still play."
In the 1987 Los Angeles Open at Riviera, Chen aced the sixth hole in the third round, matched Ben Crenshaw shot for shot down the stretch in the final round and beat the Texan in a playoff. Seven weeks later at the Masters, buoyed by his victory and feeling he belonged on a major leader board much more than he had at Oakland Hills, Chen was in contention for a green jacket. Tied with eventual winner Larry Mize playing the 11th hole Sunday, Chen hit a 4-iron instead of a 3-iron on his approach, found the water and made a double bogey. He closed with a 76 and finished T-12, five strokes behind.
Since 1989, because he wanted to be closer to home and his sponsors preferred him to play in Asia, Chen has competed in the Far East, where he owns six titles on the Japan Tour and two elsewhere in Asia. This is the seventh year Chen and his older brother, T.M., also a former tour pro, have run a junior program at Linkou GC in Taipei, where their father was greenkeeper and they learned the game. With T.M., the club's general manager, T.C. raises funds to defray kids' costs for instruction, green fees and competition -- money that was hard to get when he was growing up. Ming-Chuan Chen, who won a gold medal at the 2007 World University Games in Thailand, came out of T.C.'s junior program. "Currently our junior program has 22 kids, all coached by me, T.M. and a few other volunteer pros," Chen says proudly.
For the past few years Chen has been dividing his time between Taiwan and the United States, spending about two months a year with his family at their home in Walnut, Calif. He hopes the proximity to his wife and children will make it easier to play on the Champions Tour, where he will have some exempt status as a PGA Tour winner and otherwise will try to qualify weekly and obtain sponsor's exemptions. He also plans to play on Japan's senior circuit.
"I am much more prepared now, compared to last time," Chen says of his impending career in America. One shot at a time sounds like a plan.