News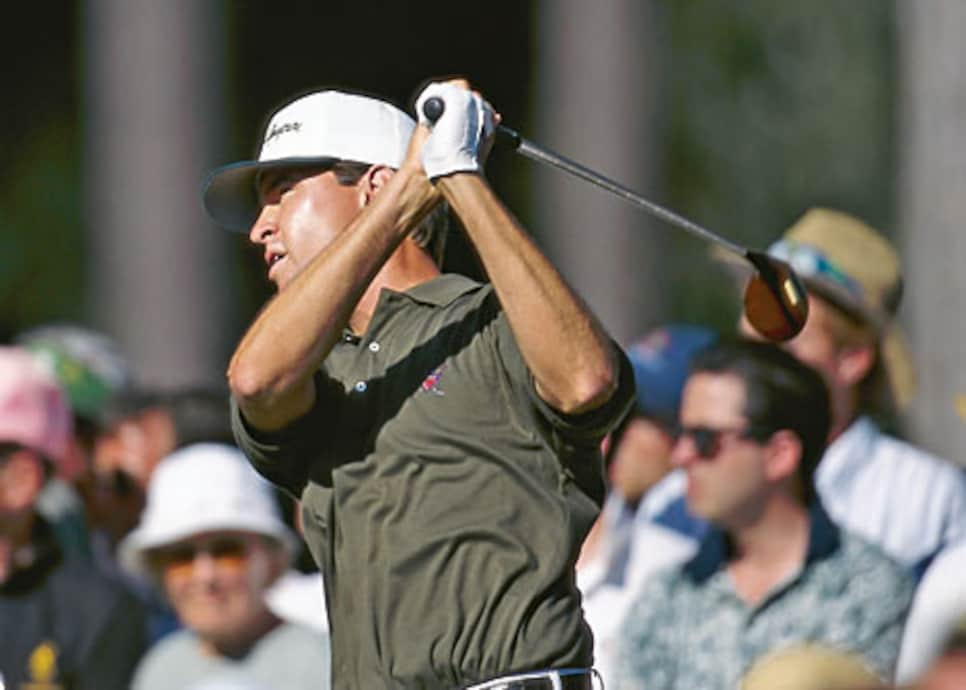 Davis Love III was one of the last persimmon holdouts in 1997.
With a nod to this issue's then-and-now theme, this equipment page is devoted to tour pros' answers to a retro (and quirky) question: When was the last time you hit a persimmon driver?
Phil Mickelson says he last used persimmon during practice for the 2007 EDS Byron Nelson Championship, conducting an experiment of sorts. "It was an old Wood Brothers," said Mickelson. "Callaway did some tests three years ago with a persimmon driver and a ball from the 1990s, comparing it to an HX Tour ball and modern driver. There was a 50-yard difference. The testing said it was 25 yards driver and 25 yards ball. So I tested it, and that turned out to be about right. I couldn't believe how different the launch conditions were -- and that was a driver I used to play with."
John Cook gave persimmon a whirl last year, too. He took some cuts with a steel-shafted MacGregor M85 driver. "It's about as low-tech as you can get," said Cook. "I wanted to see how it reacted with today's golf balls. If you caught one on the toe, you hit a snap hook. If you caught one on the heel, it was a low riser to the right. But the good ones weren't bad."
Tiger Woods will, in practice, occasionally hit a persimmon driver, just to feel the crack of the bat again, but Chris DiMarco will do no such thing. "I haven't hit a wooden wood in 17 years," he says. "I wouldn't see the point in doing it."
It has been a while for Mark Calcavecchia, too. The 1996 International, to be exact. "Guys looked at me like I was nuts," he said. "I took my old MacGregor M85 out and drove it great all week. I wasn't hitting the metal woods at that time any good, so why not?"
Calc's last use coincides with persimmon's twilight on the PGA Tour. The last significant year was 1997 when 11 players used wooden drivers in 43 events. Mac O'Grady was the last player to use persimmon in a tour event (Ben Hogan driver, 2004 B.C. Open), but the last full-time player to do so was Bob Estes (2001 WGC-Accenture Match Play in Australia) with a MacGregor 945TW that he bought for $700.
The women's story is similar. Beth Daniel hasn't hit persimmon in ages -- although she has been tempted. "I actually pulled my persimmon woods out to send to the World Golf Hall of Fame, and I thought about trying to hit them -- then I changed my mind," said Daniel. Laura Diaz recalls her last swings with a wooden club came 20 years ago when she was 12. But at least she has memories of the material. Third-year pro Meaghan Francella doesn't. Asked the last time she used a persimmon driver, the 25-year-old Francella replied with a question, not an answer.
"What's a persimmon driver?" she wondered.
Being named the next U.S. Presidents Cup captain hasn't stopped Fred Couples from trying to improve his own game. Couples put a prototype version of Bridgestone's Tour B330S ball in play last week at Bay Hill and the 1992 Masters champion used the four-piece ball to average 299.5 yards off the tee last week.
Vijay Singh has been known to go back and forth between long and conventional-length putters. At Bay Hill, Singh went the short route. He used a Never Compromise GM2 Exchange model. Also in the bag was a hybrid -- an Adams a3 Boxer -- that is a new addition to his set. Ball: Titleist Pro V1x. Driver: Cleveland HiBore XL, 9.5 degrees. 3-wood: Cleveland Steel, 13 degrees. 5-wood: Cleveland Steel, 17 degrees. Hybrid club: Adams a3 Boxer, 19 degrees. Irons (4-PW): Cleveland CG1. Wedges: Cleveland CG 12 (54 degrees); Cleveland 900 (60 degrees). Putter: Never Compromise GM2 Exchange.
Most tour players have gravitated from blade irons to cavity backs, but Jim Furyk did the reverse at Bay Hill, switching to Srixon's carbon-steel Pro 100 musclebacks. Furyk had been playing the company's cavity-back I-701 model. ... You can always count on mom: Hunter Mahan switched to his old Ping Rapture driver for the last two rounds at Bay Hill and hit 86 percent of his fairways on the weekend en route to a T-6 finish. To get the club to Orlando, Mahan's caddie called Mahan's mother, who overnighted the club from Mahan's Dallas home. ... Nick Watney used UST's V2 Axiv Core shaft in his Titleist 905R driver for the first time at Bay Hill. Watney also used a prototype Scotty Cameron Xperimental putter with a rectangular head in finishing T-21.