News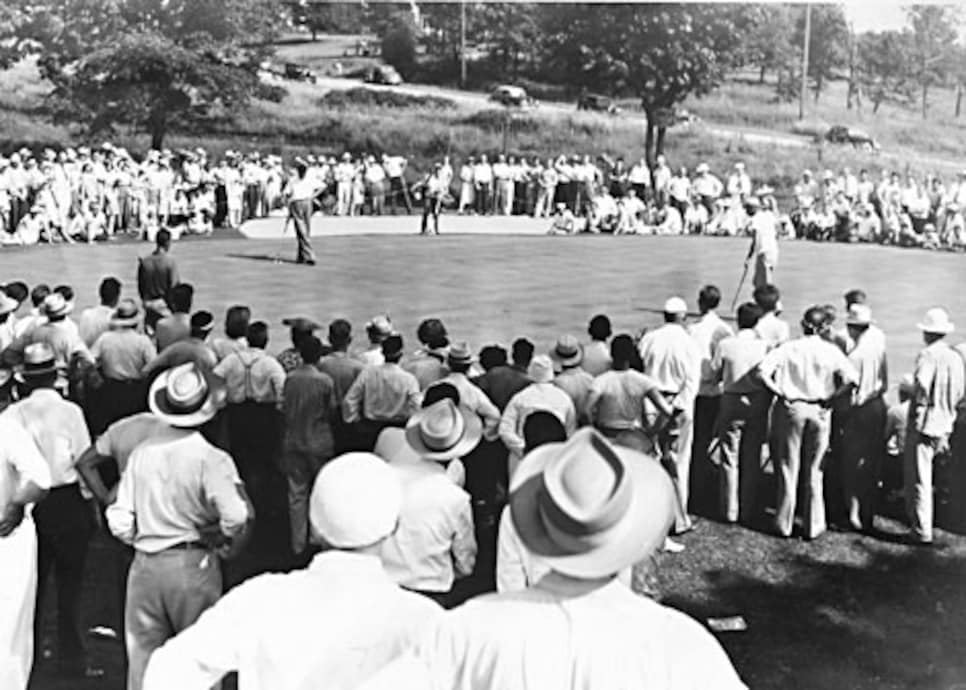 1957 St. Paul Open at Keller GC in Minnesota.
A kind of elite cadre of golfers go out of their way -- well out, in many cases -- to play America's 100 Greatest Golf Courses as ranked by Golf Digest. Some may be golf architecture buffs, some hard-core players out to see how they can handle these layouts. Others may merely be celebrity hunters. Whatever, they must have plenty of disposable income, or jobs that require a lot of travel on the company sleeve. At that, they will need connections to get on many of those eminent grounds. You don't just show up at Augusta National or Seminole and ask for a tee time.
On the other hand, if you relish the history of the game and want a special taste of it without restrictions -- and for much less out-of-pocket -- we offer an alternative. There still exist a number of courses where PGA Tour events were played when the circuit was far from today's multimillion dollar show of shows. We speak in particular of municipal golf courses, where you can get a walk-up tee time, pay a pittance of a green fee by today's standards, then take your shots in the shadow of American golf's most richly anecdotal, colorful, inventive era -- the old days of the pro tour.
To give you a heads-up, we visited eight of these courses where Hagen and Sarazen played (yes, that Hagen and Sarazen); where Sam and Ben and Byron got their on-the-job training; where Arnie made a 12 on a hole; where Jack took his first pops as a pro; and even where Johnny Miller added to his reputation as the game's Desert Fox.
In design terms none of these courses qualifies for anyone's top 100 list, or even 500. But that's not the point. Along with the fantasy mingling with golf history, you will get a real live learning adventure. On these "tracks," so-called with a certain disparagement even in their heyday, you will discover first hand why the pros of that era became such brilliant improvisers and shotmakers. They had to play out of grasses and lies that you have probably never seen. They are still there. For example, a kind of clover that sprawls tightly atop a chalky soil called caliche, which when dry is iron-skillet hard. After dealing with this, you will feel less put-upon with that bit of thatch in the fringe at your home course. You will play to greens the size of a one-car garage and visit the art of running balls onto those greens rather than flying them home.
Why did the pros play on municipal golf courses back then? Because, believe it or not, the tour from the 1920s through the '50s and even into the '60s was not a high-profile, upscale-demographics enterprise. It was more like a gypsy caravan, the players dressed in bland brown and grim gray, wearing fedoras, hats now associated with Humphrey Bogart in his detective roles or men on the soup line in the dire days of the Depression. Furthermore, private golf clubs were not enthusiastic about hosting a PGA Tour event and giving up their course for a week, then seeing all those divots the pros dug. Nor were they much pleased with the golfers' complaints about course conditions, setup and the size of the purse, for starters. The pros then had a not entirely undeserved reputation as ripely outspoken discontents. And besides that, there was no money in it.
These courses are not big enough for today's pros, but average golfers will have enough on their hands with them, even with the highest of high-tech equipment. Where are these courses and what bits of golf lore are embedded in their primordial soil? We will take them one by one.
Keller (or Keller Park) opened in 1929 and a year later hosted the first of 33 St. Paul Opens, not to mention two PGA Championships, a Western Open, 11 LPGA events and a U.S. Amateur Public Links.
Don Peddie, an ageless Minnesotan, competed as an amateur in an early St. Paul Open and recalls playing just ahead of Walter Hagen. "I thought it noteworthy that he used his putter from off the green more than usual, and even out of the bunkers," says Peddie. "Of course, the bunkers had no lips and weren't deep."
When Olin Dutra won the 1932 PGA Championship at Keller, he became the first American of Spanish descent to win a major title. Ken Venturi's first victory as a pro was in the 1957 SPO. The event's sponsors were one of only three in the U.S. at the time -- the 1940s -- who allowed blacks to compete at a tour stop; Joe Louis played as an amateur, and Ted Rhodes and Bill Spiller as pros. Gangsters sneaking a break from the "heat" in Chicago, played regularly at Keller in the '20s and '30s. They included John Dillinger, as legend has it, and one day, when Dillinger was playing the third hole, he saw FBI agents approaching his group. He jumped the fence and hopped a train that ran adjacent to the course. He left his clubs behind.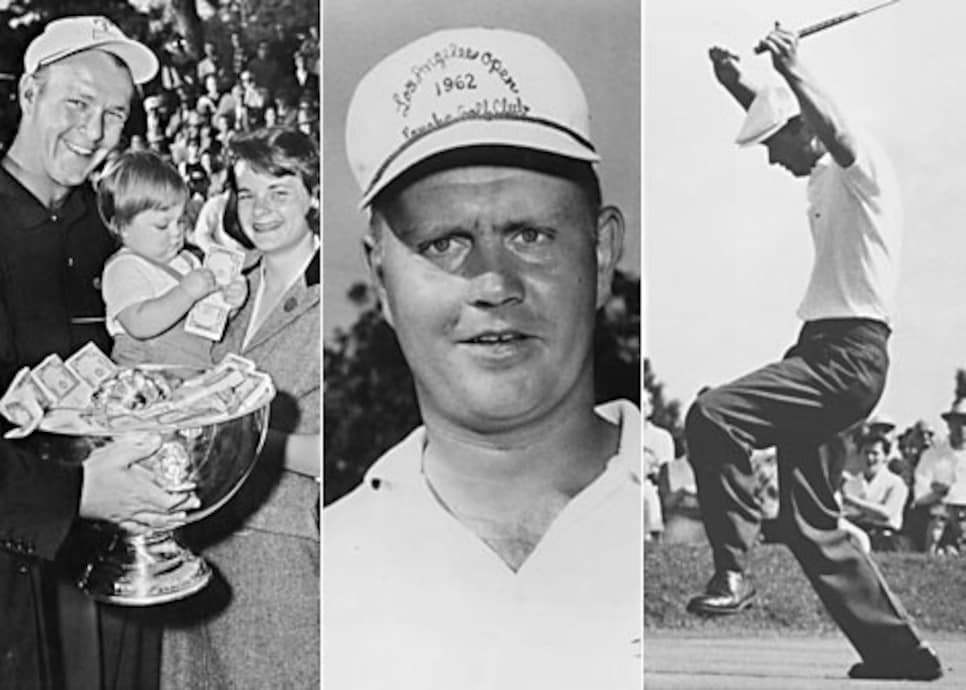 The original clubhouse is still in place and has a fine aspect at the top of a hill reached by a curving roadway. The stone and mortar structure was designed by the nation's first black municipal architect, Clarence Wesley Wigington, and includes a classy spiral staircase with a glass chandelier overhanging the well.
Ramsey County chief engineer Paul Coates designed and oversaw the construction of Keller. He did it to save money but didn't skimp or go blindly into the void. At his own expense he examined great courses already in place, spent time with and asked a lot of questions of famed course designer Donald Ross, got the skinny from the USGA on the right grass for Minnesota's climate and, on 96 acres of treeless farmland, put down a very nice layout. He did leave one aberration, a tree directly in front of the 13th green (now the fourth). It's a par 3, only a 6- to 8-iron shot, but the tree is tall and you need to make sure you carry it. Gene Sarazen made too sure one year, flew the green into some thick rough, hacked out a 12 and stormed off -- a WD vowing never to return. He was good to his word.
On the dogleg first hole Sam Snead would go right at the green with a 2-iron, because no trees guarded the turn. That's no longer possible. Keller began as a links-like course but over the years has grown a lot of trees. Other than that, all else is pretty much as it was when birthed: contoured greens, shapely doglegs, plenty of bunkers, a lot of good grass, and an Audubon-worthy periphery. A very enjoyable place to play.
6,566 yards (back tees), par 71.
Rates: $34-47. Phone: 651-766-4170
The curved concrete bench, called The Rail, is still in front of the pro shop where the "players" in the old days -- cab drivers, night-club musicians, bookies, cops, pimps, even oil barons -- sat waiting to get up a "game." They were guys named Red Nose, Runt and Spiz. One day Tommy Bolt, then making his living as a carpenter and otherwise hustling golf at Memorial, told three guys on the rail he would play their best-ball for a hundred bucks. Bolt shot a neat little 62, and lost by a shot. Those three dudes had some game of their own.
Memorial is where Jackie Burke Jr., as a kid coming up, gambled on his game. "I practiced at BraeBurn, but to find out if what I was practicing worked, I'd get in the games at Memorial," Burke says. Later on, Burke won a couple of Houston Opens at Memorial.
Between 1947 and 1963, 14 Houston Opens were played at Memorial, which is set in a 1,500-acre city park a mile or so from downtown. The course is basically flat, but there are interesting slopes in the greens and it is a long layout from the tips. The par-3 11th is 238 yards. When the wind was up in one Houston Open, little Jerry Barber couldn't get close with a driver. Said Burke: "We couldn't get yardage from sprinklers heads, because there weren't any." If it didn't rain, you played it hard and fast; when it did rain, you played it differently. True golf.
Dave Marr, a Memorial alumnus, was part of a team that in 1994 brought the course back from a long period of neglect. It is an excellent test.
Rates: $26-48. Phone: 713-862-4033
You know you're on a course packed into small acreage when you walk onto a green and fix a pitch mark from a ball that was going in the other direction.
So it was at Brackenridge Park, opened for play in 1915 as the first public course in Texas. It was designed by A.W. Tillinghast, whose impressive credits include Baltusrol, Winged Foot and Bethpage. However, the legendary "Tillie" was no snob when it came to accepting gainful employment, although Brackenridge perhaps reflects a smallish fee. It is only 6,185 yards long and not all that inspiring. There is, however, a lot of history.
A $5,000 purse, one of the biggest at the time, was offered for the inaugural 1922 Texas Open played at Brackenridge Park. Twenty-one "T.O.s" were decided there. Winners included Walter Hagen and (Wild) Bill Mehlhorn. Jackie Burke Jr. crafted a four-round 260 in 1952, and in 1955 Mike Souchak had a 257 to set a tour record that lasted 46 years (see Backspin, March 7). They played the tee shots off rubber mats, then, but that didn't stop anyone from beating up the course. Harold (Jug) McSpaden once had a practice-round 59. "Brack" gave up the lowest scores every year.
The tees are grassed now, but the course needs work -- which it is getting. "Brack" is currently closed for a renovation project that includes restoring the back nine to Tillinghast's original work.
Rates: $14-17. Phone: 210-226-5612
Closed for renovations, reopens 10/08
The year after Souchak shot lights out at Brackenridge, the Texas Open was moved to Fort Sam Houston GC to give the boys more of a test. It worked. Gene Littler won with a "respectable" 276. Tillinghast also did Fort Sam but had more room to work with and produced a layout more typical of his best work.
They went back to Fort Sam one more time, in 1960, when Arnold Palmer, despite a closing 75, won with 276, two clear of Doug Ford and Frank Stranahan. The original layout is now part of two courses -- La Loma and Salado Del Rio -- that are both first-rate in the modern way. There's a country-club aura about the place.
La Loma: 6,774 yards, par 72
Salado Del Rio: 6,755 yards, par 72
Rates: $25-27. Phone: 210-222-9386
About the time pros were shredding par at Brackenridge, Willow Springs was included as a Texas Open venue. There were 10 Texas Opens at Willow Springs, the first in 1927, the last in 1949. Ben Hogan found the venue to his liking: He won once and had two seconds there. His Willow Springs victory was a record-setting 24-under 264 in 1946.
The course spreads out on pleasantly rolling terrain, has a 663-yard par 5, seven par 4s more than 400 yards long and a 230-yard par 3. It's sturdy golf and under good conditions. The fairways are well-grassed, the greens have pace and close-fitted bunkering.
Rates: $20-23. Phone: 210-226-6721
As a teen Pete Gaona caddied in the Tucson Open and remembers a late afternoon when Dow Finsterwald and Art Wall spent hours hitting shots from the bunker by the 18th green at El Rio. "After a while they gave me some money to go across the street and get baloney sandwiches," says Gaona. "They ate them sitting in the grandstand behind the green, then went back into the bunker." As noted, the tour had a real down-home quality back then.
At El Rio one winter Cary Middlecoff was struggling in his rookie year on tour and was planning to go home to practice dentistry if he didn't make a good check. But his good friend, Lloyd Mangrum, advised him to build up the grips on his clubs, and Cary won a very good check. The rest is. . . well, he won two U.S. Opens, a Masters and 37 regular tour events during an illustrious career.
El Rio was private when it hosted the first 17 Tucson Opens (beginning in 1945), but it was in a muny-like part of town. Low-income barrio dwellers surrounded it and provided many of the caddies for the Open, some not versed in golf. An El Rio regular recalled recently that as a 9-year-old he caddied for Bill Ogden, and when asked what club to hit he told his pro: " 'Anyone you want, there's a lot of them in there.' He didn't get hot, and even gave me a nice tip."
El Rio was the first grassed course in Arizona, and while quite flat it is more than meets the eye. When you get involved, the greens are small targets with a lot of slope, and the bunkering is close to the greens. The par-3 eighth, at 216 yards, demands more than length -- the green is tucked between well-sculptured bunkers. The greens were bentgrass when the Tucson Open was there, which was one reason the pros liked the place. They are now Bermuda with a rye overseed, but putt smoothly. And if you get there on a Tuesday or Friday afternoon, you can get into a good old-fashioned skins game.
Rate: $36. Phone: 520-791-4229
RANDOLPH PARK MUNICIPAL GC
In 1979 the Tucson Open moved to Randolph Park, which is a muny in one sense, a bit less in another. On a path straddling the fence along the fifth fairway, joggers, bicyclists and in-line skaters work out. Across the street is a mall anchored by a Target. A couple of blocks away, amazingly, you can get a pretty good bagel. It's neighborhood golf. But on the two courses -- North (where most of the Tucson Opens were played) and the Dell Urich -- there are a lot of good shots on offer. A wide variety of trees line the fairways -- palms and pines, and a few cacti in the mix. It's pretty flat, but there are a number of excellent par 4s, some shortish par 5s to make up for them and not-so-hot par 3s except for one on the North Course, which from the tournament tee recalls Keller's fourth: You have to play over, or cut your shot around, a sizable tree fronting the right side of the green.
Eight Tucson Opens were played at Randolph from 1979 to 1990. Johnny Miller won it in 1981 with 265. It was his fourth Tucson Open victory and cinched his reputation as a great player in the desert. But in fact there is a lot of grass off the fairways. And once again, we refer to the greens as having slope rather than undulations, which reflects the classic construction of greens. No whoopdee-do amusement park-ride undulations required. They slope down from back to front to enhance drainage, and so the only straight putt you have is from directly above or below the hole.
North: 6,863 yards, par 72
Dell Urich: 6,633, par 70
Rate: $42. Phone: 520-791-4161
This is where Jack Nicklaus made his debut as a professional golfer in the 1962 Los Angeles Open. His showing was not indicative of his future in the game. He tied for 50th with a five-over 289 and earned $33.33. He tried Rancho again in 1963, to the tune of a tie for 24th at 282, and passed it up until 1967, when he tried it for a third and last time. He tied for 51st at 286. The Bear decided Rancho Park was not his kind of layout.
However, it suited Arnold Palmer just fine. He won three times at Rancho, but also earned a plaque at the 18th tee from which he made a 12 on the 478-yard par 5 in the 1961 event (it was played as the ninth hole in the tournament.) Palmer complained that the original plaque was too big, and somehow it disappeared. But course-proud Rancheros replaced it, albeit with a smaller one. Inscribed is how he did it: A fine drive, two sliced shots into the driving range, followed by two hooks onto Patricia Avenue. He finally hit the green with his sixth shot, and two-putted. Eight strokes plus four penalties add up to 12. Right.
Rancho Park opened for play in 1947, had its first L.A. Open in 1956 and 16 more through 1983. Charlie Sifford won it in 1969, the most prestigious win by a black golfer at the time. It was the site of Frank Stranahan's only win as a professional, after a long career as one of the game's premier amateurs.
At an average of 100,000 rounds per year -- one by President Bill Clinton, and there is a plaque for that, too -- Rancho is the most-played public golf course in the world. And, perhaps it follows, the slowest. A five-hour round is standard. For all that, it is the best of the munys visited on this journey. Situated on the west side of Los Angeles, the naturally rolling terrain that came from its proximity to the Pacific Ocean was artfully contoured for golf by William P. Bell, of the family that seems to have built half the courses in the state. It is appealing to the eye, but is not just a pretty face. There are some shorter holes where you need to shape your shots and a couple of strapping ones where you need to bust it. The par-3 third has a figure-eight green. The par-3 16th has a three-club-long green. Variety, angles, and for all the play it gets in remarkably good condition.
One end of the course borders on the wealthy Hillcrest CC. On another border are the posh homes of the Holmby Hills district. And for a democratic touch, you enter on West Pico Boulevard, a commercial street where the RKO movie studio was located for many years, and where you can get a fine and sizable pastrami sandwich. Hey, it is a muny.
Rates: $24-31. Phone: 310-839-9812
Some other municipal and daily-fee courses where tour events were -- and in some cases still are -- played. All rates for municipally-owned courses are for nonresidents.
Landmark public course, opened in 1925, was where Ken Venturi grew up and later won San Francisco City Amateur. Harding hosted 1937 and 1956 U.S. Amateur Public Links, numerous PGA Tour Lucky Opens in 1960s, and 2005 WGC-American Express, won by Tiger Woods.
Rates: $105-155. Phone: 415-664-4690.
Site of PGA Tour event since '68, World Junior Championship and this year's U.S. Open. Two courses, both used for first two rounds of tour stop. South Course is venue for final rounds of Buick Invitational and June's U.S. Open.
South Course: 7,051 yards (7,607 for U.S. Open), par 72.
North Course: 6,874 yards, par 72. $85-$106.
*$37 non-refundable advance booking charge that does not go toward green fee.
Site of Miami Opens from 1930s through 1950s.
Rates: $50-64. Phone: 305-805-5180.
Donald Ross layout; site of many Miami Four-Ball events in 1930s and beyond. One of first high-profile, big-hotel Florida resorts, dating to 1920s. Still operates as a resort.
Rates: $145-165. Phone: 305-460-5364.
Site of a number of Jacksonville Opens. Ben Hogan one year made an 11 on sixth hole and from that time on locals, with a bit of snideness, began calling Hyde Park one of "Hogan's Alleys," a reference to Colonial CC in Fort Worth and Riviera CC in Pacific Palisades, Calif., where Hogan had many victories.
Rates: $28-38. Phone: 904-786-5410.
Dubsdread, a public course that hosted 16 Western Opens and a U.S. Amateur.
6,945 yards (7,326 for BMW), par 71.
Rates: $138. Note: Closed for renovations until 2009.
Upstate course was longtime home of the B.C. Open for many years. Currently is venue for Dick's Sporting Goods Open on Champions Tour.
Rates: $34-54. Phone: 888-436-5643.
Site of 2002 U.S. Open and next year's U.S. Open. Redesigned by Rees Jones prior to '02 Open. Generally regarded as one of toughest courses in the game. Walkers only.
Rates: $100-120. Reservation fee: $4. Phone: 516-249-4040.
Located in southwest Texas, where the pros from 1930s to early 1950s stopped during winter tour to shoot very low scores.
Rates: $17-23. Phone: 956-430-6685.
Site of 13 (and counting) Milwaukee Opens and three U.S. Amateur Public Links Championships. Intriguing course is run by county.
Rates: $37-86. Phone: 414-352-8080.