News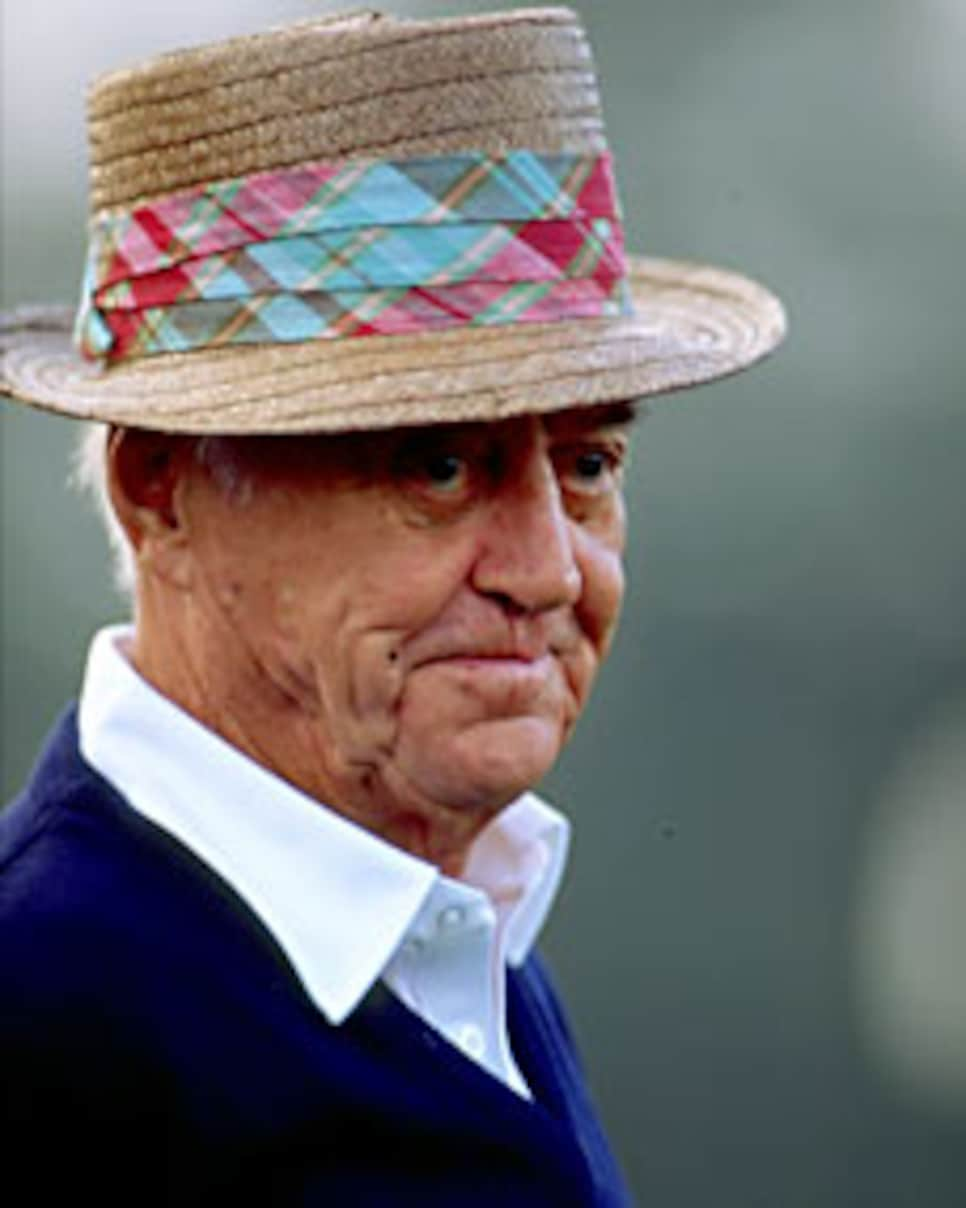 Snead holds 10 all-time records outright while Woods has three and Nicklaus has five.
Born 63 years apart, Tiger Woods and Sam Snead couldn't possibly have played golf with each other, but once they did. "I was 5 or 6, we played at Calabasas CC," Tiger recalled during the 2000 British Open, so it had to be in 1981 or 1982 when Snead was 69 or 70. "Sam had a new group of playing partners every two holes." On what is now the seventh hole (the second hole then) at the course north of Los Angeles, a par 3 of 133 yards now from the forward tee that little Tiger presumably used, his ball splashed into a rocky creek. "I got in there to play it; the ball was sitting up," he said. "From behind me, Sam yells, 'What are you doing?' I look around, look dumbfounded. I'm going to hit the shot. He says, 'Just pick it up and drop it. Let's go on.' I didn't like that very much. I remember looking at my ball and saying, 'I've got to hit it. I don't want to drop. That's a penalty.' So I hit a 7-iron out onto the green, all wet, two-putted, got my bogey. I made bogey-bogey, and Sam beat me by two -- par-par."
And in the all-time PGA Tour record book Sam is still beating him.
As if it were his shadow, that record book follows Tiger everywhere and needs to be updated almost weekly. With 13 majors, he needs six to surpass Jack Nicklaus. With 64 PGA Tour victories, he is ahead of Arnold Palmer, tied with Ben Hogan and is on the march toward Nicklaus' 73 and Snead's record 82. Sooner or later Tiger surely will hold the most records. But not yet and, in some of the categories where the name "Sam Snead" resides, maybe never.
Nearly six years after his death, the sweet-swinging Slammer still holds more all-time PGA Tour records than Tiger or the Golden Bear (as long as you don't count the irrelevant prize-money and scoring-average categories). In 1950, when Snead won 11 events, he was the leading money-winner with $35,758, which is tip money for Tiger's caddie, Steve Williams. And technology keeps lowering scoring averages despite the lengthening of the courses.
Snead still holds 10 all-time records and shares another. At last count the Golden Bear holds five and shares three; Tiger holds three and shares eight.
Snead's Superman span of roughly three decades as a winner and nearly four decades as a contender sets him apart. Nobody has been better longer. He was the oldest winner, at 52, of a PGA Tour event (1965 Greater Greensboro Open); the oldest, at 63, to finish in the top 10 (1975 B.C. Open); the oldest, at 62, to finish in the top 10 at a major (1974 PGA Championship); the oldest, at 67, to make the cut in a major (1979 PGA Championship); and the oldest, at 67, to make the cut in a PGA Tour event (1979 Manufacturers Hanover Westchester Classic).
All of which prompts a question: When Woods is in his 60s with all his billions by then, will he still be playing the PGA Tour? Will he still be playing it in his 50s?
Snead was the youngest pro to shoot his age or below: both 66 and 67 (at age 67) in the 1979 Quad Cities Open. Snead had a record 358 top-10s; Tiger has 147. Snead had the longest span -- 27 years (1938-1965) -- between his first and last victory in the same event, the Greater Greensboro Open. But his eight victories at Greensboro, another record, might not endure much longer. Woods already has six victories in three events: the Buick Invitational, the WGC-Bridgestone Invitational (all at Firestone CC) and the WGC-CA Championship (at various sites).
The three records Tiger has to himself are most consecutive cuts made, 142; most consecutive rounds at par or better, 52; and most victories by a player in his 20s, 46. Nicklaus' five are most pro majors, 18; most pro and amateur majors, 20; most consecutive years winning at least one tournament, 17; most consecutive years in the top 10 on the money list, 17; and most years in the top 10 on the money list, 18.
And until Woods has 83 victories on the PGA Tour, don't expect Snead, still swinging smoothly up there on the practice range in the sky, to accept being second to Woods, if then. When the History of the PGA Tour in 1989 ranked Snead its No. 1 all-time golfer, ahead of Nicklaus, I remember Sam smiling and saying, "You got to go by the record of what a man does. Nicklaus is where he should be -- second." And no matter how many tournaments Tiger wins, Sam will prefer to go by the record the one time they played -- his par-par to that little kid's bogey-bogey.
*Dave Anderson, an occasional contributor to Golf World, recently retired as a full-time columnist for The New York Times. *