News
A Public Conversation On Autism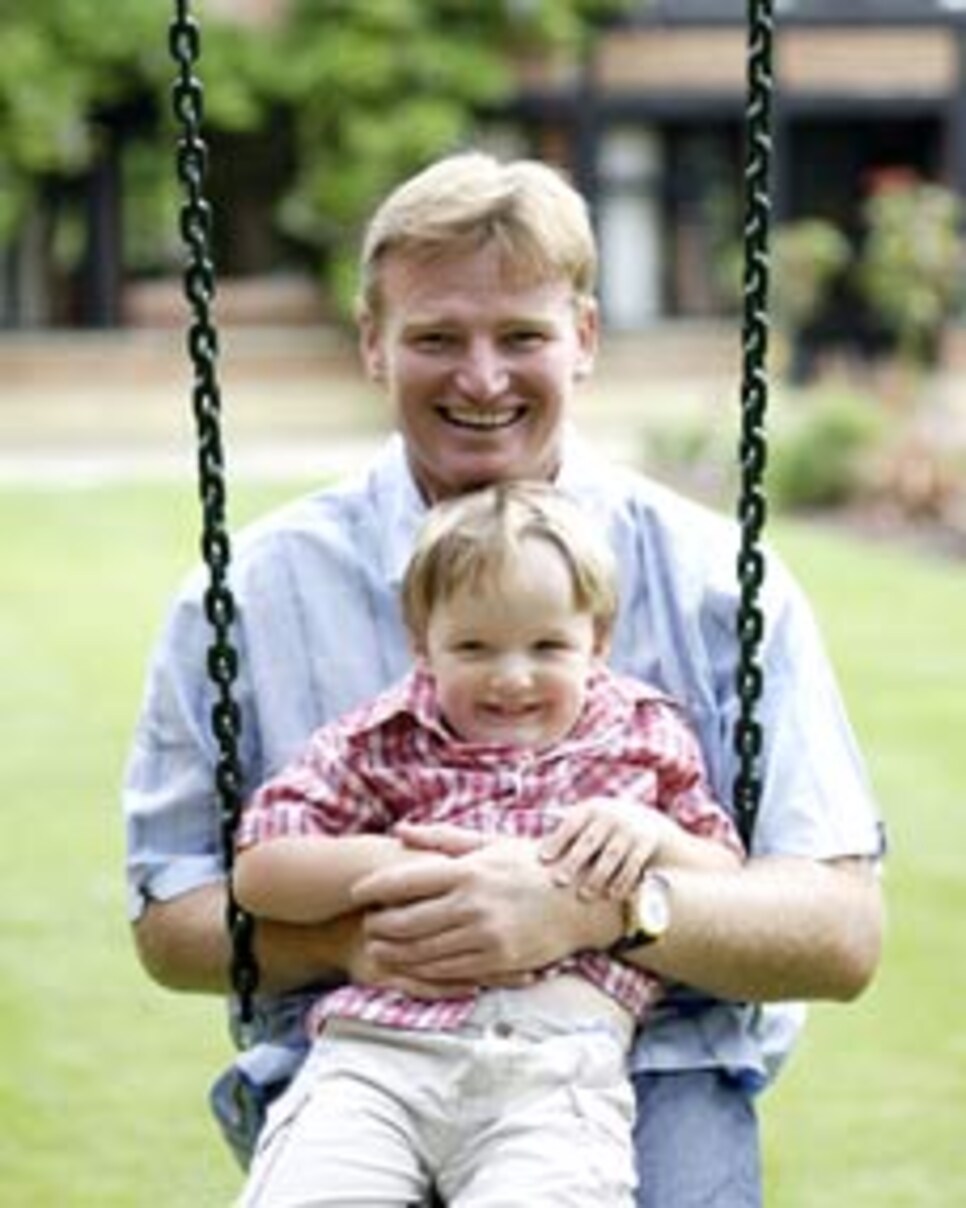 Ernie and Ben in July 2005 at home in Wentworth, England.
Ernie Els won his fourth major championship last week, and it had nothing to do with golf. Going public with his son Ben's autism was a greater victory for Els than his two U.S. Opens or his British Open. By transforming a personal challenge into a public platform from which his celebrity can bring attention to a growing developmental disorder, Els reached out to other families affected by autism and emerged as the kind of champion who places community above self.
Unlike many in his situation, Els can afford the best of care for his son and has access to top authorities on autism. That he has chosen not to hide the struggle he; his wife, Liezl; Ben; and their daughter, Samantha, face, but rather play it out in public, is a model for how people in his position can use their resources and celebrity.
"Like any family will tell you, it's not easy," Els told The Associated Press Friday at the PODS Championship, where he played with an "Autism Speaks" logo on his bag. "And it's a change of life, a change of priorities. You've got to be ready for it. And it's happening more often. I never knew about it, never thought about it, until [it was in my] lap."
Autism is a group of developmental disorders characterized by impaired social interaction. Children with autism also have an increased risk of intellectual disabilities, or mental retardation. And the occurrence of autism is vastly more common now than it was two decades ago.
According to the U.S. Centers for Disease Control and Prevention, last year one out of 150 children had autism. Before the 1990s, the number was placed at one out of every 2,000 to 5,000 children. Because autism is thought to have both genetic and environmental causes, some suggest the environmental triggers have increased. Others say the numbers have grown because doctors -- and parents -- are better at recognizing autism.
Going public was not easy for Els. Ben, who is 5 and whom Ernie says, "is quite a bit affected by [autism]," was diagnosed several years ago. "I feel comfortable talking about it now," Els said. "I've got a bit of a profile where it will grab attention. That's what this problem needs."
Els joins former NFL quarterbacks Dan Marino and Doug Flutie as high-profile spokesmen for the disorder, and as parents of sons who have autism. Males are four times more likely to have autism than females.
Els' revelation places in perspective his 0-for-47 streak in PGA Tour events since 2004, which ended two weeks ago when he won the Honda Classic. There were likely many days when golf was not his top priority. Perhaps drained by going public, Els withdrew Monday from the Arnold Palmer Invitational.
Special Olympics, the athletic competition for those with intellectual disabilities, has as its motto: "Let me win, but if I cannot win, let me be brave in the attempt." Those words apply to the parents of children with special needs as well as to the children. And in that regard, with his public acknowledgment of Ben's autism, Els is truly a major champion.