News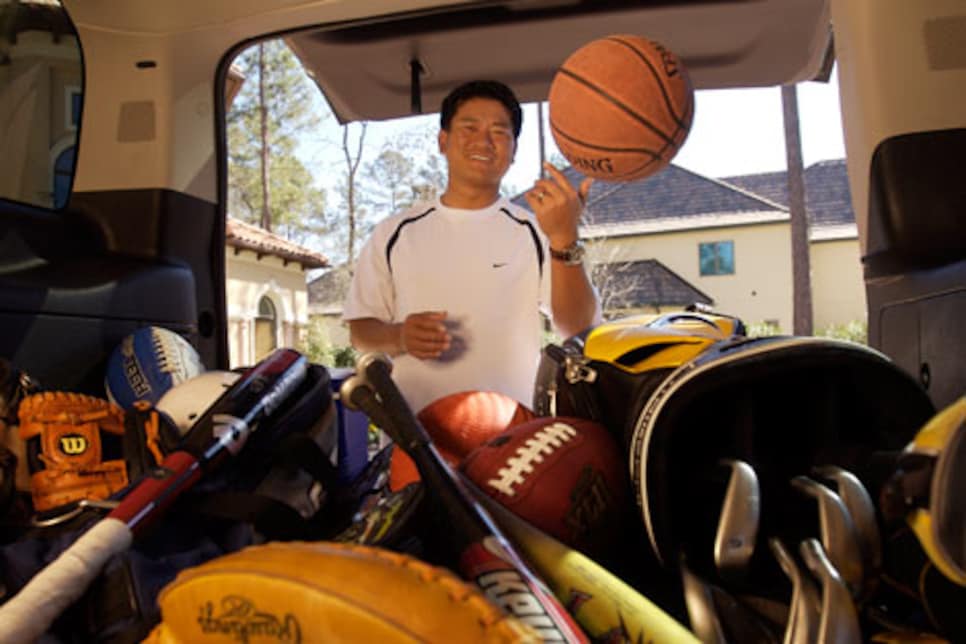 Aided by his ­personality and his faith, Choi has made an easy transition to life in the U.S.
"Soccer mom," says K.J. Choi from behind the wheel of his black Escalade. The phrase is 21st century Americana, and so is Choi, cruising through the Houston suburbs in his SUV. The ride is tricked up, with chrome wheels and a killer sound system, but Choi has the volume turned down this February morning. In the captain's chairs are his kids and their friends, all part of a car pool. The soccer-mom reference is Choi poking fun at himself, and as with many of his sentences, K.J. punctuates his shortened English with a laugh.
The 37-year-old Korean (K.J. stands for Kyoung-Ju) is a happy man, both inside and out. In 2007 he won Jack Nicklaus' Memorial Tournament and Tiger Woods' AT&T National, and in 2008 Choi is coming off an extremely strong West Coast swing, with his seventh career PGA Tour victory at the Sony Open, a top-10 in the Northern Trust Open and a quarterfinal loss to Woods in the WGC-Accenture Match Play. The Tank, as he is known, is ranked fifth in the world and heads toward the Masters hoping to be the first Asian male to win a major. Players from Woods on down think he's one of the nicest guys in the game -- and they are inspired by his story. Extremely devout, from a land that never produced a world-class male golfer before he came along, Choi became a national hero by crossing an ocean, overcoming cultural barriers and immersing himself into the American way of life. Of his career and success, Choi says quite simply, "God made it."
"You've got to keep smiling, and that's where K.J. is at his best," says his Scottish caddie Andy Prodger, who notes there is only one thing that perturbs his man. "He hates people swearing. He can't understand why people swear."
The morning starts with a traditional Korean breakfast on what is the lunar New Year, Feb. 6. Choi's wife, Kim, has made dduk guk, a soup of rice cakes with a dark broth, and a side dish of noodles. There is a stool waiting at the kitchen counter, next to their precocious 10-year-old son, David, who plays cello in his school's orchestra, second base for the youth baseball team and speaks perfect English. "This is where family sits," says K.J., motioning to a place setting at the counter. After eating we head to the car, and Kim hands us Styrofoam cups filled with peeled apple slices, each with its own toothpick.
Of the Far Eastern golfers who tried the PGA Tour before Choi, none were able to embrace the American way. But Choi jumped right in, with both feet.
Climbing into the Escalade, K.J. says, "We speak three languages, Korean, English and Spanish." It is a reference to his housekeepers, who are of Mexican descent. Again, he laughs. David adds another language, "We call it Konglish," he says, of his mixture of Korean with American colloquialisms.
In Korea, Choi requires bodyguards and gets parades in his hometown on the island of Wando off the country's southwest coast. In America, he lives at the end of a cul-de-sac in the gated community of Carlton Woods, the upper crust of The Woodlands, on a course designed by Jack Nicklaus, his idol and teacher. "My home is America," he says later that morning at his kitchen table, sipping coffee.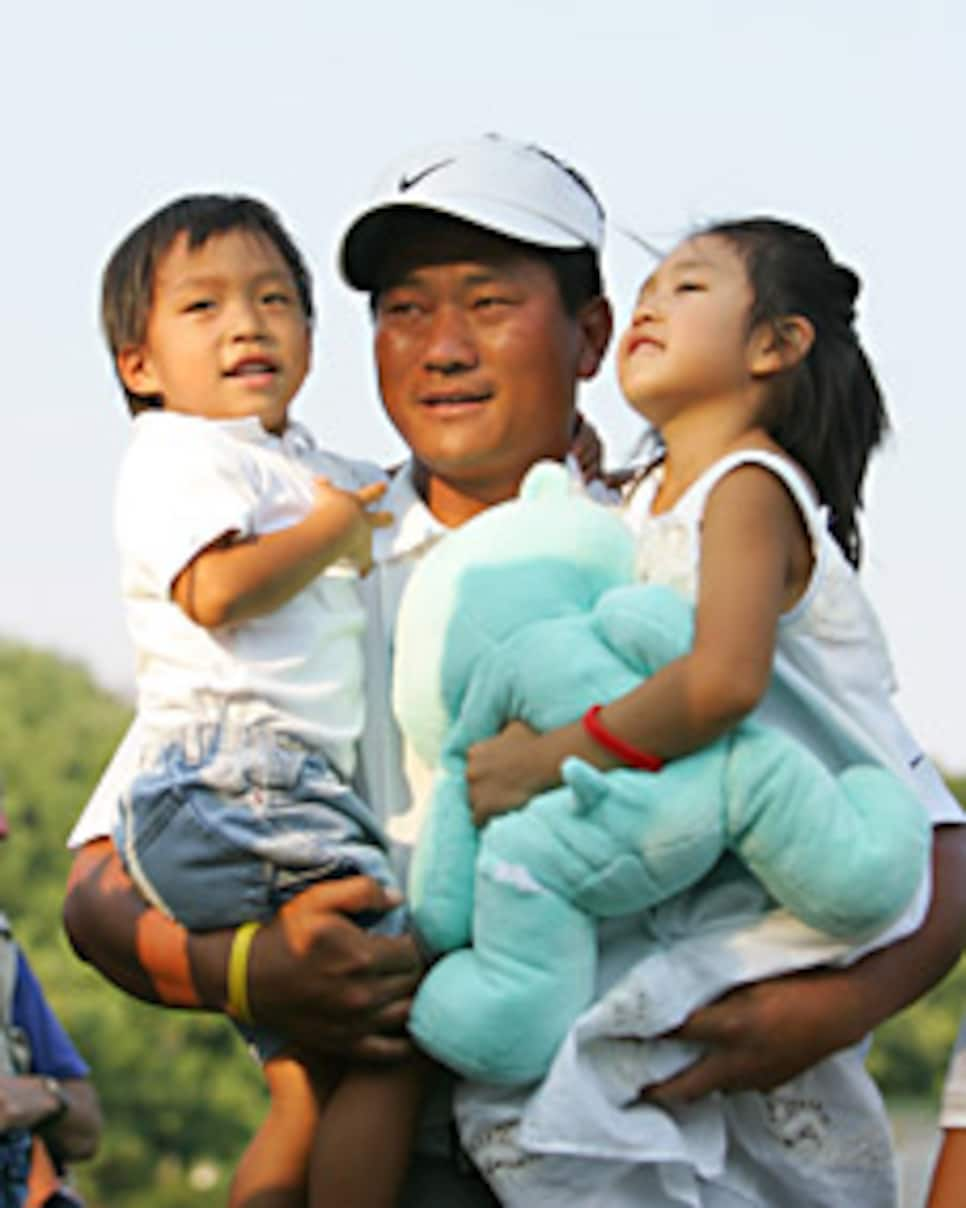 We drive around the entire day, burning half a tank of gas and filling a notebook. We begin talking without an interpreter before Michael Yim, Choi's agent, arrives mid-morning on a flight from Cleveland. We talk as Choi drops off his 6-year-old daughter, Amanda, at the little red Paddington British Private School and 4-year-old son, Daniel, at the Crossroads Baptist Church. We talk while shuttling David to Best Buy to purchase a Guitar Hero game and speakers for an iPod. We talk about his life in Wando and his first trip to the U.S., when the driving range at Kiawah Island was so green and lush he was afraid to take a divot while swinging at the piles of new Titleists. "Like carpet," he says. "In Korea [it looks] like that." He motions toward the crabgrass along the side of the road to illustrate his point, then taps his knuckles on the leather dashboard, describing the hardscrabble lies he used to get on the Korean Tour.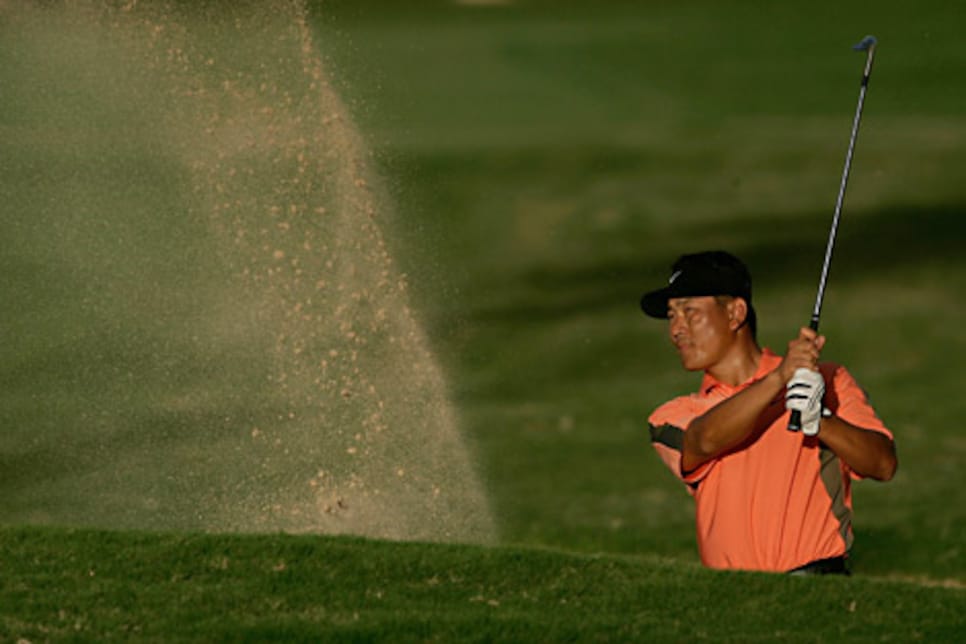 We talk about being a Christian in Korea and a Korean in Houston. We talk while David does figure 8s around the kitchen on his Wave Board, and while David is coached by his baseball instructor. The SUV becomes the Tank's tank as we cut through parking lots, veer around traffic and return to his house three times before noon -- all by different routes. After lunch at Carlton Oaks he leaves me in the grillroom with David and two paintball buddies because he has to pick Daniel up from school. Yet, from 8 a.m. until 5 p.m., we never stop talking.
The language barrier holds Choi back during group interviews, but one-on-one, there are no lost words. He asks how often I spend days like this with a tour player, the circulation of Golf World and the relationship of Golf Digest to our magazine. He wants to know how old my daughters are, and what they're like. At David's baseball practice he warms up his son and shakes his hand when a throw burns into the soft part of his glove. The day goes off like clockwork, and after I leave for the airport, K.J. heads for a workout and his one-hour putting routine.
"He is with David as much as he can be when he's not playing golf," says Ray DeLeon, founder of the Banditos Baseball Club David is trying out for. "You can tell [K.J.] is trying to instill the work ethic in his kid that he has for himself."
Before Choi became an icon in his homeland, Wando Island was best known as the headquarters for Jang Bogo, a ninth-century sea trader whose private fleet and army dominated the trade routes in the Yellow Sea from their home base in Cheonghaejin. During lunch at Riviera CC in Los Angeles a week after we visited at The Woodlands, Choi explains through Yim that Wando has a 644-meter mountain as its landmark and that his parents owned a one-bedroom home in the foothills, where, from their rooftop, they could see the ocean five miles away. Byungsun Choi and his wife, Shilray Seo, were vegetable farmers, and when the weather turned cold, they would cast their nets and fish for red snapper and octopus in the same waters Bogo controlled more than 1,200 years ago. If he hadn't become a golfer, Choi believes he would have been a ship captain or an engineer, explaining that he is good with his hands, with a knack for mechanical projects. In grade school he was a powerlifter, squatting more than three times his weight. His nickname, though, comes from the way he methodically plows through a golf course, not because of his build. The 5-foot-8 Choi jokes that his two brothers and sister are taller because his spine was compressed when he did knee bends with a 350-pound barbell across his shoulders when he only weighed 95 pounds.
On March 5, 1985, his first day of 10th grade, a gym teacher picked him out of a line and told him he would be a golfer. Choi inititally asked: "What is golf?" But it was not long before he was hooked, even in the rudimentary conditions. Behind a cemetery he hit into a net that was 20 yards high and 70 yards long. Two friends of his father drove him across the bridge from Wando to Kwangju CC three hours away. They would leave in the middle of the night, so Choi could use every ray of sunshine. He would use a pullcart and play until it was dark. His personal record was 69 holes, and by July, he was a 7-handicap. He had no formal instruction, instead relying on interpreted versions of Nicklaus' instruction books. Twenty-two years later, after winning the Memorial, Choi said, "At the beginning, when I tried it the way [Nicklaus] told me to, it felt really good. So I told myself, if I get really good at it, there could be a bright future."
At 21 that future was interrupted by a mandatory two-year Korean Army tour. Serving in a National Guard base on Wando, Choi worked the graveyard shift as a guard so he could spend his days practicing golf. The only imminent danger was the threat of North Korean spies sneaking into his country in submarines. One night Choi heard pebbles crunching on the beach and thought he saw someone crawling along the shore. He fired his rifle and took out a sea dog. "Killed it, sorry," Choi says, not laughing this time.
After army duty Choi began giving lessons in the South Chungcheong Province near Seosan, making $40-$50 a month. One of his students was a pastor, who introduced him to a female law student at Dankuk University named Hyunjung Kim in December 1993. The pair hit it off, but at first her parents, not sure Choi would make it in golf, wouldn't bless the marriage.
"It did not bother me," Choi says. "When they looked in my eyes, they could see." That year he qualified for the Korean Tour, and two years later Choi sealed the deal with his future in-laws by winning the Fantom Open. In December 1995, he married Kim. Through her, he converted from Buddhism. Two years later Choi made the 18-hour journey to South Carolina for the World Cup, opening his eyes to a new world.
By virtue of his place on the Japan Golf Tour's money list in 1999, Choi was given a pass to the final stage of PGA Tour Qualifying School at the Doral Golf Resort & Spa in Miami. IMG was handling his business affairs and hired veteran caddie Cayce Kerr to help Choi through the test. They finished T-35, and Choi earned one of the last cards. "The thing I remember most is that at the end of the final day, his wife said to me 'Cayce, I love you' " recalls Kerr. "To this day, I've never had a tour player's wife say that to me."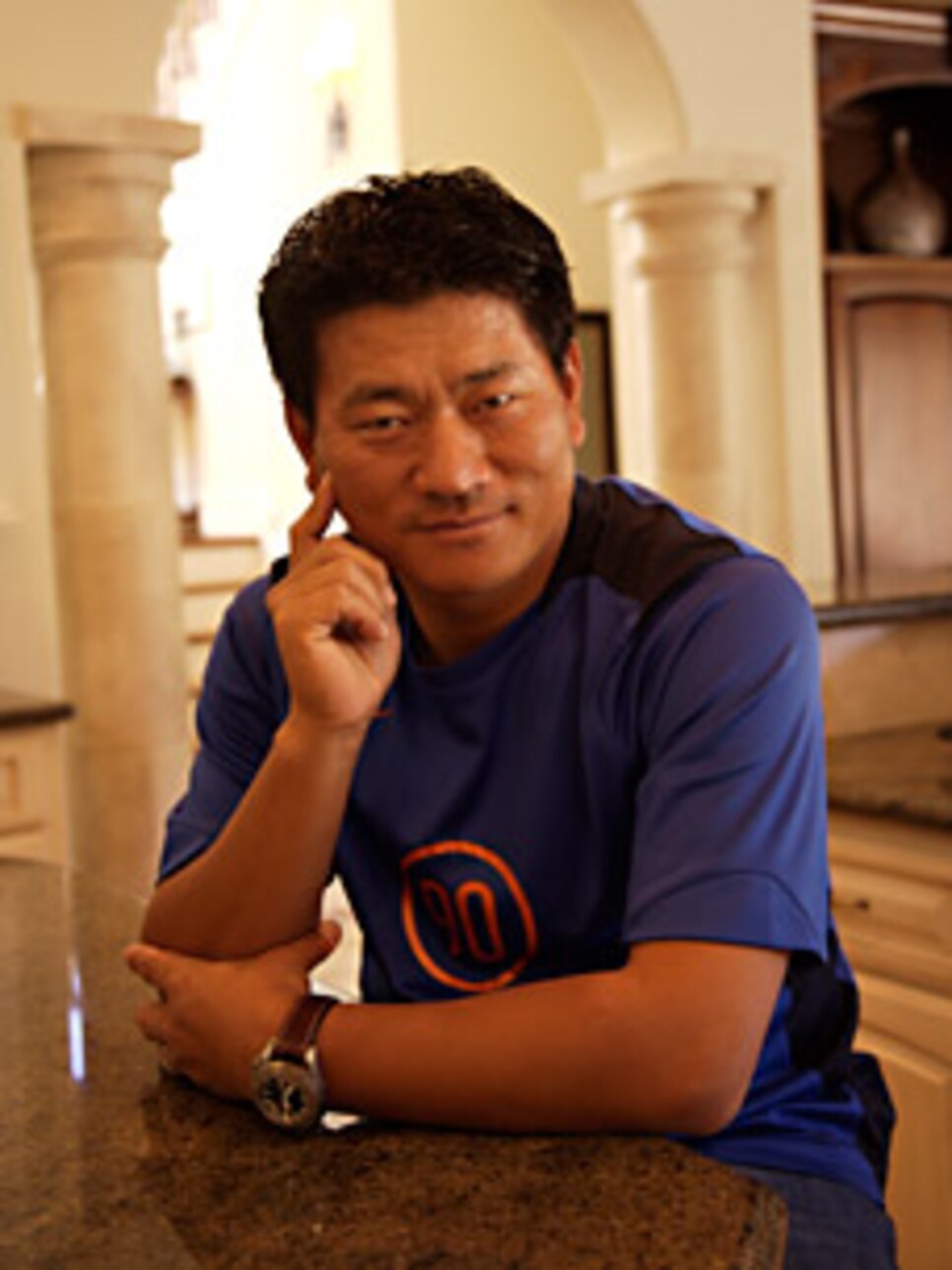 At first Choi struggled with the travel, the culture and the language, dropping 12 pounds from the stress. Looking at a U.S. map one day, he noticed Houston was centrally located. He learned the city had a large Korean population, unlike Ponte Vedra Beach, Fla., where he was initially based. Choi bought a house in The Woodlands and Kim and David drove across country and moved in while he was playing the Buick Invitational in California.
Choi didn't break through on the PGA Tour until 2002, when he won at New Orleans and Tampa. A year later he was offered appearance money to play in the German Linde Masters. Looking for an overseas caddie, Yim contacted Prodger, a crusty two-time major winner with Nick Faldo, who was looking for work after having been sidelined by a fall off a ladder. Realizing Prodger couldn't carry the bag, Yim obtained permission from the tournament director for Prodger to use a pull cart. In spite of complaints from other caddies, Prodger navigated Choi to victory. The following spring Choi brought "Prog" to Augusta to caddie at the Masters.
The team had a successful U.S. major debut. After Choi holed a 5-iron for eagle on No. 11 during the final round, he moved into contention with birdies on Nos. 13, 14 and 16. Eventually Phil Mickelson edged Ernie Els by a shot for his first major championship, and Choi finished third. Choi and Prodger have been inseparable ever since.
"We communicate through the eyes," Choi says. "Or he'll say something, and it's exactly what I'm thinking." Choi closed '05 with a win at Greensboro, donating a portion of his winnings to the Korean First Presbyterian Church where he worshiped during the event, but Prodger believes Choi's big breakthrough came when he began working with Australian swing coach Steve Bann in September 2006. Instead of an erratic over-the-top move that would break down under pressure, Choi learned to hit a cut, the shot Nicklaus made famous.
"It's easy to work with a guy like K.J.," says Bann, who also helped Choi with his chipping and putting. "He's a worker and mentally, with the background he has, that's a good combination. He told me, 'You fix me, and I'll win.' "
After winning the AT&T National, Choi found himself on the short list of best players without a major. "That's my goal, to become the first Asian to win a major," says Choi. "That's something I'm going to strive for, work very hard at." So far, that third-place finish at Augusta in 2004 is as close as he has come. He has three other top-10s, including a T-8 in last year's British Open at Carnoustie.
"I definitely think he can win a major, but it's a different ballgame," says Prodger, who won majors with Faldo in the 1987 British Open and 1989 Masters. "A player who wins a major knows when to attack and when not to attack. K.J. doesn't quite have all that yet, but he's getting there."
Bann notes that if Choi can win at Muirfield Village and Congressional, he could have the guts to finish off a major. "When you win four times in 15 months," the teacher says, "it doesn't matter where it is. Down the stretch, head-to-head with Tiger, K.J. would have as good a chance as anybody of sticking to his own game and getting the job done." In the quarterfinals of the WGC-Accenture Match Play, Woods chipped in for eagle on the 10th hole and made two putts to close out Choi at the 16th. Perhaps Choi will use that as motivation if they ever meet down the stretch at a major. If it's about attitude on a golf course, Choi is hard to beat.
When Choi returned to Wando last September, he was accorded a hero's welcome. The Army band played and schoolgirls ran after his car in the parade. Yim joked that Choi now had groupies. While in Korea, Choi developed plans for a foundation and announced a corporate sponsorship. He skipped last week's PODS Championship, a tournament he has won twice, and this week he will play the Ballantine's Championship at Pinx GC in Cheju-Do, the first European Tour event to be held in Korea. Last winter he quietly sponsored a trip for a young Korean player, Sung Man Lee, to work with Bann in Australia.
Charlie Wi, who played the Korean Tour with Choi a decade ago, knows the journey Choi has made. "When he was growing up, there was nothing else to do," says Wi. "It was, 'I became a farmer because my father became a farmer.' Golf was his way out. He knew he would stay there on Wando and be a farmer or try to make it in golf."
K.J. Choi finishes his lunch at Riviera, and bows his head to acknowledge it's time to hit balls. He chose the right profession.