News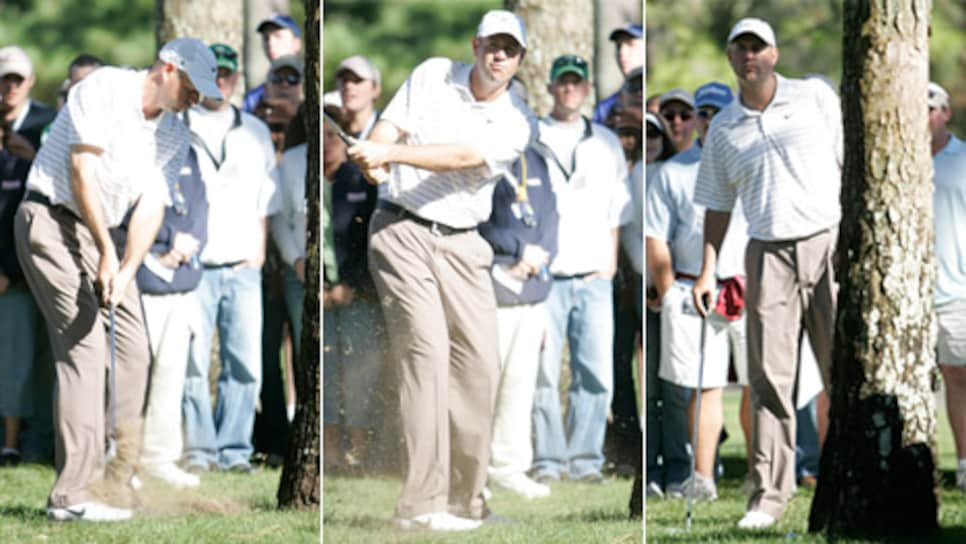 Cink's reversal of form Sunday included a lefty swing at 14 en route to a bogey.
So, you think losing 8 and 7 to the best player in the world hurts? Take a number. Get in line. The thumping in the desert was nothing compared to the thrashing Stewart Cink gave himself at the PODS Championship. If the first one left a mark, this one is going to require stitches.
After 54 holes on the Copperhead Course at Innisbrook Resort and GC, two days of which were as brutally difficult as the PGA Tour has seen all season and where no player was as resolute as the 34-year-old Cink, the man with Tiger Woods' paw prints still on his back, took a two-shot lead into the final round convinced this tournament belonged to him -- only to find out it really was the property of Sean O'Hair all along. It was the worst of times for one man, the best of times for the other.
It certainly didn't look that way starting out Sunday afternoon. Just exactly as Woods has done so many times, Cink immediately birdied the first two holes to increase his lead. If the WGC-Accenture Match Play had taught him anything, it was how to get up and stay up, right? Woods gets ahead and goes into lockdown. Cink went into meltdown. But momentum doesn't change like a thunderclap. More often it is a squeaky three-footer delivering a somber message of doom.
Cink's first miss was a careless three-putt from 15 feet just on the fringe on the third. He bogeyed the eighth when he couldn't get up and down from left of the green to give back all his early gains. Then at the 11th and 13th, Cink missed a pair of crucial six-footers, the first for birdie, the second for par. The best long-putter in golf had become, by his own account, tentative.
When momentum leaves the party, disaster is the designated driver. At the 14th Cink drove it left against a tree, turned an 8-iron upside-down and tried to slap the ball up the fairway left-handed. It appeared to catch a root, jump in the air, hit a tree in front of him and advance only a few yards. From there he made another bogey while O'Hair was ahead fashioning a comfortable cushion. A 3-wood off the tee straight into the hazard on the 16th finished Cink off for good with a dispiriting double bogey and a three-over 74.
"I'm hanging my head because I didn't win," Cink said. "I definitely thought this was my tournament."
O'Hair was, of course, the beneficiary of Cink's miscues, but he was aided by the fact no other player in the last three threesomes equaled or bettered par, either. O'Hair, on the clock because of his slow play, was the only one who stepped up with a two-under 69, even if it was at an excruciatingly weary pace.
After three undistinguished outings early in the year and then a missed cut in the Northern Trust Open, O'Hair went home to suburban Philadelphia to regroup. The 25-year-old with the baby-faced grin, the disposition to go along with it and the heart-wrenching history of a sour relationship with his father, was at a loss.
"I'm working harder than I've ever worked in my life," he says he wondered to himself. "I just feel like I'm so far away from playing good golf. What's going on? I didn't really have a game plan. I called my coach. I looked at film. I looked at my videos from '05. What was I doing different?"
His father-in-law, Steve Lucas, joined O'Hair in Palm Beach Gardens at the Honda Classic where O'Hair missed another cut. Lucas, with an assist from Dr. Bob Rotella, helped keep O'Hair believing in what could be. His old videos from '05 reminded him of what had been -- a skinny kid who wasn't afraid to fail. His coach, Steve Dahlby, noticed O'Hair was coming a little over the top, and they worked to fix what is. And, after his man's two bogeys on the front nine in a howling gale Saturday, caddie Paul Tesori, who carried Vijay Singh's bag for five years, got O'Hair to imagine what will be and call his own shots.
"We were two over, and he was hitting it kind of crooked, and we went to the 10th hole, and he said, 'Come on, start asking me what I'm going to do,' " said Tesori. "When he went to that thought, he really struck it beautifully the last 27 holes."
No place more beautifully than on the 15th Sunday when he hit a back-footed 7-iron 32 feet from the hole and then knew the putt was in when it was halfway there. From that point on, O'Hair just tried, "not to throw up on myself." Even with a bogey at the last, he was two shots clear of the field with a four-under 280 total.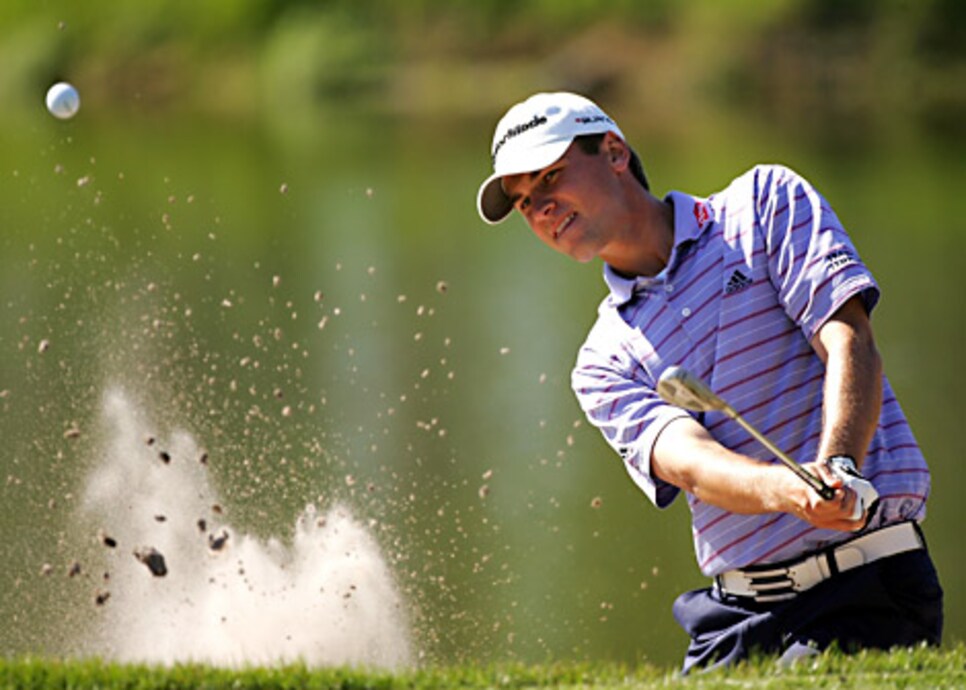 It was, of course, his second victory, though he had chances three times last fall when Tesori first went on the bag and, of course, there was that remarkable quadruple-bogey 7 at the 17th last year in The Players. His first win, the '05 John Deere Classic, earned him a trip to the British Open for which he needed to expedite a passport, having never had one before. This victory earns him a trip to Augusta in a few weeks for the Masters. Fortunately, Georgia still accepts U.S. passports.
The early days in Tampa were Tale of Two Lives, too. John Daly spent Thursday's 2½-hour rain delay in the Hooters Owl's Nest behind the 17th green. While he was there, he picked up Jon Gruden, which sounds kinkier than it actually was. Gruden carried Daly's bag the last seven holes. The emotional Tampa Bay Buccaneers coach, nicknamed "Chucky" for the facial contortions so frequently captured by sideline television cameras, managed to spur Big John on to a solid 78, two shots better than he did without the Super Bowl-winning coach on his bag the following day. After missing the cut, Daly reprised his roll in Happy Scaffolding where he signed autographs and pedaled souvenirs.
The other life belongs to Ernie Els, who came to the PODS fresh from his reinvigorating victory on the other coast of Florida at the Honda Classic. Els didn't play particularly well himself, but he did disclose the fact his 5-year-old son, Ben, is autistic, that he and his wife, Liezl, have been aware of it for some time and that he was going to be lending his support from now on to Autism Speaks, an international organization based in New York that supports awareness of and research into the causes of autism.
When the first round finally concluded Friday morning, Bart Bryant and Lee Janzen led with 65s. That was the day it really started to blow and the high wind advisories were posted on the Sunshine Skyway Bridge in Tampa Bay. After that, it really picked up.
Saturday the gusts were pushing 40 miles-per-hour, by some estimates the heaviest winds of what has been a sideways season. Brandt Snedeker completed a breezy three-under 68 to take the lead at five-under-par 137. In all, 79 players made the 36-hole cut, meaning the last PODS (they're searching for a new title sponsor) would produce the first Saturday (post-Rule 78) cut which, of course, wouldn't be made until Sunday morning after play was halted due to darkness. In the end, eight guys were MDFed -- but the tournament still went off two tees in threesomes for the final round. And the point was?
Snedeker got a couple under par quickly Saturday afternoon and managed to build a four-shot lead through seven holes before three-putting the eighth from just under 14 feet. It was a blow that seemed to stun last year's rookie of the year, and he never regained his putting touch. The leader board was littered with disaster. Stuart Appleby went out in 41. Janzen 40. Jeff Maggert 42. Paul Casey 40.
"When it's tough like that," said 2006 U.S. Open champion Geoff Ogilvy, whose two-under 69 was one of the best rounds of the day, "you've got to play proper golf. When you hit a proper shot, it goes where it should go. It goes a little bit shorter into the wind, but it's predictable. Whereas, if you slightly miss it, it just gets so hit by a wind like that that you can look like an idiot really quick."
No one was more proper than Cink's two under for his day's 28 holes, spotting him that two-shot lead over Ogilvy, Snedeker and Mayfair. Twice in his last two events, Cink has had to shake his head and smile at the cruelty visited upon him, first, when he made eagle to finally win a hole from Woods and again when he holed a meaningless 50-footer on the Copperhead's 17th green. It's asking a lot to grin and bear that much.