News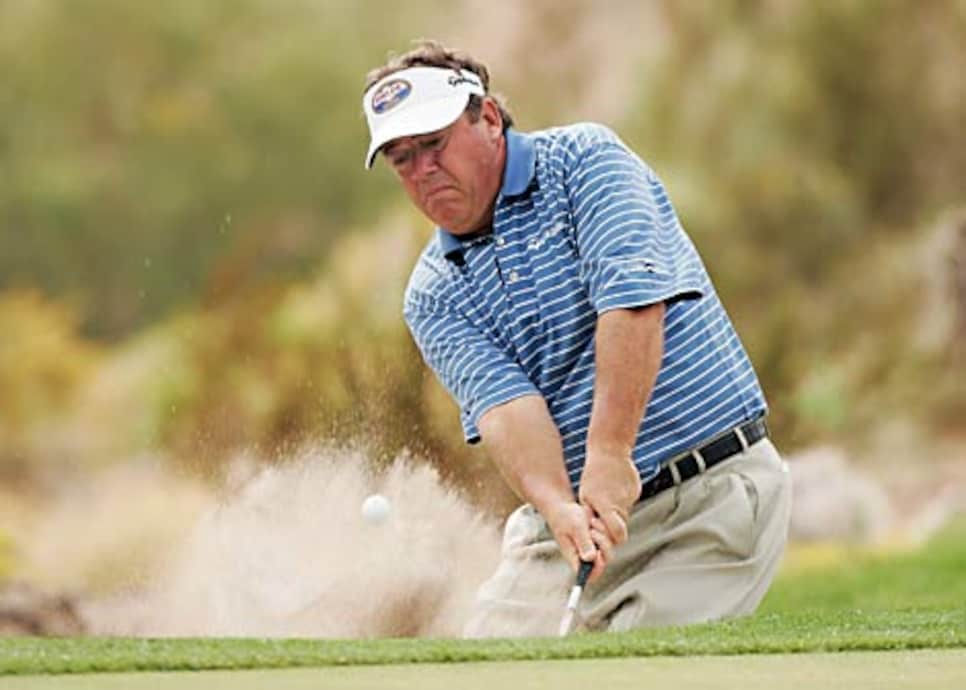 Sindelar likes 60-degree wedges because they reduce his "dead space."
Sixty is the new 56. No, not age, but wedges. At last week's PODS Championship, nearly 80 percent of the field carried a 60-degree wedge. Further, only two players -- Mathew Goggin and Rocco Mediate -- had a 56-degree as their highest-lofted wedge.
That there is a plethora of 60-degree wedges on tour is not shocking. Five years ago pretty much all the players on the PGA Tour already had them. But the extent and variety of uses for the club has increased considerably.
The reasons for the rush to the higher loft are many. Hole locations cut closer to greens' edges result in more players short-siding their approaches, requiring the ability to get pitch shots up higher and stop them faster. The distance boom also has left players with shorter distances on shots into short par 4s, making the 60-degree wedge a handy tool.
"It decreases my dead space," said Joey Sindelar. "If 56 is your bottom club, you don't want to be laying up inside of 90 or 100 yards. But [the 60] is a very good fairway club for me."
Deep bunkers also have played a role and many players use the 60-degree on the majority of their bunker shots.
One of the drawbacks to the 60-degree wedge -- excessive spin -- doesn't apply in the sand. Spin is generated when an angled surface (in the case of a golf club, its loft) meets the ball, producing what is termed an "oblique impact." Although it is true that the more angled the surface, the more spin can be generated, the ball must stick to the face for most of the time that it is in contact with the face for that to happen. The higher the loft, the more the ball wants to slide up the face, rather than stick to it. But on a sand shot, the ball never comes in contact with the face, mitigating that particular shortcoming.
That's not true from the grass, however. "Sometimes I'm laying it wide open," said Sindelar. "That's where a 56 might play like a 62, but a 60 plays like a 67. There's almost nothing there, and you go right under it. But, for me, on balance, it's still good to have in the bag."
Still, though some players on the PGA Tour are using wedges as lofty as 64 degrees (including Peter Lonard and D.J. Trahan at the PODS), not everyone is drawn to higher lofts. On the LPGA Tour, for example, only 36 percent of players at the HSBC Champions had a 60-degree wedge, while 18 percent percent had a 56-degree as their highest-lofted wedge, including Lorena Ochoa and Se Ri Pak.
Should the USGA ever consider a limit on lofts, players such as Ochoa and Pak will have a head start -- and those with 60-degree wedges will have to learn a bunch of new shots.
Although Bernhard Langer used a new Guerin Rife Two-Bar mallet putter to win the Toshiba classic, the change had more to do with its specs than head-style. "The [putter] I used the past two years doesn't have a lot of loft," said Langer. "Poa annua greens get pretty bouncy and bumpy, and the ball settles in a depression [so] you need more loft."
With a T-43 representing Billy Mayfair's best showing in six starts this year, it came as no surprise that he went back to the game-improvement Titleist 804 OS irons. Mayfair, who came to the PODS Championship ranked 58th in greens in regulation, was T-1 for the week in that stat at Innisbrook. Ball: Titleist Pro V1x. Driver: Titleist 907 D1, 7.5 degrees. 3-wood: Nickent 3DX. Hybrid club: Adams a3 Boxer, 19 degrees. Irons (3-PW): Titleist 804 os. Wedges: Titleist Vokey (56 degrees); Titleist Vokey Spin MIlled (60 degrees). Putter: Ping G5i Craz-E Long.
Sean O'Hair picked a good time to change irons (to TaylorMade's r7). The PODS champion ranked T-18 in greens in regulation for the week, including hitting 15 Sunday. ... Don Pooley had a pair of putters in play at the Champions Tour's Toshiba Classic. Pooley used Guerin Rife's venerable Two-Bar mallet as well as a prototype of the company's Cayman blade. ... Correction: The information for the Fujikura Rombax Z shaft (Hot Shafts, Feb. 29) was incorrect. Instead of being designed for players with a smooth tempo, the Rombax Z is intended for better players desiring a low, penetrating ball flight. Additionally, the price for the Rombax Z is $350, not $275.