News
Trump's Scottish Extravaganza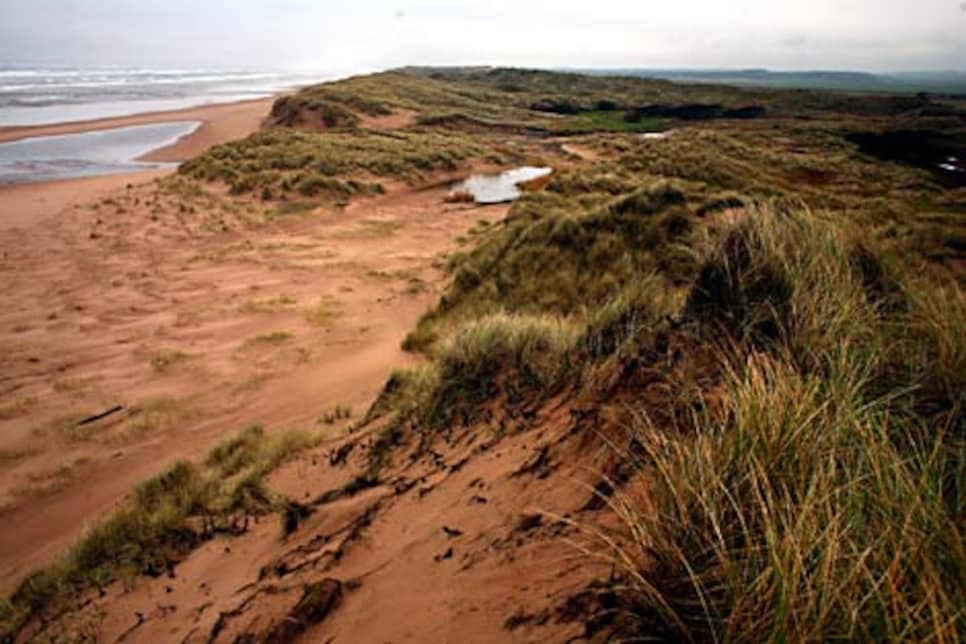 Trump (below) is a developer -- and golfer -- in his glory as he takes in his land by the North Sea.
It is, by unanimous acclaim, a spectacular and unforgettable piece of property. Ten miles north of Aberdeen in Scotland's often bleak and windswept northeast corner, the Menie Estate at Balmedie contains a vivid mass of towering dunesland hard by the North Sea that, given the chance, will surely reveal a memorable and exciting example of classic links golf. "You could only screw it up," says 1999 British Open champion and native Aberdonian Paul Lawrie, neatly summing up the feelings of seemingly everyone lucky enough to have viewed the land that may or may not become the Trump International Golf Links, Scotland.
The key word in all of the above, of course, is "Trump," as in billionaire property tycoon Donald, as in, typically, controversy. Half Scottish on his mother's side -- the late Mary MacLeod lived the first 20 years of her life in the town of Stornoway on the Isle of Lewis, the largest and most northerly of the Outer Hebridean chain off the northwest coast of the mainland -- Trump has so far spent almost 2½ years battling to build what would be his first major golf project outside North America, one he, understated as ever, quickly labeled "the greatest course in the world."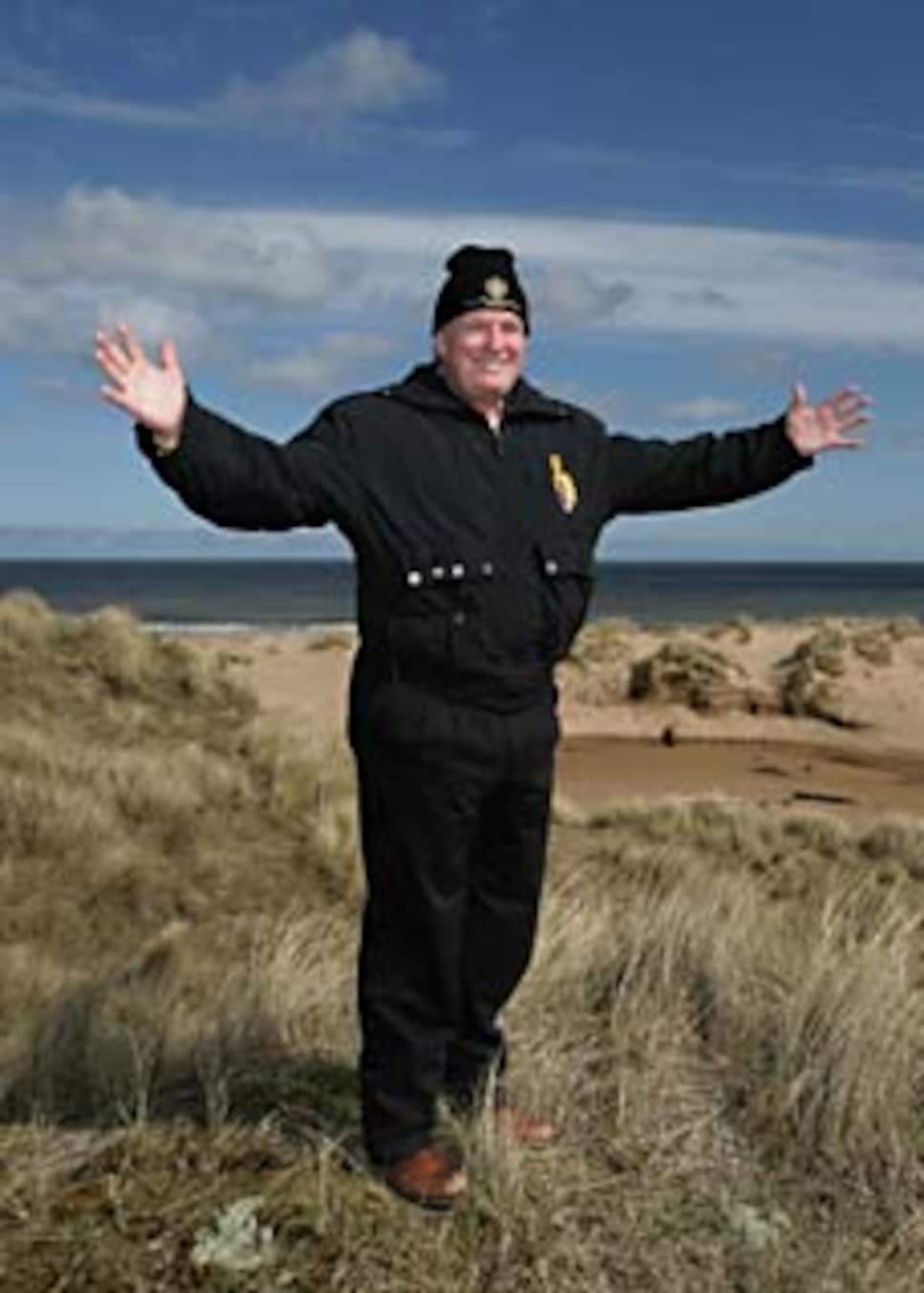 So far, at least, it has been an arduous process. Since October 2005, when Trump first talked to Scotland's then First Minister, Jack McConnell, about the possibility of doing business in his mother's homeland, the proposed $2.1 billion development -- which hopes to incorporate two 18-hole courses, 500 houses, a 450-room hotel, 950 vacation homes and 36 golf villas -- has faced various obstacles, both ecological and political. A healthy level of cynicism from sections of the Caledonian golf community only has added to the project's difficulties.
The fear among some Scots is this: Rather than focus on building a great golf course with compelling shot values, the priority might be selling expensive real estate. That is not to suggest The Donald's portfolio of courses (see sidebar) does not contain success stories. "One of the tests I always apply to a course is how many holes I can remember afterward," says Scottish tour pro Catriona Matthew, speaking of Trump International, site of the LPGA's ADT Championship. "[That's a course] I could recall all 18 the first time around. I can't say that about many of the courses we play." [Editor's note: Calls to interview Trump for this story were not returned.]
In Scotland, a largely working-class nation, high-end estates invariably are subjected to a kind of reverse snobbery and are, perversely, looked down upon. Especially when they are being built by outspoken Americans, who falsely claim that the Outer Hebrides are "seriously Scotch." (Scotch is a drink, not a nationality.) Still, Trump does seem to be listening. The original architect attached to the project, Tommy (nephew of Tom) Fazio, has been replaced -- on the recommendation of Royal & Ancient GC chief executive Peter Dawson -- by one steeped in the lore of links golf, Martin Hawtree.
"It is a spectacular spot and the finest untouched dune site I have ever seen," enthuses Hawtree, who previously has worked to wide acclaim on the likes of Royal Birkdale, Carnoustie and Portmarnock. "I won't have to do a lot to retain the obvious qualities of the place. A lot of the holes are already there, in the sense that all we have to do is cut the grass. Whatever, we will have an exceptional layout.
"Trump, too, is excited by the golf course," Hawtree continues. "He won't be building lots of high-end homes around a mediocre course. It's no secret he wants the Open Championship. And the course is good enough. There is plenty of room for the infrastructure that goes with an Open -- car parks, tented villages and all the rest. So it has a lot going for it."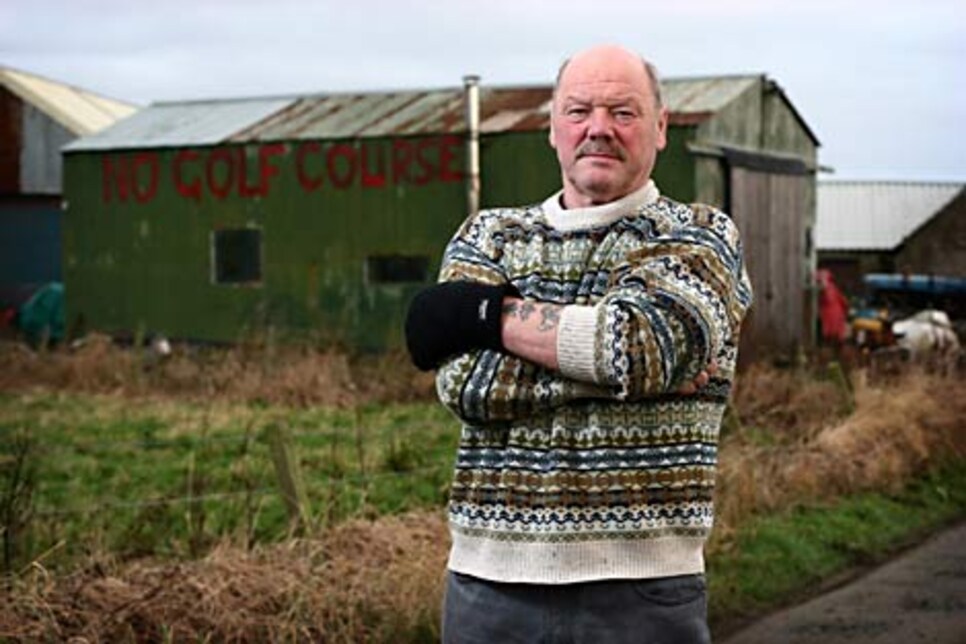 Topographically, Hawtree says the course is "as interesting as any links I have seen. The dunes are huge, and the holes will be undulating in the style of Lahinch or Ballybunion, which is great. I know Trump does not want cart paths on his course. He wants it to be a traditional links that people can walk with a bag on their back."
Project director Neil Hobday, who claims to have searched all 6,200 miles of Scotland's coastline before finding this "ideal site," is another at pains to emphasize the "un-American" aspects of the project.
"We won't make things difficult by growing rough everywhere," Hobday says. "We will do it with the speed of the greens, which introduces all kinds of strategy from the tee, depending on where the wind is blowing and where the hole is cut on the green. We don't want people looking for balls on every hole. And we want them to be tempted into hitting shots they perhaps shouldn't play. That's part of the challenge of links golf."
All of which presupposes that the course actually will be built. While the odds are currently heavily in favor of the project gaining official approval, nothing yet is certain. Indeed, the story of Trump and the Menie Estate already has taken many twists and turns. As a "Site of Special Scientific Interest" that is home to many varieties of plant and wildlife, the area always was going to be difficult from a planning standpoint. American Mark Parsinen, who developed the highly acclaimed Kingsbarns course near St. Andrews, was one who previously rejected the site because of possible environmental restrictions. "I looked at this location, but it is on a Site of Special Scientific Interest," says Parsinen, who is now building another project at Castle Stuart, near Inverness in the Scottish Highlands. "These things take a lot of time. I settled here with my family to slowly build up relationships with the local community. I want them with me, not angry with me."
One man not willing to sit at Trump's table is Michael Forbes, a 55-year-old fisherman who has lived on 23 acres of land behind the sand dunes at Balmedie for 40 years. His home and the mobile home where his mother lives sit directly between the two proposed courses. According to the Guardian, the London Sunday Times and other publications, Forbes has received two official offers for his land, one for £350,000 and one for £375,000, both of which he turned down. Forbes has said he originally was not opposed to the golf course but has become soured by the courtship. "The farmer guy in the middle of it all is irrelevant, totally irrelevant," says Hobday. "The press made a great song and dance about him for a while, but we don't need him. Would we prefer to have his land? Yes. But he isn't needed."
Far more pressing from the Trump organization's point of view has been the political fallout from their interaction with government ministers. First McConnell was accused of abusing his position in dealings with Trump. And his successor as First Minister, Alex Salmond, the leader of the Scottish National Party (SNP), has twice faced prolonged questioning from his fellow members of the Scottish Parliament in Edinburgh over meetings he held with Hobday and Trump's right-hand man, George Sorial, one day prior to the Scottish government "calling in" the course application. Salmond, whose Gordon constituency contains the site for the proposed course, claimed he was acting not as First Minister, but merely as the area's constituency representative.
Regardless, the "calling in" action of the national government, almost unprecedented in the planning process, was made by Finance Secretary John Swinney of the SNP as a result of the decision of the Aberdeenshire Council's Infrastructure Services Committee, which voted to reject the application, even though the council's Formartine Area Committee previously had approved planning permission for the development.
"The government showed some real courage when they called in our application," says a relieved Hobday. "In their view, it is of national importance, something whose failure would be catastrophic in economic terms. It would have sent out an appalling signal to the investment world."
And so things stood until Feb. 28 when Swinney announced plans for the resort will go before a full public inquiry -- scheduled for June -- before he makes a decision based on its findings. "Given the nature of the application and the considerable public interest, it is important that the process to examine the issues is as efficient, transparent and inclusive as possible," he said.
Once the inquiry is complete, a report and recommendations will be sent to the Finance Secretary for review before a final decision, which he has promised within 28 days, is made. If approval is granted -- and there is every chance that it will be, given the level of implicit support the government already has revealed -- Hobday says work on the new courses will start "the next day," with the aim of opening for play in late 2010. No word yet on the Open, though.