News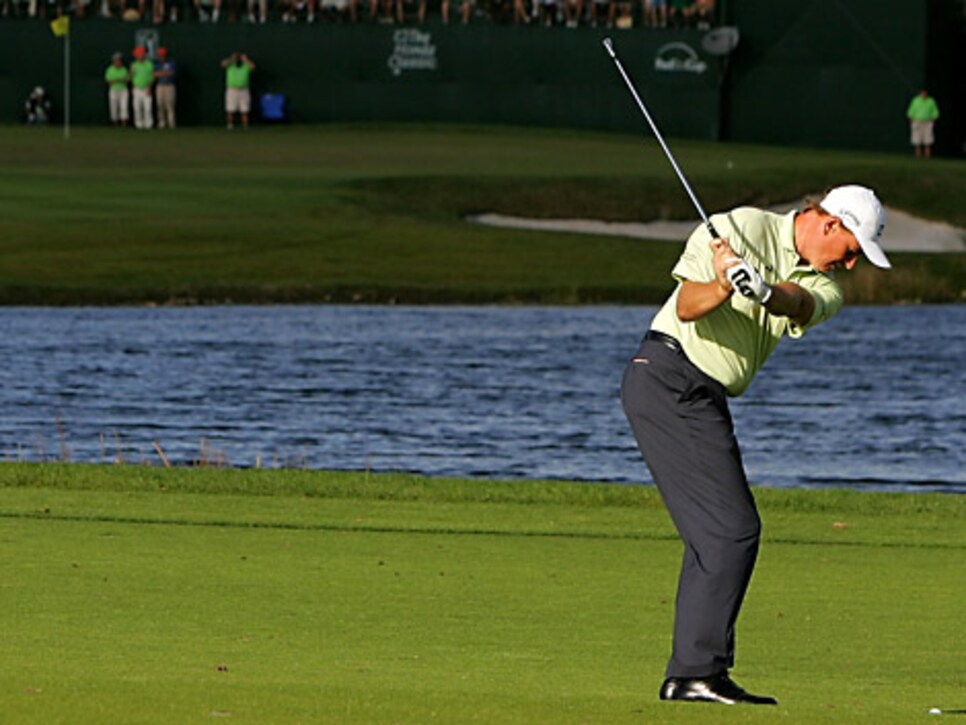 Midway through PGA National's Bear Trap, Els negotiated a par on the par-4 16th.
Easy, Big Easy. Save some of those goose bumps you talked about for later. It was only a little step, but big journeys start with meager beginnings. Maybe it was just the Honda Classic, but you will have to forgive a whole lot of people if it seemed like much more than that, if it seemed like the beginning of a march to a meeting in April.
Ernie Els stepped on the practice ground of PGA National's Champion Course late Sunday morning, found the harsh wind to his liking, went out in four-under-par 31 to overtake the overnight leaders (none of whom happened to be named Woods) who, one by one, finished themselves off on the back nine. It all left Els, so often the victim, with a one-shot victory capable, perhaps, of soothing his savaged psyche.
It is one thing to serve as the stepladder in Tiger Woods' climb to greatness but quite another to have the echoes of Phil Mickelson's first Masters in your ears; to lose a British Open to someone who was rolling his golf ball around Royal Troon with a club from the Home Shopping Network; to have someone named Boo chip in twice to snatch your last, best chance to win in America; to make an 8 on the last hole to throw away a tournament in your native South Africa; to dump it in the water on the 72nd hole in Dubai; and to get trounced 6 and 5 in the first round of the WGC-Accenture Match Play only a week before. The bright light at the end of the tunnel was beginning to look like the afterlife. So maybe, just maybe, that's what the Honda Classic really was -- the beginning of the end of the Big Easy's hardest times.
"Yeah, it has to feel even sweeter, you know, losing so many tournaments and now, actually one going my way," the 38-year-old Els said after nipping Luke Donald by a shot with a six-under 274, his first PGA Tour title since the WGC-American Express in 2004. Els was one of just two players in the field who shot even par or better all four rounds on a course made brutally difficult by an unrelenting wind and soft sand that virtually guaranteed anything that flew in a bunker buried there. "I didn't want to watch on television, you know, what other guys were doing," said Els. "The last time I saw it quite live was when Boo Weekley chipped in twice on 17 and 18 at Hilton Head last year to beat me. So I didn't want to watch this time."
Finishing almost an hour ahead of the final twosome of Donald and Mark Calcavecchia, Els stayed on the practice ground with Dr. Bob Rotella holding a head full of what-ifs at bay. They had worked together once or twice before in the last couple of years, saw each other at the golf course Monday and, by Wednesday, were talking in earnest.
"Last night we went over to Nick Price's house for dinner and had a great evening over there," said Rotella. "[Els] wanted to get back to playing golf the way he can play it, and he did that. The fact that you win is a wonderful bonus. I think he was really happy with the way he felt and the way he thought out there and how relaxed he stayed. He didn't spend the round thinking about winning and not winning. I think that's really what he wanted to accomplish. He did a great job all week of just seeing shots and hitting them. You could see he was in a great state of mind with the speed of the putt on 18 [a birdie putt that lipped out]. He wasn't lollygagging it down and hoping everyone else messes up." Not that they didn't do plenty of that, mind you.
Els began the final round three shots behind a trio of leaders: local hero Calcavecchia, Donald and tour rookie Matt Jones, who has made every cut so far this year and hung around all day despite some erratic driving until a double bogey at the 17th washed him out. With Els going out fast, Calcavecchia made an incredible par-save from an almost completely buried lie in the fairway bunker on the fourth but then knocked balls in the water on the fifth and sixth. Donald bogeyed the fourth with a wedge in his hands and drove into the hazard on the sixth.
But for Donald and Calcavecchia, the worst was yet to come. The young Englishman bogeyed the 12th and 13th holes from the fairway but closed to within a shot of Els (who bogeyed the maniacal 17th from the greenside bunker) when he rolled in a 35-footer for birdie on the 16th. His chip to tie Els from the fringe on the 18th came up just short. The old American crashed and burned when his tee shot on the 15th was blown off a nearly perfect trajectory into the left bunker and his explosion shot rolled into the hazard on the other side of the green.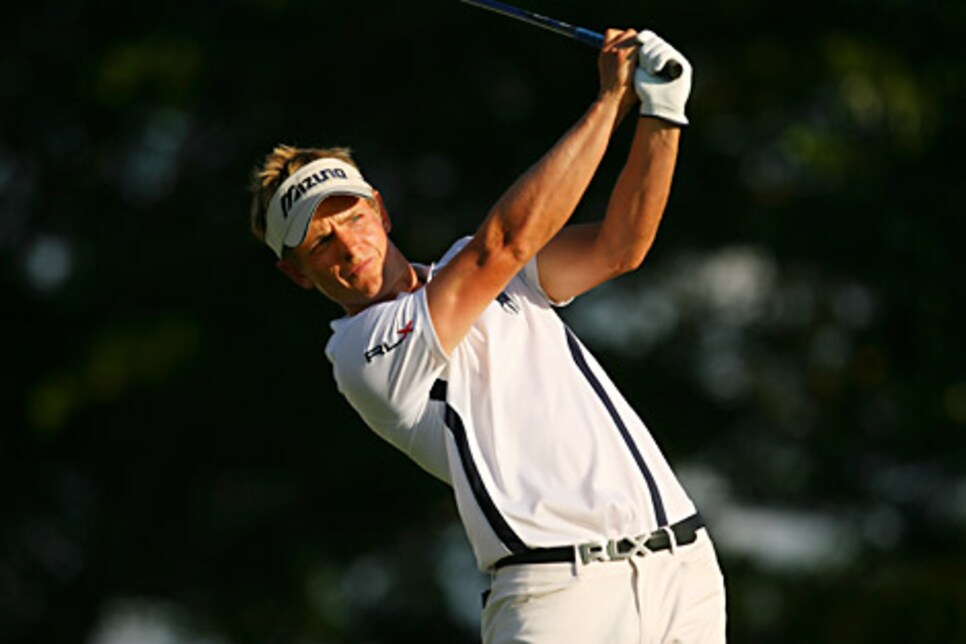 "I threw the bunker shot a little bit further than I wanted to," said the 47-year-old Calcavecchia, "but I thought it was a pretty good bunker shot. The thing didn't grab. Actually, I thought I nipped it pretty good. I certainly never dreamed it was going in the [hazard]. Then it didn't grab, and it just kept rolling and rolling and that was it."
On a week that began with the talking weather head on the local station actually discussing "wind chill" in the Palm Beaches, the Honda Classic got the best news it has had since Jackie Gleason put down his pool cue and picked up a golf club. Since the old Inverrary days, the Honda Classic has been the homeless waif of the Florida swing, sleeping beneath the underpass of any new subdivision that would take it in. With the proposed reshaping of the Florida events next year, fate has finally dealt it a winning hand. The powers that be put Honda and PGA National between two World Golf Championships, the Accenture Match Play in Tucson and the CA at Doral, essentially guaranteeing a stellar international field since few in the match play are likely to jet home from Arizona only to turn around and fly right back to Miami.
The excellent adventures of Donald and Calcavecchia were easily the highlight of the early rounds, too. Donald, whose winter digs are 10 minutes from PGA National and who had in-home entertainment in the form of houseguest Sergio Garcia all week, took the lead the first day with a flawless six-under 64, then gave most of it back on one hole the second day with an 8 on the 465-yard 14th. He drove it into the fairway bunker, then hit a fat, pull hook that hit the cart path and bounced out-of-bounds. He dropped in the bunker and the ball semi-buried, a common occurrence in the soft sand. Voilà, a natural 8.
All Calc did was whiff it on his second hole Saturday, salvage a bogey and finish with a share of the lead. But let him tell it, as only he can. "I pulled my drive in the left rough and there are a few palm trees over there, and I was stymied outside the back of one of them. I couldn't hit it right-handed, and my only two options were left-handed and turning around and whacking it backward," said Calc. "I'm pretty good chipping it left-handed, so I just took a few practice strokes. I only had to hit it from here to the window, five yards, and stone whiffed it. I didn't chunk it or go over the top if it. I just missed it, and it shocked the hell out of me. Then, I hit the next one in about one second. I didn't want to back off and think about it. I panicked and just quick-hit the next one, got it out in the fairway and smashed an 8-iron on the green and made a 10-footer for bogey. I've probably whiffed at least five times in my career, including some chips where you go for the super-flopper in the muff, slide right under it and you're sitting in your divot. I've done that a couple of times. And I've hit myself. I've pretty much done everything imaginable in my career but, you know, whiffs are not good."
Nor are bunker shots that don't stop rolling, though Els, no doubt, will take good fortune where he finds it.