News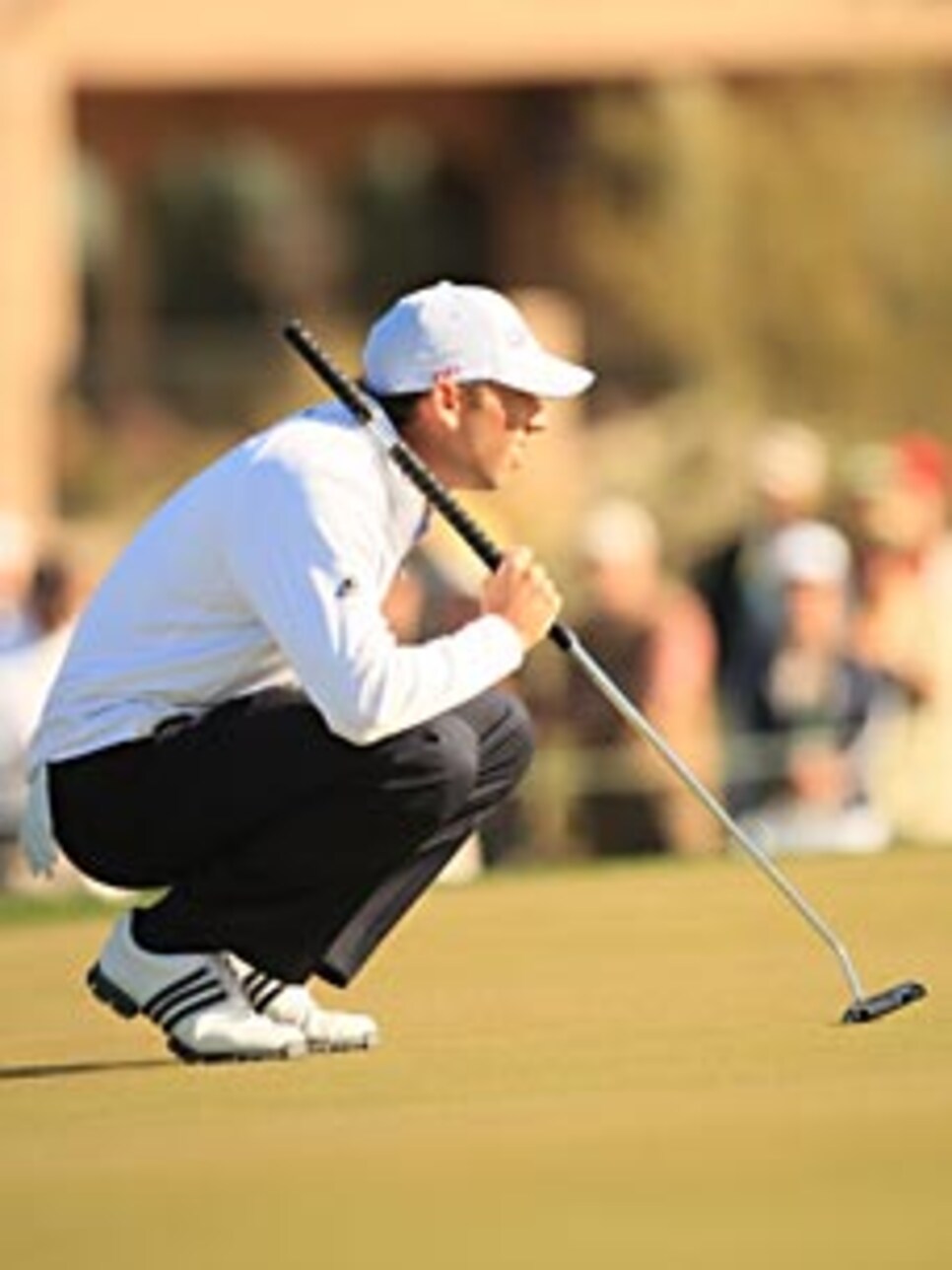 When the match tightened, Garcia went back to his familiar belly putter.
Sergio Garcia had fans and players seeing double last week, employing a pair of putters during the WGC-Accenture Match Play. In his first match, against John Senden, the Spaniard used a conventional-length TaylorMade Rossa Monaco for the first 14 holes, but with the match tight, he used a Rossa Spider belly model on 15 and 16 to close out Senden.
Garcia had just started working with putting guru__Stan Utley__ the day before, hence his split personality on the greens. Uncomfortable going out with a new stroke and putter, he brought the belly along as backup.
"I went with [the shorter putter] for pretty much the whole round," said Garcia, who left his 3-iron behind. "But then I started feeling not quite as comfortable … so I decided to go the safe route the last couple of holes."
Although unusual, double-dipping is not unique on tour. In fact, Mark Calcavecchia also used a conventional-length/belly two-putter approach during the opening round of this year's Mercedes-Benz Championship but did not match Garcia's success. "I'd use my shorter putter for the 30-, 40-, 50-footers," said Calcavecchia, who shot 75. "I wasn't very good with it."
Some players using two putters are less patient than Calcavecchia. At the 2002 Masters, Jesper Parnevik had Callaway and T.P. Mills putters for the final round, intending to use the Callaway club on short putts. But when he missed a five-footer on the first hole, Parnevik switched to the Mills for the comebacker -- and the rest of the round.
Niclas Fasth also suffered some poor results trying a two-pronged approach. Ranked 180th in putting heading into the 2004 Chrysler Championship, Fasth benched his 4-iron and carried a Bettinardi by Ben Hogan mallet and a Callaway prototype blade putter. Unfortunately for Fasth, he missed the cut and had a putting average higher than his season's mark of 1.806.
Duplicating clubs has not been limited to putters. In 2006 Phil Mickelson used a pair of Callaway FT-3 drivers (one draw, one fade) and doubled his pleasure by winning the BellSouth Classic and Masters in back-to-back weeks. But while Mickelson's move was made with winning in mind, Kevin Hayashi's decision to use two drivers at the 2004 Sony Open in Hawaii was strictly mercenary. Hayashi carried a TaylorMade R510 and Callaway ERC Fusion but said he carried the Callaway driver only to collect a tee-up money check.
That wasn't Garcia's motive, but his move did get other players thinking. "I didn't use a 3-iron today," said Paul Casey. "Didn't use a 4-iron, either. There you go. Maybe I should take three putters."
When it comes to wedges, tour players generally prefer muscleback or conventional-looking options, but last week there were 17 golfers at the two PGA Tour events using Cleveland Golf's semi-cavity-back CG 14 wedge. Among those playing the club were Fred Couples and Charles Howell III.
With a pair of top-three finishes in four events, Stewart Cink's 2008 campaign is off to a good start. One reason, says Cink, is some extra yards courtesy of a fitness regimen and Nike's updated One Black golf ball. "I get great ball flight," said Cink. "I'm just way longer than the guys I used to not be longer than. My game has changed because I'm hitting the ball a lot longer." Also worth noting are Cink's square-shaped driver and split set of irons. Ball: Nike One Black. Driver: Nike SQ Sumo² Tour. 3-wood: Nike SQ Sumo, 15 degrees. 5-wood: Nike SQ Sumo, 19 degrees. Irons (3-4): Nike Pro Combo OS; (5-PW): Nike CCi Forged. Wedges: Nike Pro Combo (54 degrees); Nike SV (60 degrees). Putter: Never Compromise Sub30 M3 Long.
It took nearly five years, but Jim Furyk put a Dogleg Right putter back in his bag at the WGC-Accenture Match Play. The putter, a Hog 1003C-S Superline model (right), is a duplicate of the one he used that was ruled non-conforming five days prior to his victory at the 2003 U.S. Open for having a backweight that did not wrap completely around the club. According to Ken McDonald, tour rep for Dogleg Right, Furyk decided to use the putter (yes, it's conforming) after practicing with it for two hours last Tuesday in Tucson.