News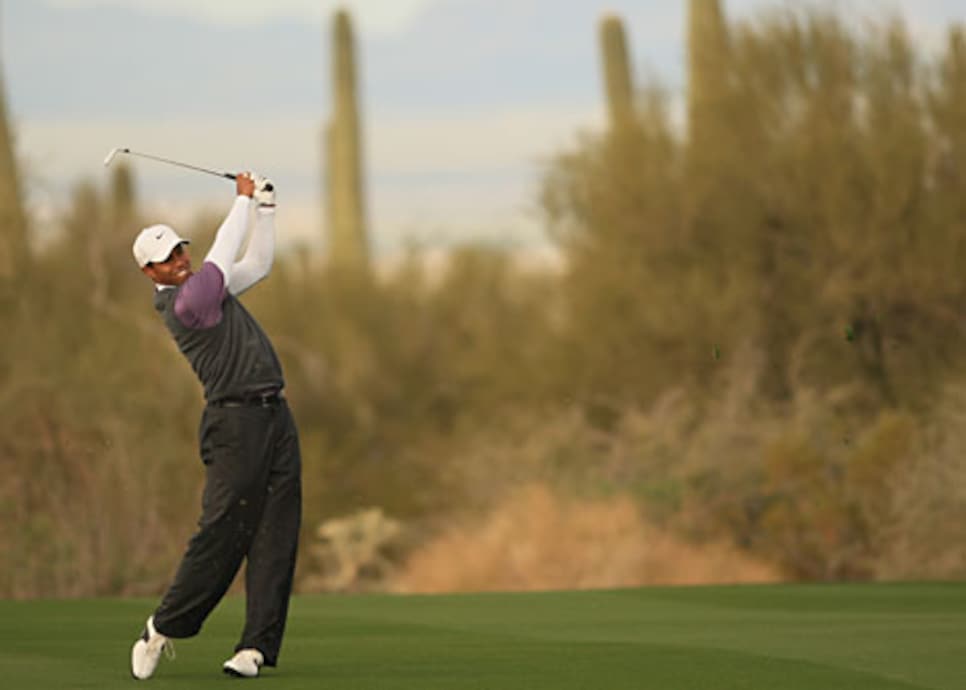 Dominant: Woods has won 15 of 27 WGC events ever played -- only one other golfer has more than one title.
The electronic signs on I-10 notify motorists of a "Special Event" north of Tucson, but details are scarce, and it's not as if traffic is backed up for miles. It could be anything: a celebrity rodeo, a cactus caucus, the Tiger Woods Show. Some events are special because they don't happen very often, others because they occur with such alarming frequency that history is robbed of all mystery.
Twenty miles back toward the city, you'll find something a lot more perplexing than Woods' tyrannous rule of pro golf. All the exits linking the interstate to the downtown area have been closed due to bridge reconstruction, a project that is expected to take several years. Why on God's brown earth do they even need bridges in the middle of the desert?
And why on God's green earth is one player so much better than everyone else? We can talk about the miracle season of 2000, the four consecutive major titles, the six-tournament win streak he carried through the millennium or the seven straight victories of 2006-07. One can easily make the case the best golf of Lord Eldrick's life has transpired over the last six months, with his 8-and-7 battering of Stewart Cink in last Sunday's WGC-Accenture Match Play Championship final serving as only the latest bushel of evidence.
"Maybe we ought to slice him open and see what's inside there," Cink proposed, showing an admirable sense of humor for a guy whose own terrific week ended on the wrong side of such a merciless slaughter. One might expect to find several pints of cold blood during the medical procedure. Tiger's 63rd PGA Tour triumph bumped Arnold Palmer into fifth place on the career victory list and moved Woods to within one win of Ben Hogan, which means he's 19 Ws behind all-time leader Sam Snead. This qualifies as one of those sentences you don't write every day.
Arnie's hearing may not be what it once was, but when Woods gets to Bay Hill in a couple weeks, he'll be walking proud, talking loud and jabbing the King with an oversized needle. "I can't tell you what I might say," Tiger quipped, as if such a conversation is best left off-limits to women and children. "When I see him, I will give him an earful, and I'm sure he will do the same."
To think that Woods might pass the Slammer before his 35th birthday is cause for a breathless pause, but the dude is chewing up hallowed ground like there is no tomorrow. This was his eighth trophy in his last nine starts overall, with six of those eight counting as official on the sprint to Uncle Sammy's house. As underrated statistical milestones go, you can do worse than to note that Tiger's has won 15 of the 27 WGC events since the series began in 1999.
Darren Clarke is the only other player with more than one WGC title, and he has two. The deeper the field, the more likely Woods will greet it with a new and improved inferiority complex.
That said, nothing came easily for him last week, at least until Sunday. If the nine previous editions of this tournament didn't exactly bombard us with everlasting memories, this year's Match Play produced a pair of instant classics. Both involved Woods, whose 3-down rally with five holes to play in the opening round against J.B. Holmes was outrageous entertainment, a call so close that Woods referenced it in his post-victory press conference four days later.
"They told me I played [117] holes this week," he said. "I could have easily played 16 and gone home."
Never mind that he birdied 46 of those 117. None mattered more than the three Woods made at the 14th, 15th and 16th, which got him to all-square with Holmes and primed the fist-pump for the go-ahead eagle at The Gallery's par-5 17th. It's fair to say that Tiger has never been more animated on a Wednesday afternoon, a day that began with him blowing his drive out-of-bounds at the first and ended, in a manner of speaking, with him not missing a putt after the 12th green.
J.B. Holmes, you've been punk'd. "I didn't choke or back down, anything like that," he reflected. "I didn't fall apart like you see some people [who play] him."
Indeed, Holmes hung tough, but he was a pussycat compared to the pit-bull imitation Aaron Baddeley laid on Woods two days later. This was a match loaded with brilliance: Tiger made nine birdies, Baddeley at least as many, depending on whether you give him a 12-footer after Woods conceded the 13th. Badds had all kinds of chances to pull off the Nick O'Hernski and dispose of Hercules down the stretch, but his putter went chilly at the end of regulation and didn't warm up in overtime, which allowed Woods to advance with a 15-footer for birdie on the second extra hole.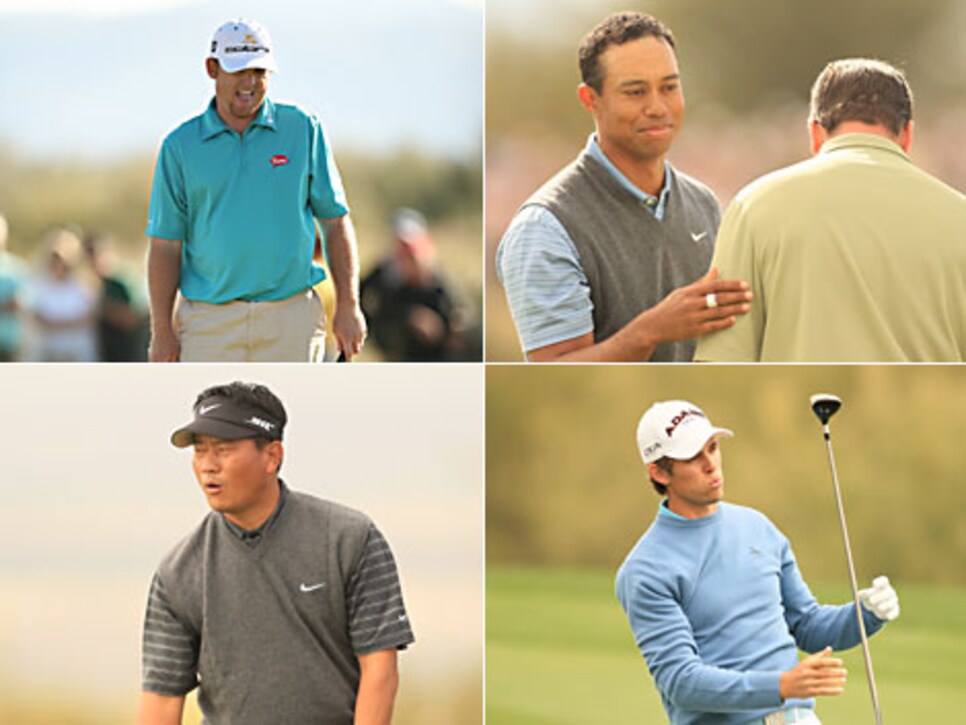 Cink, meanwhile, feasted on European Ryder Cuppers (Miguel Angel Jiménez, Padraig Harrington, Colin Montgomerie), then flung an eight-birdie barrage at U.S. Open champ Angel Cabrera to cruise into the semifinals. He hasn't won a tour event since Firestone in August 2004, and though Cink has deposited more than $9 million in earnings in the 3½ years since, he's not exactly tickled to death about it.
Don't get him wrong. The money's great, but the trophy case is getting awfully lonely. "I use the word all the time -- I consider myself an underachiever," Cink admitted. "I don't believe I've lived up to what I know I'm able to do, and I keep waiting for it to happen. I'm patient, but it has been a long time."
You don't often hear such honest self-appraisals from players of Cink's caliber, but this is a guy who has become resolute in his commitment to career improvement. He is longer than ever off the tee, ranking 26th in driving distance through the West Coast swing, and remains on the shortest of lists among those who make their living with the long putter. Otherwise, Cink wouldn't have overwhelmed surprise foe Justin Leonard with a front-nine 29 Saturday afternoon, setting up the scheduled 36-hole finale against Woods, who was having a much tougher time with defending champ Henrik Stenson.
Talk about pitchers' duels. Although Tiger never trailed in his semifinal bout, Stenson never fell more than 1 down until flubbing his pitch at the 18th and offering Woods a handshake. The deciding blow came when Woods negotiated a difficult greenside bunker shot at the 17th and rolled in the 10-footer for birdie. Afterward, much of his dialogue with the print media focused on his uncanny ability to make putts he really, truly, positively has to make.
This led one scribe to wonder which putt Woods himself considered the biggest he has ever holed. "Eleven years old, Navy golf course," he replied while signing autographs for a small but extremely well-positioned group of kids behind the practice range. "A birdie on 18 to kick my dad's ass for the first time."
He would need no such heroics the following day, claiming this championship for the third time, this one by the largest margin in the Match Play's decade of modest history. Cink was an excellent sport considering the treatment he had been dealt by a guy he has known and competed against since their junior golf days, which makes the runner-up an authority on why Tiger is 2½ handfuls even when he is not performing at his highest level.
"He just has such a strong belief in himself," Cink assessed. "You can tell that [he believes] he's never going to mess up, that he's always in control, and he never loses his composure. He gets mad -- that's not what I'm referring to. He [gets over his anger quickly] and always stays very poised, which is why he doesn't often throw away a shot."
A perfect example of this occurred in his match against Stenson. Woods seemed a lot crabbier than he had the day before against Baddeley, to whom he barely had spoken, transmitting body language that wasn't nearly as positive as it had been in the early rounds. The lanky Swede wasn't just hanging on -- he was outplaying Tiger from tee to green and minimizing his own mistakes, and midway through the back nine, it obviously was either man's ballgame to win.
Woods suddenly kicked into his angry-man mode, berating himself even as iron shots settled 15 feet from the pin. "I tried to get as mad and frustrated as I possibly could to get myself fired up and back into the match," he said afterward. "It helps me refocus on what I have to do because it would have been very easy to let this match slip away. He was playing well. All it takes is one mistake."
With 14 birdies and two bogeys in 29 holes against Cink, Woods was as sharp as he has ever been on any single day. For months, even years, swing coach Hank Haney has been telling anyone who will listen that these six- and seven-tournament winning streaks aren't happening because Tiger is in some surreal groove. The standard, Haney says, has gotten ridiculously high, and in any given round, Woods has gotten so good at figuring out what does and doesn't work that he is basically as unbeatable as his mental energy will allow.
It's scary stuff, perhaps the reason Woods arrived at Torrey Pines for his first event of 2008 and did nothing to dismiss questions about his ability to win the Grand Slam. Maybe he will, maybe he won't, but there's a pretty good chance he will pass Sam Snead before those bridges are finished in downtown Tucson.