News
Jay Weibel was browsing eBay, searching for an Odyssey Marxman putter. Finding one for $118 -- an attractive price, but not so cheap it aroused suspicion -- the 4-handicapper from East Brady, Pa., made a bid and eventually won the auction. When the putter arrived, Weibel noticed that while it looked identical to other Marxman putters he had tried, the insert felt decidedly firmer. After two days comparing the putter with photos of other Marxman putters, he discovered it is not always "better when you win." He had bought a counterfeit.
"I felt sick -- like a punch in the stomach," says Weibel.
The sickness Weibel felt is becoming more prevalent, and there is no cure in sight. Although no hard figures are available for golf-only counterfeits, the International Chamber of Commerce estimates counterfeits account for 6 percent of all goods sold -- a $350 billion business worldwide annually. Golf equipment and apparel is approximately a $4 billion-per-year industry, meaning the sale of counterfeit goods in golf could be as much as $240 million a year. Translation: There's a lot of bogus clubs in the marketplace.
Testifying before the House Committee on Ways and Means in 2005, Myron Brilliant, the U.S. Chamber of Commerce's VP for East Asia, said the problem of counterfeiting in China had "reached epidemic proportions," citing a 47-percent increase in the value of counterfeit goods seized from the prior year. The U.S. Department of Homeland Security estimates that more than 80 percent of all counterfeit goods originate from mainland China.
"Anyone who is doing manufacturing in China has a problem," says Steve Gingrich, vice president of global security for Cleveland Golf. "Counterfeiting is not a victimless crime. The victims are the consumers."
Manufacturers are victims, too. Not only is there the lost sale, but intellectual property and trademarks have, in effect, been stolen. Perhaps worse is damage that can't be measured -- the blow to a manufacturer's reputation. Shafts break, clubheads fly off and swingweights aren't close to being accurate in many instances. A purchase of 52-, 56- and 60-degree wedges might result in all three wedges having the same loft. Other counterfeit golf goods such as bags and apparel aren't safe, either. Zippers break or seams rip. And if the consumer hasn't figured out something is a fake, the company being ripped off in the first place suffers an additional loss.
"All that consumer knows is the product hasn't held up and that our name is on it," says Gingrich. "And not only will they buy from another company next time, but they're likely to tell their friends who will tell their friends. The counterfeiters don't have a quality control department. Those damages cannot be measured."
Although counterfeits lack the performance characteristics of the real thing, the crooks are bringing their "A" game in other areas.
"One of the sobering experiences is seeing just how good these clubs have gotten cosmetically," says Stu Herrington, Callaway Golf's director of security and investigations. "Not in terms of engineering, not in terms of materials or quality or playability, but in terms of just looking at the damn thing. It's much better than five or six years ago. If you put a good counterfeit side-by-side with a legit club, you may be able to tell. But if it's alone on the shelf or a photo on the Internet, you probably won't know."
While the level of cosmetic sophistication has gotten sharper, marketing has gotten smarter, too. Gone is the "too-good-to-be-true" pricing that for years was the hallmark of counterfeits. Now, to reduce suspicion, counterfeit pricing tends to resemble a good deal as opposed to the bargain of a lifetime.
The combination of good looks and attractive pricing is exactly what lured Mike Castellani, a software developer and a 10-handicapper from Bethlehem, Pa. Searching for a Scotty Cameron Studio Design putter on eBay, Castellani spotted an auction for one and then did his homework.
First Castellani looked at photos of the putter and felt the club looked legitimate. The price, $190, was not exactly cheap, although lower than what he could buy the club for elsewhere. Then he looked at the bid history: There were 25 bids, with several different bidders. An experienced eBay buyer, Castellani felt that was a good sign as some auctions inflate the price by having one person continue to bid time and again. Finally, he looked at the seller feedback, which was virtually all positive.
"It looked like a legit auction," he says.
Making a last-minute bid, Castellani won the auction. But the enjoyment of his "victory" was short-lived. Within five minutes he received an e-mail from an eBay user telling him he had bought a fake. A day later, Lisa Rogan, trademark manager for Acushnet, which owns the Cameron name, e-mailed Castellani and informed him the seller had come under suspicion as a dealer of counterfeit products.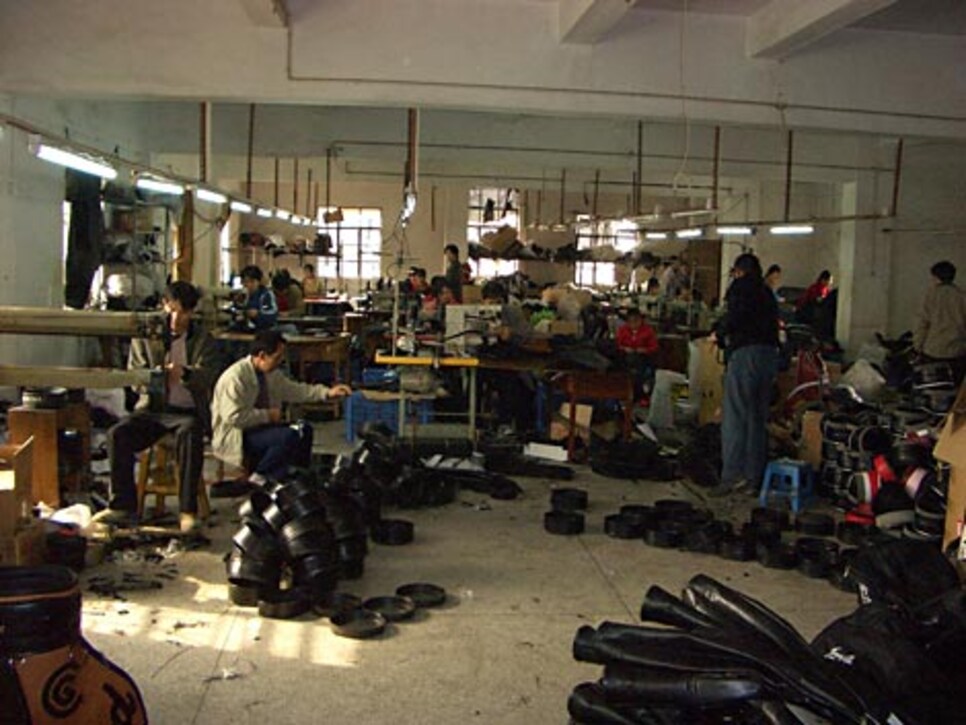 "I was pretty ticked off," Castellani says. "I contacted the seller right away, and he refunded my money and even gave me a $20 credit on the shipping. But when I put negative feedback on his profile, he put negative feedback on me as a buyer. It was a month-long runaround to try and fix that."
Rogan sympathizes with Castellani. "I monitor website auctions every single day," says Rogan, who estimates she has shut down more than 8,000 eBay auctions. "If I see a high-volume seller, I open an investigation. We have a reporting tool on our website that gets hits every single day -- up to 10 a day -- from people reporting this kind of activity." Counterfeits also keep Herrington, a former colonel in the U.S. Army who worked in the counter-intelligence department, busy as well. "Counterfeit issues cross my desk 25 times a day," he says of what has become, for him, a bit of a "Groundhog Day" scenario. "It's coffee and counterfeits for me. I begin my day with counterfeits and end it with counterfeits."
Technology not only has made it easier for counterfeiters to sell their wares, but also has made the fight against fakes tougher. When the bulk of golf-club manufacturing transferred to China in the mid-1990s, an infrastructure of people who suddenly knew how to engineer golf equipment with three-dimensional scanners and CAD (computer-assisted design) machines emerged. As pirate foundries blossomed, they simply employed engineers who previously worked at legitimate operations.
"It's a highly skilled labor force," says Herrington. "We saw counterfeiters in a videotape bragging to undercover U.S. Customs officers that from the day they got a clubhead until the time they could begin full production was one week. Anyone who underestimates the ability of the Chinese to make good-looking fakes and make them fast and at a reasonable cost is a fool."
At a typical counterfeit operation in China, it is not unusual to see young women sifting through castings while other individuals constantly work on grinding wheels, moving through the heads at a rapid rate. Another floor might contain those doing the cosmetic work, including paint filling, shaft painting and packaging. According to Golf Digest, the typical worker has five years experience and makes about $250 a month -- a better wage than at a legitimate foundry. The owners of such shops, some a front for organized crime, others no more than a mom-and-pop operation, can make upwards of $750 a week selling the counterfeits -- a much better life than grinding the toe and heel of the latest batch of 100-to-a-tray sand wedges for 10 hours a day. Although it would be easy to label China as an ever-expanding pit of deceit where no good brand is safe, the sad fact is counterfeiting offers a better way of life for those involved -- especially when the threat of being caught or prosecuted is minimal.
In an effort to stem the supply of phony golf products, the Golf Manufacturers Anti-Counterfeiting Working Group -- consisting of Acushnet, Callaway, Cleveland, Nike, Ping and TaylorMade -- was established in 2004. That golf's largest companies and fiercest competitors would come together speaks to the industry-wide dilemma. According to Rob Duncanson, moderator for the coalition, the group was formed to petition governmental authorities in the U.S., China and other countries jointly to enforce laws against counterfeiting of golf products. Some headway has been made, including several raids and criminal prosecutions, but it is a case of winning some battles while the war still is being lost.
"You cannot raid yourself out of this problem," Herrington contends. "Attacking the supply side is necessary, but you have to control the demand and educate the public. Without that, you can't win the fight. Unfortunately, the more effort we put into it, the bigger the beast seems to get."
Part of the reason is enforcement is highly dependent on the cooperation of the Chinese, and some of the law-enforcement agencies in China are corrupt. "There have been instances when we have done raids, and there is absolutely nothing in the building because they have been tipped off," says Rogan. That said, the Chinese government has taken small steps in recent years, acting in concert with U.S. officials to produce a number of arrests, although some in the industry feel the Chinese government is only making a token effort to quiet critics.
Challenges also abound domestically. Customs can't possibly inspect all goods coming into the U.S. (Rogan says U.S. Customs inspects from 4 to 7 percent of all import packages). And when it comes to counterfeiting, the primary concern is fake goods with health and safety implications such as baby food and pharmaceuticals.
Law enforcement also is reluctant to devote resources. "Most law enforcement thinks it is a U.S. Customs issue and not a law-enforcement issue," says Gingrich. "It's a challenge to convince them it is a serious crime."
One place where progress has been made is China's legitimate foundries. Workers in Fu Sheng's 1.8-million square-foot facility in Zhongshan, for example, must go through metal detectors any time they leave the factory. At Sino Golf Manufacturing, where hundreds of putter heads are milled every day, reinforced screens prevent heads from being tossed out the window to a waiting accomplice -- a practice that as recently as 10 years ago was commonplace at some foundries.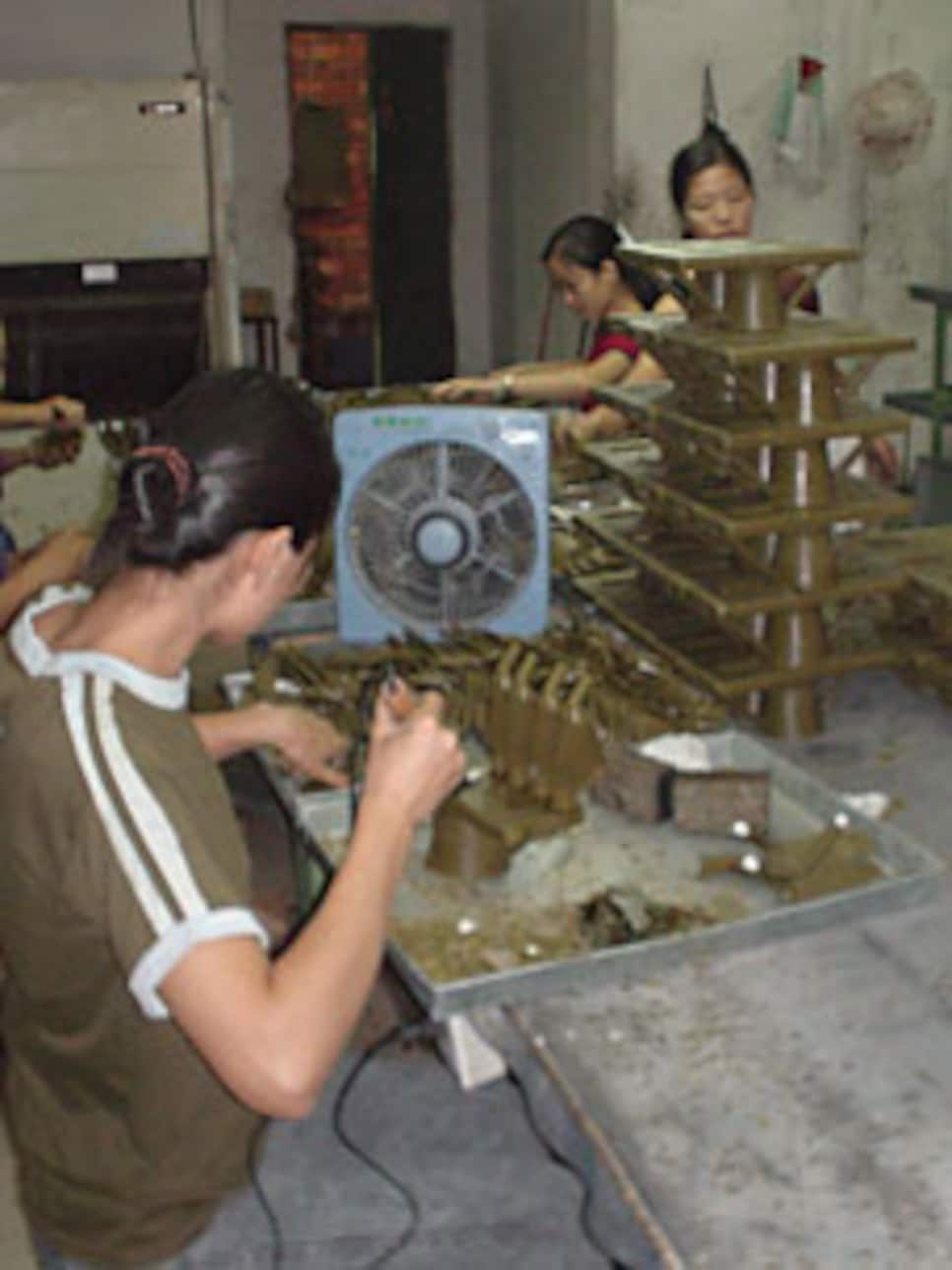 Although foundries no longer enable counterfeiting as they used to, the explosion of the Internet and sites such as eBay and Overstock.com has made it easier for counterfeiters to unload their products, providing a worldwide marketplace consisting primarily of consumers who are seeking a deal and are willing to buy on looks and faith. "Ninety percent of counterfeits bought in the U.S. are over the Internet," says Gingrich. "When you buy on the Internet, you're gambling."
Ricky Ishii took that gamble and lost. A 13-handicapper who lives in Denver, Ishii found Titleist Pro V1 golf balls on Overstock.com for $33 a dozen, placed an order and quickly found out that seeking a bargain sometimes results in getting less than you paid for -- far less.
"I opened the box and immediately said to myself, 'Oh my God, I got taken,' " says Ishii. "The hologram on the box didn't shine, and the balls looked like the old Spalding Dot with the shallow dimples and a big seam around it." Ishii, who received a refund after lodging a complaint, sent the spurious spheres to Titleist where it was confirmed the balls were indeed not only fake, but had covers about 10 times thicker than a real Pro V1. "They were nothing more than glorified range balls," says Rogan.
Not all Internet sites are counterfeit havens. 3balls.com, one of the Web's largest sellers of golf equipment, screens the clubs it takes in trade. The site's founder, Leigh Bader, says returns due to suspicion of counterfeiting are "statistically insignificant."
In China, brick-and-mortar shops that sell counterfeits are prevalent, but that is the exception in the United States. The odds of bogus clubs available for purchase rises significantly at stores specializing in liquidations or clearances.
Partly because counterfeiting has become so prevalent, Gingrich feels things will eventually get better. "At least in the U.S., the dollars that are involved have gotten the attention of senators and congressmen," he says. "And that is a vehicle we need to get more enforcement involved. The days of looking the other way and winking are lessening. Counterfeiting will never disappear, but it will be less."
In an activity filled with lies and deceit, that would be a welcomed truth.
Which Is The Fake And How To Tell?
Manufacturers face a constant dilemma: They want to let consumers know what to look for so they don't get ripped off, but in an effort to catch counterfeiters, they don't want to tip how they spot a fake. Although manufacturers contacted for this article would not reveal many visual means of detecting counterfeits, they did provide other advice that may prevent you from becoming a victim.
• If a club lacks a serial number, there is a good chance it could be fake. But if it does have a serial number, do not assume it is legitimate. Some counterfeiters simply copy serial numbers from legitimate products and put them on the bogus clubs.
• Look for the egregious error. There have been instances where counterfeiters have misspelled a word. Although rare, it is a dead giveaway.
• Beware brand-new clubs for sale on an Internet auction site. While some stories of "just won in a raffle" or "got as a gift" are true, some aren't.
• If you are buying an entire set of clubs, including bag and travel bag -- at anything resembling a good deal -- the probability is fairly high the products are counterfeits.
• If the club you are evaluating claims to be titanium and a magnet clings to it, it is a fake. Magnets will not cling to titanium.
• If the club purports to have a graphite crown, tap a quarter on the top of the head. Counterfeiters are known to substitute metal and paint it to resemble graphite. A fake clubhead will ring louder (somewhat like a bell) than the real thing. This method is how we determined the FT-i on the left in the above photo was a counterfeit.
• Finally, if you suspect a product might be counterfeit, contact the manufacturer whose name appears on the club. Although they are not responsible for the product, they will tell you if it is a fake -- and if it is, likely will be able to shut down the seller.
In short, you'll be doing everyone a favor.