News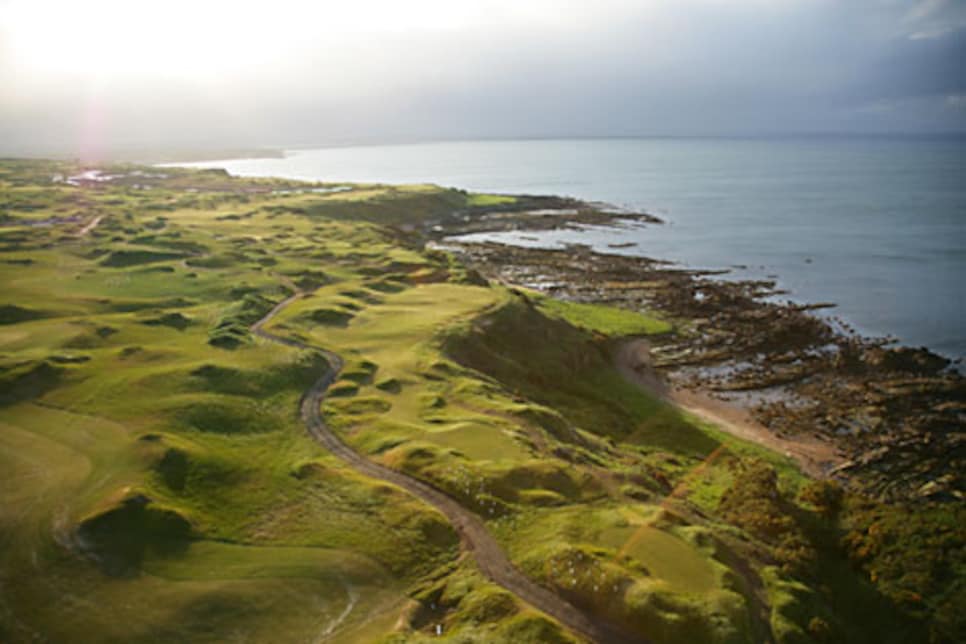 The latest fashion in golf design is rumpled, crumpled and frayed around the edges. The hottest courses look old and weathered, even though they are brand new.
With these courses, the assumption is Mother Nature provided some terrific topography that finally is being discovered for golf. Truth is, imaginative architects created most of these distressed-look courses on otherwise lackluster sites. To add character to each place, they dug down, piled up and then routed golf holes through the tumult, leaving the jagged peaks and steep slopes intact. They refused to smooth the rough edges, giving us not silk purses, but alligator bags.
It is called dirt-pile design -- and that is meant as a compliment. Jack Nicklaus practiced a bit of it in the 1980s, and Robert von Hagge a lot of it, both framing fairways with pointy dunes meant to evoke the English seaside of Birkdale, Lytham or St. Georges. In the 1990s Mike Strantz was even bolder, using the Irish alps of Ballybunion as his template, but it took Pete Dye to push the style fully to another dimension. At Whistling Straits in Wisconsin, Dye took a flat, abandoned Army air base overlooking Lake Michigan and conjured up grand canyons and towering mountains to set the benchmark by which all dirt-pile designs are now measured. Chambers Bay (Laudable Audible, Feb. 15) near Tacoma, Wash., recently underscored the concept's potential when it was selected to host the 2010 U.S. Amateur and 2015 U.S. Open.
Two new courses that certainly measure up are reclamation projects on opposite sides of the Atlantic. One is public, with the alluring address of St. Andrews, Scotland. The other is private, with a less appealing address of Bayonne, N.J. Both are monuments to mound building, magic kingdoms pulled out of molehills.
The Castle Course at St. Andrews
Six years ago the most sought-after design contract was the proposed seventh course for the St. Andrews Links Trust. So what if the land was a potato field surrounding a water treatment plant? It was St. Andrews, the home of golf!
Actually, the 220-acre location had some merit. A clifftopper 80 feet above the surf of the North Sea, it overlooks the Auld Grey Toon less than a mile to the northwest. (The other six courses of the Links Trust are barely visible, at the far end of town.)
David McLay Kidd, a native Scot whose breakthrough design was the original course at Oregon's Bandon Dunes in 1997, got the contract. Privately, the Links Trust was hoping Kidd, on the limited budget it was giving him, would produce something akin to its Eden Course, a 1914 H.S. Colt design on the flank of the famed Old Course. At worst, the Trust would settle for another Strathtyrum, the short, bland, nearly featureless Donald Steel design that opened in 1993.
What they got (after Kidd negotiated an increased construction budget) was a souped-up version of Kingsbarns, the remarkable dirt-pile design six miles down the coast unveiled in 1999 by Americans Kyle Phillips and Mark Parsinen. Kidd now admits Kingsbarns was the inspiration and role model for him and his team. If they couldn't outdo that competition, they would know they had failed.
Kidd left no earth unchurned at the Castle Course and retained just one tree, a sycamore on the first hole. The fairways contain constant humps, bumps, mounds and moguls, its greens are radical in their slopes and its turf throughout is 80 percent fescue, 20 percent bent. Its rugged perimeter dirt-pile topography consists mainly of flattop buttes and asymmetrical mounds, positioned to leave the artful impression they were deposited and shaped by howling winds. (Such dunes now block views of the unsightly treatment plant between the second and eighth holes.) The bunkers are deep and ragged, truly nasty looking.
The course is one of obscure targets, unpredictable bounces and exhilarating challenge. Its finish is nothing short of spectacular, the par-3 17th and par-5 18th hugging seaside cliffs on the right, a double dose of the thrills found on the eighth at Pebble Beach. In St. Andrews fashion, the 18th green is a double green, shared by the par-4 ninth.
The Castle Course (named in a contest by Edwin Burtnett of Tampa, Fla., for Kinkell Castle, which stood in the spot back in the Middle Ages) is scheduled for a formal opening in June when the clubhouse is finished. Its high-season green fee is just £10 shy of the Old Course's £130 tab, but it will be worth it. Like the Old Course, it is a mandatory walk, and it is wise to take a caddie.
In the meantime golfers can get a fascinating behind-the-scenes account of the creation of the course in Scott Gummer's The Seventh at St. Andrews: How Scotsman David McLay Kidd and his Ragtag Band Built the First New Course on Golf's Holy Soil in Nearly a Century. All the book lacks is a pop-up page that would show the Castle Course in all its ragged, jagged glorious relief.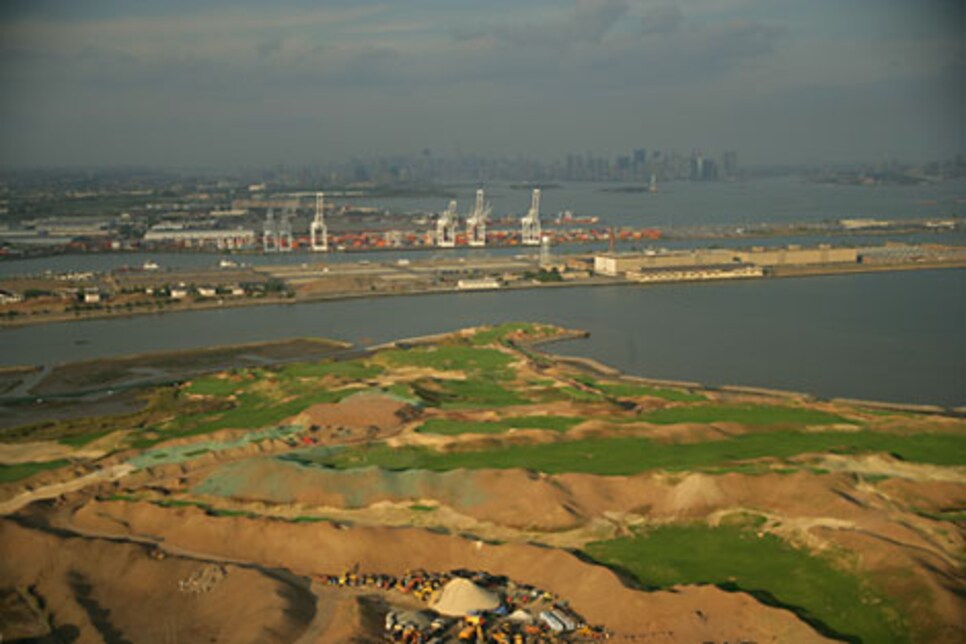 While the Castle Course offers unrivaled views of the Auld Grey Toon, Bayonne GC offers even more, the Great White Way. Bayonne is located on the New Jersey shoreline of New York Harbor (the south end of the Hudson River). Its panorama starts with the skyline of New York City, takes in the Statue of Liberty and Governor's Island, Brooklyn to the east and the Verrazano-Narrows Bridge to the south. Of course, it also takes in docks, warehouses, industrial cranes and cylindrical oil storage tanks.
But on most spots, golfers are elevated well above the harbor hubbub, 50 feet or more above sea level, and screened from it by towering hillsides.
It wasn't like this in the beginning. Eleven years ago New Yorker Eric Bergstol took a gamble on a flat, lifeless 150-acre landfill in a rundown part of town. Bergstol, a commercial real-estate developer who branched into course ownership in the late 1980s, prepared his own design for Bayonne GC. He knew that both the New York and New Jersey harbors were being dredged to accommodate supertankers, and operators needed some place to deposit all the sludge. He offered his land, right on the water's edge, for a price, something less than a dollar per cubic yard of fill. He figured they would deposit enough that he could build some elevated tees and greens. He got that and a lot more. Five years later, 7.5 million cubic yards of fill had been dumped onto the site. As the fill arrived, Bergstol periodically had it shifted around to create imitation sand hills, striving to make it look natural. During the process, Bergstol said, "I had to ask myself: 'How would nature have done this?' "
The fill was wet, soupy sludge that had to be mixed with dry concrete in order to spread and shape it. Workers spent two years shaping the material into dunes, tees, fairways and greens, then capped the muck with two feet of topsoil and nearly a foot of sand. To avoid messing with 20 acres of wetlands, Bergstol fit his 18 holes on just 128 acres, yet managed a 7,106-yard, par-71 course by stairstepping a few fairways into his manufactured hillsides. Thirteen holes skirt the harbor, with the 486-yard, par-4 16th playing down to a peninsula green poking out into the harbor.
Today the dunes are covered with tall, wispy grasses, as well as Scotch broom, yellow broom, blackberry vines and juniper bushes. The fairways are a mix of fescue and Colonial bent; the greens, generous in size with some abrupt drop-offs, are old-school Velvet bent. There are some stacked-sod bunkers, à la St. Andrews, and an enormous "Hell's Half Acre" cross bunker, à la Pine Valley, on the par-5 fourth. Most bunkers are sprawling sand pits, built as though the wind had created them.
Bayonne was intended to be a public course -- until costs began approaching $100 million. It is now an exclusive private club, its $200,000 initiation fee catering to Wall Street executives, who can reach the course from Battery Park on the club's water taxi or from a rooftop via helicopter, in a matter of minutes.
The clubhouse, a white shingle-style New Englander with an 80-foot-tall lighthouse, sits on the highest point, 92 feet above sea level. From there Bergstol can look down at his remarkable creation, a hunk of Ireland wedged into the Jersey waterfront, with the knowledge that he provides something Doonbeg, Lahinch and Ballybunion cannot: links holes that actually intersect with the water.
Bayonne's closest competition for members is Liberty National GC, nine miles north, with a new Bob Cupp-Tom Kite design that turned a similarly blighted landfill into a gently rolling, tree-lined parkland that, unlike Bayonne, allows carts. It also boasts a steeper initiation fee, a closer view of the backside of Miss Liberty and is slated to host a PGA Tour event in 2009. Both ranked in theTop 10 of Golf Digest's "America's Best New Courses of 2007." Bayonne finished fifth, Liberty National seventh in the private category.
Other Notable Super 'Shapes'
Future sight of a U.S. Amateur and a U.S. Open.
Farmland shaped into a grand amphitheater. With both front-row fairways as well as some atop a 75-foot balcony, over half the holes appear to hang just above the crashing surf of the North Sea. Rumpled fairways and gnarly dunes complete the illusion.
While Dye was doing Whistling Straits, across the lake, Rick Smith -- better known for his instruction -- and then-associate Warren Henderson came up with a similar motif on the equally dramatic Arcadia Bluffs.
Like Chambers Bay, another gravel pit transformed. Architect Doug Carrick calls it the most massive undertaking ever done in Canada. 1.4 million cubic yards of material was deposited from offsite, then shoved around to form haphazard hillocks. Stacked sod bunkers add another links touch.
Egg Harbor Township, N.J.
In the fashion of Royal Birkdale, with 2 million cubic yards of dune framing basically flat fairways and gentle greens. Looks more intimidating than it really is. Bergstol's company manages this course.
Giant eucalyptus trees frame half the holes, the remainder are edged by mini-mountains meant to emulate windswept sand dunes. First design by veteran tour pro Steve Pate with new design partner Damian Pascuzzo.
Kiawah Island Club (Cassique Cse.)
Tom Watson's ode to Turnberry, particularly its front nine in Scottish dunes-like topography. Presently 98th among Golf Digest's ranking of America's 100 Greatest Golf Courses.