News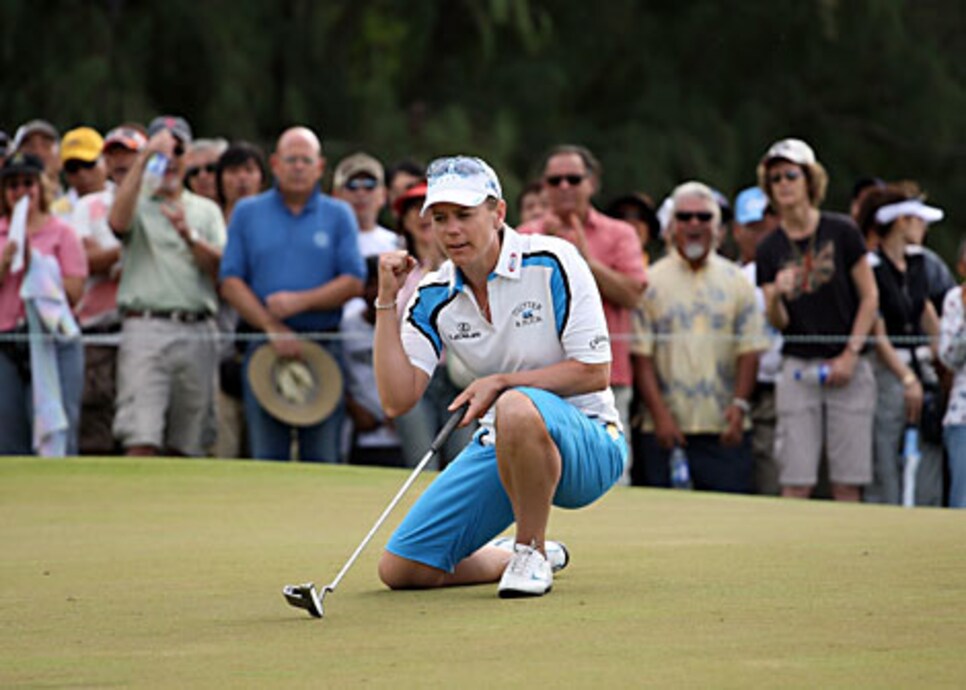 That does it: Sorenstam put the win on ice with a 24-foot birdie putt on the 17th hole Saturday.
Any questions? Well, OK, one: Did she pull the shot? Maybe, maybe not. Doesn't really matter. The point is when Annika Sorenstam needed to, she executed. And when she needed the big putt, she made it. Just like that, a disappointing, injury-plagued 2007 moved farther away in her rear-view mirror and the high beams illuminated the season ahead as Sorenstam birdied the 16th and 17th holes Saturday and closed with a perfectly executed par to win the SBS Open at Turtle Bay in Kahuku, Hawaii. It was her first LPGA triumph since September 2006, and the 70th of her career.
There probably is one other question: Can Sorenstam catch Lorena Ochoa as the No. 1 player in the Rolex Rankings? What seems, in the short run, to be a mathematical impossibility became a much more intriguing query when Sorenstam's play reminded everyone how her career has made a mockery of numbers. Just like that, the win in Hawaii moved Sorenstam from fourth to second in the Rolex Rankings.
Sorenstam, healthy for the first time since mid-2006 when a ruptured disk in her neck (diagnosed last April) started hurting, has her power back and is striking the ball with a crispness not seen since she won 10 times in 2005 and completed a five-year stretch in which she captured 43 of 104 LPGA events. Her ball-striking improved with each round over the Turtle Bay Resort's Palmer course as she finished at 10-under 206, two strokes ahead of Laura Diaz, Jane Park and Russy Gulyanamitta. Saturday was vintage Sorenstam as she hit every fairway and missed just one green -- by two yards -- and averaged 266.5 yards with her drives. Most impressively, she gave a clinic on how to close out a tournament. It's an act familiar to anyone who has tried to beat her.
Standing in the 16th fairway locked in a tense duel with a half-dozen players -- none of whom gave any indication of folding -- Sorenstam attacked a back-left pin cut dangerously close to the water on a crusty, slick green and knocked a sand wedge to four feet, then converted the birdie putt. Was she going after the pin or did she pull it a couple of yards? "The shot I hit in on 16 was good," she said. "You just can't help but fire at the pin," her caddie, Terry McNamara, said with an impish grin. "She pushed it -- two inches," added her fiancee, Mike McGee. "It should have gone in."
Sorenstam put the tournament away on the next hole with a 24-foot birdie putt she seemingly willed in, sinking to one knee, with a low fist pump as the ball approached the cup. "It was one of those putts I'm going to remember for a long time," she said. "It was just good golf the last six or seven holes. I was never really in trouble." Although caught several times by several challengers, Sorenstam never trailed Saturday as she won for the 47th time in 70 tries with at least a share of the lead going into the final round.
Actually, it was Sorenstam's second win in a row. After being shut out last year in LPGA events for the first time since 1994, she won a Ladies European Tour event in Dubai in December. This week she will play the Fields Open, also in Hawaii, followed by the HSBC Champions in Singapore -- where Ochoa will make her season debut -- then the Safeway International outside Phoenix before the Kraft Nabisco Championship, the first major of the year. It shows how motivated Sorenstam is that she will play four events before the Kraft Nabisco, which in recent years she has entered after having played only a tournament or two.
"We all have talked so much about '07, I think it's time to talk about '08," she said. "My clubs did the talking this particular week. There are some tournaments that mean a little bit more, and they come at a special time. I would say this is one of them. I really want to put '07 behind and say, 'Hey, I'm a contender, and I intend to be that all year.' "
It was the first time she had at least a share of the lead going into the final round since the Samsung World Championship in October 2006, which she lost to Ochoa, and she won for the first time since the 2006 State Farm Classic, ending a run of 18 events without a victory, her longest drought since 1994.
Sorenstam started the final round tied with Erica Blasberg at seven under par, one stroke ahead of Japanese rookie Momoko Ueda, who completed their threesome. Diaz, Jane Park and Cristie Kerr were also six under par. Blasberg, who has never been in a situation anywhere near this stressful in her three-year professional career, closed with a respectable 74. Ueda, only 21, hung tough with a 71, while Diaz and Park, also 21, both posted 70. Kerr carded a 73.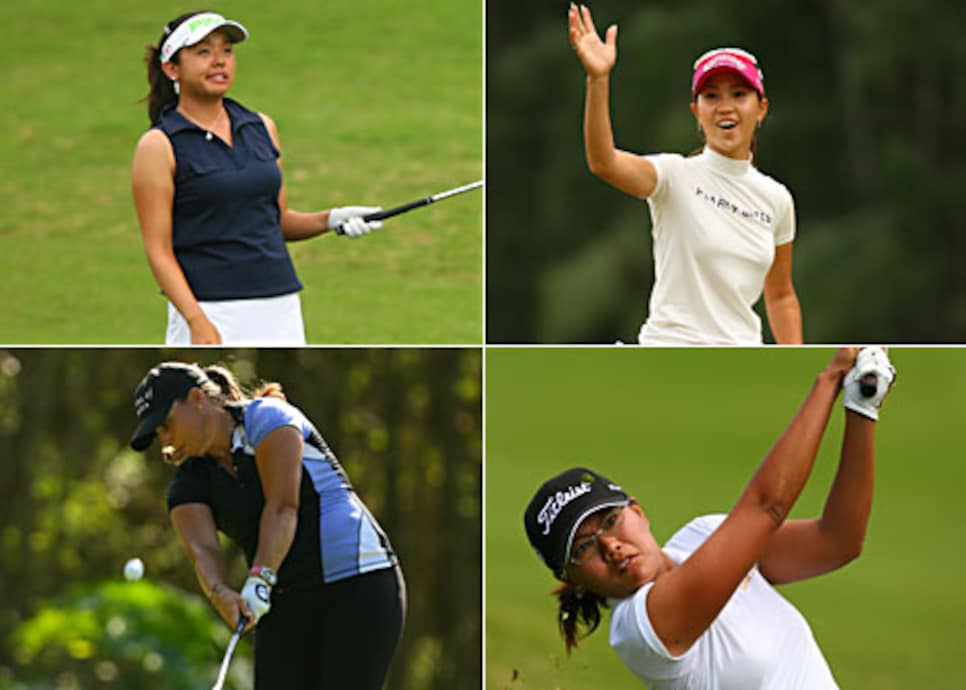 Gulyanamitta, a 31-year-old Thai who lost her card in 2004 and regained it in December at Q school, moved into T-2 with a 68, and 19-year-old Angela Park's 69 tied her with Ueda for fifth despite a two-stroke slow-play penalty on the 10th hole Saturday (see page TK). But Sorenstam's closing 69 was bettered by only one player (Gulyanamitta) among the top 42 going into the final round.
Jane Park, playing in the group in front of Sorenstam, moved into a tie for the lead at eight under when she rolled in an 80-foot putt for birdie on No. 15, triggering a roar that got Sorenstam's attention as she stood on the 14th green. But that was to be Park's last birdie of the day.
Ueda briefly moved into a tie for the lead at eight under when she made a 35-foot snake on No. 16, but then watched as Sorenstam slammed home a four-footer to get to nine under. "I learned many things today from Annika," Ueda said through an interpreter. "She showed me how to hit the big shots, how to make the big putts and how to finish a round."
Doubt about the outcome was ended when Sorenstam birdied No. 17, allowing her to play a fairway wood, an iron and a wedge into the par-5 18th where her tap-in par prompted two clenched fists thrust into the air and a long, tearful hug with McGee. She trails only Kathy Whitworth (88) and Mickey Wright (82) on the all-time LPGA victory list.
"Annika played incredible," said Diaz. "[But] I'm not chasing Annika or any other players, just battling it in my head more than anything."
Sorenstam celebrated the new season with 10 pull-ups Tuesday, the first time she has been able to do that many since last April. "She played last year with one arm," McNamara said, referring to the numbness the Swede experienced in her right arm from the ruptured disk. But for a short missed putt on No. 2 and a too-cute chip on No. 17 that rolled back to her feet and led to a double bogey, Sorenstam's opening-round 70 would have been more impressive.
Kelli Kuehne, the former two-time U.S. Women's Amateur champ who had to go back to Q school last year to regain her card, was the first-round leader with a 67, one stroke clear of Jacqueline Yang, who used to be Young-A Yang but apparently is not forever young. Kerr, the reigning U.S. Women's Open champion, was among seven who shot 69 while Paula Creamer joined Sorenstam among 13 players at 70.
Blasberg, whose best finish in 52 LPGA events was T-18, backed up her opening-round 69 with a 68 to move even with Sorenstam at seven-under 137 going into the final round. Ueda gained the final group with a second-round 67. The biggest move Friday was from Angela Park, the 2007 rookie of the year, whose 65 was the tournament's best by two strokes.
The true key moment may have come Friday when Sorenstam walked off the fourth green after making a double bogey -- her second in a six-hole stretch over two rounds -- and said to McNamara, "I'm mad as a hornet. I'm hitting it too good to let this happen." Beginning at No. 9 she birdied six of the final 10 holes for a 67 -- including a 31 on the back nine. She made only one other bogey after that double, a three-putt on No. 11 in the final round.
Or perhaps the real key moment came later Friday, after her post-round practice, when she and McGee went for a walk on the beach. "I've found a real balance between my personal life and my professional life," Sorenstam says. "Last year, the desire wasn't there, and my swing was definitely not there. Now it is."
Back home in Orlando waits a shirt with a 70 on it her sister Charlotta had made and a bottle of wine a friend discovered that has 70 on the label. "I'm ready to collect it now," Annika says. The wait was a lot longer than anyone could have imagined, and it's tantalizing to imagine what the future holds.
"I'm not sure if it is possible," Sorenstam said, assessing the difficulties catching Ochoa, who has become so consistent she earns Rolex Rankings points virtually every time she tees it up. "I just need to focus on what I can do and that's play good golf," she said, sounding very much like a once and future queen.