News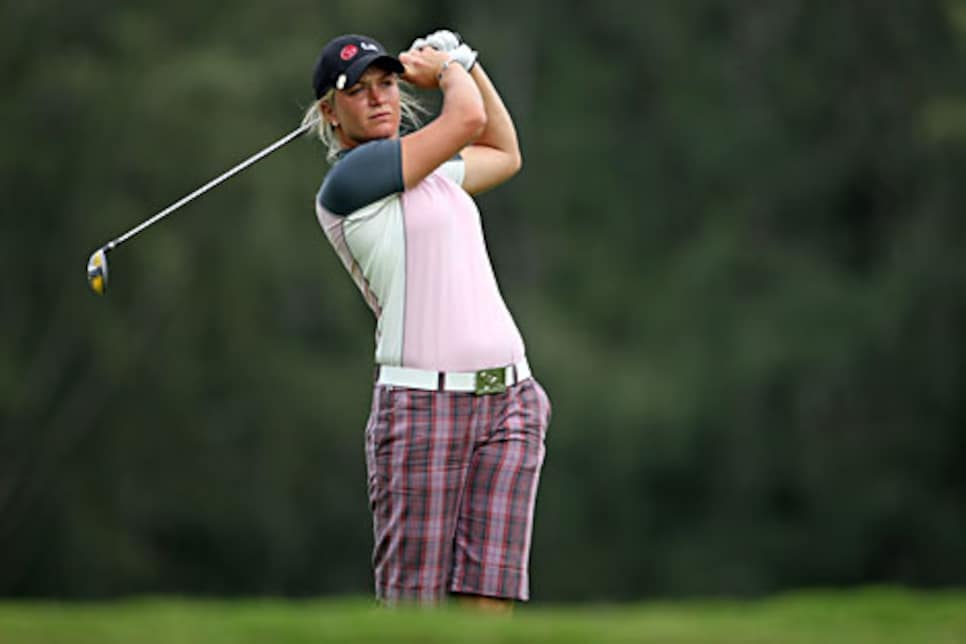 Pettersen is adapting to ball-flight changes with her new equipment.
The LPGA season kicked off last week at the SBS Open in Hawaii. And since most of the women hadn't played competitive golf for nearly three months, it certainly wasn't surprising to see some with different equipment in their bags since the last time they teed it up.
What was surprising was just how many had made a change.
Of the 139 players in the field, more than 100 had at least a minor switch. Part of the reason is that unlike the PGA Tour, where nearly every player has an equipment contract of some kind, LPGA players have fewer deals in place. Although that equates to fewer dollars in the bank, it also means more freedom to experiment with their clubs.
It also gives some little-known companies a chance to get their clubs in play. Wendy Doolan, for example, used a 3-wood from Stulz Golf -- a company better known for making shafts than clubs. And__Patricia Meunier-Lebouc__ teed off with a driver from Krank Golf -- a company that produced the driver former NBA star Rick Barry used to win the Grand Champion Division of the World Long Drive Championships in 2007. Becky Iverson took to the greens wielding a Frankly Frog putter, the brainchild of former USGA technical director Frank Thomas.
Changes in iron sets also were plentiful, with Kelli Kuehne and Brittany Lang using Adams Golf's new Idea Pro Gold clubs and Ping staffers Dorothy Delasin and Pat Hurst putting Ping's i10 irons in play. Erica Blasberg, meanwhile, got off to a good start after adding a set of Cleveland's CG Red irons, finishing a career-best T-8 in Hawaii.
Not all changes were minor. Some competitors completely overhauled their sets. The latter group included__Jennifer Rosales, Seol-An Jan__ and Suzann Pettersen, who recently signed an endorsement contract with Nike Golf and was sporting nearly a full bag of the company's clubs (as well as using its One Platinum ball). Although thrilled to be working with Nike on her equipment, Pettersen admitted there has been an adjustment period.
"The hardest thing is changing the ball and the club at the same time," said Pettersen, who used TaylorMade clubs and a Titleist ball last year. "When you switch both and your ball flight changes, you don't know what it is. My ball was flying high, and I didn't know if it was the shaft or the ball. But the people at Nike worked with me, and now we have it figured out. I'm really happy with what I have."
After opening with a 74, Pettersen rebounded with 69-70 to finish T-16. "It's a start," she said with a shrug about her bounce-back. "We are building."
For many players, sound equals feel. That led Phil Mickelson to make some changes at the Northern Trust Open, switching from Callaway's Tour i ball to its firmer-cover Tour ix and putting a slightly firmer insert in his Odyssey putter. "When I putted [Tour i] with the insert I had, it was a quieter sound ... and I was giving it a little too much," said Mickelson. "By [using] the firmer insert, I was able to hear it and my speed and touch came back."
Jeff Quinney, who finished second at the Northern Trust Open, is not your typical tour pro in that his bag consists of clubs from five different manufacturers, including a pair of clubs from Nickent, his primary sponsor. Ball: Titleist Pro V1x. Driver: Nickent 4DX Tour, 9 degrees. 3-wood: Sonartec GS Tour, 14 degrees. Hybrid club: Nickent 3DXIW, 17 degrees. Irons (3-9): Ping i5; (PW): Ping Tour. Wedges: Titleist Vokey (54, 60 degrees). Putter: Odyssey White Hot 2-Ball.
What are friends for? Scott McCarron came to the Northern Trust Open with the TaylorMade r7 TP irons he had used earlier in the year but decided to make a change back to his old Ping i3+ sticks -- a move that required a little help from a friend. "I have to thank a good buddy of mine for sending them from my house," said McCarron after his second-round 65. "They just feel good. I played good, swung real free today." ... What's the hot putter-maker on the Champions Tour? Would you have guessed Rife? At last week's Ace Group Classic Rife had 25 putters in play, seven more than Odyssey. Among those using Rife flat sticks were Tom Kite, Jim Thorpe and Dana Quigley.