News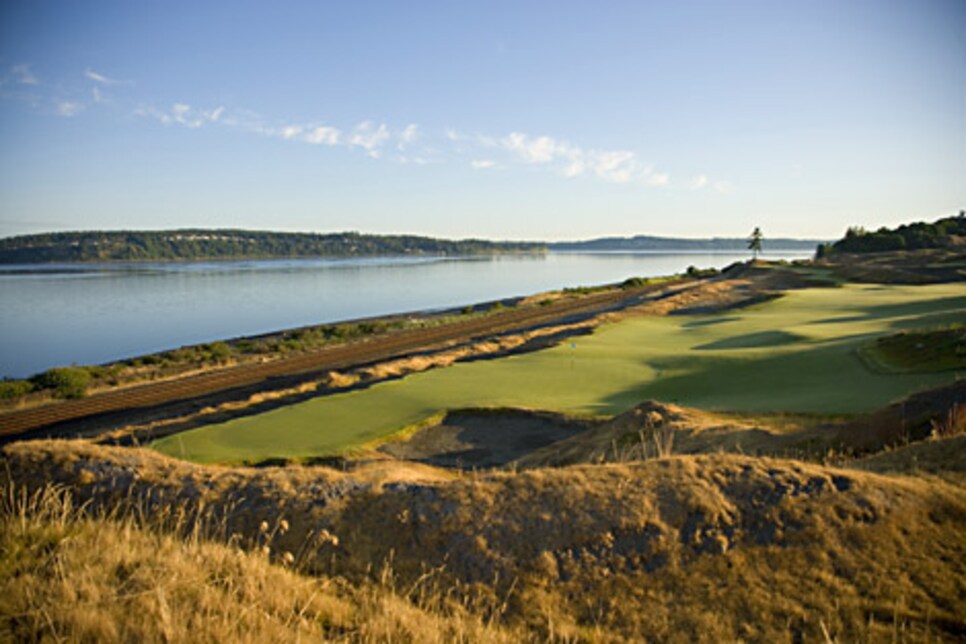 The green at the 425-yard, par-4 16th offers a number of options, the nastiest a cup cut in the back right "thumb" area.
For those who don't know much about it, the best way to describe Chambers Bay is that it is one great big meteor crater. Not just because that's what the course looks like, but because that's the kind of impact it has had on the world of golf. In play only since last June, Chambers Bay, a dry, firm, windswept, nearly treeless man-made links hard against Puget Sound, is already the designated site for the 2015 U.S. Open, as well as the 2010 U.S. Amateur Championship.
Located in the Tacoma, Wash., suburb of University Place, and owned by Pierce County, Chambers Bay is the hottest municipal golf course on the planet. Hotter than Torrey Pines, site of this year's U.S. Open, hotter than Bethpage Black, which will see its second U.S. Open this decade in 2009, hotter even than the brand new Castle Course at St. Andrews, Scotland, which, though utterly spectacular, will probably never receive an equivalent blue ribbon, a British Open.
Funny thing is, Chambers Bay looks like it ought to be hosting a British Open instead of America's national championship. It bears no resemblance to a typical tree-lined U.S. Open venue such as Winged Foot, Pinehurst No. 2 or Olympic. There's but a single tree on the entire Chambers course, a Douglas fir behind the par-3 15th green. It is a thoroughly unconventional layout, which is why it is a bit startling to learn the course is the product of veteran golf architect Robert Trent Jones Jr., previously known mainly for ornate but sedate formulaic designs.
When contacted last week, Bobby Jones was quick to share design credit with his partner Bruce Charlton and their young associate Jay Blasi. "We're beyond happy," Jones said. "For our team, for Pierce County, for public golfers everywhere."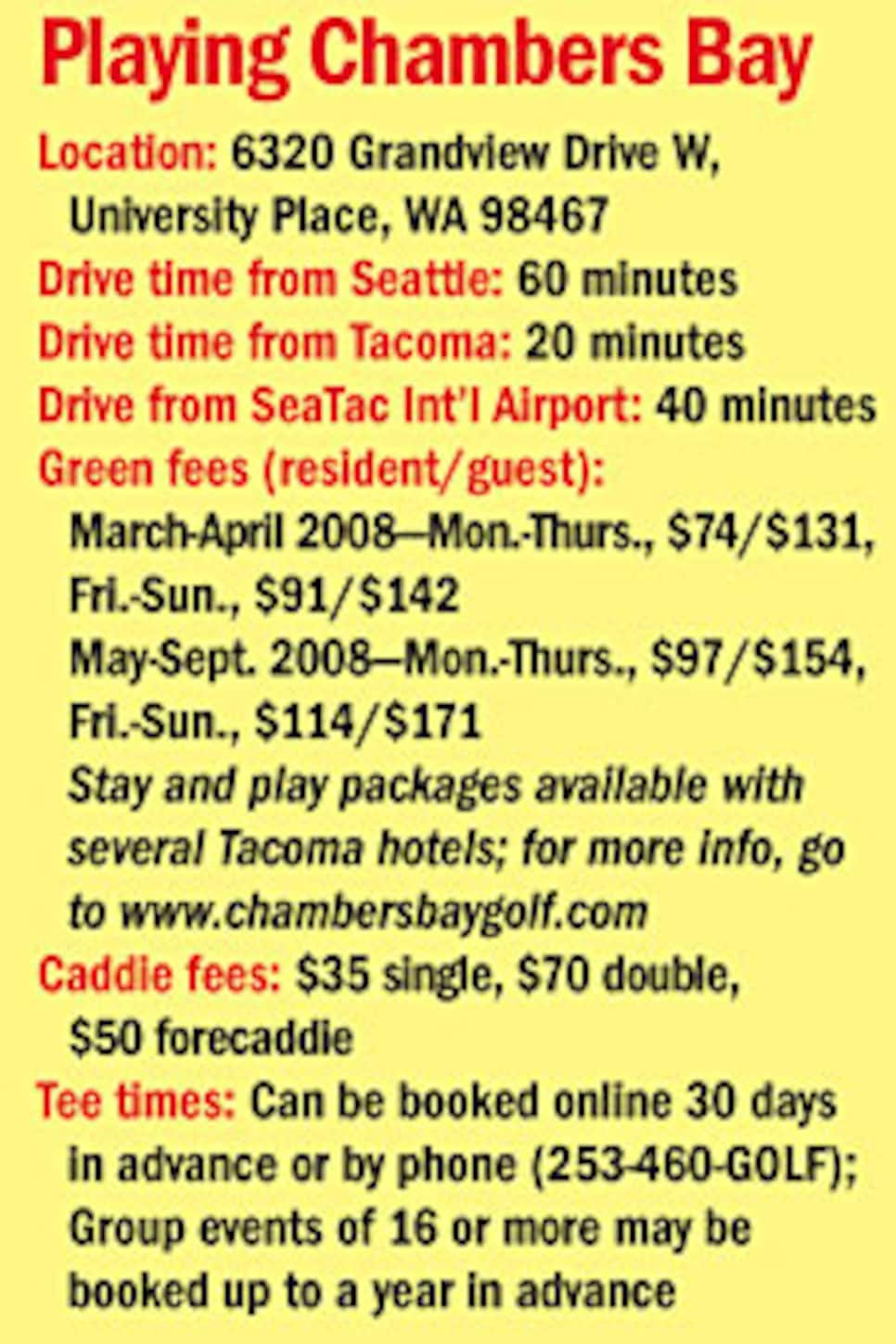 It is a career pinnacle for all three, but particularly for Jones, who at age 68 finally has one of his designs awarded a major championship. It puts him 1 up against his brother and fellow course designer, Rees Jones, who had established his reputation by refining The Country Club near Boston for the 1988 U.S. Open and has since doctored a succession of national championship sites, including Congressional, Pinehurst, Bethpage and Torrey Pines, but has never had an original design host the big show.
It draws Bobby closer to the achievements of their father, the legendary Robert Trent Jones, who gained headlines for turning Oakland Hills into a "monster" for the 1951 U.S. Open, revised a handful of other Open courses and had two original designs host Opens soon after their debuts: Missouri's Bellerive in 1965 and Minnesota's Hazeltine National in 1970. (How is this for family bookends? Chambers Bay is the first new course to be awarded an Open since Hazeltine National.)
"I'm not comparing myself to my father," Bobby said, "but I have to say I think his spirit was with us on this project. In fact, we held a grand opening on June 20, 2007, which just happened to be the 101st anniversary of my father's birth."
Chambers Bay was created from a mined-out gravel pit, a huge gash in a hillside, its eastern edge a vertical escarpment leading up 80 feet to a city street, its western edge separated from the shoreline of Puget Sound by a set of railroad tracks. The site begged for something Scottish, and Jones, Charlton and Blasi were intent on proving they could fashion a natural-looking, windswept pseudo-links.
It helped that Chambers Bay had an abundance of sand. The site was, says Charlton, "a 250-acre sandbox," basically flat except for a few existing spoil piles. By the time the last bulldozer left the site, 1.4 million cubic yards had been pushed around to form gigantic, rugged land forms, massive waste areas and bunkers with gnarled, eroded faces. Last summer a great many of the faux dunes still bore bulldozer tracks. By this summer, wind and water erosion, and growth of tall fescues and patches of Scotch broom, will have removed all evidence that the dunes were machine-manufactured.
Chambers Bay was designed with a potential U.S. Open in mind. During construction, USGA officials visited the site several times and offered suggestions concerning course strategies, gallery circulation, spectator vantage points, locations for concession stands, TV towers and the like. (As a gag, Charlton had bag tags printed that read, "Chambers Bay -- site of the 2020 U.S. Open." He missed his prediction by five years.)
Chambers Bay's par is 72, and it tops out at 7,585 yards, although it's unlikely it would play from the tips for a U.S. Open. The scorecard offers plenty of flexibility. The opening par 4 can measure 498 yards, downhill and into the prevailing wind, while the 604-yard 18th plays slightly uphill, with the prevailing wind, and therefore could be a reachable par 5. In between, the par-4 fifth plunges down five stories to two separate greens, one 150 yards farther than the other. (Think what fun the USGA could have alternating play on this hole on consecutive days.)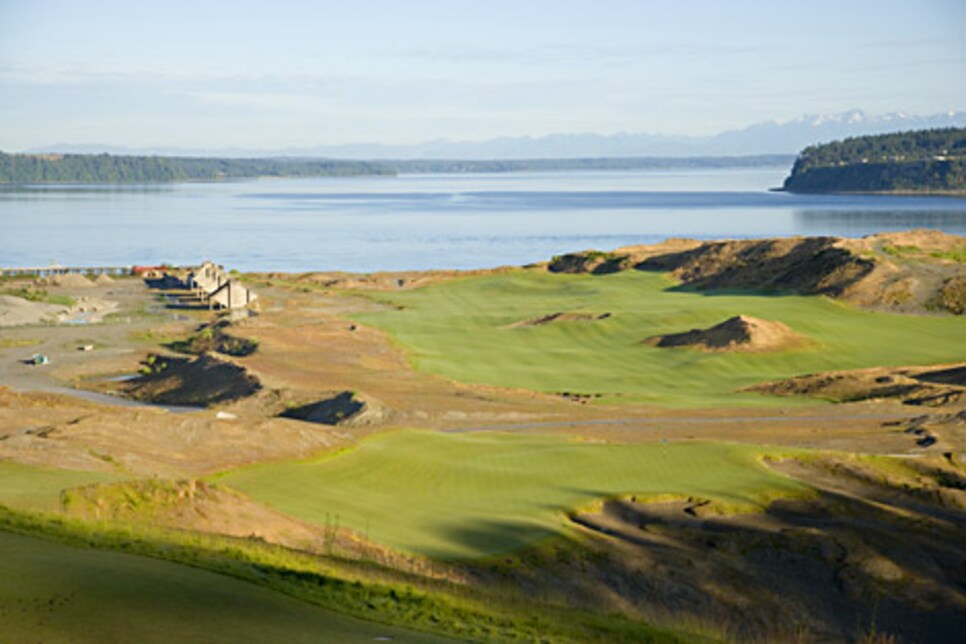 The 304-yard 12th is a genuine reachable par 4, uphill with a rollicking green in a punchbowl setting. The 425-yard 16th is merely a drive and a pitch for top players these days, but the green has a unique back-right pin position, a mere thumb of putting surface between flanking bunkers.
Except for the long, straight par-5 eighth, holes constantly change direction, often with every shot. The wind off the sound is omnipresent and can be strong. (Once, in 1940, wind twisted and buckled the old Tacoma Narrows bridge into a pretzel.) It is what Bobby Jones calls his "invisible hazard," and it is part of what USGA finds appealing about this championship course.
There is hardly a flat spot on the premises, and that includes the tee boxes. In what may be the first truly original design idea of the 21st century, Charlton convinced his colleagues to abandon traditional tee pads in favor of long, skinny, free-flowing ribbons of teeing space. Many are not much wider than walking paths; many are recessed rather than elevated; most are gently contoured with a variety of flats spots just the size of throw rugs. The idea is to pick the lie that might best help shape a shot off the tee: sidehill lies if you wish to fade or draw the ball, a slightly uphill lie if you need help getting airborne, a downhill lie if you want to keep it under the wind, or a flat lie. It's too early to know whether USGA officials will accept those unorthodox teeing areas for the U.S. Open. Jones hopes they will.
"We'll probably address that after the [2010] U.S. Amateur," he says. "But it's not like there are no flat spots out there. We have dozens of 'batter's boxes' within the undulations. I would hope they'd position the markers far apart and let golfers chose their particular lies. Our goal was to get into the players' minds, even on the tee, and to put some integrity back into tee shots. Don't let them just stick a peg in the ground and bomb it."
The tees are the same fescue turf as the fairways and primary rough, which heightens the illusion that the course was simply mowed out of an existing landscape. It's dry, firm turf everywhere, a mix of fescues with a hint of Colonial bent (about 5 percent), conducive to the sort of bounce-and-roll game required on a links. With just one type of turfgrass, fairways can be easily narrowed, or widened, in preparation for the Open.
Chambers Bay's boldly contoured greens also are fescue, a genuine departure for any USGA event. In recent years, Open greens have been Poa annua, which can be cut incredibly short for ultra-fast speeds -- 13 on a Stimpmeter -- but must be kept moist in hot weather to stay alive, making them softer and more receptive than the USGA would like. The fescue greens at Chambers can't be cut quite as short -- maybe 11 on the Stimpmeter -- but they can be maintained very firm in June.
"We designed the contours for speeds of 10 or 11," says Jones. "Downslope, they'll still putt like they're 13. I think players who have seen fescue greens at British Open courses will like them. But they won't be firing at the flags. They'll have to work the ball to some pin positions."
It cost an estimated $20 million to build Chambers Bay, so even before the Open announcement, it sported a rather pricey green fee for its locale. County residents pay between $55 and $114, depending on the season. Tourists pay $75 through the end of this month, $142 for weekend play in March and April, and $171 on weekends from May to September. But there is no need to rush to Tacoma to avoid price-gouging. The USGA contract prohibits the county from raising greens fees in excess of a cost-of-living adjustment until three years after the Open.
But when you do make the trip to Chambers Bay -- and what golf fan doesn't want to tread upon a brand new U.S. Open venue that even Tiger Woods and Phil Mickelson have yet to see? -- be aware the course is a walking-only facility. You can carry your bag, rent a pull cart, rent a motorized pull cart or hire a caddie. But there are no golf cars, no cushions for your tush, no fenders for club washers and ice chests, no cart paths to scuff your ball and spoil the scenery.
Chambers Bay is links golf. And the U.S. Open will be links golf, too -- in seven years.