News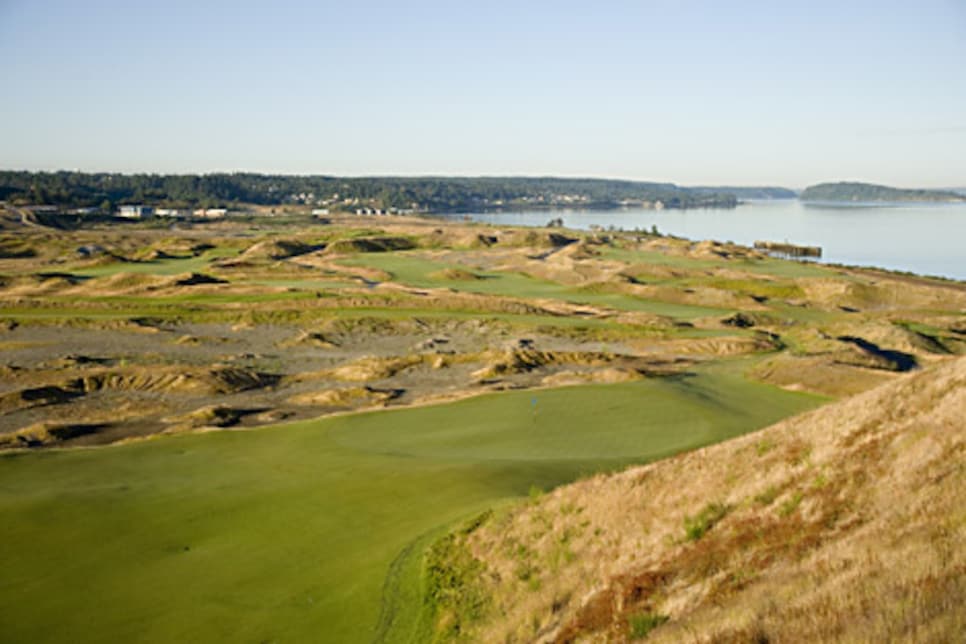 Forget Jack Fleck. There may be no more unlikely U.S. Open winner than John Ladenburg. He's a 9-handicap, a professional politician not a golf pro and, until taking up the game a decade ago, found his fun playing slow-pitch softball on a team with eight brothers -- he's one of 16 children.
But inspired by Bethpage Black, the executive of Pierce County on the southern edge of Puget Sound in Washington, overcame all odds to get a world-class course built on public land. Ladenburg completed his unlikely journey last Friday when the USGA, acting on lessons learned from Whistling Straits, quickly accepted an invitation by Chambers Bay and named it host of the 2015 U.S. Open. The course landed the 2010 U.S. Amateur as well.
Not bad for a former gravel mine that opened as a course just last June. The design by Robert Trent Jones Jr. and Bruce Charlton has everything the USGA loves: a great course on lots of land to hold fans and corporate tents. And, unlike the other stellar new Pacific Northwest facility, Bandon Dunes, also managed by KemperSports, Chambers Bay is easy to reach by air and affords plenty of hotel rooms and restaurants.
The 2015 Open, declined by Winged Foot GC outside New York City three months earlier, will be the first held in the Northwest. A West Coast location means prime-time TV in much of the U.S. Add the links nature of the sand-based, treeless design and it was a no-brainer, even though many at the USGA annual meeting in Houston reacted by saying, "Where? Never heard of it."
That will change. Chambers Bay joins Bethpage Black, which comes back next year after being a smash hit in 2002, and Torrey Pines this year as municipal courses in the Open mix. If you include high-end resorts Pebble Beach and Pinehurst No. 2, nine of 17 Opens from 1999-2015 will be played on public venues. Of 98 previous Opens, only three were played on non-private facilities: Pebble Beach in 1972, '82 and '92.
"I don't know how he got it done," marveled Jones about the political obstacles. Elected in 2000, Ladenburg realized the county owned 1,000 acres on Puget Sound perfect for a park. He knew for it to work, it had to generate revenue. That's when he thought of a course. When Ladenburg saw the Bethpage success -- a state park that held the most lucrative tournament ever -- he decided to build a major-quality course.
"There was a tremendous amount of resistance," Ladenburg said. "None of the county board members played golf, and they had the stereotype that it's an elitist game." He had to sell golf, then a relatively high green fee and $20 million price tag.
"I'd been in government 25 years," said Ladenburg, re-elected in 2004 amid the Chambers Bay fight and now Democratic candidate for state attorney general. "I did a little arm twisting; I called in some political IOUs."
Chambers Bay surpassed its six-month goal for rounds played in three months with 40 percent of the play coming from more than 200 miles away, Ladenburg said. While future sites usually are announced at an Open, state sunshine laws requiring disclosure of negotiations involving public money prompted the USGA to name Chambers Bay before the contracts have been signed. No obstacles are expected.
When Whistling Straits opened to raves in 1998, the PGA of America acted quickly and in January 2000 awarded the Wisconsin course the 2004 PGA Championship, essentially planting its flag on the property. Whistling Straits performed so well it was given the PGA in 2010 and 2015 as well as the 2020 Ryder Cup. The USGA made certain it did not miss out on Chambers Bay.
"I think that is a fair representation," USGA president James F. Vernon said when asked if Whistling Straits provided a lesson. "We thought we had found something special [in Chambers Bay], and we wanted to, not stake a claim, but we really did want to make it clear that we wanted to have an opportunity to have a championship on it."
Perhaps the only person happier than Ladenburg is Mike Davis, who sets up courses for the USGA. "When I saw the site, I was just blown away at how gorgeous it was, how big the property was and the fact that it truly was all sand," Davis said. "When a course is built on all sand, you can really get great championship conditions."
And when the 2015 U.S. Open is played at Chambers Bay, the story will be told many times of how those great championship conditions sprang from an abandoned gravel mine due to the vision of John Ladenburg.