News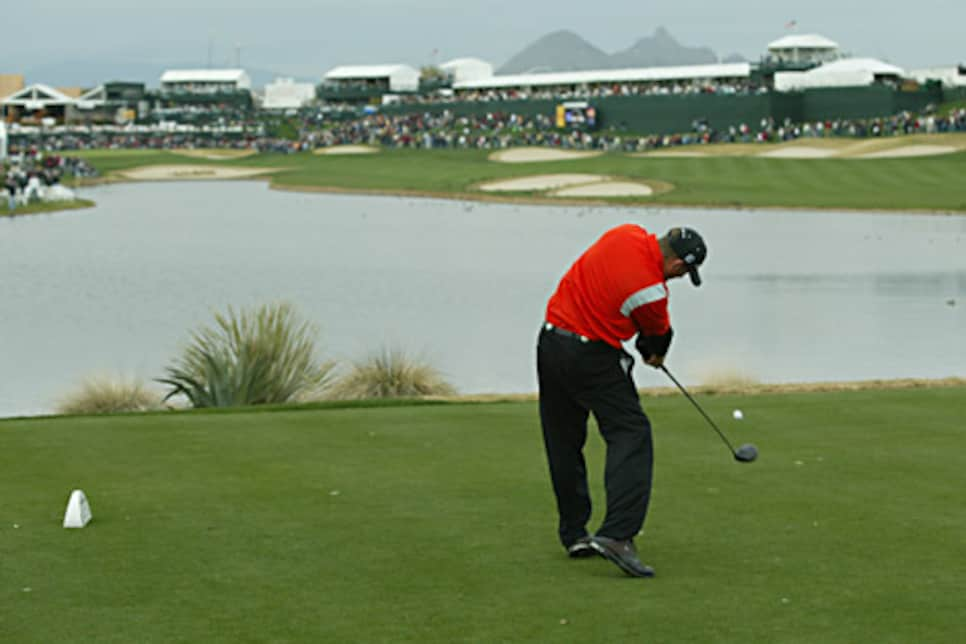 Power to burn: Holmes birdied the 72nd hole to tie Mickelson then did it again on the first playoff hole to win
With a Super Bowl in the area, a chill in the air and isolated storms festering in the locker room, J.B. Holmes strong-armed his way to an overtime victory at the FBR Open last Sunday with consecutive birdies on the 18th hole.
He sank a 13-footer in regulation to forge a playoff with Phil Mickelson, then beat the popular left-hander with an eight-footer about 15 minutes later at the TPC Scottsdale. Mickelson began the raw morning four strokes behind, but despite still bucking some winter rust (four putts on the ninth hole Friday), he resourcefully shot four rounds in the 60s, including Sunday's 67. He didn't give away much except two tickets for the football game to a wide-eyed youngster who happened to be wearing a Callaway hat as he stood beside his dad next to the third tee, whence they rapidly departed.
That tied Mickelson for the week's best move with Ben Curtis, who noticed Steve Allan gasping for breath at lunch Thursday and applied the Heimlich Maneuver. "I learned it in college," said Curtis, who then correctly picked the New York Giants in an upset. Even after accepting his trophy, Holmes heard that word "choke" during post-mortems, but he dealt with it and went on to discuss another of the tournament's various and sundry subplots. Paul Azinger, the U.S. Ryder Cup captain, was on the premises advocating tactical and attitude adjustments to this September's matches against Europe (see Tour Talk, page 32), and Holmes might be just the kind of guy -- new blood, cold blood -- who could fit the motif. "That team is my No. 1 goal this season," said Kentucky-bred-Holmes, whose father, Maurice, added, "And the place they're playing, Valhalla in Louisville, might be J.B.'s favorite course anywhere."
Since Holmes notched his only other PGA Tour title -- the 2006 FBR, in his fifth pro start -- he has gotten married (Sara), hooked up with Matt Killen (the boy-wonder instructor who teaches Kenny Perry), hired a conditioning coach and smoothed out a few rough edges. But Holmes still kills the ball with less than a full swing off the tee, and when he makes putts under pressure as he did Sunday, that adds credence to Mickelson's reviews of his conquerer as "a credit to American golf." For the final round Holmes led playing partners and former Clemson Tigers Jonathan Byrd and Charles Warren by two shots, then doubled his margin when he birdied No. 5 with a 27-footer, bringing him to 16 under. Nobody else reached 15 under, before or after. However, Holmes bogeyed Nos. 7, 8 and 10 and eventually fell into second place at No. 15, one of the course's easiest holes, when he flailed his approach to the par 5 into the hazard right of the island green. He settled down, however, and finished with 71 for 14-under 270 on a tract softened, and elongated, by moisture.
"I felt like I had the advantage in the playoff," said Holmes. "I was loose, ready." His drive left him only 73 yards to the flag. Mickelson had 137. He slightly pulled his gap wedge and missed his birdie attempt from 28 feet. He shook hands with Holmes, signed autographs, gathered his entourage and exhibited the scent of a hurried man in quest of a large-screen TV.
The world's No. 2 golfer is precisely the type of marquee name who would be welcomed by a smattering of peers disgruntled about working conditions: specifically the new cut rule and the drug policy to be instituted July 1. But whether Mickelson would expend any energy on any form of a movement by labor against the tour's authority or administration is unclear. In fact, when Mickelson was asked to touch on reported grumbling among peers, he indicated he did not have sufficient information on the subject.
If one were to estimate the number of golfers sufficiently vexed to ponder action via an association, the hunch would be more than a few but fewer than enough. "About 30," said one player. But 30 guys banging their fists doesn't make for much noise, especially if the stars aren't aligned, and the proletariat isn't receiving much encouragment from the penthouse. In San Diego, for instance, Tiger Woods was asked about unrest over the controversial new cut policy (known as "Rule 78"). "Play better," he said. That doesn't provide much ammunition for the agents of change.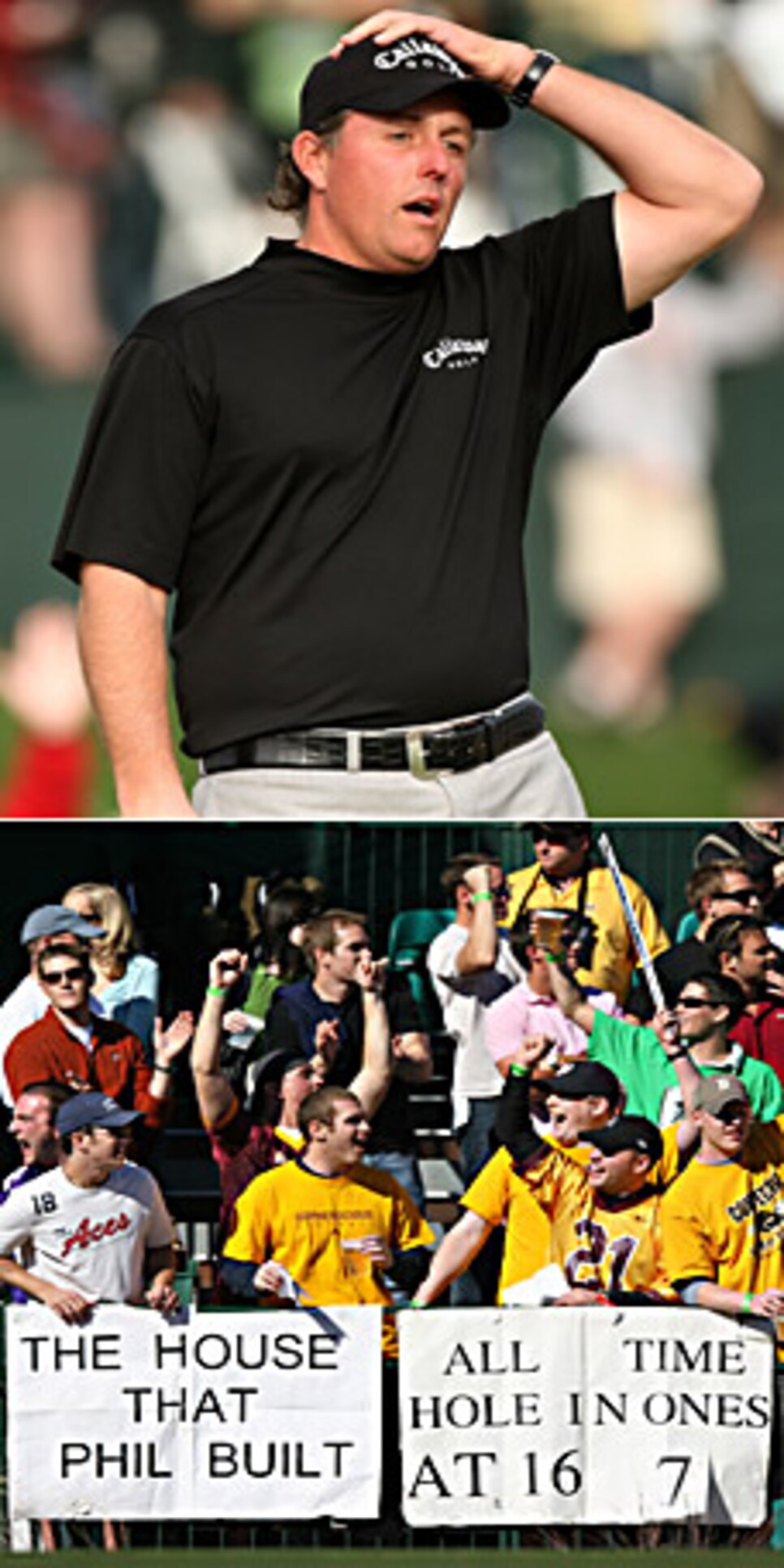 But it also doesn't mean Woods would feel any different than a lot of players about a scenario whereby they would have to provide urine samples with an inspector in the same room. "Not a [bleeping] chance," promised Vijay Singh. Concluded Tim Herron, "We need an association." He added, however, that the means toward that end requires a certain consensus among independent contractors with differing agendas. Meanwhile, at least one tour player has contacted a legal eagle about representing a group of the disenchanted. Ten years ago, there was an effort to organize a Tour Players Association, but it enjoyed a very short shelf life. Whatever happens, David Toms, one of four player directors on the PGA Tour Policy Board, supposes the next meeting will be "lively."
Players had extra time to vent among each other last week because of frost delays. Warren and Kevin Sutherland opened with 65s but weren't official leaders until Friday morning, when the first round concluded. Saturday at 10:21 a.m., the second round finished with five tied at nine under: Holmes, Doug LaBelle II, Byrd, Perry and Camilo Villegas.
By that afternoon organizers announced a one-day tournament record crowd of 170,802. It's an inexact figure. Do they count cars, high heels or cellphones? Meanwhile, security subtracted from the gaudy statistic by escorting several ladies and gentlemen from the grounds and admitted that, on this sunny day of FBR Open LXXIII (begun in 1932, under assorted permutations, but not without occasional missed years), fierce ribaldry might just have spilled over the top.
In 1996 Phoenix staged its first Super Bowl corresponding with Open week. But the tournament started Wednesday and concluded Saturday with Mickelson's theatrical playoff victory over Justin Leonard. A good time was had by all, and Sunday was reserved for football. According to this year's tournament chairman, Tim Louis, there was scant discussion of another Saturday finish. "My understanding, because I wasn't in this role at the time, is that all parties were in a room together," he said. "The tour, us Thunderbirds, the sponsor, CBS, and it was decided that a regular schedule would prevail. Two weekend prime-time telecasts are better than one. We have a good relationship with our local Super Bowl committee, many of whom are also Thunderbirds. We kind of like the fact that we're synonymous with Super Bowl weekend, even when it isn't in Phoenix."
In a bow to temperance, the FBR instituted a procedure this year whereby any spectator wishing to quench a thirst with alcohol had to prove he or she was 21. Those who qualified were issued wristbands, color-coded for each day. Beers were limited to two per customer. Free taxi service was provided from shortly after dusk until 11 p.m. Last but not least, adult beverages were made unavailable at the concession stand nearest the fabled 16th hole, where the capacity grows every year, in more ways than seating.
This year portions of the super suites were double-decked to accommodate 23 new units with an occupancy of 34 persons per. That's 154 total skyboxes, at $45,000 a pop, all the better for the FBR to do what it does faithfully: designate a fortune to charity. Down below, in a knockoff of baseball's dugout views, there was tee-side seating or "Gucci Row" -- 50 chairs restricted to those who purchased badges costing $5,000 each. They sold out in a jiffy, according to Louis. Rich Beem, surveying the totality of it all, suggested that until they put a roof on this unique place, it should be known as the world's largest topless bar.