News
LPGA Preview: Looking Out For No. 1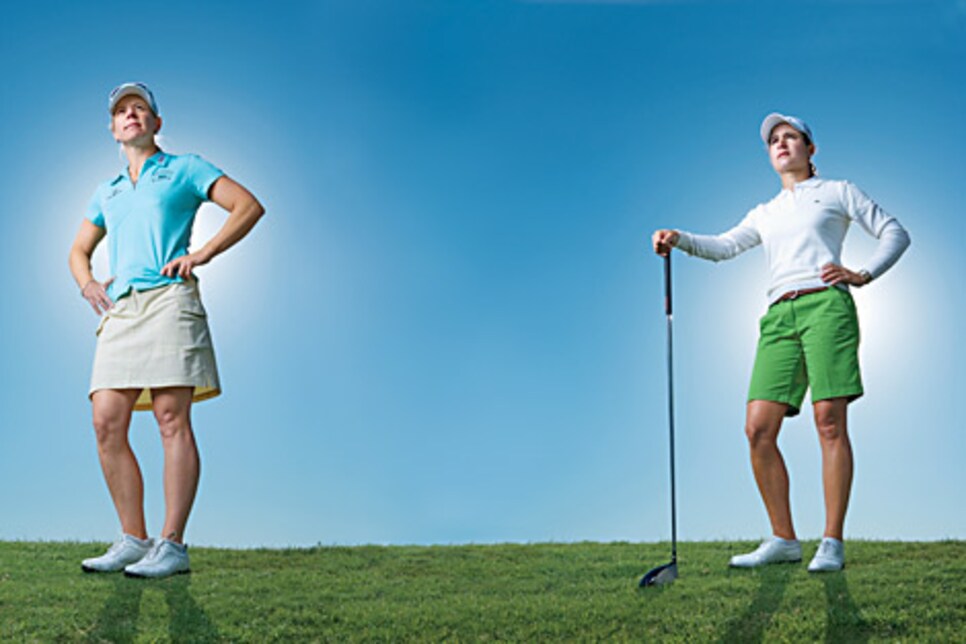 The 2008 spotlight is on Sorenstam (left) and Ochoa, who supplanted the Swede as No. 1.
Perhaps this LPGA season should be contested on the ski slopes. That's where the three most intriguing players coming into the new year spent much of their down time after a 2007 in which Lorena Ochoa reached No. 1, Suzann Pettersen had her long-awaited breakout year and the Annika Sorenstam express finally was derailed, as much by injury as others' performances. All three come into '08 with questions. Can Ochoa maintain the play that earned 14 victories in the last two seasons? Can Pettersen, who won five times after a winless four years on tour, build on that success?
Is Sorenstam healthy and hungry enough to reclaim the top spot? And who among the bevy of talent on tour will make this campaign her breakout year?
While Ochoa is the clear No. 1 -- the first time Sorenstam has entered a season without that designation since 2001 -- there is more competition for that title than at any time since the Big Four, which dominated from 1998 through 2003. During that span, Karrie Webb (six), Sorenstam (four), Se Ri Pak (four) and Juli Inkster (four) combined to win 18 of the 24 majors and took turns being best in the world. But the 16 majors since have been shared by 13 players (the last 10 by 10 different golfers), with only Sorenstam (four) winning more than one. Among the four players to win their first major a year ago, Ochoa and Pettersen separated from the pack.
Beginning with Ochoa's win at the Ricoh Women's British Open in August on the Old Course at St. Andrews, she and Pettersen won eight of the next 10 LPGA events in which one of them played. Sorenstam, who had not been winless on the LPGA since 1994, escaped the first worldwide shutout of her career when she won a Ladies European Tour event in Dubai in December, sending her home to Orlando in a great mood to host a Dec. 22 party celebrating her engagement to Mike McGee. After a ski trip to Tahoe, Sorenstam began the work she hopes will erase memories of a frustrating 2007 season sabotaged by a ruptured disk in her neck that was diagnosed in April.
"I am as excited as I have been entering a season since I can't remember," says Sorenstam. "The injury made it difficult, knowing that I wasn't really competing. You can't really call it competing when you know in your heart you are nowhere near 100 percent. I don't feel that way now, and I'm excited for what I hope will be another big year. I fully expect to play well, and I want to get back to the top." Sorenstam, who traditionally eases into the season, will jump out of the gate in 2008 and play the first two events, the SBS Open and the Fields Open in Hawaii.
Ochoa, who had 41 top-10s in the 50 tourneys she played the last two seasons, won't begin her year until the HSBC Women's Champions in Singapore Feb. 28, the third event. After a ski vacation in Vail and some time at her beach house in Mexico, Ochoa got back to work, spending two hours a day on the putting green, up from the 75 minutes a day she put in last year.
"If you look at the stats, that is an area where I can get better," she says. While her numbers are solid -- T-1 in putts per GIR and 25th in overall putts per round -- there is room for improvement in converting crucial putts. Similarly, she can get better at driving the ball under pressure. "We are working on getting [my swing] a little shorter, a little tighter," she says. "Every year it gets better." After being T-128 in driving accuracy and 28th in GIR in 2005, when she won once, Ochoa finished 49th and 51st in driving accuracy in 2006-07 and led the tour in GIR both years. Still, when she finished second to Cristie Kerr in the U.S. Women's Open, Ochoa missed the fairway with her final five drives.
Pettersen, who battled injuries (elbow in '04 and back in '05) and anger her first four years on tour, remained healthy and focused last season. Her five wins included the McDonald's LPGA Championship where she closed with a 32 to hold off Webb by one stroke.
"I want everything to improve," says Pettersen, who hit the slopes in her native Norway before focusing on her short game in off-season practice. She'll play the first three events. "I have my own big dreams," she says about building on last season, "but my main goals are in my every-day work. I want every day to have the best possible quality in whatever I do."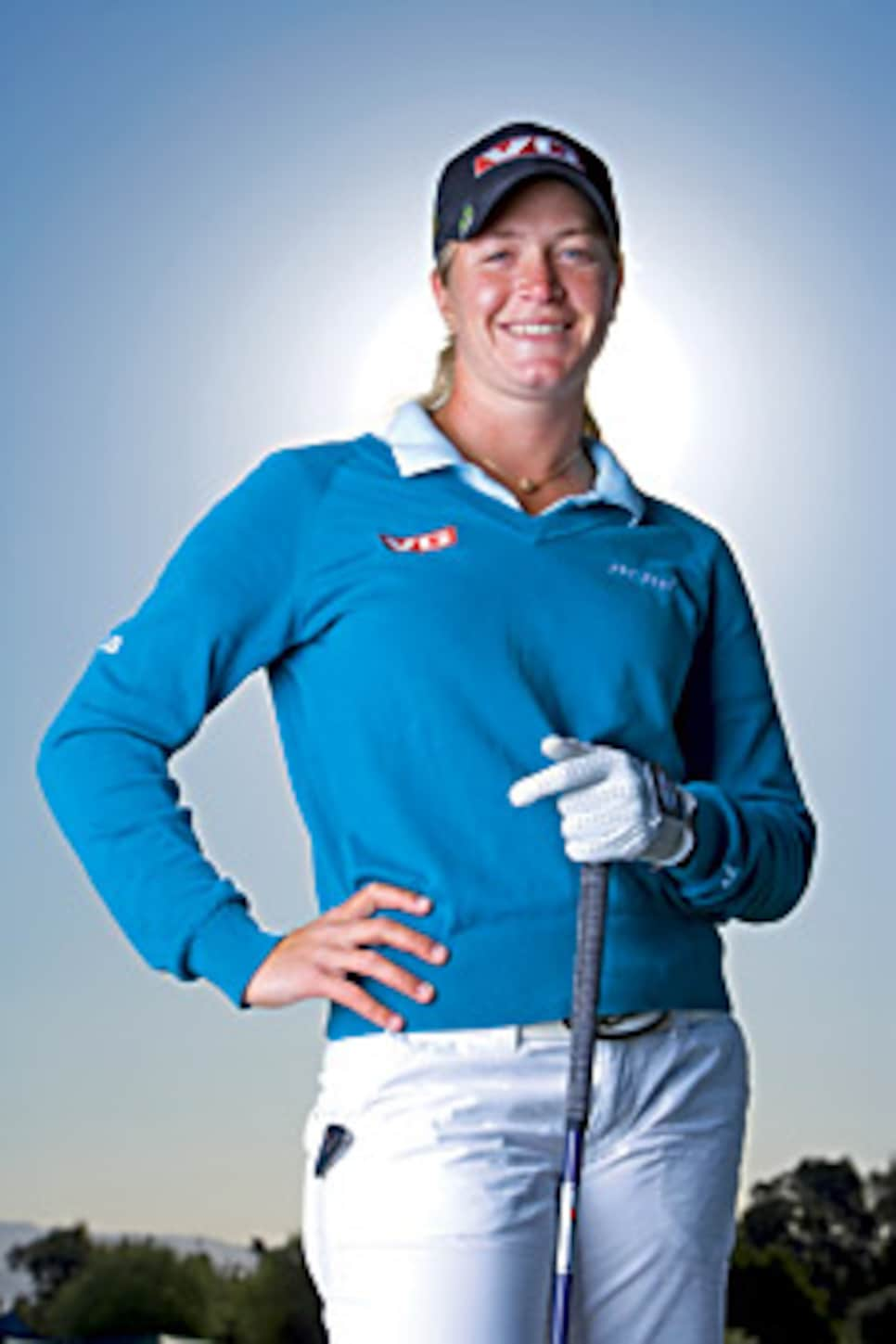 If that focus sounds Annika-like, it is. Pettersen enters her second season working with coaches Lynn Marriott and Pia Nilsson, who have refined the "Vision 54" philosophy Nilsson helped develop when she coached Sorenstam on the Swedish national team 20 years ago. "It was the culmination of a lot of hard work over many years," Pettersen says about her breakthrough. "I probably got a more relaxed attitude and let things happen instead of forcing things. Having a frame of mind that allows you to perform [makes it easier for] good things to happen."
While Ochoa, Pettersen and a healthy Sorenstam hold the tour's top spots, a deep talent pool will challenge them. Webb, Pak and Inkster are still among the top 10 in the Rolex Rankings, joined by Paula Creamer, Kerr and Koreans Ji-Yai Shin and Mi Hyun Kim. And after the results of 2007, the "Where are all the good young American women?" question should finally be put to rest: In addition to Creamer and Kerr, Morgan Pressel (who at 18 at the Kraft Nabisco Championship became the youngest to win a major), Meaghan Francella, Stacy Prammanasudh, Brittany Lincicome, Natalie Gulbis and Nicole Castrale all visited the winner's circle last year.
Inkster, who had won three of her seven professional majors (and three U.S. Women's Amateur titles) before Michelle Wie was born, turns 48 in June, has her sights sets on another Solheim Cup and could break Beth Daniel's record as oldest tour winner (46). Wie, who had a dreadful 2007 and seems to have placed playing against the men on the backburner for now, returns to competition at the Fields Open, near her Honolulu home, in two weeks. According to her coach David Leadbetter, Wie will take off the spring quarter at Stanford to focus on golf.
Wie, who injured her wrist early in the year, withdrew twice and missed three cuts in eight LPGA starts, playing 367 holes 110 over par last year for a stroke average of 76.68. She starts the season not eligible for any of the women's majors and, as a non-LPGA member, cannot gain entry into the Kraft Nabisco or the McDonald's unless the events change their entry requirements. Although done in the past to accommodate Wie, such action would likely trigger a protest given her poor play last year.
With Ochoa and Kerr picking up majors in 2007, Rachel Hetherington and Mi Hyun Kim enter 2008 as the active players with the most victories (eight) who have yet to win a major. This year's U.S. Women's Open will be played at Interlachen CC in Edina. Minn., while the Ricoh Women's British Open will be played at Sunningdale GC, where Karen Stupples rode a double eagle to victory in 2004 and Pak took home the title in 2001, the year the British Open became an LPGA major.
And while Ochoa is the new queen and Pettersen the clear No. 2, Sorenstam will be on everyone's mind. "We all know she is a great player and that she wants to be No. 1 again," Ochoa says. "There is no use talking about it. I'm looking forward to the whole year; I am looking forward to all the competition. I trust myself, I have faith." Asked about Ochoa and Sorenstam as adversaries, Pettersen says: "I love the challenge."
As for Sorenstam, she says she is nearly back to her full workouts and has learned to balance the demands of her emerging business venture, ANNIKA, and a competitive career. "I am very happy and content off the golf course," she says. "I love my life with Mike, along with our family, friends and flourishing businesses. Hopefully this year I will be happy on the course."
Perhaps next off-season Sorenstam, Pettersen and Ochoa can take ski vacations together and see who's best on the slopes as well as on the golf course.