News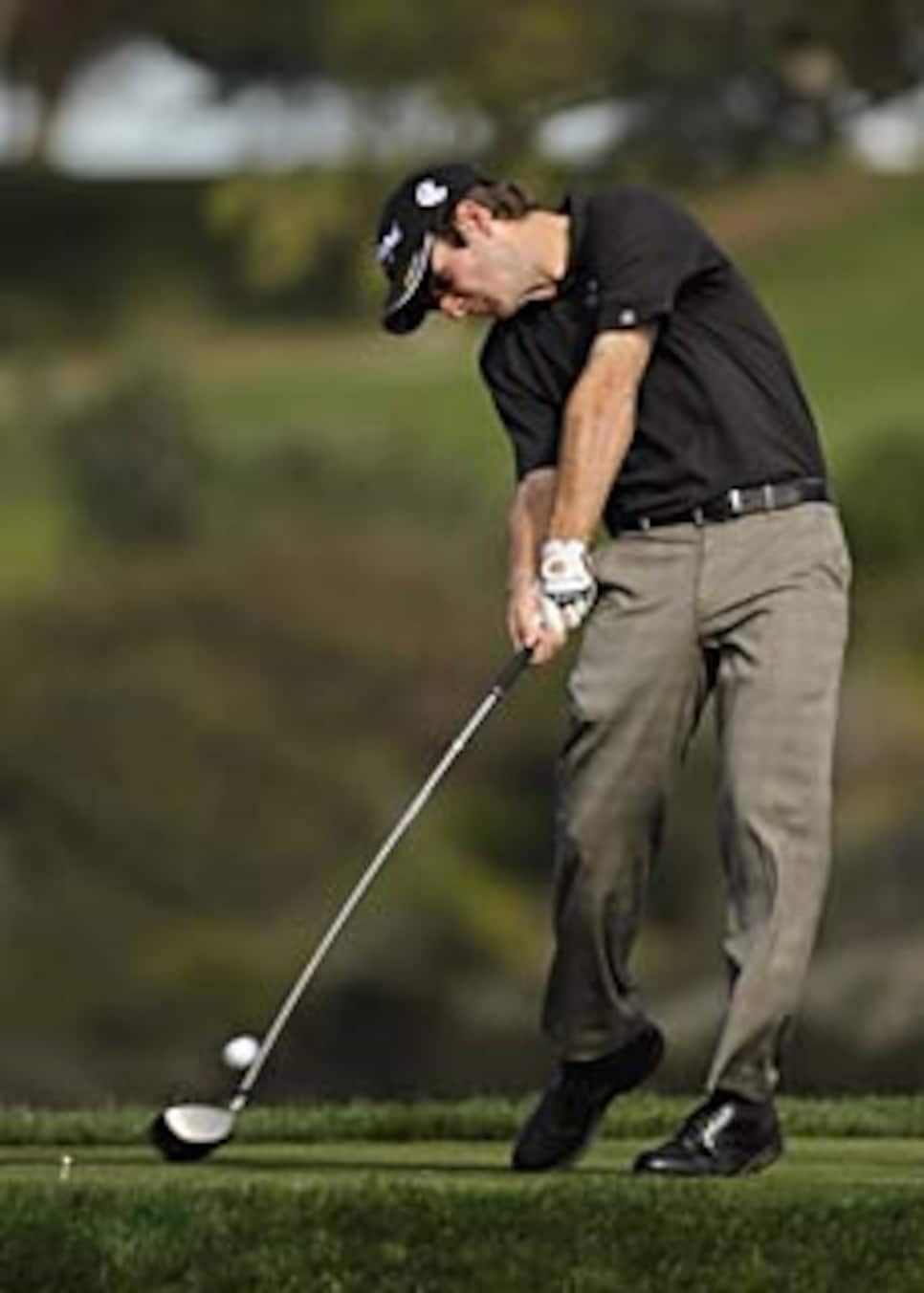 Shot shape helps determine whether or not hang time is a distance asset.
Hang time. At first glance it appears to be one of ShotLink's more nebulous stats. But is it more than that? Although the National Football League has kept track of hang time on punts for more than two decades, it has only recently been added to the bevy of information accumulated by the PGA Tour. Although still in its infancy with only a handful of shots from each player recorded at each event, hang time is, if nothing else, fodder for discussion. Looking at the stat sheet, some things jump out. Robert Garrigus leads the tour in average hang time at 7.4 seconds per tee shot. Bill Haas kept the ball in the air the longest with a shot at the FBR Open that stayed aloft for 7.9 seconds. It's unknown whether the fairway called for a fair catch, but at the Sony Open, shots by Matt Jones, Tag Ridings and Steve Lowery wouldn't have allowed enough time to even get the hand up. Each had a tee ball that found ground in less than one second -- 0.7 of a second, to be exact. No word on whether this was the result of a technical glitch or operator error.
While hang time is intriguing, its usefulness in helping players get into the proper equipment is debatable. "We never look at hang time," said Chris McGinley, VP of golf club marketing for Titleist. "We look at initial launch conditions -- speed, angle and spin -- as well as peak trajectory and angle of descent. ... [But] sometimes guys prefer to hit it different than what produces optimal launch conditions. High-ball-speed guys have the most options. They can choose to hit it long in the air or on the ground. Moderate- to low-ball-speed guys typically do not have as many options."
Nate Radcliffe, metalwoods development manager for Cleveland Golf, however, says hang time can help spot a problem area. One of the clues is that more hang time does not always equate to better performance.
"Like a punt in football, the shape of the flight plays a big role in how far the ball carries," said Radcliffe. "A punt where the nose goes from pointing up to pointing down at the apex of the flight -- like a long pass -- will carry significantly further than one that stays nose up throughout the flight, like most pooch punts. Similarly, a golf ball with excessive spin per launch angle will climb with an upward curvature toward its apex. This flight may stay up in the air a long time but will rob the shot of carry distance and create a steep angle of descent that won't roll much, either."
So using hang time to choose the proper equipment is a little like trying to perform surgery with a wrench and hammer -- it is too blunt a tool to reveal the intricacies of fitting. But it still is fun to look at.
Pat Perez had a pair of 5s last week, but it wasn't in a poker game. Perez took the 3- and 4-iron out of his set of TaylorMade rac TP MB irons and replaced them with the company's r7 CGB Max 4- and 5-iron, giving him two 5-irons. The rationale, said Perez, was that the replacements hit the ball the same distance but with a higher ball flight to help shots sit better on the TPC Scottsdale's hard greens.
Long a user of muscleback blade irons, Adam Scott won the Qatar Masters two weeks ago in his first outing with Titleist's new AP2 irons. Part of the reason for the switch was Scott's shallow angle of attack on his irons, which produces a low spin rate. The forged cavity-back AP2s gave Scott a slightly higher launch without producing excessive spin. Ball: Titleist Pro V1. Driver: Titleist 905R, 8.5 degrees. 3-wood: Titleist 906 F4, 15.5 degrees. Irons (2): Titleist 690; (3-9): Titleist AP2 (pictured). Wedges: Titleist Vokey (50 degrees); Titleist Vokey Spin Milled (56, 60 degrees). Putter: Scotty Cameron by Titleist prototype.
If you're going to break a club during tournament play, it helps if your equipment company is nearby. That was the good fortune Kevin Sutherland had last week when he broke his 9-iron after it struck a cactus four holes into his opening round at the FBR Open. Sutherland would have used the club on the next hole (he used 8-iron), but by the time he needed it again, a replacement was in hand. Sutherland called Ping (a Phoenix-based company) tour rep Matt Rollins, who had another rep,Steve Zeke, get Sutherland a new 9-iron just six holes later.