News
Super Sunday, Dubai Style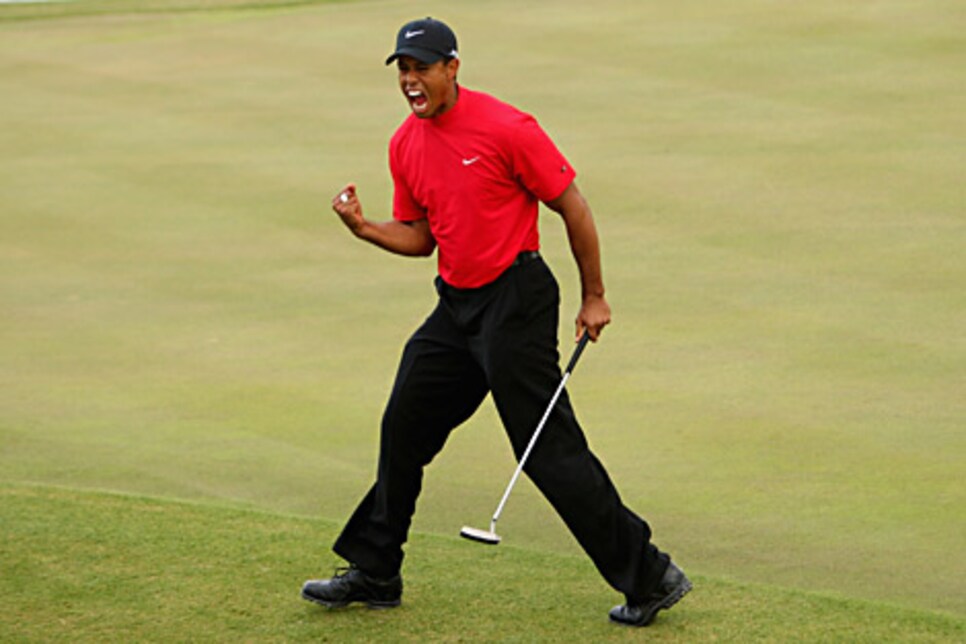 Hear him roar: Four shots back when the final round began, Woods finished his day with a 25-foot birdie putt at No. 18.
Alongside the well-merited conceit and ill-disguised smugness that often pervades the European Tour at even the briefest mention of recent Ryder Cups, there has long been another cause for Old World satisfaction, one whispered rather than trumpeted. Amid the carnage wrought upon what passes for his competition at home, the world's best golfer has, every now and then, had his nose metaphorically bruised and bloodied on the world's most international circuit. Not, it must be said, without justification, there are those from across the pond who reckon they do a better job of taking on and sometimes beating Tiger Woods.
"The Americans on the PGA Tour seem to have given up," said one high-profile European on the eve of the 13-time major champion's now anual pilgrimage to the Dubai Desert Classic. "Look at the Buick [two weeks ago]. All Tiger has to do is turn up, give them a stare and they drop down dead at his feet. At least over here we take him on and give him a game. I mean, what have you really got to lose? You might as well go for it."
The case for that particular prosecution is as follows: Those who have grabbed the Tiger by the tail then held on to win European Tour events include Lee Westwood (2000 Deutsche Bank-SAP Open), Darren Clarke (2000 WGC-Accenture Match Play and 2003 WGC-NEC Invitational), David Howell (2006 HSBC Champions), and Thomas Björn and Henrik Stenson (Dubai Desert Classic in 2001 and 2007, respectively). Which raises the question: Other than Phil Mickelson, who was the last of Uncle Sam's nephews to take Woods down in similar fashion at a PGA Tour event?
Of course, speaking of how well one tends to do against the game's dominant player, or even just ticking him off a little -- see Rory Sabbatini, Sergio Garcia and, as of last week, Ian Poulter -- is just not the smartest thing a golfer can do. Like an elephant, Tiger never forgets, which is probably why, after starting the final round of his fifth DDC either tied with or behind as many as seven Europeans, Woods put at least a temporary hold on their multilingual trash-talking with a display of golf that must rank with some of the best he has ever produced -- provoked or not.
Four strokes behind the 54-hole leader, Ernie Els, after an uncharacteristically ragged third-round 73 -- "I didn't play well today," he said, blandly stating the glaringly obvious for, oh, the gazillionth time -- Woods was as many as five back after three-stabbing the ninth green Sunday. Then, all of a sudden, without the aid of phone booth, cape or blue tights, he transformed himself from boy of (three-)putty to man of steel, shooting a final-round 65 to finish at 14-under 274 and a one-stroke victory over Martin Kaymer.
It was awe-inspiring stuff on the inward half: 31 shots, six under par, and only 10 putts. The first birdie at the long 10th was routine, the result of a cute chip and sure putt from about four feet. The next was more special. Into a stiff breeze, Woods was just over the back in two at the 467-yard par 4 and chipped in from an awkward lie. Another chip-and-putt birdie followed at the par-5 13th, before a 12-footer disappeared into the cup at the next. After two pars, Woods drove to the fringe at the 359-yard 17th (using his backup Nike driver after cracking the face of his gamer Wednesday) and got down in two. Then, following an enormous drive across the corner of the dogleg, he smashed a 5-wood through the final green and into a tricky lie close to a bunker.
Perhaps as a result of having watched his playing companion, Irishman Damian McGrane, pitch two balls into the water fronting the green, Woods flopped his chip onto the fringe only to see it pull up at least 25 feet short of the cup. Then, as seemingly only he can do in such situations, he drained the putt for one last and crucial birdie. Done at 14 under par, he had to wait to see what the rest were capable of. In at least one case, the answer to that question was "quite a lot actually." Finishing with four straight 3s -- par-birdie-birdie-eagle -- Germany's Kaymer came up one shot shy in his quest for a second title in short order, the 2007 European Tour Rookie of the Year having won in Abu Dhabi three weeks ago. Which left, almost inevitably, Els and defending champion Stenson. Runner-up in each of the previous two weeks (and seeking to be the first man since Vijay Singh captured the Buick Opens of 2004 and 2005 to win the same tournament two years in a row with Woods in the field), Stenson looked headed for another frustratingly close call when he arrived on the 17th tee needing a birdie and an eagle to tie. It wasn't to be though. Not even close, actually. Three putts for a daft bogey were followed by a McGrane-like visit to the drink in front of the last green and a double bogey good enough only for a disappointing T-6.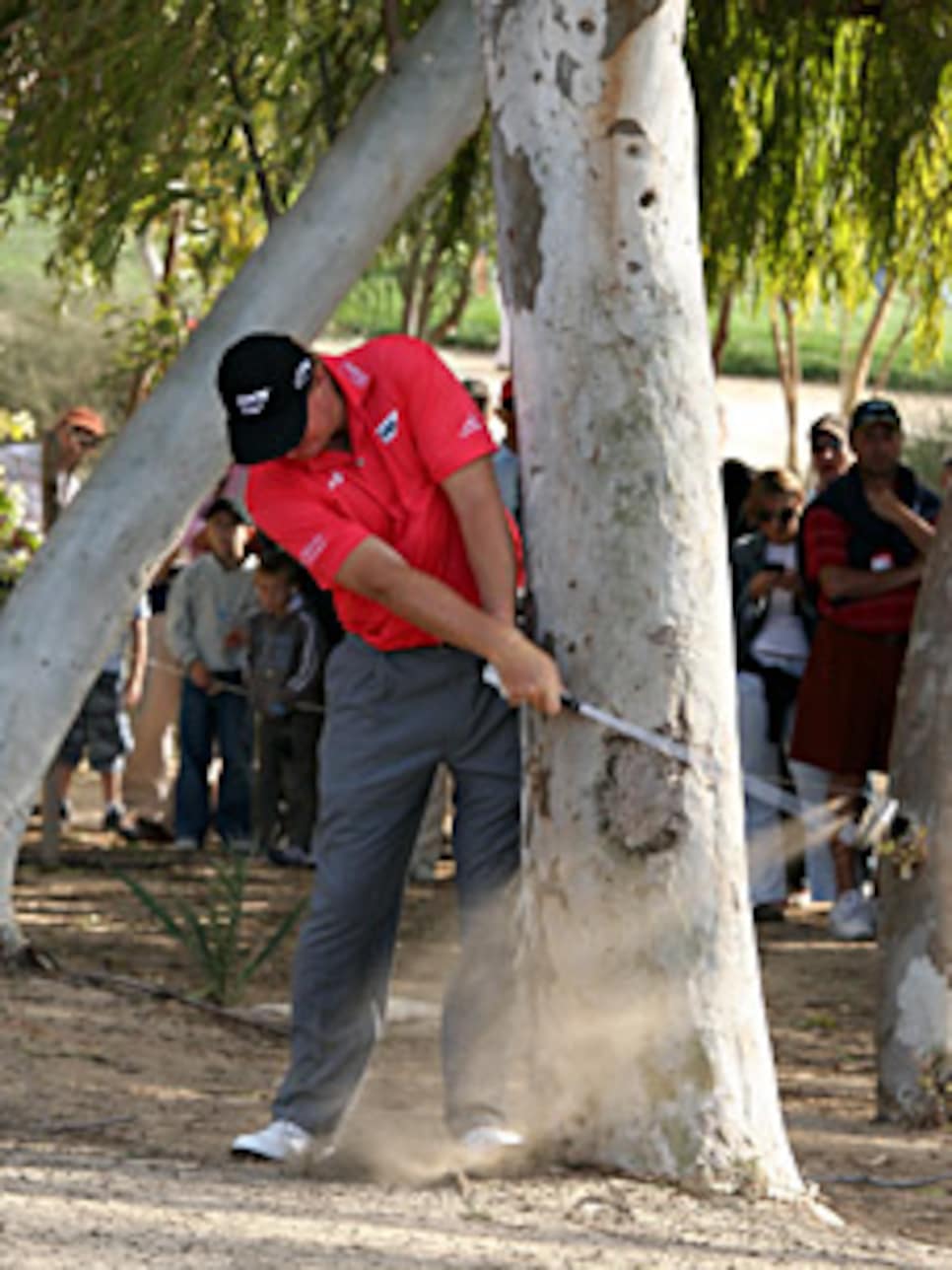 Despite missing short putts for par at the 11th -- where he seemed to be both symbolically and actually affected by the sight of the charging Tiger, who was playing the nearby 15th hole -- and 12th, Els needed one birdie in his last two holes to force a playoff with Woods.
A birdie on 17 was unlikely, after a pushed drive left little angle to pitch from and little green to pitch to, but Els followed Tiger's example in launching almost the perfect drive off the final tee. He opted for a 3-wood on his second shot, but the ball came up all of 15 yards short -- albeit right on line -- provoking ripples on the water rather than applause from the grandstand.
And so it was all over. Els made bogey and finished T-3, two back of Woods alongside fellow South African Louis Oosthuizen. Afterwards, Woods tried to be kind to the man whose heart he has broken so many times -- "the wind really gusts above the grandstand on the last hole, and it doesn't take much to come up short" -- but his words had a hollow ring. As he did in his previous European Tour start, the South African Airways Open in December, Els hit a poor shot into water on the 72nd hole and lost.
This latest win, Woods' 33rd European Tour title -- not bad for someone who has never bothered to join -- came almost exactly 10 years to the day from his first significant foray into the South African's previously impregnable psyche. Eight shots behind with 18 holes to play, a charging Tiger came back to close out Els on the second hole of a playoff for the Johnnie Walker Classic in Thailand.
Since then, there have been other lingering losses inflicted on Els, who cut a sad and dejected looking figure as he trudged wearily up the 18th fairway at the Emirates Club. The 2006 Dubai Desert Classic comes to mind, as does the Open Championship at Hoylake later that same year. Further back, Els lost a thrilling playoff to Woods at the 2000 Mercedez-Benz Championship. One wonders, in fact, if we have not seen the best of the amiable South African, who hasn't been the same since the relatively unheralded Todd Hamilton surprisingly upset him in a four-hole playoff for the claret jug at Royal Troon in 2004.
The same, of course, cannot be said of Woods, who has now won five straight starts (the BMW and Tour Championships to close the 2007 FedEx Cup Playoffs, the Target World Challenge in December, the Buick Invitational two weeks ago and now Dubai) and seven of his last eight. Mentally unscarred by important, close-run or self-inflicted defeat, the 32-year-old Californian surely can look forward to many more years spent happily shutting the big mouths of those players dopey enough to identify publicly any shortcomings they see in the man who very well may be the best golfer the game has ever seen. He certainly lived up to that exalted billing in Dubai over the closing holes.
One last thing: According to the fact-sheet distributed in the wake of this latest Woods win, this was his first top-10 finish of the 2008 European Tour season and the 63rd of his career in only 80 events. Hey, congratulations Tiger.