News
Major lift: A lot of short-game work paid off for Trahan, who was 167th in putting last year but first last week.
After four rounds of big wheels taking noisy carts to strange places, the Bob Hope Chrysler Classic stage was cleared of imposters Sunday for actual golfers such as Justin Leonard. He has won this marathon before, he is back in the sport's good graces following a brief contretemps and he has that look again of a guy who doesn't ask for directions. Lo and behold, the gritty Texan ran into another guy who leads with his jaw, D.J. Trahan. The two of them engaged in a nifty stare fight, but after five hours plus on a breezy but manageable afternoon at the Classic Club, spectators who avoided football and occupied the half-full bleachers framing the 18th hole were spared any drama. Trahan had so completely taken command that he could afford to lay up on the par 5. He birdied, of course, because that is how you shoot 65 for 26-under 334 to register your second PGA Tour victory at age 27 with surprising ease.
"D.J. earned it because he played great, but he had help," offered Leonard, who could not have imagined that his birdie at No. 7, where Trahan made bogey, would be his final circle on the card. Trahan, four down again as he was at day's start, admitted he wasn't "particularly optimistic" either. After all, Trahan mused while clutching his $918,000 cardboard-replica check, Leonard is a major champion, a Ryder Cup hero and one tough hombre. But history says that Hope front-runners after 72 holes tend to stall for some reason. Maybe it's their biological clocks. Whatever, only 19 of 49 have prevailed, and Leonard isn't among them, not with 39 whacks on the back nine for an unimposing 72. Good for solo second, three behind Trahan, and one ahead of Kenny Perry and local favorite Anthony Kim, but not good enough.
"Compared with last year, when I missed my first six cuts starting here and got lost for a while, I suppose it's progress," Leonard reasoned. "And a few years ago, before I had kids and developed a stronger faith, I really would be beating myself up now. But it's still disappointing."
Just don't suggest that Leonard has shed some his desire. Someone did earlier in the tournament, and Leonard quickly issued a correction. What he couldn't erase Sunday were those oddly wayward projectiles, beginning at No. 9, where he settled for par against Trahan's birdie. Then at No. 10, a two-shot swing. Trahan putted once from 32 feet, Leonard thrice after he overcooked the first. They tied at No. 11, where Leonard bogeyed from a bunker, and Trahan moved to 25 under with a birdie at No. 14, where Leonard's chip pulled up well shy. When the latter rued about not giving himself a chance thereafter, he does not exaggerate. Leonard's tee ball on No. 15 landed in the pine straw, on No. 16 burrowed in the sand and on No. 18 vanished in the water. "Thought I needed eagle and tried to hit it too hard," he sighed.
Amazed at such a meltdown? Here's another bulletin: Trahan, the former Clemson star whose first triumph was the 2006 Southern Farm Bureau Classic, has teeth. An unsmiling poker face during business hours, Trahan was all grins in the post-mortems, particularly when informed that he led the field in putting. The short stick has been his bane. He ranked 169th on tour in 2007. "But he started turning it around toward the end of last year," said caddie Todd Sunderland, Trahan's pal since second grade. "Now, every day, we do a drill. He has to make 100 six-footers in a row." As for Trahan's demeanor, Sunderland conveyed the obvious: "D.J. is not someone you have to remind about staying focused." There wasn't much conversation in the lead threesome that included Robert Gamez, but as Trahan said, "when you're trying to win a golf tournament, the object is to concentrate. I don't have much trouble with that. Even after five days here, on four different courses. When you're trying to win, there's no fatigue factor."
Trahan competed in two previous Hopes, but had achieved only one round in the 60s -- again, because this is a putting contest, and he didn't join the fun. His pre-Sunday numbers this time -- 67, 64, 68, 70 -- bespeak a learning curve for another twentysomething who grew up in golf country (Hilton Head Island), was encouraged but not forced by a father, Don (D.J. stands for Don Jr.), then matriculated to a high-profile college program with a team that produced, among others, Lucas Glover and Jonathan Byrd. "Naturally, you have high expectations for yourself," said Trahan, who sensed he belonged after his first tour trophy, and now knows it well enough to consider buying that piece of property back home so as to satisfy his hunting and fishing habits.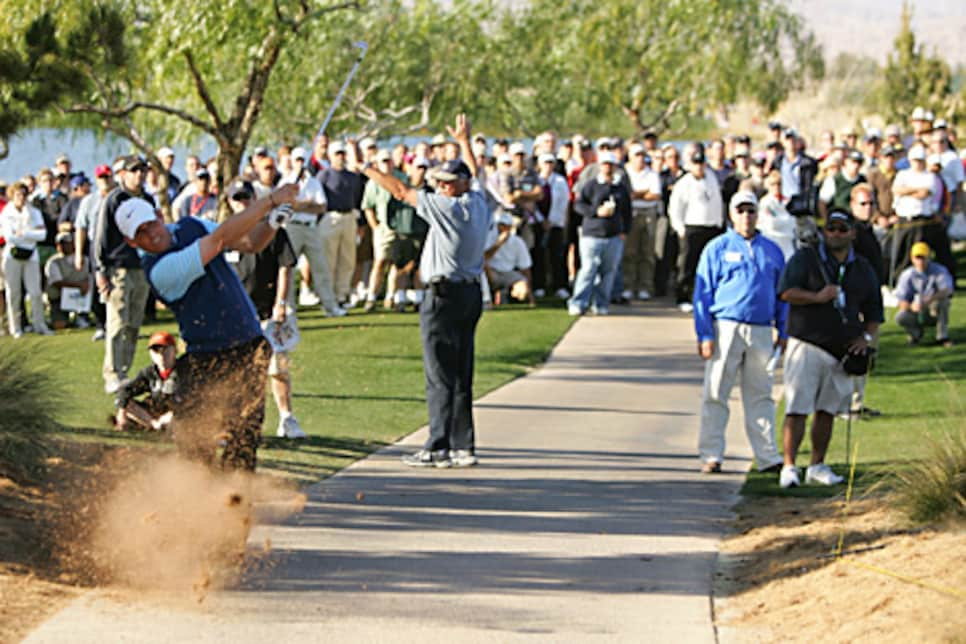 Even the driven, eyes-straight-ahead Leonard was impressed by Trahan's composure. The Hope is different in many ways. Wednesday morning, for instance, Tim Petrovic was first off No. 10 at the host Classic Club. He sizzled out in 31. "And then we had halftime," he said, having counted four groups ahead of his on the No. 1 tee. "The Super Bowl halftime is 20 minutes and ours was about 40 minutes. With no entertainment." The weather can be quirky, too. Not Green Bay quirky, but quirky. Boo Weekley, who wanted no part of Scotland's dampness, found the desert so painfully dry that he awakened with a bloody nose. That don't happen back home in Florida, added Boo, "not unless somebody hits me." Even after all the amateurs disappear, Sundays can be unnerving with threesomes off both nines in hurry-up-and-wait formation.
But it isn't every week that you get to see a group comprised of Jesper Parnevik, Alice Cooper and Meat Loaf. Still, many golfers in the field thought the list of celebrities besides George Lopez was a bit lean. Apparently, the lads were not impressed by the recruitment of Keith (Whoa Nellie) Jackson, the famous football broadcaster who enjoyed retiring so much, he did it twice. Of course, the movie stars and singers could have returned the volley by cracking on the roster of pros. Only three of the top 30 ranked golfers were in town -- Scott Verplank, Stewart Cink and Mike Weir -- and to fill 128 spots for the edification of 384 amateurs, the PGA Tour went deep into the alternate list. Real deep. But the show must go in, and the Hope always salutes history in such a way as to honor the legendary entertainer whose name this tournament bears. At Sunday's ball the theme was "Road to Zanzibar," one of Bob Hope's most successful movies, co-starring Bing Crosby and Dorothy Lamour. Visitors at the bash were greeted by an elephant, zebra, monkey and giraffe. "We try to do it bigger and better each year," said Travis Erwin, co-chair of the choreography.
Last week's Hope marked the debut of SilverRock Resort to the rotation. The course, owned by the city of La Quinta and designed by Arnold Palmer, was supposed to be finished and ready for the tournament by 2006. But delays occured, in part as a result of flooding. SilverRock is situated at the base of the Santa Rosa Mountains, along a canal, and Hope golfers noted that depending on the time of day, a number of holes are played in the chilly shade. The Classic Club, which is owned by the Hope foundation, underwent a number of cosmetic changes estimated by board member John Foster to cost $500,000. Also, the routing on the front nine was revised for the tournament week to improve the flow of play. The first hole became No. 3, the second became No. 4, the eighth became No. 1 and the seventh became No. 2.
Best of all, for the entirety of five rounds, unlike last year's final round when flagsticks were bending at the waist, the howling winds never materialized. After the closing 18 holes one January ago Phil Mickelson inquired whether the tournament would be returning to the Classic Club this January. It would, he was told, and thus he didn't. But the lefty wasn't the only conspicuous absence. Star pitcher Roger Clemens was supposed to participate again, but withdrew because he has been quite busy of late. Then there was John Daly, who started but didn't reach Sunday. During the third round Friday at the PGA West/Palmer course, Daly was tended to a couple of times between shots by famed therapist Jim Weathers. Big John says he is still ailing from a rib injury incurred last year. "When I breathe sometimes, I get this burning sensation," said Daly, who did attend parties Friday night and into Saturday morning.
At one of the bashes, Daly was reported to have joined Cooper in a rendition of "Knockin' on Heaven's Door." However, shortly before his 9:33 scheduled tee time at the Classic Club for Round Four, Daly withdrew, citing a rib injury. Last year he collected a half dozen WDs, and as much as Daly is beloved by fans, tournament directors might be getting wary of his risk-reward quotient. "I've played in Phoenix for a bunch of years, 17 or something, and thought I would get an exemption from them," Daly said, referring to the FBR Open next week. "But it ain't happening. The way I played last year, being hurt, I gotta depend on a lot of sponsor's exemptions. I don't like it, but that's the way it is. One way to change that would be to play better." But to play better, Daly has to play, period.
With the addition of SilverRock, the Hope dropped Bermuda Dunes, which was right up there in longevity with Augusta National, Pebble Beach and Colonial among courses visited continuously by the tour. But unlike shorter layouts such as Tamarisk and Indian Wells, staples of your grandfather's Hope Classic, Bermuda Dunes is not forgotten. While La Quinta CC is submitting to clubhouse renovations next year, Bermuda Dunes shall rejoin the rotation for the Hope's 50th anniversary tournament. Maybe Roger Clemens will be available for that affair. If he's free.