News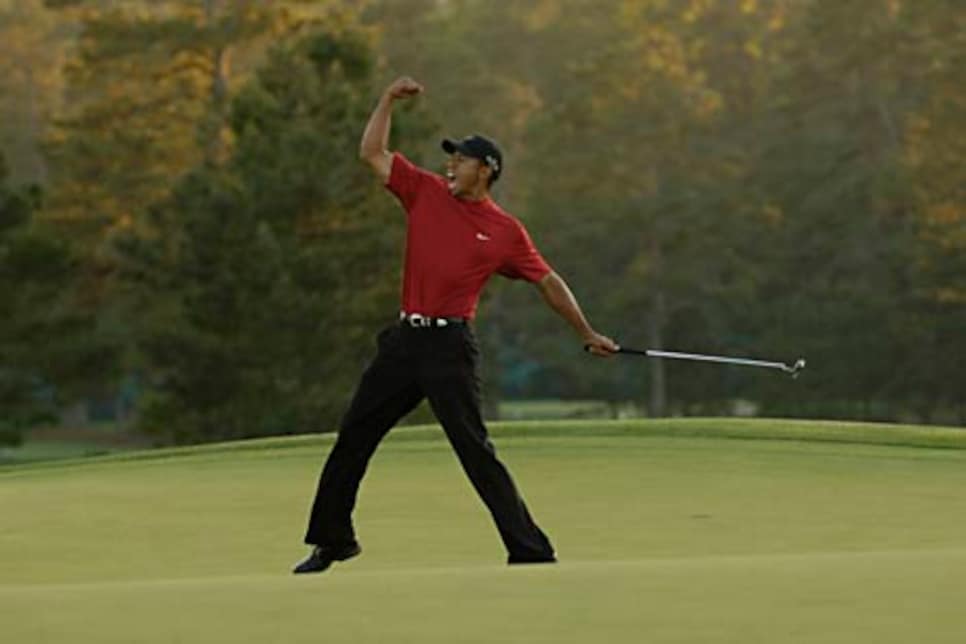 Among the many bits of conventional wisdom Tiger Woods seemingly has blown out of the water is the notion golfers hit their competitive peak in their mid- to late-30s. Woods won so often and so overwhelmingly right out of the box that many declared he had established a new blueprint for a competitive career: Winning early rather than building toward success. What if we were wrong? What if Tiger's best years are yet to come?
After his first five full seasons on the PGA Tour, at the end of the 2001 campaign, Woods had 29 victories including six major championships -- and had not yet celebrated his 26th birthday. What Woods accomplished so early is remarkable -- but, even more remarkably, the guy appears to be getting better. Consider what Woods has done in his last three seasons. Since 2005, Woods has played in 52 PGA Tour events and won 21 of them, including five majors. It seems as if Woods' full powers are arriving right on time. As was the case with Jack Nicklaus, Woods might not only be the exception that proves the rule, he is the exception and the rule.
With 61 victories Woods is fifth on the PGA Tour's all-time list, trailing Sam Snead (82), Nicklaus (73), Ben Hogan (64) and Arnold Palmer (62). Tiger, who begins his 2008 campaign with the Buick Invitational at Torrey Pines this week, turned 32 in December. His next five seasons will take him through age 36. Let's check out what the four guys in front of Woods on the career victory list did during that stretch of their careers.
From 1972-76, Nicklaus won 23 PGA Tour events, including five majors. Palmer grabbed 24 titles and four majors in the 1961-65 window. Snead won 15 times with one major from 1944-48, and Hogan won an astonishing 35 tournaments with three majors during the same stretch. Perhaps because World War II limited their competitive opportunites, Snead had his best year -- 11 wins in 1950 -- at age 38. And Hogan, despite nearly dying in a car crash in 1949 (the year he turned 37), won six majors after coming back.
What conclusions should we reach from all this? First, Woods needs 22 victories to pass Snead on the career list and six majors to break Nicklaus' record of 18. Those are both achievable in the next five years. In fact, they are almost exactly the numbers Nicklaus posted when he was between 32-36.
Second, if anything, Woods is becoming more Nicklaus-like every year. Woods used to win majors in romps -- 12 strokes at the 1997 Masters, 15 strokes at the 2000 U.S. Open and eight strokes at the British Open that same year. His last five majors have been won by a total of 15 strokes, three by two or less. Does this mean Woods is less dominant? No. It means he has matured into the kind of patient golfer who waits out his opposition and capitalizes on their mistakes. Not only has Tiger won five of his last 12 majors, he has finished in the top five in 10 of 12.
In his first 32 majors Woods had only 13 top-five finishes, and eight were victories. Clearly, he is doing a better job of positioning himself to win. Woods likely won't get to the 19 runner-up finishes Nicklaus had at the majors, but the fact three of his four seconds have come since 2005 demonstrates how his game has changed.
The best is quite likely yet to come for Woods. That's a notion that has to send every golf fan's heart skipping with joy.