News
All Eyes Are On Torrey Pines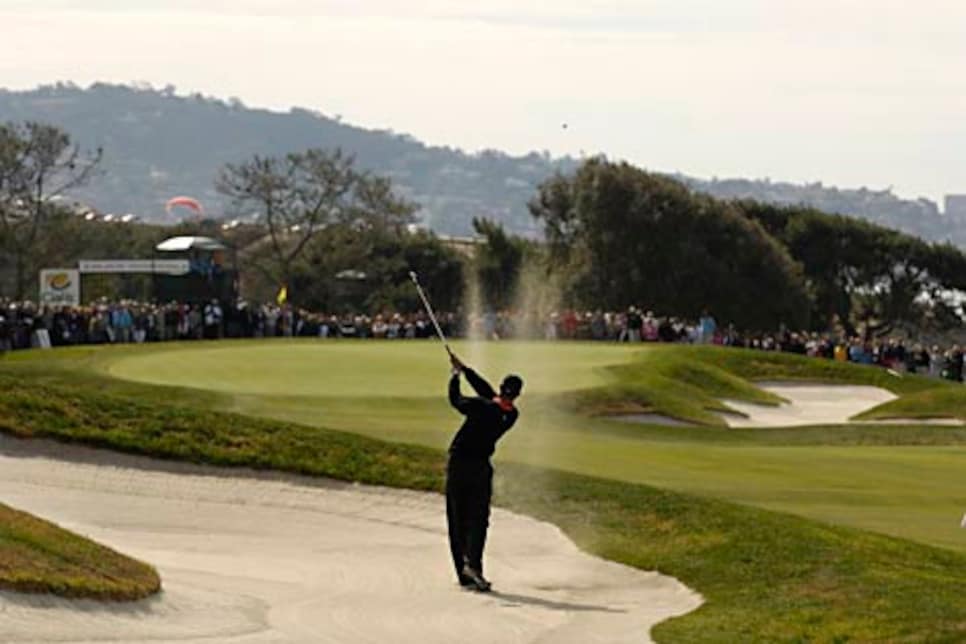 As he did in '06 and '07, Woods looks to start his year with a win at Torrey Pines.
Woody Allen once said, "80 percent of success is just showing up." Something in that expression speaks to a tournament director in professional golf, for there is no dismissing the premise that who shows up largely impacts an event's dynamics.
If this week's Buick Invitational has an aura of commencement as well as comparative significance, then peruse the guest list: It augurs the advancement of tangible and tangential agendas as well as a general cognizance of heightened appeal outside the golf community. For just the fifth time since their pro careers intersected in 1996, Tiger Woods and Phil Mickelson, the best players of this generation and the game's biggest draws, will make their respective PGA Tour season debuts in the same event. Never before, however, has it occurred at the Buick, where the playing field might be as level between them as anywhere the two native Californians converge outside of Augusta, Ga.
Woods, the No. 1 player in the world, is the five-time champion who is using Torrey Pines GC as his launching pad for the fourth time in six seasons. That he has won four of the last five Buick titles (three in a row), coincidentally, brings veracity to Woody Allen's math. Tiger's 10 starts at the public facility in La Jolla, Calif., have yielded five wins and as many other top-10 finishes.
Second-ranked Mickelson, who has swatted balls all over the North and South courses at Torrey Pines since he was a youngster, owns three Buick Invitational titles. But this week marks the first time he is using the venue for his opening salvo, and he brings with him a more "Harmon-ious" game, thanks to intensified work with instructor Butch, and a self-proclaimed fitter physique.
Five times Woods has begun a season victorious, Mickelson four times. Woods holds a 3-1 edge in their four previous common appearances at the Mercedes-Benz Championship.
"There will be buzz, and there will be electricity. San Diego will have that," said fourth-ranked Jim Furyk, acknowledging that Woods and Mickelson, for better or worse, elevate the status of the year's fourth event and transform it into a season primer the way Greg Norman and Nick Price in the '90s lent extra credence to the opening stop of the tour's Florida swing when it was held at Miami's Doral Resort & Spa.
Buzz, at least of a discordant variety, was predicted as early as Tuesday when players had to attend either of two mandatory meetings to review the tour's random drug-testing policy, which goes into effect July 1. Given the nearly universal objection to the new cut guidelines, by which weekend fields are trimmed to the number nearest 70 if more than 78 players survive, it would surprise few if the membership used the occasion to request that last year's player representatives on the PGA Tour Policy Board go to the head of the line.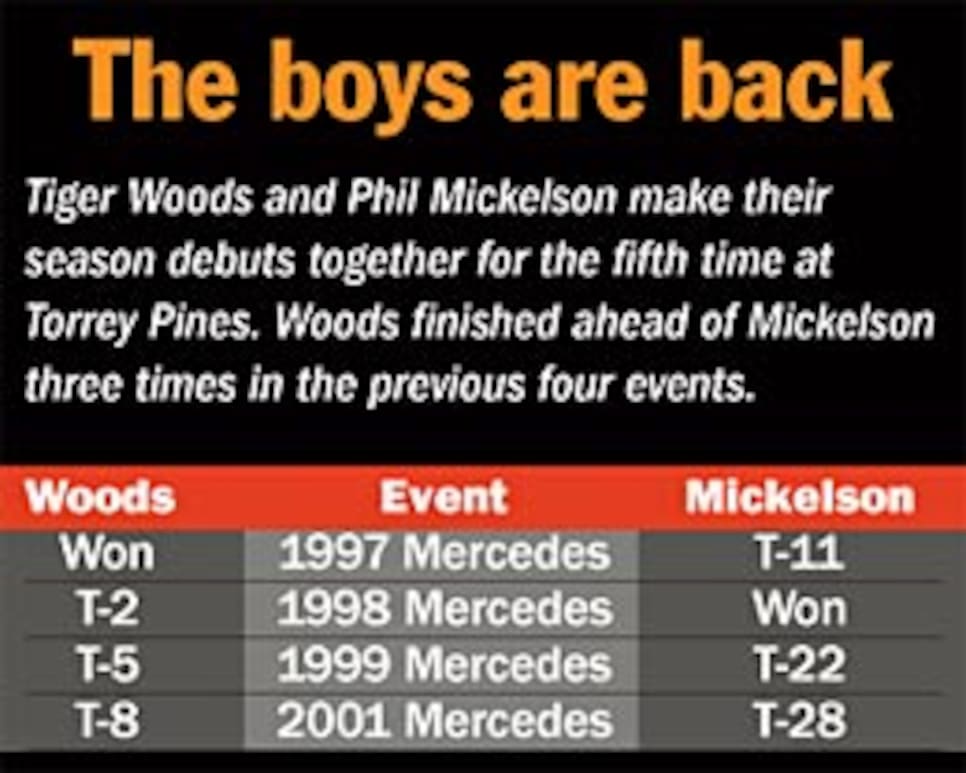 The presence of Woods and Mickelson, plus PGA Tour commissioner Tim Finchem's first foray afield in '08, offsets the absence of 14 of the top 25 players on the World Ranking, many of international heritage who have the Qatar Masters and next week's Dubai Desert Classic in their sights rather than a rudimentary refresher on Torrey Pines South, which in June hosts the 108th U.S. Open.
America-based players differ.
Among the notables making their re-acquaintance with the South course, which Rees Jones redesigned in 2001, is Furyk, who won the '03 U.S. Open and has been runner-up in the national championship the last two years. His Buick Invitational record consists of two missed cuts, the last in '01. Former British Open champ Justin Leonard, second in last week's Bob Hope Chrysler Classic, is making just his fourth start at Torrey Pines. Chris DiMarco last appeared in the event in 1995, Kenny Perry in '97, Rocco Mediate in '98. Former Masters champion Mike Weir finished T-5 in his only try in '01. Heck, even Vijay Singh is making just his sixth appearance at Torrey Pines.
But if reconnaissance is the motivation for some contestants, their journey might prove relatively fruitless. This would shock the likes of Leonard and Perry, who both anticipated that the course would resemble an Open test. "Seeing how they're kind of getting ready for a U.S. Open and they know that a lot of guys are coming to get a look at it, I think it will be set up more for a U.S. Open," Leonard surmised at the Hope. Given that most Open tees will be in use this week and mowing patterns will be somewhat similar, players can discern appropriate sightlines. But most other characteristics on the 7,568-yard course will be drastically different according to Mike Davis, senior director of rules and competitions for the USGA. "I don't think players can pick up all that much," Davis conceded, citing the soft conditions competitors should encounter this week compared to the anticipated firm, fast layout Davis believes the USGA can "dial in" to its preference during the more arid weeks leading up to mid-June.
Start with the greens, which will be significantly more firm five months from now and about two feet faster, topping out at around 13 on the Stimpmeter compared to 11 this week. Fairways will be narrower, naturally, and the combination of three new tees and the conversion of the par-5 sixth hole into a 515-yard par 4 will bring the specifications of the course to par 71 and 7,643 yards -- nearly 400 yards longer than any previous Open layout.
The last par-71 U.S. Open course was Pebble Beach in 2000. It measured 6,846 yards. No, this won't be a U.S. Open preview, except that the two favorites should remain the same when they show up again this summer.