News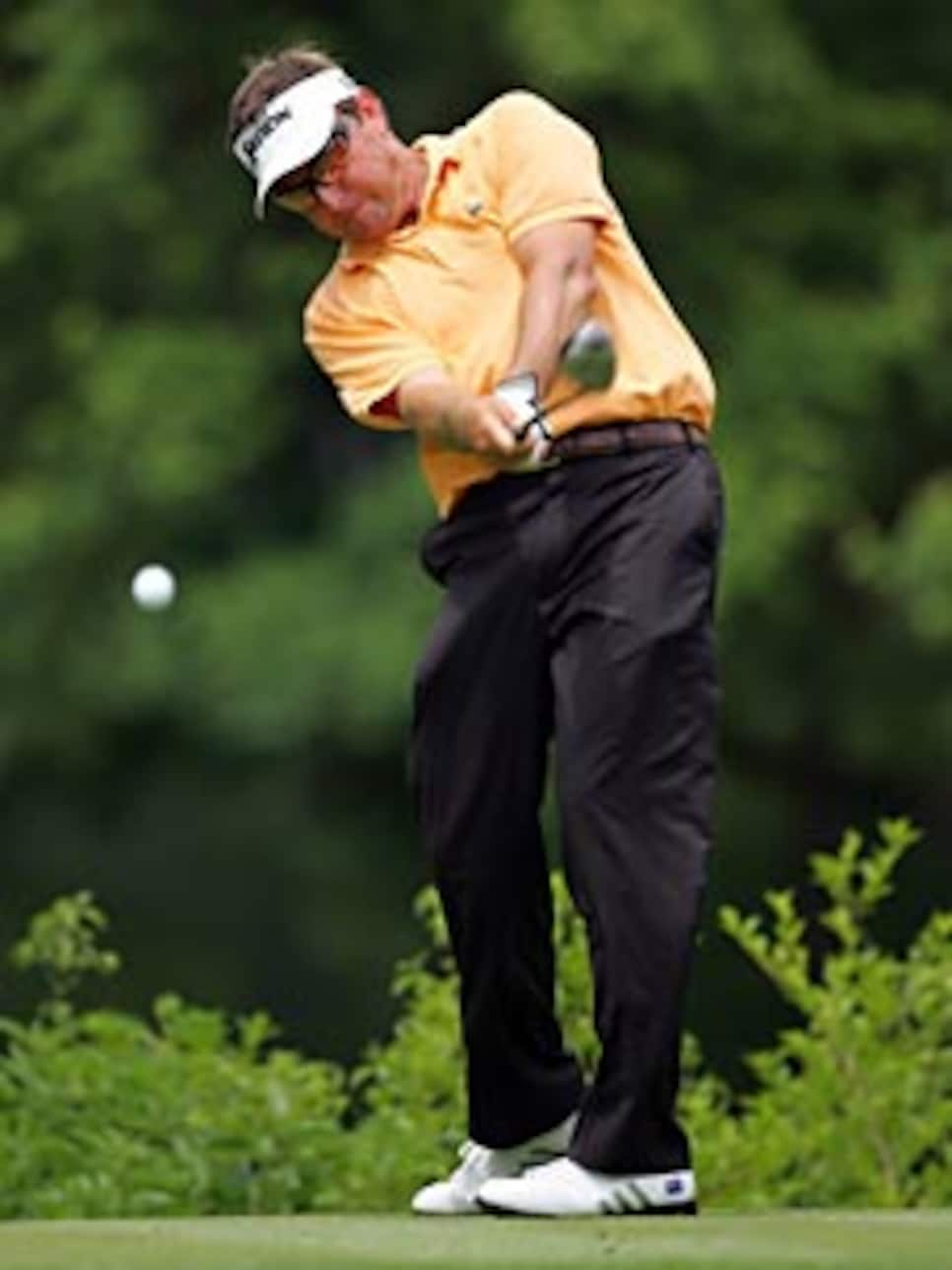 Keeping it steady: Allenby uses the same shaft weight in driver, fairways.
The start of the new year is when people often make a resolution to lose weight. PGA Tour players are no exception, but the shedding they have in mind is taking place in tech vans, not workout rooms. Specifically, they are cutting back grams -- the amount of weight their fairway-wood and hybrid shafts contain.
For touring pros, equipment reps from several shaft companies define "lightweight" as anything less than 75 grams for fairway woods (or about 10 grams lighter than a decade ago) and less than 90 grams for hybrids. While most players still use shafts -- fairway-wood or hybrid -- that are beefier than that, perhaps as many as one in six are taking advantage of the more streamlined offerings. John Oldenburg, VP of engineering for Aldila, thinks he knows why.
"Manufacturing processes have pushed the development of graphite," he said. "Better resins and high-modulus carbon fibers have evolved to the point where shaft weight has been able to drop and still stand up to the rigors of a PGA Tour swing."
Part of the reason players are transitioning to lighter fairway-wood and hybrid shafts is to avoid a huge gap in weight (and therefore feel) between their previously used shafts. Take Rod Pampling, for example. The Aussie uses a 66-gram shaft in his 3-wood, a 76-gram shaft in his 5-wood and an 80-gram shaft in his hybrid -- a weight gapping that allows him to transition smoothly from driver through irons. Robert Allenby makes things even easier, using a 65-gram shaft in his driver as well as his fairway woods.
But when considering lightweight options, there are pitfalls to consider: swingweight, for example. According to Dr. Alan Hocknell, VP of innovation and advanced design for Callaway, a golfer needs a heavier clubhead to keep the same swingweight when using a lighter-weight shaft. A conventional-weight shaft in a fairway wood requires a head weight in the 203-205 gram range. But drop to a 70-gram fairway-wood shaft and the head weight should increase 10 grams, if not more. By going lighter but keeping the same head weight, the swingweight would go from somewhere in the low-D range into the high Cs. Another way to combat the swingweight issue would be to use a longer shaft. That would help counterbalance the club, but the longer shaft might not be able to be produced at the same weight.
So other than gapping, why go lightweight? Head speed. According to Pat McCoy, manager of technical services for Fujikura, a tour pro who drops to a 60-gram shaft from a 90-gram weight might pick up more than five yards of carry distance. But he cautions everyday players: If you are contemplating lightweight shafts, you should go on a launch monitor to make sure the change will help. More speed but a worse launch condition won't work, he contends.
"Players want to move the club faster," said McCoy. "But you need to launch the ball correctly to make the most out of lightweight."
If you want to see the light, you need to get the entire picture.
Bob Hope winner D.J. Trahan's second tour win was achieved with a set of prototype, forged muscleback blade Wilson FG 58 irons. Trahan also used Titleist's new Scotty Cameron Studio Select Newport 2 putter, a model that will be available in March.
The Bob Hope was the best week in the young career of Chez Reavie (T-5), and it came with a set of Titleist's soon-to-be released ZM Forged irons. Reavie ranked T-5 for the week in GIR using the clubs. Reavie also used Titleist's 907 D4 driver -- a model not available to the public. Ball: Titleist Pro V1x. Driver: Titleist 907 D4, 8.5 degrees. 3-wood: Titleist 906 F2, 15 degrees. Hybrid club: Adams Idea Tour prototype, 18 degrees. Irons (3-PW): Titleist ZM Forged. Wedges: Titleist Vokey Spin Milled (54, 60 degrees). Putter: Scotty Cameron by Titleist 303 GSS.
Kenny Perry is notorious for bringing several putters with him to the course and changing clubs when the mood strikes. Last week at the Bob Hope the timing was good as he put a TaylorMade Rossa Spider in play and finished T-3 in putts per round (with no more than 28 in any round) and second in putts per GIR en route to a T-3 finish. … Robert Gamez had a frustrating final round that dropped him from second to T-16, but he has found a golf ball that works -- albeit a three-year-old one. "[Last year] I changed irons and tried the new Titleist Pro V1x, and it was spinning a little bit too much so I finally went back to the [Pro V1x] I was playing in 2005. That seemed to bring my ball-striking back," Gamez said after the third round.