News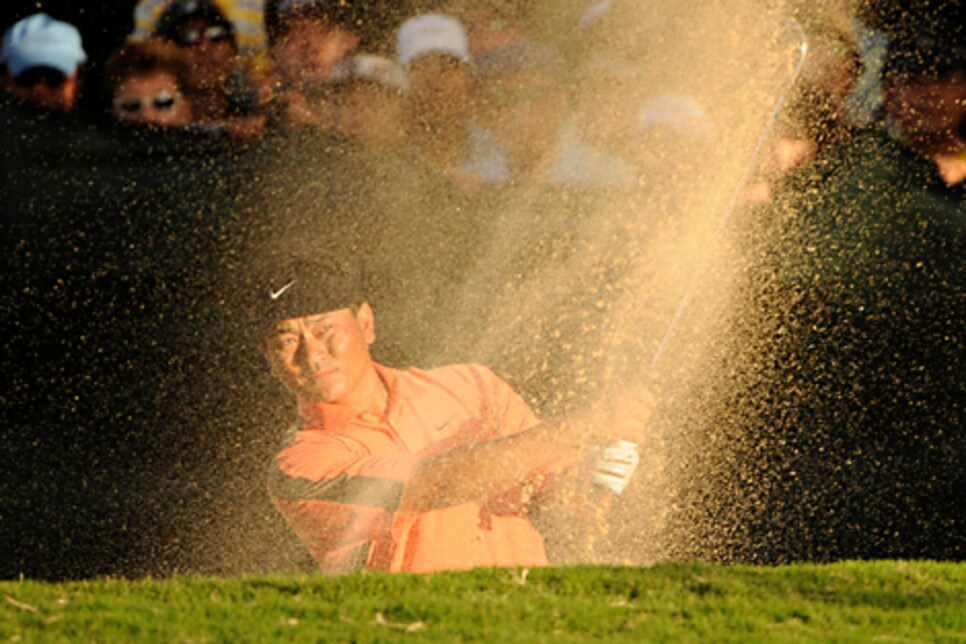 Golf is an international game, but it also is a provincial one, and K.J. Choi's victory in the Sony Open in Hawaii Sunday was a popular one in Pacific Rim precincts, even giving rise to the notion that an Asian man is poised to win a major championship for the first time.
It is not necessarily incumbent on this native Korean to erase the historical void, but Ode to Choi is playing on the continental jukebox. His linear ascent -- five victories in the last three-plus years -- has heightened expectations to levels rarely seen before.
Choi, 37, has the requisite credentials, notably the names Nicklaus and Woods turning up on his résumé. He was fifth on the PGA Tour money list in 2007, when he won prestigious tournaments hosted by Jack (the Memorial) and Tiger (the AT&T National), and he has penetrated the top 10 in the World Ranking. He has won tournaments in four consecutive years, a streak that ranks third only to Woods (12 straight years) and Vijay Singh (six), among active players. He also has had top-10 finishes in every major except the U.S. Open.
"Majors are tough to win," he said through an interpreter, in response to a question that has become inevitable in the wake of every Choi victory. "I think the Lord, when He thinks that it's time for me to win it, he'll give it to me."
At least he has a hope and a prayer. Neither was available to those in pursuit of Choi at Waialae CC. He won wire-to-wire and deftly kept his distance from the field on a windy Sunday. The four-stroke lead he carried into the final round was only one stroke more than his margin of victory over Rory Sabbatini.
Choi's seventh tour victory was the first by an Asian in Hawaii since Isao Aoki won in 1983, and it played to an appreciative audience on a Pacific island with a large Asian influence. "He's like a local," Waialae head professional John Harman said. "We have a big Korean population. When I went back to my office yesterday [Saturday], I had 15 messages, all from Koreans." So it was that upon completing his round Sunday, Choi was informed by a fan that it was the 105th anniversary of the first Korean immigrants arriving in Hawaii. A party of 102 Koreans arrived aboard the SS Gaelic that docked in Honolulu on Jan. 13, 1903. "For me to win this tournament on this special day really means a lot," Choi said.
His amiable nature contributed to the size of the crowd ringing the fairways and greens on which he trod. Eleven of his friends, conspicuous by their matching yellow shirts with "K.J. Choi" printed on them, traveled from his hometown of Wando, South Korea, to watch him play on the weekend. They booked the flight two months ago. Fortunately, he made the cut, which mercifully spared the cut from absorbing even more abuse.
A faction of the tour apparently had failed to acquaint itself with a new cut rule. The old rule stated that the low 70 scores, plus ties, would make the cut and play the weekend. That still holds, though with a caveat: If more than 78 players make the cut, to expedite play on the weekend, the cut is adjusted to the next lowest score and ties, which in this case meant 69 players advanced to weekend play. This eliminated 18 players who were tied for 70th, many of whom seemed surprised that they were not invited back.
The most vociferous among them was John Daly. "I had no clue [about the rule]," Daly said on the Golf Channel. "I don't understand the rule. It's a crazy, stupid rule. I'm grinding my butt off to make the cut at even. I just wish we'd have known."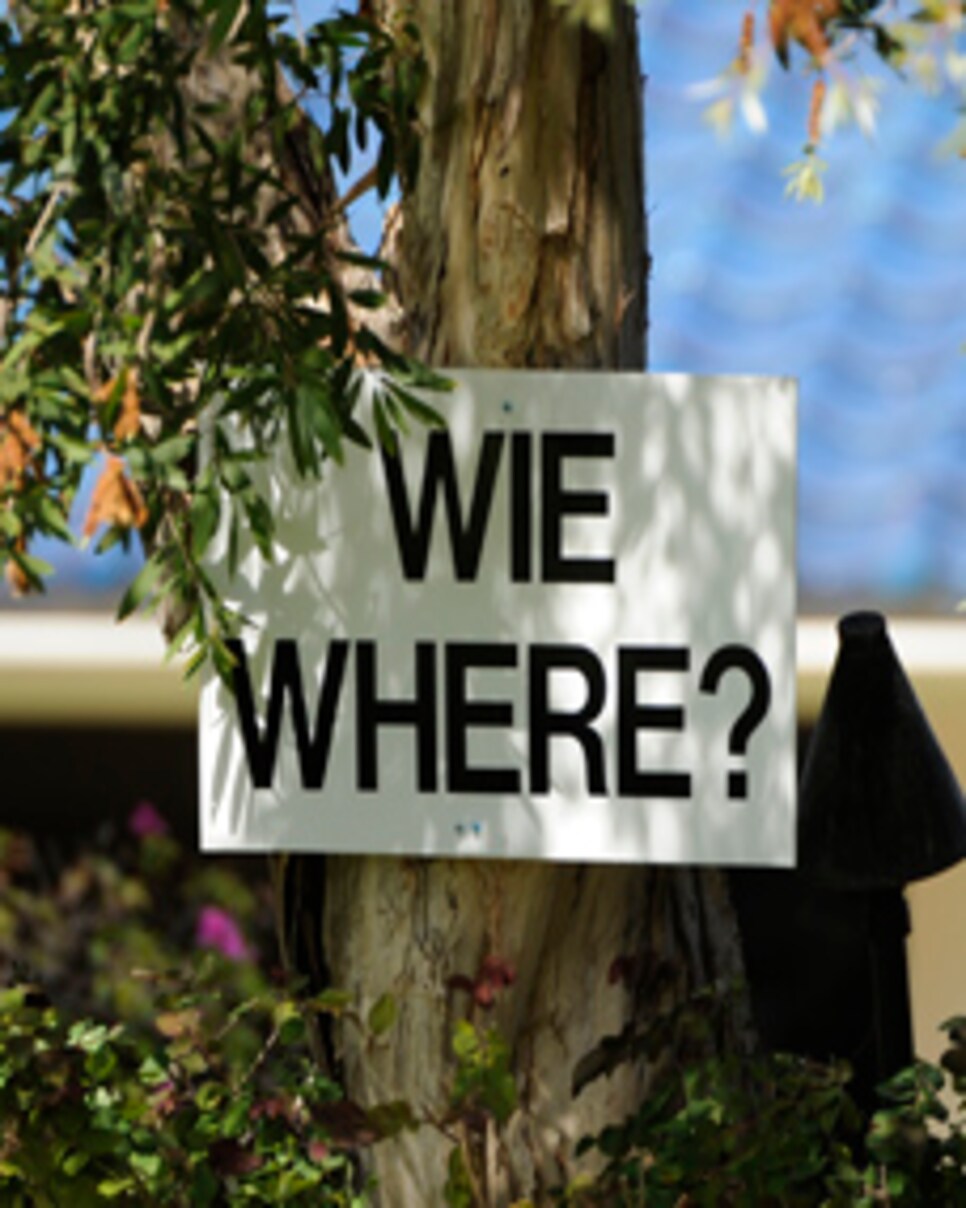 The story in this case ought to have been that Daly was actually grinding for the opportunity to play more. Bearing down under trying circumstances is not typically part of his repertoire. Indeed, he has withdrawn so often (11 times) in the last two years, that perhaps he ought to be known as WD, not JD.
Daly may not be the most credible spokesman on this issue, but neither was he alone in his resentment over the rule. Someone, presumably a player, drew up a rudimentary poll -- more as a statement than as a fact-finding mission -- and posted it on the bulletin board in the locker room. "Are you in favor of the current cut policy?" it asked, its lack of objectivity evident by the 44 lines for players to add their names under "no," and the 22 lines for "yes." Six names turned up on No side, none on the Yes side.
Objections notwithstanding, the only issue seems to be the fact that players weren't reading their tour communiqués. The rule, passed by the PGA Tour policy board on which four players sit, was explained to them in mail and e-mail, and, in the event they still overlooked it, the new rule was sent to their agents, too.
If it is bad policy, the time to argue it seemingly should have been before it was enacted, not after it was enforced. It brings to mind tour players' collective surprise at elements of the initial FedEx Cup last year. Then again, off-course minutiae is not their strong suit.
Those who did survive the chopping block were playing for second anyway. The stiff trade winds that turned Waialae into an obstacle course Sunday rendered the chase impossible, and after rounds of 64, 65 and 66 on docile days, Choi needed only a single birdie and a round of one-over-par 71 to prevail on a day from which he took away more than a victory.
"This has a lot of implications for this year," Choi said. "The biggest thing I learned is that no matter what the conditions are out there, you have to stay patient with yourself. This experience in Hawaii is going to help prepare me for majors because in those tournaments you have to be patient. You can't get too greedy."
Winning a major championship has moved to the top of his to-do list, as it would any player of his caliber, especially those for whom winning has become, if not mundane, at least a habit. "I have a goal to achieve," he said. "There's a major I want to win. It gives me the motivation to work harder and shoot for that goal. I think that makes me mentally stronger. If it doesn't happen, it doesn't happen. I'm not going to dwell on it, but it's something I'm going to prepare myself for."
Choi, incidentally, was unaware that only Woods and Singh have longer streaks of wins in consecutive years. He was grateful for his ignorance. "I achieved it because I didn't think about it," he said. "It was all through hard work."
The thought of winning a major is not similarly avoidable. There are too many reminders, notably victories like that on Sunday, when a continent's hopes are rekindled and land squarely on his shoulders, beckoning him to win one on its behalf and certain that he can do so. There is no greater burden, surely, but no greater compliment, either.