News
Amateur Spotlight: Springing Ahead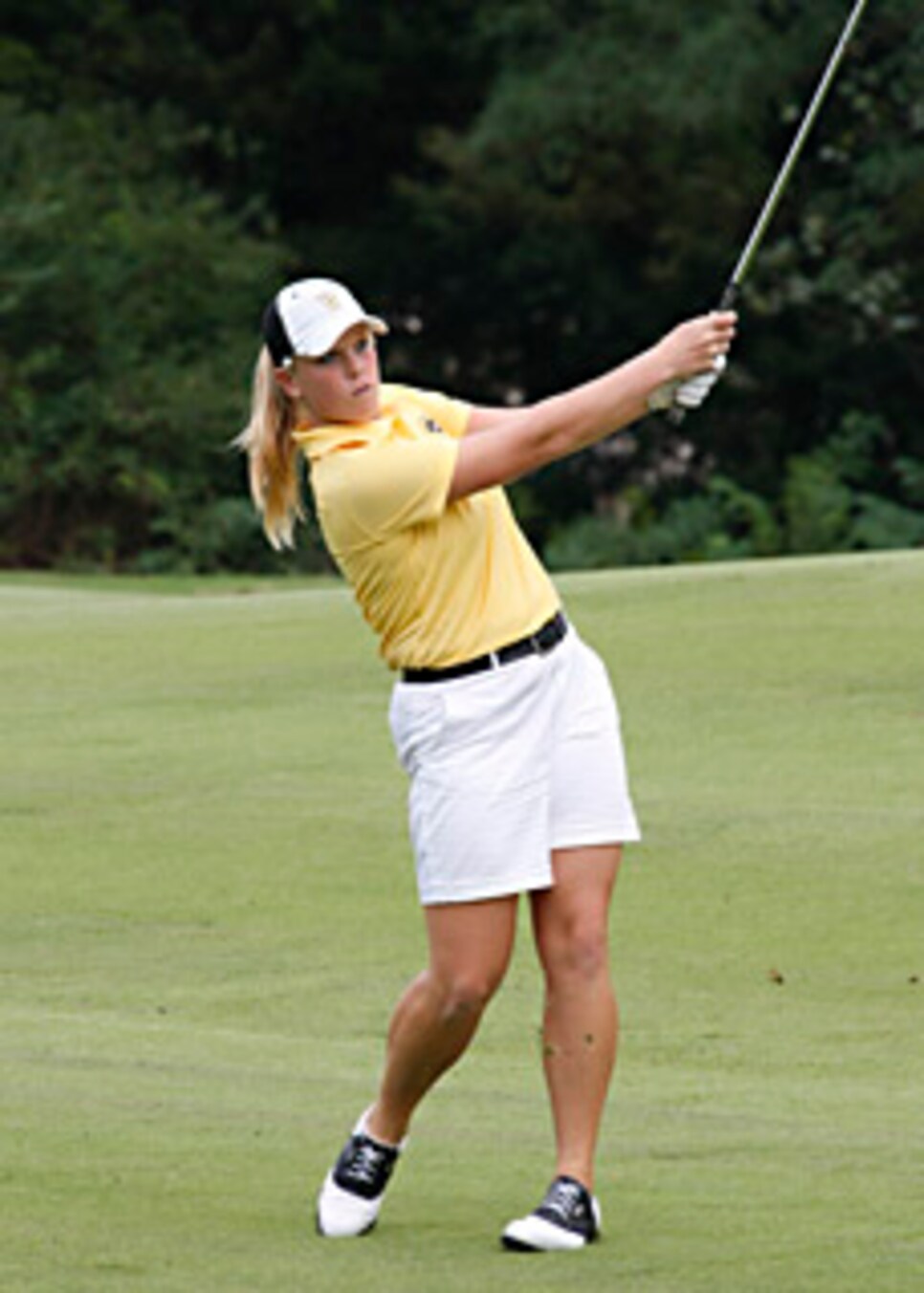 Swing problems and pressure to make the Curtis Cup team affected Concolino.
Vanderbilt junior Jacqui Concolino is known for being a straight shooter off the course as much as she is on it. So it is that the 20-year-old Orlando native has a couple of quick things to get off her chest.
"I've been putting in a lot of work on my swing and my short game," Concolino said last week, having returned to the Nashville campus after the winter break. "I'm starting to regain my confidence and cockiness. I would watch out if I were [my opponents]."
That the two-time All-American, who had a 72.74 career scoring average and four tournament victories entering the season, could only scratch out a 74.33 average and just one top-20 performance in four starts was among the fall's biggest surprises. Having finished ninth and third in the Golfstat individual ranking her previous two seasons, respectively, her current rank of 75th provides plenty of room not just for improvement, but head-scratching.
What gives? From a physical standpoint, Concolino's swing certainly appeared out of synch, an issue dating back to last summer, when she failed to qualify for the U.S. Women's Open at Pine Needles, and then missed advancing to match play at the U.S. Women's Amateur at Indianapolis' Crooked Stick GC. One of college golf's longest hitters struggled with, among other things, her setup and, in turn, her ball-striking.
"I wasn't driving it accurate, and I wasn't driving it as far as I normally do," Concolino noted. "I was just never hitting the ball solid and I couldn't figure out which way it was going to go."
Besides the mechanical issues, Concolino wrestled with a few mental obstacles as well: the pressure to perform well enough to earn a spot on this May's U.S. Curtis Cup team and the departure of her coach, Martha Richards, who took the top job at Texas last summer after seven seasons at Vanderbilt.
The latter particularly proved difficult. All the Commodores were fond of Richards, but Concolino had an especially close relationship. "She played a huge role in my development not just as a golfer but as a person," Concolino said. "She taught me time management, being efficient and how to rely on myself. It really hit home to me more than others."
Richards' replacement, former Arizona coach Greg Allen, admits his style is different than his predecessor (despite the fact she is likely his best friend in coaching). Where Richards was stern and direct with players, Allen is more laid-back and affirming. Moreover, Richards worked closely with Concolino's swing coach in Orlando, Kenny Nairn, to keep her instruction and fundamentals consistent, something Allen wasn't able to replicate.
As tough as it was for Concolino to deal with the separation, it was similarly painful for Richards to watch her former star stumble and be unable to help. "Jacqui is at her best when she's just out there playing and having fun," Richards said. "I think that kind of got away from her."
After a pair of disappointing showings to start the season -- including a tie for 42nd at Vanderbilt's home event -- a third-place finish at October's Lady Tar Heel Invitational offered Concolino hope she had gotten through the worst of it. But then she posted a T-47 at the Stanford Women's Fall Intercollegiate two weeks later, including a final-round 80.
Only then did Concolino truly begin to address how to handle her distress. A heart-to-heart conversation with freshman teammate Megan Grehan ("She made me realize that even though Martha is not here, I can still use what she taught me") was followed by a six-hour dinner with Richards around Thanksgiving, at the request of Allen.
"I'm in a good place now," said Concolino, who never contemplated transferring to another school and is committed to staying all four years at Vanderbilt, eliminating another potential distraction. "It's not an excuse any more. I know what I have to do to get where I was last year."
Added Allen: "There's more of a comfort level now with me and [assistant coach] Nicki [Cutler] and Jacqui. It just took some time for everybody to get settled with each other."
Richards contends that Concolino's setbacks could in the long run prove beneficial. "Nobody's career is a constant, steady climb," she said. "You have to take steps sideways and sometimes backward in order to make the bigger jump forward. I think that's what we'll see."
In the immediate future, Cutler will serve as the extra set of eyes for Concolino and her swing the way Richards had previously. With this in place, Concolino feels confident she will be back contending in tournaments this spring. And while hoping to make the Curtis Cup squad, she won't let that become an issue if she fails to do so.
"The key to success, I think, is being cocky and confident, even when you're not playing well," Concolino said. "Now that my ball-striking is coming around, and my short game has drastically improved over the winter, I'm extremely excited for the first tournament of the spring."