News
A Challenge To The Old Guard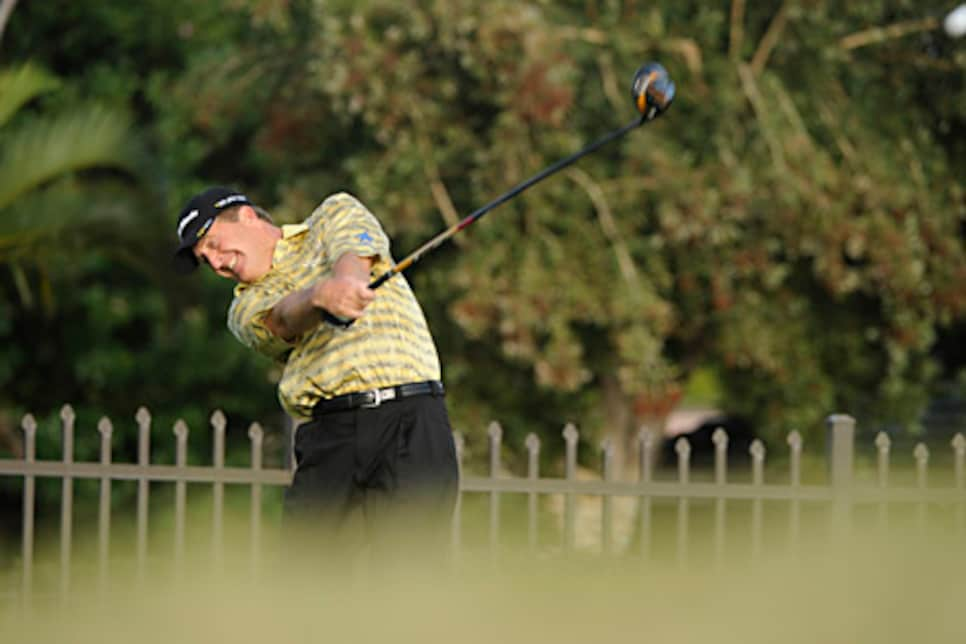 Funk, who was T-10 at the Sony Open, will be a man of two tours in 2008.
The MasterCard Championship begins the 2008 Champions Tour season this week in the laid-back atmosphere of Kona, Hawaii, but despite the idyllic setting to kick off a new year, all signs point to one of the most heated campaigns in tour history. A mix of established stars (including a couple north of 60 who keep defying conventional wisdom), sophomores out to build on initial success and a large crop of rookies should keep things interesting in the wake of two straight seasons dominated by Jay Haas (eight wins and first on the money list in 2006-07) and Loren Roberts (six wins, No. 2 in money both years).
"It's going to be a lot tougher," Roberts said by telephone before a practice session at home in Memphis last week. "It's nice that we've been there the last couple of years, but there are a whole lot more players in the mix now. The darkhorse last year was Mark Wiebe. Nobody knew what to expect, and he came out and won his first week."
Wiebe, the 12th golfer to claim his debut senior event when he took the SAS Championship, was joined in the winner's circle by rookies Bernhard Langer and John Cook. Fellow first-year player Mark O'Meara was second four times. "I was surprised Jeff Sluman didn't play better," Roberts noted of another 2007 rookie, "but he's probably going to make some noise this year."
Fred Funk, 51, is still mixing things up, starting this season with two weeks on the PGA Tour and two on the Champions Tour. He wants to win $2 million on both tours, and if his T-10 finish at the Sony Open last week is any indication, he is on his way. "If [I'm] playing well, I shouldn't finish out of the top 10 [on the Champions Tour]," he said in a statement less boastful than factual, since he had six top-10s in 10 2007 starts and was bothered by a bad back a couple of weeks. Funk has 13 senior events on his 2008 calendar.
The old reliables will be joined by 14 former PGA Tour winners (see chart) who turn 50 before the final full-field event of the season. Eight of them will be eligible by June 1, including former major champions Sandy Lyle, Larry Mize, Ian Woosnam and Hal Sutton. Joey Sindelar, a seven-time PGA Tour winner who won the Wachovia Championship when he was 46, could be one of those golfers with solid records who have better luck on the Champions Tour when he gets there this spring.
"Last year was pretty bizarre saying goodbye to all those places," Sindelar said of his last full season on the PGA Tour. "It was both happy and sad -- not having to play some of those hard holes ever again, but also so many fabulous memories and cool people. But now I'm looking forward, about to rejoin so many of my old friends. Every one of them says the Champions Tour is the coolest thing in the world."
Indeed, the only downer for 2008 is that the major championship schedule is crowded just one year after the five events had been spaced out. "I think that is the biggest negative we have," said D.A. Weibring. The source of concern: The Senior British Open at Royal Troon is July 24-27, followed immediately by the U.S. Senior Open at the Broadmoor in Colorado Springs July 31-Aug. 3. The Jeld-Wen Tradition, which will be played in central Oregon for the second year, is Aug. 14-17, making it three majors in four weeks.
"[I'm] not happy at all about it," said Champions Tour president Rick George, noting the proximity of the two Opens came about when the USGA penciled in its senior championship to avoid a conflict with the Denver-based International event when it was still on the PGA Tour schedule. "I think the American players, if they have to make a choice, which some of them may do, would skip the British to be prepared for the U.S. Senior Open. The Senior British is a very good event for this tour, and I'd hate for its field to suffer, but if any of those fields are going to suffer, it's going to be that one. Having three majors in [four] weeks is just not the best thing for this tour."
Whether it's at the five majors (six for Sindelar, who counts the Dick's Sporting Goods Open not far from his Horseheads, N.Y., home) or the regular stops, the newcomers will have their work cut out for them. The days are long gone when players 55 and older weren't a factor on the Champions Tour. Players are staying healthy and flexible, and lively equipment is playing its part to slow the aging process -- as evidenced by the two men who have won the most events in the last dozen years. Hale Irwin, 62, and Gil Morgan, 61, who have claimed 45 and 25 events respectively, both won a tournament in 2007 while hitting the ball as far as ever. (Irwin averaged 270.4 yards off the tee last season, up from 253.8 when he was a senior rookie in 1995; Morgan ranked eighth in driving distance with a 286.3-yard average, a couple of yards longer than when he turned 50 in 1996.) Even with longer courses set up more difficult than senior venues used to be, older players are still in the mix.
"Hale has given us the model by keeping himself in shape, working at his game and continuing to play a full schedule," said Weibring, who was fifth on the 2007 money list at age 54. "I played 27 events last year, and before I turned 50, I never thought I would play that many. If guys weren't enjoying it out here, they wouldn't play as much."