News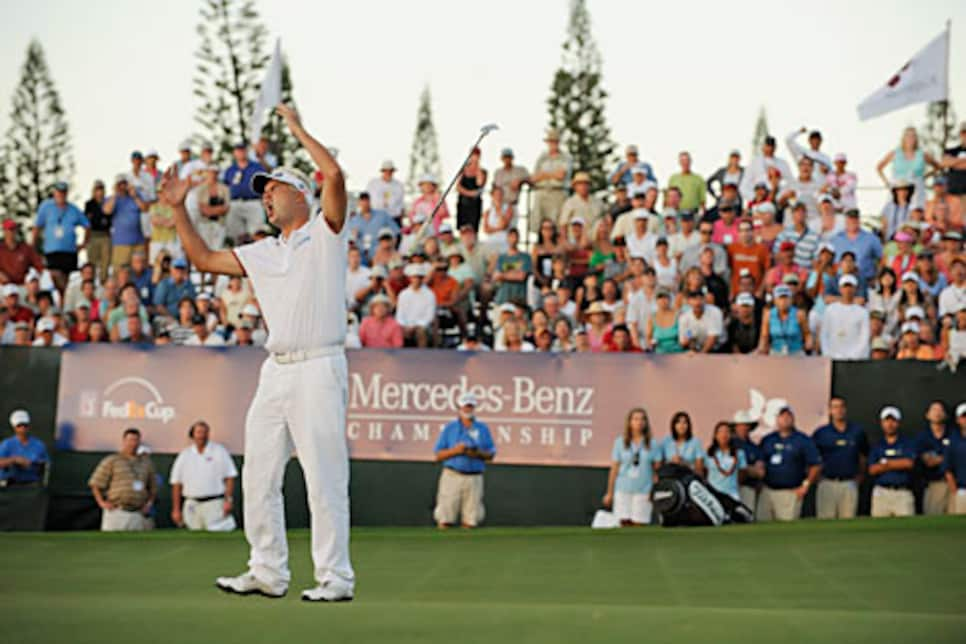 So there was no Tiger or Phil here (again). If your cast has characters, you can still put on a good show, and this one featured a trilingual Swedish Indian (or Indian Swede) with spiky blond hair who once hit a ball from atop the Great Wall of China and lives in Orlando.
Daniel Chopra does not yet command a marquee, but he is a quality player who has been hinting of late at something more substantial. More to the point, he was not assembled at the factory that stocks the PGA Tour.
When the mold is broken, the game is usually enhanced, and Chopra gave the Mercedes-Benz Championship on the Hawaiian island of Maui an interesting winner with a biography that meanders across continents and oceans. "The road is a very long one for some and easier and shorter for others," Chopra said, his own having been a roundabout through the outposts of tournament golf that eventually took him to the PGA Tour.
The 34-year-old beat Steve Stricker with a tap-in birdie on the fourth hole of a playoff dramatically spiced with balls hanging on lips and animated reactions. "It was no Tiger Woods and Ernie Els playoff," Stricker said, recalling the 2000 Mercedes duel between two heavyweights throwing knockout punches. "We were kind of throwing jabs, kind of feeling each other out and seeing who was going to make the first mistake."
A crescendo was reached when Chopra's eagle putt on the par-5 ninth (the fourth playoff hole) on the Plantation Course at Kapalua Resort teetered on the precipice of victory, on the uphill side of the hole, down grain, down wind, and still wouldn't fall. "Half the ball was hanging over the hole," he said. "I was positive, 100 percent, it had to go."
When Stricker's own short birdie attempt went astray, Chopra won anyway, ending a drama that for a time rendered Woods' and Mickelson's no-shows immaterial. Theirs, at any rate, weren't the most controversial absences of the week. PGA Tour commissioner Tim Finchem also opted not to make the trek to Maui for the season opener, to the dismay of at least a few players, Stephen Ames among them. "It's the opening of the year," Ames said. "This is important. I think he should be here. He's here at the end. Is this any different?"
A missing Finchem was perceived as contributing to the erosion of the prestige of an event once known as the Tournament of Champions. Its importance is relative, of course; to Chopra, it assumed the stature of a major. Consider his roots and you begin to understand why.
He was born in Stockholm to a Swedish mother and an Indian father. He spent the first seven years of his life in Sweden, then moved to India. "I love the fact I have two different heritages," he said. "I'm proud to be half and half."
Chopra speaks fluent Swedish, Hindi and English and can alternate among them in an instant. "When I was playing the European Tour and we'd play a practice round with Arjun [Atwal] or Jeev [Singh] and we'd have a Swedish guy playing in the same group, I'd speak Swedish to [one guy], Indian to another and English to my caddie," he said. "I remember we had some American guy playing with us, and he was like, 'What the hell just happened?' "
Chopra was 18 when he turned pro in 1992. Three years later he was in China for the Volvo China Open, when he took part in a photo shoot at the Great Wall of China. "I teed up a ball between the cracks and hit a 5-iron from the top," he said. It was the most memorable shot he hit while finding his way in the hinterlands of professional golf. Chopra also played in Australia and Europe before joining the Nationwide Tour in 2002 and finally graduating to the PGA Tour in 2004. He played 132 PGA Tour events before winning his first, at the Ginn sur Mer Classic at Tesoro late last year. His Mercedes triumph gives him two victories in his last three tournaments dating to the Ginn (with a runner-up in a playoff against Aaron Baddeley at the Australian Masters in between).
"It's happened to a lot of players," he said. "You just need to get comfortable with the situation. I felt 10 times more comfortable going out there today than I did that final round at Tesoro. I was reasonably relaxed this time, and I felt like I knew what I had to do."
Presumably anyone adorned in white from head to toe is at ease with himself ("I wore all black yesterday, so I thought I'd balance it out," Chopra said. "Yin and yang."). He was equally comfortable with his surroundings. Though the Plantation Course was one he previously had known only from television and PlayStation, it was form-fitting for a player who thrives on creating shots to counter its nuances. This, too, sets him apart in a game that no longer is the exclusive dominion of its shotmakers.
"The golf course was designed by me, I'm guessing," he said. "There's not a golf course [on tour] that suits me more. I loved it from the moment I saw it. Being able to hit different shots into the greens with the different wind conditions. To hit that little draw in there and the wind is going to bring it, and it's going to hit into the slope and the slope is going to bring it down. I love hitting shots like that. Almost every hole you had an opportunity to hit a shot like that."
He had the benefit of playing a practice round with defending champion Vijay Singh, from whom he culled advice on playing the course, while his caddie, Mitch Knox, worked for David Duval when he won here in 1999. He also gained insights from his couch.
"I'm a huge golf fan," Chopra said. "I'm just like every old hack that sits back at home and loves watching golf on TV. I do, too. I pay attention. [The Mercedes] is one of the tournaments that I loved watching on TV, and I'd see [how] guys played the holes. Obviously you don't get the full scope of the lines that they're taking, but you still get a very good idea of what's going on. I've played it on PlayStation a bunch, too. So I came out here fairly familiar with most of the holes and the shots." Armed with information and a fertile imagination, he steered his way around the 7,411-yard course in seven-under 66 Sunday, a score that among contenders was bettered only by Stricker's 64. Chopra completed 72 holes in 18-under 274, a score matched by Stricker, a back-to-back winner of the PGA Tour's Comeback Player of the Year award.
This time, Stricker was unofficially the comeback player of the week. He was two over par through the first nine holes of the tournament, a deficit from which he methodically recovered, eventually joining the fracas at the top. Then, when it appeared he was slipping from contention late Sunday, he played holes 11 through 16 in five under par, including an eagle at 12, where he holed his second from 61 yards. A birdie at 18 moved him into a tie and eventually the playoff, that he could have won on the first hole.
Stricker missed a 10-foot birdie putt on 18 to win, but it's not inconcieveable his eagle putt would have landed closer to the hole had it not hit Chopra's ball marker on the way. "I looked at it and [thought] what are the odds of me hitting that," Stricker said. "It was a rather large mark. It wasn't a coin. That's my fault, not having him re-mark it [with a penny]. It took a lot of the speed off."
Still, it was a surprisingly successful debut for the resident of Madison, Wis., where golf is not generally played this time of year. "I was able to hit balls at home every once in a while," Stricker said, "but there were still some questions. It was the land of the unknown for me."
Chopra had no snow to contend with and was on form from the outset. He missed only 10 greens in four rounds, and was third in putts per round (29.3). He also holed nine putts of 20 feet or more over the course of the week. It all coincided neatly with the cap worn by Knox Sunday. It carried a Masters logo. Chopra's victory earned him an invitation to Augusta.
"What a great little omen that must have been," Chopra said. "I did notice that he had it on early in the week. I didn't want to say anything. Today I noticed it on the back nine. I don't know if he thought about that consciously. Maybe that was his little key that, hey, let's get it done today and this is where we're going."
Ultimately, his victory was less about where he was going. It was a triumph that said he had finally arrived.