News
Amateur Spotlight: Headliners In Waiting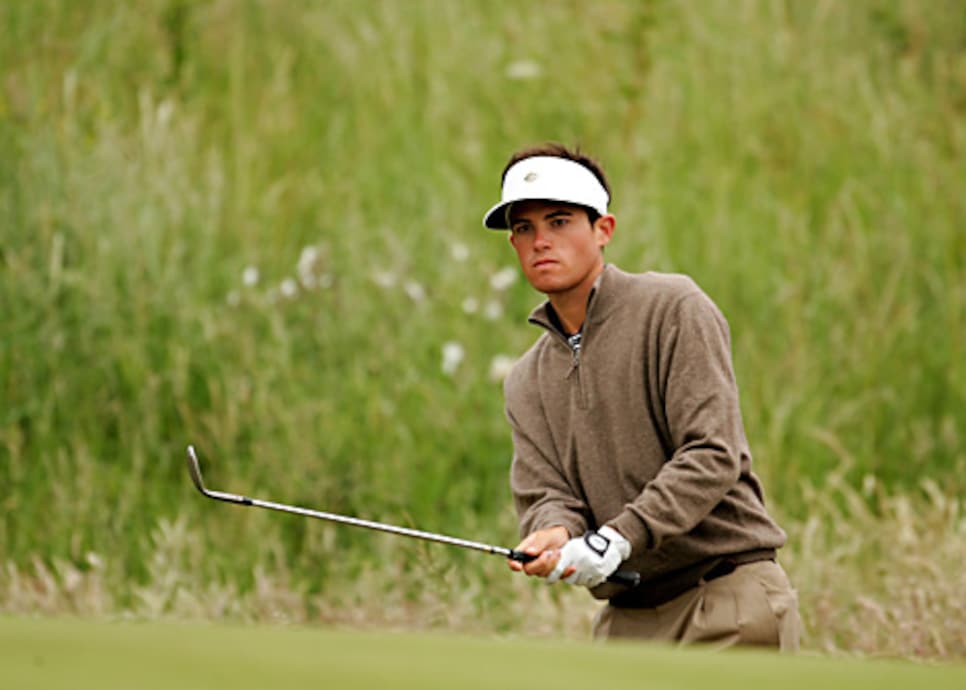 Weaver's surprise win at last year's British Amateur gives him confidence for '08.
Admit it, unless you had an SMU golf bag in your closet this time last year, you didn't have the foresight -- much less the gumption -- to suggest Mustang senior Colt Knost would ride away with both the U.S. Amateur and U.S. Amateur Public Links trophies in 2007. Likewise, Drew Weaver, having played two solid but not spectacular college seasons at Virginia Tech, probably wasn't your guess for who would end America's 27-year winless streak in the British Amateur. And while forecasting a teen to win the U.S. Women's Amateur wouldn't have been outrageous, Maria Jose Uribe's name didn't roll immediately off your tongue, did it?
Suffice it to say, determining which amateurs will shine any year is thoroughly unpredictable. In singling out the following five players to watch, then, for 2008, we're not necessarily saying the fivesome is sure to succeed in the coming 12 months. What they do offer, though, are compelling stories to follow.
Stacy Lewis -- The Arkansas All-American won the NCAA title last May with a final-round 66 -- the lowest closing score by the medalist in 14 years. It was a feat made even more impressive considering she redshirted her freshman season after having major back surgery for scoliosis. While proud of her national-championship effort, it wasn't actually Lewis' ultimate goal. "College player of the year is something we've talked about for a couple of years now," noted Razorback coach Shauna Estes. "I think she's driven even more, this being her final year, to do things right and make that a reality."
Achieving it will require Lewis knock off Duke junior Amanda Blumenherst, the winner of the award the past two seasons who is eyeing an unprecedented third straight honor. Last fall Lewis had two wins and four top-three finishes (after unofficially winning an LPGA Tour event) compared to Blumenherst's two wins and four top-fives. In their only head-to-head meeting, the Stanford Intercollegiate in October, Lewis was victorious, setting up potentially the best women's individual showdown in a decade.
Meghan Bolger -- No matter who the 29-year-old ran into last week at Harder Hall CC in Sebring, Fla., it wasn't more than a minute into the conversation before Bolger was asked the same question: Heard anything yet about the Curtis Cup?
Having claimed back-to-back U.S. Women's Mid-Amateur titles in 2006 and 2007, Bolger is in the mix as the eight-player squad for this June's match at the Old Course at St. Andrews gets closer to being selected (see Forward Spin). Unlike the others on the short list, she is the only player who talks of her college golf days in the past tense.
Indeed, the former women's coach at Mississippi is the mid-amateurs lone hope to keep from being shutout of an American Curtis Cup lineup for just the second time in 76 years. To make a final impression, she played in last week's Harder Hall, finishing a respectable T-7, and will be in the field this week at the South Atlantic Women's Amateur.
"I never gave myself the opportunity because I got myself into coaching so early, right out of college," said Bolger when asked why she's playing arguably the best golf of her career now. "I knew that I can play good golf just with a few months of practice, so what can I do with a little bit more dedication? You have to go back and forth a little bit to say, 'Hey, if I'm going to do this, I'm really going to do it.' "
Drew Weaver -- The main reason Weaver was at Royal Lytham & St. Annes at all last June was he couldn't get invitations to any of the major U.S. amateur events. Rest assured the 20-year-old from High Point, N.C., won't have that same problem in 2008, with his schedule highlighted by a spot in the Masters this April. He made his first visit to Augusta National GC two weekends ago and plans four to five more trips in the next few months.
Playing well at the Masters would be a dream come true, but it also would help Weaver silence those who contend his British Amateur victory was a fluke. "You see a lot of guys who win a big tournament and then have a big drought as far as playing well in tournaments. That's one thing I've really worked hard [to avoid]," said Weaver, who had three top-10 finishes and a 71.5 stroke average this past fall while leading the Hokies to two team titles. "I'm going to have a lot of opportunities this spring and summer. I just want to stay focused and try to keep winning golf tournaments."
Michael Thompson -- After fracturing his left ring finger last October tossing a football with his teammates on the Alabama men's golf team, the U.S. Amateur runner-up came to an interesting conclusion: It was actually a good break. Forced to rest as the injury healed -- he remains a week away from hitting full shots but expects to be back in the lineup when the third-ranked Crimson Tide open their spring season next month -- it allowed the 22-year-old senior to re-charge after a busy summer and fall.
Of course, such thinking is all well and good only if Thompson can pick up where he left off, having begun to make a case for national player-of-the-year honors with a 68.67 stroke average and two runner-up finishes in three college starts. Among the reasons to believe he can is the way Thompson transitioned from his success at the U.S. Amateur to collegiate golf. "It was a little different because I've never experienced that kind of attention before," Thompson said. "I needed to remember that I played well [at Olympic Club] because I was just playing golf. It's really important when someone gets that much attention to not get really full of themselves."
Gene Elliott -- It has been 15 years since a mid-amateur has won the USGA's oldest championship. Yet with the U.S. Amateur coming to North Carolina's Pinehurst No. 2 this August -- where Donald Ross' crowned greens tend to reward experience over eagerness -- the reinstated amateur from West Des Moines, Iowa, who turns 46 next month, just might be the guy to do it. In 2007 at Olympic Club, he finished T-9 in stroke-play qualifying and was the oldest player to advance to the second round.
OK, so it's a long shot, as even Elliott admits. Still, the 2007 Coleman Invitational champion is as good a ball-striker as anyone in the amateur game. "I don't care if I have a 3-iron or a 9-iron in my hand, I'm confident I can get it near the hole," Elliott said. "I don't know Pinehurst very well, but what I've heard is it will be great for a mid-amateur."