News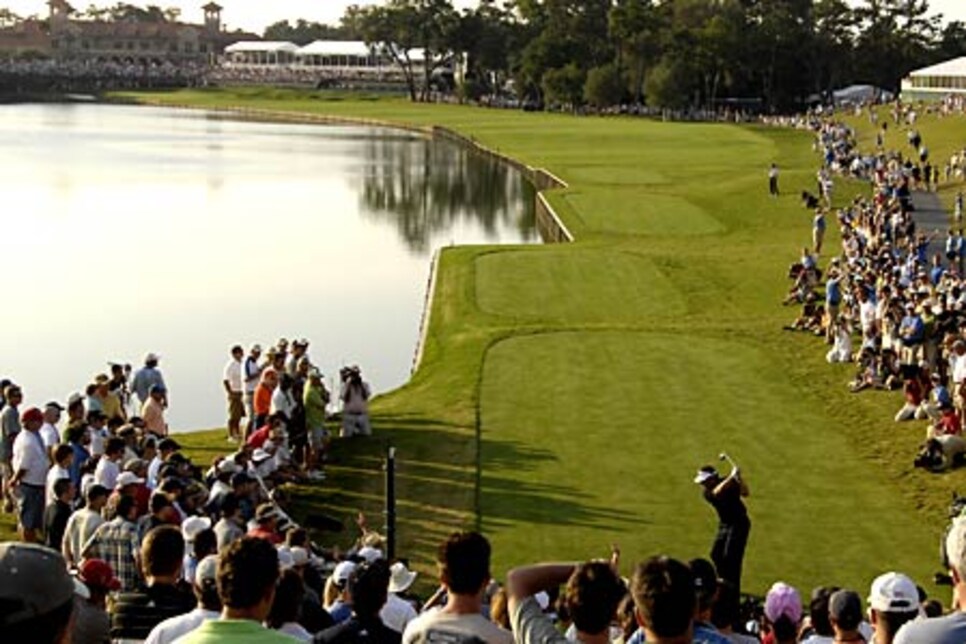 An inconsequential bogey on the 18th hole didn't detract from how well Mickelson's tighter swing held up Sunday.
The flag from the 18th green was signed, savored and delivered within five minutes after the final putt had been holed. "Take a look at this," Butch Harmon whispered, unrolling the square of yellow nylon just handed to him by caddie Jim Mackay. "To Butch, the 1st of Many!" is what Phil Mickelson wrote in the upper-left corner, as if anyone who can successfully repair an oversize golf swing in less than three weeks should be commended as quickly as possible.
About five years ago, Mickelson visited Harmon's teaching headquarters in Las Vegas and discovered a wall of similarly inscribed flags from Tiger Woods. Philly Mick seemed impressed, at which point Butch suggested that alterations to Mickelson's over-the-top technique might lead to his own collection of souvenirs, all suitable for framing. So it took the guy a while to get the point. In hard heads live long memories.
From shorter backswings, it might be added, come very large rewards. As overhyped as the Mickelson-Harmon alliance might have seemed just a month ago, Lefty's 31st career victory last week at the Players suddenly makes it an early candidate for storyline of the year. Of the 1,157 competitive rounds Mickelson has played on the PGA Tour since his professional debut in June 1992, one would have little trouble classifying his Sunday journey around the Players Stadium course at TPC Sawgrass as the most polished, stress-free performance of his career.
Of course, some forms of stress are easier to diagnose than others. "First thing I've been able to eat all day," Mickelson's longtime manager, Steve Loy, quipped afterward as he peeled the skin off an orange.
Mackay, who has been on Lefty's bag from the beginning, referred to the closing 69 as "certainly the best I've ever seen him play." Yes, there have been hundreds of lower scores over the years, and the final-round fireworks at the 2004 Masters won't soon be forgotten, but this was clinical, controlled, highly educated golf from the opening birdie on the first hole to the inconsequential bogey Mickelson settled for at the 18th.
He hit 16 greens overall, including the first 13 of the day, and consistently executed high-percentage shots to the broad sides of those putting surfaces. Lefty could easily have shot 65 if his putter had been more cooperative--he missed five birdie chances inside 15 feet--but his speed on the greens was superb. Still, the missed opportunities allowed third-round leader Sean O'Hair to lurk dangerously until a pair of water balls produced a quadruple bogey at the par-3 17th. A few deep breaths and one bogey later, the poor kid had tumbled from two strokes off the lead to claim sole possession of 11th.
Life ain't fair. Just ask O'Hair. "I told Steve [Lucas, his caddie and father in-law] that I wasn't playing for second," he mourned. "I took it [the tee shot] right at the pin, hit a great shot and obviously the wind was helping when I thought it was more across. I got kicked in the [butt] on 17. You've got to make something happen. I didn't bust my butt for four days to get second place, so obviously I paid for it."
Oh, did he ever. We're talking about a $750,000 train wreck, and though Lucas defended O'Hair's decision to play a 9-iron to a back-right pin 135 yards from the tee, it seemed like one club too much even before it was swung, particularly given the circumstances. This was the 71st hole of a tournament with the game on the line--any experienced champion will tell you that adrenaline adds 10 yards to such a shot. O'Hair had knocked a 9-iron to within five feet of a deep pin the day before. Twenty-four hours later, there was a lot more to consider than the actual yardage.
"The best he could do with a wedge is the top of the ridge," Lucas said, referring to an area in the center of the island green. "That would leave him 30 feet. He was committed to hitting it close."
It ended a fascinating duel and rendered no trace of an unjust verdict--Mickelson began the day one back and clearly outplayed O'Hair, carrying himself like a man in no mood to wine and dine the ghosts of Winged Foot. To whatever degree last June's U.S. Open collapse has haunted Lefty in the 11 months since, this victory dispelled the notion that he'll never recover from those 72nd-hole blunders. It's also fair to say that until Mickelson played an extended stretch of pressure golf at a near-flawless level and reeled in one of the few trophies that actually matter, those demons weren't going away.
Enter Harmon, whom Mickelson asked for help back in February but wasn't officially hired until late last month, when Philly Mick felt he had no choice but to terminate longtime swing coach Rick Smith. "We're three weeks into the process," Butch assessed. "He's going to get a lot better. He'll start feeling more comfortable with it, and when that happens, he'll trust it even more. Phil had to buy into this--you've got to have a lot of [guts] to go out there and put it in play right away."
The project is a fairly simple one in theory: Harmon wants Mickelson to manipulate the club less with his hands at the top, which basically means no more excessive hinging of the wrists. To preserve his length, increase accuracy and take the right-side miss out of play, the two men have focused on generating more coil in the backswing--better leg action should produce a consistent turn of the entire body.
Asked how these changes might compare to those taken on by another of his tour-pro pupils, Harmon mentions Stewart Cink. "It took four or five months for Stewart to feel comfortable," Butch adds. "We're talking about a guy [Mickelson] who won 30 tournaments and three majors doing it another way. He's even more talented than I thought, and I knew going into this that he was exceptionally talented."
What does Mickelson make of it all? This is a nice start, but he struck the ball poorly in the second round, and there are dozens of hours of range time between now and feeling comfortable at Oakmont CC, site of next month's U.S. Open. "I'd like to have four days of ball-striking like today because it takes a lot of pressure off my short game," he said, "It does mean a lot to have the results I've had immediately with [back-to-back thirds in Dallas and Charlotte] and the win. It tells me I'm on the correct path, and I'm excited about how my ball-striking seemed to get better as the week went on."
NBC's telecast of the Players obviously devoted a lot of attention to the rapid progress made by Mickelson and Harmon, and if Johnny Miller's analysis of the situation was accurate, it was also incomplete. The best example came Saturday afternoon. Mickelson's pre-round warmup featured a long stretch of driver swings where the club didn't come close to reaching parallel--he was able to mix gentle draws and slight fades to the same target with stunning regularity. It was a brief glimpse at the massive potential of his relationship with Harmon. It also explains why Lefty sees a lot of refinement in the weeks ahead.
As well as he played Sunday, his on-course swing wasn't as compact as it had been on the range the day before. This economic backswing will take some getting used to. "In three months how much am I going to progress?" Mickelson wondered aloud. "In three years where will I be? I've seen an immediate difference in three weeks, and I can't wait for another three weeks to go by."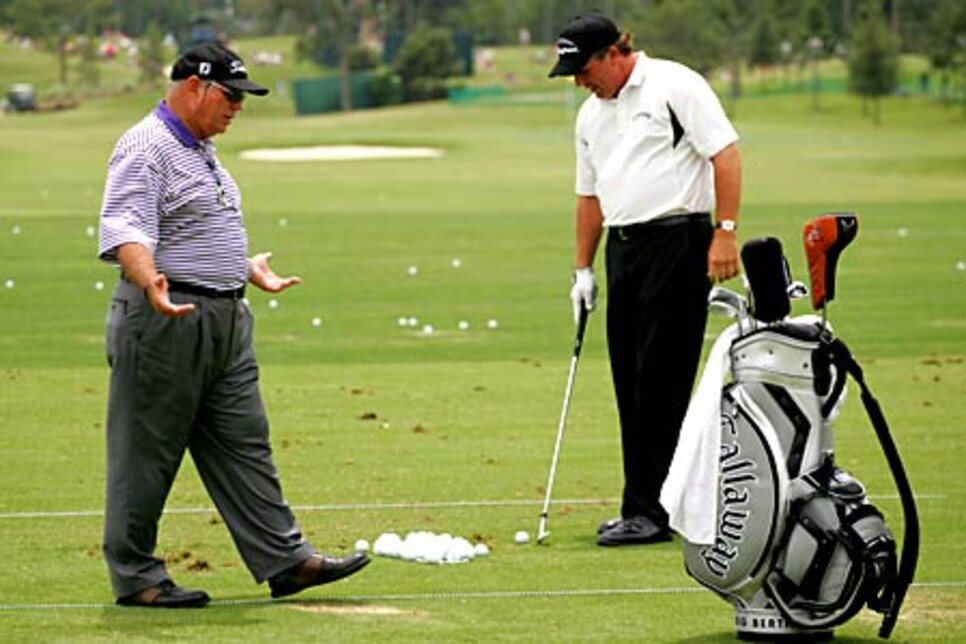 Today, tomorrow and the day after that, this victory serves as a benchmark in terms of its effect on the game's highest level. Mickelson has made runs at Woods before. He might never have even thought of hiring Harmon if he had parred the last hole at Winged Foot--it would have been his fourth major title in 10 starts. Would Tiger have started winning tournaments by the bushel if his toughest (and most persistent) rival had held on to claim the 2006 U.S. Open? Sometimes, the most interesting questions are the ones that can't be answered.
Then again, maybe everything does happen for a reason. After winning the '06 Masters, Mickelson basically went an entire year without striking the ball to his capabilities. He still contended on occasion and won at Pebble Beach earlier this year, but it was a bit of a mirage. Now, without much warning, what goes around has come around. Woods has won three times in '07 despite substandard play from tee to green. Mickelson, meanwhile, has committed to a major change and has every reason to believe he's better equipped than ever to challenge Mr. Superiority.
"Tiger will love this--absolutely love it," Harmon said of Lefty's success at Sawgrass. "It's going to motivate him to get better, and that will be fun to see."
That, ladies and gentlemen, might be a stretch. On a premium parkland course such as Charlotte's Quail Hollow, Woods can outclass the field and pick up a victory without his best stuff. The same might be said of Torrey Pines or Firestone, but on a connect-the-dots venue such as Sawgrass, that's not going to happen. Woods made the Players cut with one shot to spare and needed a final-round 67 to finish T-37.
"I hit some bad shots, yes," Tiger sighed. "That's the way it goes, but I had eight putts lip out [Saturday]. I was just tired of it. Good putts weren't going in. I'd take a step [to pick the ball out of the hole], and it would lip out."
Sawgrass hasn't been an ideal ballpark for Mickelson, either. He had just two top-10s in 13 previous starts at the Players, and this was just his second career victory in Florida--the other was at Bay Hill 10 years ago. That he won here on Bermuda, a grass that will never be his favorite, isn't exactly a negative sign. As for the PGA Tour moving this tournament from March to May, it really didn't play a significant factor last week. The fairways were soft, the greens somewhat slow.
So what's the point? Mickelson went out and won a very big tournament nobody expected him to win. Call it a fifth major if you're so inclined. Phil might. "When I look back on my career after I've stopped playing, I think I'll [consider] this victory in the same light as the majors," Lefty said. The year's strongest field and $1.62 million winner's check won't hurt that cause, nor will the possibility that Mickelson has reinvented himself once again by enlisting the services of Harmon and employing his vast skills with a crafty balance of aggression and finesse.
Of course, we have ridden this horse before. Mickelson's inaugural major triumph at the '04 Masters was attributed to a sawed-off backswing and a clearer strategic plan. Smith was hailed as a brilliant coach for getting Mickelson to buy into the program. Three years and one month later, however, it really does seem different. A lot of people in Camp Lefty were very excited Sunday evening, perhaps feeling as if the ghosts of Winged Foot had been slain, that the new swing coach will lead to even bigger and better things.
As Loy munched on his orange and Harmon beamed over his flag, Glenn Cohen, Mickelson's attorney, could hardly contain his glee. "I can't believe what has happened!" he rejoiced to Butch. "All I can say is, God bless you for what you've done."
Harmon was happy, but he wasn't delusional. "I just showed him how to do it," he replied. "Phil's the one who went out and did it." Did it, he did.